Near Southeast DC: Past News Items
Blue Castle
Go to Full Blog Archive
---
15 Blog Posts Since 2003
Madison Marquette to Launch Blue Castle Redevelopment Process
Oct 28, 2011 1:44 PM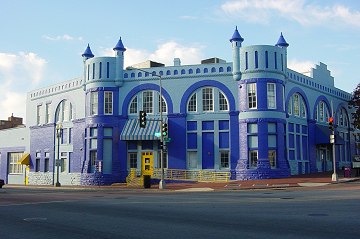 Today's
Washington Business Journal reports
(subscribers only, alas) that Madison Marquette, owners of the "Blue Castle" at 770 M Street SE and co-owners of a series of additional parcels across 8th, "will soon formally launch its Lower Barracks Row redevelopment process, hiring land use planners, wooing an anchor retailer for the historic car barn and tackling a range of hurdles that stand in the way."
It's that "range of hurdles" that the article focuses on--MM will need to figure out where will parking for the car barn be able to be placed and how much additional height can be added given not only historic and building height restrictions but the Navy Yard's concerns with having buildings that can look over their walls.
Then there's the looming
CSX Virginia Avenue Tunnel
construction, which could impact all of the landowners along Lower 8th given the disruptions that will no doubt ensue during the project. Mark Batterson of the National Community Church, which now owns
all of the properties along Virginia between 7th and 8th
and is looking to build a large coffee house/performance space and offices there, says in the article that their planning is very much tied up in CSX's timeline. "It doesn't make sense to do our project and then have them come through and rip everything up and make it difficult for us to even access our property."
Back in 2009 and 2010 there was a long
Lower 8th Street Vision Process
, which suggested allowing building heights of 65 to 85 feet on new structures 20 to 30 feet behind existing historic 8th Street structures. (The
process report
has a lot of drawings on how the 45-foot limit along 8th could co-exist with these potential greater heights further off the street.)
And, while not mentioned in the WBJ article, there's still the question of whether the Marines will end up
building a new barracks
in this area, as they have been hoping to do.
So, while the current Blue Castle leases are up in 2012, giving MM the opening to begin the process, the article makes clear that any makeover of Lower 8th will probably proceed slowly, at best.
Oh, and when it's all done, the Blue Castle probably won't be blue anymore:

(Rendering courtesy
Madison Marquette
. And maybe there's a hint in it of where they think the parking could go!)
Tidbits: ANC Redistricting, Canal History, Greenspace, 8th St. Deal
Jun 29, 2011 1:29 PM
After all the big news of late, downshifting into a Tidbits post doesn't really seem like much fun, and of course if you're following me on
Twitter
or
Facebook
(or checking out the Twitter box on the JDLand home page every so often), you've already been alerted to many of these. But, onward: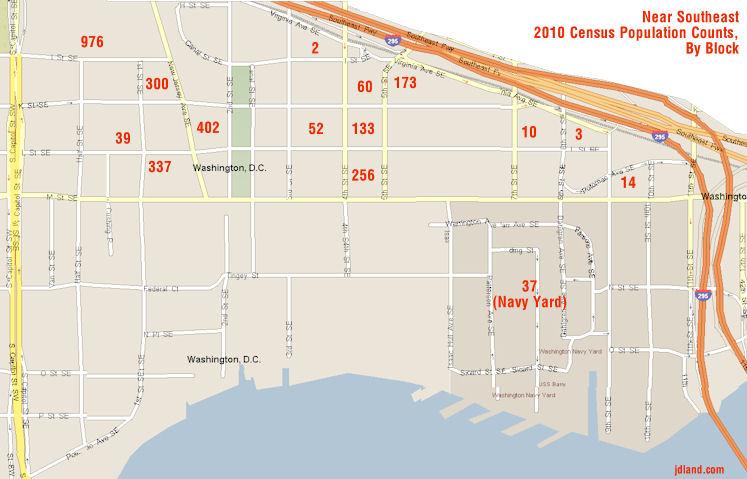 * If you're wondering how the ANC redistricting process will work (especially since the ward version was so much fun!), here's the
official memo
on the procedures going forward. As in previous years, ANC single member districts will have populations between 1,900 and 2,100 residents.
Census Tract 72
, which covers all of Near Southeast and so includes all of ANC 6D07 plus the small number of houses from 7th Street east to 11th that are in ANC 6B04, was counted at
2,794 residents
in the 2010 census.
The Office of Planning
has
the
census-block-by-census-block numbers
, but, ahem, I don't actually know which blocks are which, though if I had to guess by looking at the numbers and how the blocks are organized, I'd say that 6D07 probably came in at 2,743 and south-of-the-freeway 6B04 at 51. Ish. (Perhaps an ANC version of the GGW Redistricting Game isn't far off!) It isn't enough to split 6D07 into two single member districts, but it also can't stay as is. The question will also loom large as to whether new boundaries will split the neighborhood even more between ANC 6B (Capitol Hill) and 6D (Southwest), or move it all into one or the other.
UPDATE:
Thanks to IMGoph in the comments, I got a look at the map, and it appears the actual residential split is 2,767 to 27. Read my comment for details. I'll make a map at some point.
UPDATE 2:
And
here's a quick and dirty map
, showing block by block what the census folks recorded the neighborhood's residential population at, as of April 1, 2010. As I mention in the comments, the residential buildings west of 2nd Street SE add up to 2,054 residents, perfectly within the numeric requirements for an SMD. But how SMDs will actually be divvied up is anyone's guess right now, beyond the fact that there's no way the vast bulk of Near Southeast will continue to be in just one SMD.
Council members are supposed to appoint their ward task force members by Friday, with progress reports due on Aug. 1 and Sept. 1. The entire process has to be completed by the end of 2011.
*
The Hill is Home has posted
the first of a two-part look at the history of the Washington Canal, which used to run along where
Canal Park
is under construction. (Speaking of which, I grabbed a quick cellphone shot from above the park last week showing the
work on the southern block
, where the foundation for the pavilion is being built.)
*
Housing Complex writes
about the deal finally being finalized for
Greenspace
to move into the empty retail spaces in the
1st Street facade
of
Nationals Park
, creating a "12,000-square-foot center for green building and design." This has been in the works for
nearly two years
, but even though there was a "launch" of the space on Tuesday (which I didn't hear about until people at the event started
live-tweeting it
), Housing Complex says that the project won't come to fruition until Greenspace "is able to raise another $600,000 in cash and in-kind contributions, adding up to the $2 million necessary to build out what's currently a blank shell." Perhaps someday, when
Florida Rock
is built out to the south and later
Yards
phases along 1st Street are completed, the "real" retail envisioned for this portion of the ballpark will come to pass. Here's the
press release on the Greenspace project
.
* Madison Marquette, owner of the Blue Castle at
770 M St. SE
, has now apparently completed a joint venture deal with local landowners ICP Group for all
ICP's various properties
on the east side of 8th Street south of the freeway, including the gray building at 8th and Potomac that houses Quizno's and the other properties along the 800 block of Potomac, and others. No news as to what might be done on those blocks, though if the new
Marine Barracks site
search ever crops back up, a group owning all of the land on Squares 929 and 930 could conceivably submit a proposal for a public-private partnership.
Coming later today, an equally bulleted post highlighting the slew of upcoming events in the neighborhood, both for this holiday weekend and beyond.
More Property Moves on Lower 8th; The Visioning?
Feb 10, 2011 3:25 PM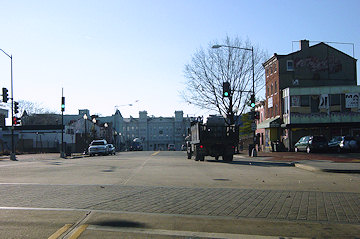 In my post about the
Bier Garden plans
for the northeast corner of 8th and L, SE, I promised a couple of extra tidbits about Lower 8th Street. To wit:
* Rumors abound that the
National Community Church
has acquired the auto repair garage at the
corner of 7th and K/Virginia, SE
, but despite someone saying otherwise at Tuesday's ANC 6B meeting, I'm told that no deal has been completed as yet. But even that at least confirms my not-terribly-hard-to-guess suspicions that NCC would be eyeing that lot for their new coffeehouse/performance space/offices, since they now own the land to both the
east
and
south
of the site. The garage's lot is 5,300 square feet, and was assessed in 2010 for just under $1.5 million.
*
Madison Marquette
, the developer who owns the Blue Castle at
770 M St., SE
and is also now a partner in the redevelopment of the Southwest Waterfront, is entering into a joint venture with the ICP Group, owner of the gray building (with Quizno's) at 8th and Potomac and
other Square 929 properties
that have been suffering from extended financing troubles.
WBJ reported on this in late January
, noting that those familiar with the deal "say Madison and its 'fairly deep pockets' will take over as lead developer for all the parcels." This also presumably gives Madison access to ICP's properties on Square 929, just across 8th Street from the NCC/Bier Garden block and to the north of the Quizno's block.
Squares 929 and 930 have been the subject of a lot of discussion as one of the sites that the Marines might be looking at as a location for their
new barracks
, because a development team could submit a proposal for a public/private partnership on that site if they controlled all properties on those two blocks. (This assumes the Marines do decide to go the public/private route; they could instead build additional barracks space on their existing land at 7th and L or manage to acquire some other government-owned site, such as the
old Capper Seniors/Square 882
site, which is owned by DCHA but which seems to be stalled in its attempts to get funding for the mixed-income apartment project on the north side of the block.) There's also the
Navy's potential plans
to expand outside their walls, which could include some of the close-by lots along 8th or maybe the old Exxon site at 11th and M.
In fact, in an e-mail to me last month, ICP President Leon Kafele referenced these possibilities by saying that the joint venture with Madison Marquette will "position [ICP's] assets to better respond to the Marines Corps and Navy Yard supply and demand for a BEQ, retail, and office space on or around lower 8th Street Barracks Row." And Madison has mentioned in public meetings that the Blue Castle could become home to some of the "shared uses" that the Marines are hoping to have be part of any new barracks venture.
So, with NCC and the Bier Garden making moves on Square 906, Madison Marquette increasing its presence by making deals on Squares 929 and 930, and the Navy and Marines in the mix as well, does this mean that Lower 8th is starting to perk up? And, how will any new projects tie in with the
Lower 8th Street Vision Report
developed by the Capitol Riverfront BID along with all manner of representatives of Barracks Row, the Navy and Marines, business owners, and local residents?
I haven't written much about the whole vision thing, especially once the discussion of the Marines' land needs began to focus south of the freeway and it became clear that until they decide what they're doing about their barracks, any real discussion of what Lower 8th may look like in the future is very much up in the air.
That said, the vision report has mostly general recommendations that aren't exactly controversial: "Encourage a Mix of Uses," "Historic Preservation is a Must," improve the underpass to encourage pedestrians to come down from north of the freeway, address parking/circulation issues, and others.
But there is one concrete suggestion in the report: increasing height and density limits on some of these squares. The current 45-foot limit on 8th would be maintained for new structures, but greater heights (65 to 85 feet) could then allowed 20 to 30 feet behind existing historic 8th Street structures.
You can see on page 17 of the
report
some drawings of what the Bier Garden corner at 8th and L would look like with a 45-foot building on the site, and there are other drawings depicting height changes on the following pages, including allowing the less-historic western side of the Blue Castle to be built up higher.
The Bier Garden's one-story-plus-roof-deck
design
would seem to be not exactly what the visioners envisioned, but the developer has said he anticipates it to be a temporary structure (though that's not a guarantee). There's been no public opposition to the Bier Garden from the BID or Barracks Row Main Street--but no letters of support, either.
It will be interesting to see what the National Community Church comes up with for their design, and whether it'll try to take advantage of the desire for larger building heights set out in the vision document, if that idea ends up being embraced by the city.
And, there's still the Marines' decision to look for, which could be the biggest driver of all for redefining Lower 8th.
Tuesday Tidbits: 401 M, What if the Blue Castle Weren't Blue, Austin Grill Express at Nats Park?
Oct 5, 2010 2:29 PM
Some news on Near Southeast, still not the
9th Most Dangerous Neighborhood
in the US:
* The
National Capital Planning Commission
's staff has
recommended approval
of the new designs for
401 M Street
at
the Yards
, the new-construction building now redesigned to have residential units on top of a grocery-store-that-totally-isn't-Harris-Teeter-because-they-haven't-said-so-officially. The staff "recommends that the Commission recommend" [I love that] "that the massing and facade scale and articulation of the new building on Parcel D be studied and refined further as the design is developed. Staff notes that the grocery store should be treated with cladding that differentiates it from the residential tower and clearly acknowledges the presence and complements the scale of the sentry tower." You can see the designs on my
401 M page
. The NCPC meets Thursday, Oct. 7, but this is a consent calendar agenda item, so it won't be discussed at the meeting.
*
A subscribers-only WBJ piece
discusses the new "Austin Grill Express" food-court concession that serves wings, burritos, tacos, and salads, that already has 11 locations since it launched about a year ago. There's another 11 on the way by the end of the year, and the owner is hoping for another 40 to 50 of them next year. One of the locations the owners are talking to?
Nationals Park
.
* What would the Blue Castle look like if it weren't blue? Madison Marquette included
a rendering of a revamped 770 M
(with what looks like a grocery offering of some sort) in the slides it showed at last week's Southwest Waterfront public meeting. There's been no official news of plans for the building, or a timeline on when work might happen. For those just joining us, the Blue Castle was originally a "car barn" back when DC had trolleys and then streetcars.
Historic Blue Castle and Streetcars Photos (and a Rant)
May 25, 2010 12:25 PM
Back before it was painted all manner of shades of blue, the building on the northwest corner of Eighth and M known as the "Blue Castle" was a car barn for the DC streetcar system. Madison Marquette, now the owners of the building, have just posted on Facebook
a bunch of historic photos
showing both the building in its pre-blue days as well as lots of shots of the old DC trolleys and streetcars. Definitely worth checking out.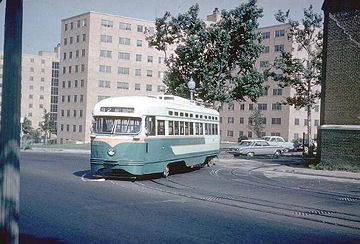 And this gives me an excuse to link to
my own Historic Photos page
, which includes some of the photos that Madison Marquette posted along with others of the neighborhood from about 1918 to 1992. (There's also my
Historic Maps page
, for plats showing the neighborhood for various years between 1903 and 1921, if you want more wayback goodness.)
There are a lot more cool historic Near Southeast images out there, but unfortunately some libraries and historical societies tend to be quite strict about reproducing photos from their archives (often requiring payment even for use of low-res images that already exist online), so rather than those photos getting seen by people who are truly interested, they languish in file cabinets or little-used online databases. It's a shame, because I could have a lot of fun with them, but the attendant bureaucracy has pretty well stifled my interest in pursuing them any farther or even linking to them. Plus I'm too honorable to just steal the thumbnails and post them anyway, which I could certainly do. (And you can be very sure that my photos will never end up with these levels of restrictions.)
At least the
great archive of historic photos
that DDOT had begun to populate a few years ago is still around (though not on their new site, you kind of have to go digging for it via Google). Hopefully they'll get around to adding more shots. I've got a scanner, DDOT, let me at them!
More Details on the Marines' Space Needs
Feb 1, 2010 6:54 PM
Voice of the Hill has just
posted an informative article
giving a lot more detail on the
Marine Corps' plans
to replace the aging barracks building "20" on the north side of the freeway at Eighth and I, along with their desire to build additional facilities, including a fire station, child development center, gym, pool, parking, meeting space, post office, basketball and tennis courts, an indoor parade field, and a new Marine Barracks Washington museum. All in all, the Marines are looking for 173,000 square feet of space, some of which would be accessible (they say) to Hill residents.
Possible locations they're looking at for the new barracks appear to be north of the freeway (and outside of my boundaries!), including the Potomac Gardens public housing project at 12th and G, SE, and the Tyler Elementary baseball field at 10th and I, SE, but they are also considering the Marine Corps Institute site within the
Washington Navy Yard
. Also shown on their maps as a possible site is Square 882 (across from the
barracks annex built in 2004
), currently Nats Parking lot W on the site of the
old Capper Seniors building
, but the Voice article says that the DC Housing Authority has taken that block off the table--I've been hearing that DCHA is close to securing financing for the mixed-income apartment building they intend to build on the north side of that block, and would possibly begin construction by the end of this year.
The
article
also says that the current owners of the Blue Castle, Madison Marquette, have expressed an interest in leasing space in the old trolley barn to the Marines.
The
Marines' web site for the development project
has been updated with
the packet from last week's open house
,
an FAQ
, and other materials. There apparently will be a series of community meetings, which are described by the FAQ thusly: "The current plan is for the first workshop (February) to focus on needs and goals, the second workshop (March) to focus on potential development sites, the third workshop (April) to focus on CIMP alternatives, and the fourth workshop (May) to focus on CIMP consensus elements. Additionally, a charrette focused on the CIMP way forward will be held in fall 2010." (If you're interested in these, you should plan to attend rather than waiting for a JDLand report--I tend to stay away from community meetings that are pure planning sessions, because, well, they drive me insane.)
And note that this is a *different* armed forces expansion plan from the one we heard about
last week
, where the Navy is looking for additional office space outside of the walls of the Navy Yard. Got to keep your service branches straight these days!
Morning Link Roundup: Ballpark, Velocity
Jan 31, 2008 9:25 AM
Lots of ballpark and other news stories today:
* In case you missed it, last night I posted about the
Feb. 9 and Feb. 21 job fairs
for part-time and seasonal work at the
ballpark
.
*
Velocity
has sold 21 units since opening its sales center in November,
according to this press release
touting the development as the "fastest-selling new condominium project in the District of Columbia, and one of the strongest sellers in the entire National Capital Area."
* Coverage of Kwame Brown's hearing on the
noose incident
at the ballpark is available from
The Post
,
ABC7
, and
NBC4
. You can
watch the hearing here
once it's posted, and
read Brown's press release
on the hearing.
* The Laborers' International Union of North America, a major supporter of the ballpark's Project Labor Agreement, issued a report saying it should be a model for future projects in the city, and that more than $12 million has been injected into DC neighborhoods thanks to stadium paychecks to local workers. LIUNA says that 72 percent of all apprenticeship hours have been performed by District residents, while 87 percent of all new apprentices are from the District. (The report also touts the ballpark as being on-time and on-budget, though perhaps that budget part refers to the actual construction and not the land acquisiton costs, which have definitely gone over budget.) Reports on the union's numbers are on
Tim Lemke's blog
and at
the Post
and
ABC7
.
* The media apparently got brought in to see the scoreboard on Wednesday, and
NBC4 has a piece
on it (ABC7 mentions it in
its labor piece
.)
* Washington Times
columnist Tony Knott rails
about neighbors of the ballpark who are "coming up with apocalyptic visions" about the 41,000 "Ken and Barbies" coming from the suburbs to the ballpark, writing that urban dwellers who initially are drawn to a city's walking distance to services and entertainment turn against the "crush of humanity", "eventually endeavor to transform their stretch of the urban jungle into the Shenandoah Valley."
*
Ballpark and Beyond
in today's District Extra is a roundup of short takes from around Near Southeast, including the
closing of Domino's
and the
demolitions on First Street
, the
Blue Castle's debut on Facebook
,
Gifford's ice cream coming to the ballpark
, and
Chocolate City
, the documentary about former Capper/Carrollsburg residents and gentrification in Washington.
*
Dear Leader picked
to throw out the first pitch? (Hint: it's not the Dear Leader you might be thinking of, and it's SATIRE, people.)
Blue Castle Gets a Facebook Page
Jan 22, 2008 12:03 PM
Blue Castle Sells -- Again
Jan 18, 2008 9:17 AM
Today's print edition of the Washington Business Journal
reports
that the
Blue Castle at 770 M Street
has sold again, this time for $25 million to
Madison Marquette
. The company's managing director of investment told WBJ that the building could be refurbished as a mixed-use development that would serve as an anchor to Barracks Row, and that "the space probably will have one or more major retailers as well as restaurants, an office or residential component and possibly a grocery store." The groups currently in the building have leases that expire in 2012. Preferred Real Estate Investments bought the building in December 2005 for $20.2 million,
saying at the time
that the building was ideal for retail stores such as a Barnes & Noble bookstore and a Whole Foods grocery, and that they hoped to start construction in 2007.
Blue Castle Back Up for Sale
Jul 6, 2007 7:22 AM
From today's Washington Business Journal (subscribers only), word that the
Blue Castle at 770 M Street
is up for sale, after
having been purchased in 2005
for $20.2 million by
Preferred Real Estate Investments
(who might be needing the money to pay for their way-too-overly-Flash'ed redesigned web site). It's nearly 100,000 square feet on a 1.6-acre site, and is zoned for development of up to 200,000 sq ft. The WBJ blurb quotes Bill Collins of Cassidy & Pinkard Colliers as saying there's much interest in the building and proposals are already being received. But it's noted that the two charter schools currently in the building have leases through 2012.
Blue Castle Rumors - Not True
May 11, 2006 11:51 AM
UPDATE:
Whole Foods is *not* coming to the Blue Castle--I've confirmed this with
Preferred Real Estate Investments, Inc.
, the owner of the Blue Castle.
Original entry:
In this week's The Hill,
Duncan Spencer reports
(scroll down a bit) that it's "confirmed" that a Whole Foods grocery store is coming to the Blue Castle at
8th and M
. There's no mention of it on the web site of the castle's owners (
Preferred Real Estate Investments, Inc.
), but we all know that SOME web sites are better at updating with new information than OTHERS! Back when the
sale was announced
, the owners said they'd be trying to get Whole Foods and a national bookstore chain. Am trying to track down some confirmation. Meanwhile,
Spencer's column
also mentions two other Near Southeast items, one being the Anacostia Riverwalk and the issues with it running along the
Navy Yard
's waterfront (i.e., right now no one can get to it without going through the Navy Yard gates and showing ID). The article also says that the
Southeast Federal Center
financing has not been settled between GSA and
Forest City Washington
, although I thought it indeed had been back in June of 2005 when the
development agreement was signed
. Spencer also says that no SFC construction is expected for at least a year and a half--but the
recent article
from
Shopping Center Business
magazine quotes a Forest City representative as saying that "bulldozers will be moving by the end of the year at Southeast Federal Center." So make of all of that what you will.
It hasn't been posted on their web site yet, but the
agenda
for Tuesday's ANC 6D meeting has a couple Near Southeast-related items: recommendations by Development Committee on
Closing Of Public Alleys In Square 743N
, a presentation by the
DC Preservation League
on a possible Historic Designation of Navy Yard Car Barn, i.e., the "Blue Castle" (the case is coming before the
DC Historic Preservation Review Board
on March 23); and a presentation of the 11th Street Bridges study. It's at 7 pm Tuesday, at 65 I Street SW.
UPDATE:
I've been told that additional items have been added, both of which are Near Southeast-related: a request for support by the Van Ness Elementary principal to keep the school open (I've heard in the past that it would be closing, but that it would be temporary, maybe things have changed?), and an update from the DC Sports and Entertainment Commission about the
new baseball stadium
. Also, here are the
minutes from the February meeting
.
Catching up a bit here after the holiday....
Preferred Real Estate Investments
has
purchased the "Blue Castle" building
on the corner of
8th and M
, for $20 million. According to the Post: "Executives at the Conshohocken, Pa., developer said the location of the 100,000-square-foot building makes it ideal for retail stores such as a Barnes & Noble bookstore and a Whole Foods grocery. The upscale stores eventually would supplant three charter schools that now are in the building." They hope to start construction in 2007. (And they're planning to de-Blue the building a bit, too, by painting it a more sedate shade; but they plan on preserving the arched windows and exposed brick interior.) Note that it doesn't sound like there are as yet commitments from any retailers for the site.