Near Southeast DC: Past News Items
900m
Go to Full Blog Archive
---
14 Blog Posts Since 2003
Retail, Restaurant, and Recreation News (New and Old)
Feb 11, 2013 11:40 AM
A hail of bullets on various retail, restaurant, and recreation-type items, some of which are relatively new, but some of which decidedly aren't:

* The boxing and fitness club
DCBFIT
opened last week in the ground floor of
Capitol Hill Tower
, at the corner of New Jersey and L SE. While their web site makes me tired and sore just looking at it, I'm sure there are plenty of folks who will find this offering intriguing.
* Gordon Biersch,
coming soon
to 1st and M, has
"Now Hiring" signs up
: go to
Work4GB.com
.
* Also hiring, according to commenter JT who passed along
the Craigslist link
, is the Park Tavern at
Canal Park
. The Hill is Home
says that it's opening "very soon,"
even saying "around the 20th of February," but We Shall See.
*
Nando's Peri-Peri now has signage up
at the
Boilermaker Shops
--it's a little more than halfway down Tingey between 3rd and 4th, closer to the Bluejacket end of the building. It's supposed to be
opening this spring
.
* The Navy Yard portion of the
Riverwalk
was supposed to reopen today--anyone give it a shot yet? And, if so, is there any actual trail once you go out the east gate? As I showed a couple of weeks ago, the
old asphalt had been ripped up
as part of the 11th Street Bridges work, though of course it will be back at some point.
* Maybe now is finally a good time to mention the opening of petcare store
Wagtime Too
at 900 M Street, where it has been for a number of weeks now, offering boarding, daycare, grooming and "cool stuff." And I
actually have taken a photo of it
.
* Apparently the Quizno's at 8th and Potomac closed permanently back in December. And Chicken Tortilla at 8th and L was closed when I walked by a few weeks ago, though I don't know the story on that.
Comments
(12)
More posts:
100 M
, 900m,
biersch
,
Boilermaker Shops/Yards
,
Canal Park
,
Capitol Hill Tower
,
dcbfit
,
Restaurants/Nightlife
,
kruba
,
parktavern
,
Retail
,
riverwalk
,
wagtime
,
The Yards
Thursday Tidbits: Wagtime, Potbelly, Ballpark Taxis, More
Feb 22, 2012 10:33 PM
[Yeah, yeah, the title says Thursday but I messed up and pulled the trigger before midnight.]
For those not following my precious prose on
Twitter
or
Facebook
, some tidbits:
* Pet day care/supplies retailer
Wagtime
is wanting to open a second location to go with its Shaw operations, and
is looking at
the
900 M St. SE building
(where Domino's is located). This would, however, require a zoning change, and a BZA hearing for a special exception and a variance is
scheduled for May 8 at 1 pm
.
* Potbelly must truly be coming to the ground floor of the Foundry Lofts,
because its sign is now up
.
*
WashTimes
: "The D.C. Taxicab Commission will allow so-called 'shared riding' outside
Nationals Park
to manage the chaotic jumble of pedestrians who leave in search of taxis and sometimes engage in what the agency calls 'aggressive behavior.' [...] The commission says shared riding, in which separate groups of passengers may get in the same taxicab if they are heading the same way, is needed to quell disorder and stop the use of unlicensed cabs from surrounding areas that are 'illegally pilfering' fares from the District's licensed drivers." There is already a taxi stand at Half and M; it sounds like the one the article mentions as where riders will need to queue up in order to get cabs.
* Forest City's Deborah Ratner Salzberg
has been named co-chair
of Mayor Gray's new task force on affordable housing.
* The Coalition for Smarter Growth looked at 2010 census figures and determined that Near Southeast has one of the city's higher totals of
households without a vehicle
, at somewhere between 53 and 67 percent.
New Photos Posted (Hat Tip: Mr. Blue Sky)
Sep 20, 2009 6:24 PM
Even at my laziest, it's hard to not pull out my camera on a day like today and head to the Hood. But without a lot of projects going on, I had the chance to also wander by some locations I've not paid as much attention to as I should. Here's the highlights: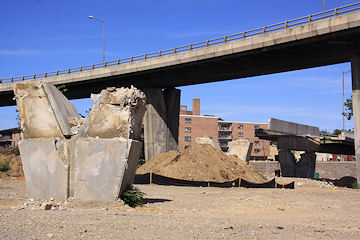 I stopped by
11th
and
12th
streets to get caught up on the RFK ramp demolition that's part of the
11th Street Bridges
project. The ramps across M have been down for a while now, making M Street along this stretch seem slightly less claustrophobic. The remaining concrete pillars (like the one at left, and the stubs on the south side of M) make for some interesting sculptures.
Capitol Quarter
continues to progress on its third block (between K, I, Fifth, and Fourth), with
some houses now bricked
and framing coming soon to the north side of the block, making St. Paul's church
not look quite so lonely anymore
. Plus, the first foundations are being poured on the fourth and final block of phase 1, along Virginia Avenue between Third and Fourth.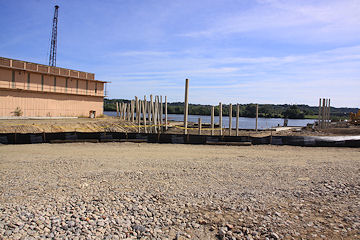 I even ventured down to the fences at the
Park at the Yards
to see what I could see, and on the west side of the footprint I could glimpse some of the work being done on the Canal Basin water feature at the foot of Third Street as well as some clearing of the area that will be the Great Lawn. Here's
the latest photos
, or check the
Yards Park
page to see some of them matched with the renderings of what the spots will look like.
This isn't the most earth-shattering shot of the day, but I did feel it necessary to finally get
a shot of 900 M Street
now that Domino's is open.

Last but not least, I wandered around Virginia Avenue Park, finally getting my set of
"baseline" photos along Ninth Street
(only six years later than I should have). I also took some photos of the park itself but I'm going to take a little more time and not do a rush-job on the park photos; the one above, of the community garden, will have to tide you over a little longer.
As always, on any of these pages, click on the
icon to see a complete set of before-and-afters of the location you're viewing. (And boy, am I loving being able to post larger thumbnails of photos here in the blog entries, thanks to the redesign of the home page. But don't forget to click through to see the non-thumbnailed versions.)
Domino's at 900 M Now Open
Jul 28, 2009 9:01 PM
Reader J passed me the word late this afternoon that the
Domino's
at
900 M Street
appeared to be open, and I confirmed the tip with a quick drive-by a little while ago. The lights were on, a customer was at the counter, and the signs in the window were flashing. It's not yet available as a location on the Domino's web site, but I'm sure they'll take your call--the phone number (from a sign above the door) is 202-484-3030, the same as the old Domino's at South Capitol and M (not that I had it memorized or anything).
A Few New Photos (900 M, RFK Ramps)
Jun 30, 2009 8:29 AM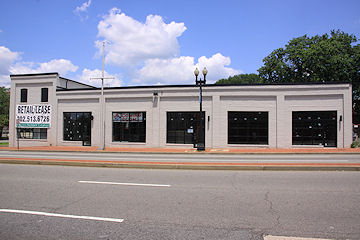 On Saturday I finally took some updated photos of the no-longer-beige building at
900 M
, and confirmed that there is a "
Domino's Coming Soon
" sign in the window. I also moseyed a few blocks east to get my first photos of the demolition of the ramps between the
11th Street Bridges
and RFK--the photos don't do a very good job of capturing the progress, though
comparing them with their befores
does help. I also added a few of the shots to my
11th Street Bridges photos
page, or you can just
browse the entire batch of photos
from the day.
Domino's Coming Soon to 900 M Street
Jun 26, 2009 1:02 PM
With thanks to reader JW for the eagle eyes, I can pass along that there is now a "
Domino's Coming Soon
" sign in the window in one of the three retail slots at
900 M Street
, the beige building that was recently a dialysis center but originally was a Hudson car dealership. (
Out of date photos here
; guess I'd better get over there this weekend.) The leasing company has said they are looking for national tenants for the spaces--I haven't heard if there are any leases signed for the other two units. (Though my mind always wanders back to
this story from last August
that mentioned a Dunkin Donuts franchisee scouting locations near the Navy Yard.)
Now, will people consider this "new" retail in Near Southeast, or just a restoration of the old order? After all, Domino's used to be one of the few food options in Near Southeast, at its original outpost at
South Capitol and M
, until it closed in early 2008. (That site is owned by
Monument
.)
Catching Up With a Few Small Items
Mar 8, 2009 11:05 AM
I've been out of town for most of the week, so posting was kind of haphazard. Here's some additional items, starting with news from just this morning:
* Reader atweber passes the news via
Twitter
that workers have told him that the Third and K Market will be opening next month. So, those wishing to stay in the neighborhood to shop won't have to use CVS as their "supermarket." (And the new windows and door are so pretty!)
* Not officially confirmed, but the
WashTimes is reporting
that President Obama has agreed to throw out the first pitch at the April 13 Nationals home opener.
* Via
the BID's latest newsletter
: the little beige building at 900 M Street that once was a Hudson car dealer (and more recently a dialysis center) is scheduled to open in April in its new incarnation as a retail building. It's said that the owner has received one letter of intent from an undisclosed tenant. (Just speculating, but maybe it's the Dunkin Donuts franchise
that was reportedly looking
in the Navy Yard area?)
* The BID has also announced the lineup for this summer's lunchtime concert series at the plaza behind
USDOT
, though you have to
page through their calendar
to see the schedule of artists. It runs on Wednesdays at noon from May 20 through Sept. 16.
* When I posted about FiOS internet at
70/100 I
and asked "is this news?", I should have referenced
this post from last summer
, about the "First Community to Offer FiOS" sign on Half Street, where we discussed that FiOS internet was already listed as available at those addresses on the Verizon web site.
* The day after
I posted about
the calls from Nancy Pelosi and Harry Reid to convert the Capitol Power Plant from coal to natural gas,
ABC7 reported that
"several thousand demonstrators "urged Congress to pass legislation to reduce greenhouse gases, and they targeted the government's own Capitol power plant as a symbol of the problem. An enthusiastic crowd of mostly young people marched from a park near the Capitol to the power plant several blocks away, where they planned to block entrances and were prepared to get arrested. The group chanted along the way, 'We don't want the world to boil, no coal, no oil!'" Darryl Hannah and Robert Kennedy Jr. were among the protestors. When they arrived at the power plant they were met with "about a dozen" pro-coal counter-demonstrators.
* On Thursday
the Post looked at
how the office building development biz in DC has all but ground to a halt: "Not a single office building has been started in the District since October, a sign that the slowdown that began in the far-out suburbs has now reached prime city locations." The Hood (surprisingly) isn't mentioned, though
WBJ reported a few months back
that Donohoe was looking for (but unable to secure) funding for
1111 New Jersey
.
City Paper on the 'Capitol Riverfront', and Other Links
Dec 10, 2008 1:10 PM
Piling a bunch of stuff together, again:
*
Just posted
on its Housing Complex blog (and in this week's print edition), the City Paper takes a look at the "Capitol Riverfront," both in the attempts to brand the neighborhood and in how empty it currently is (the subhed for the piece says "Developing a Name for the Southeast Waterfront Is Easier Than Actually Developing It" ).
UPDATE:
I should also mention that Housing Complex has also
posted occupancy numbers
for the new buildings in Near Southeast:
70 and 100 I
are 18 and 14 percent leased,
Onyx
is at 8 percent,
Capitol Hill Tower
is at 75 percent,
Capitol Quarter
Phase I is sold out, and
Velocity
is 25 percent sold.
* Reader J. reported yesterday that interior work seems to have begun at the old dialysis building at
900 M Street
. They're rehabbing the interior and the exterior to create three retail storefronts, though no tenants have been announced yet.
* The Douglass Bridge is
having another early-Sunday-morning-closure
on the 14th.
* Planners are trying to figure out
where to put all the charter buses
coming to town for the inauguration. I'm guessing that the surface parking lots all around Near Southeast are going to be pretty enticing.
Comments
(6)
More posts:
70/100 I
, 900m,
Capitol Hill Tower
,
inauguration09
,
jpi
,
M Street
,
Onyx
,
parking
,
Retail
,
Douglass Bridge
,
Square 743N
,
Square 699n
,
Nationals Park
Late Night Update on Hood Happenings
Aug 21, 2008 9:12 PM
* As I mentioned below, the garage that housed both the Merritt and Four Star cab companies started getting brought down today. They didn't get it all on Thursday, but I imagine by sundown Friday the rest will be gone. (See
pictures from midmorning
, though it's hard to see much in the way of a difference from First and K, since they took out the back of the building and only a smidgen of the K Street facade.)
* Only a few hours
after I said
that
Capitol Quarter
framing would start "in the next few days," lumber went up on the first house on the south side of L east of Fourth. (No pictures yet--this weekend!)
* Sometime this week the crane was put up at
1015 Half Street
, so we should be seeing vertical construction before too long.
Pre-Holiday Wrap Up
Jul 3, 2008 9:40 PM
Not that there's probably anybody left in town (
*tap* *tap* -- is this thing on?
), but just in case, here's a few items before I downshift into low-posting holiday mode over the weekend and into next week:
* My
Ballpark and Beyond column in today's Post
covers some of the latest news on retail (i.e., banks) I've posted here over the past few weeks (Wachovia at
20 M
, SunTrust at
100 M
,
plans for 900 M
). There's also a blurb on the month-old news of the
zoning approvals
for the
Waterfront Park at the Yards
. The column normally appears in just the District Extra, but If you live in Prince George's County, you got a crack at it this week as they snuck it in on page 11 of the P.G. Extra, too. But note that we're scaling way back on how often the column will appear (probably just monthly from now on) since the news isn't flowing as fast and furious-ly as it was last year.
* No one's invited me to the roof of any of the sparkly new Near Southeast buildings to watch the fireworks. I'll say it: I'm miffed. I do and I do and I do for you people, and this is the thanks I get.... [/sarcastic martyr mode off]
* I've tinkered again with the big homepage map, trying to have it make a little more sense. I've added
checkmarks
for the completed projects, and turned the list of projects down the left side (marked on the map with
boxes
) into only ones that are under construction or ones which the developers have done an especially good job of making me believe they'll start soon. The rest of the map is a whole lot of
stars
marking proposed projects. And they're all color-coded to differentiate between office, residential, and recreational/retail.
My real desire is to completely redesign the homepage, but I haven't had any inspirations come to me yet. Although, in the meantime, I've added another three random before-and-after photo pairings down on the bottom right of the homepage (after you do a lot of scrolling), just to fill some space. I also expanded my Neighborhood Blogs list of links.
Happy 4th, everyone!
Tiny Items of Note from This Weekend's Wanderings
Jun 23, 2008 12:53 PM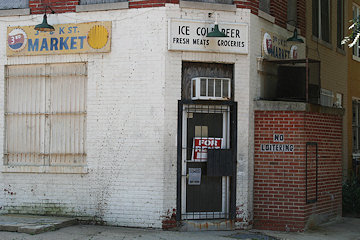 * DDOT told me these were coming a long time ago, and a reader whose e-mail I've lost gave me a heads up a few weeks back, but now I've finally visited for myself to see that the
ugly cyclone fences
on the South Capitol and M overpass have been
replaced with pretty gray-painted ironwork
.
* You have to look kind of closely, but construction has indeed started at
Capitol Quarter
, with pretty new curbs being installed on the south side of L Street between Fourth and Fifth. You can see them if you squint at the photos on my
Capitol Quarter Phase I page
.
* The owner of the
Third and K Market
at, um, Third and K must be keeping track of what's going on nearby, because there's now
a For Rent sign tucked in the door
. (Alas, all the info sheets were gone when I got there.) If you've ever dreamed of running a corner market, here's your chance. The market's been closed since about 2006.
* The "
Wachovia Coming Soon
" sign is back in the window at
20 M
, so my
building permit reading
was on the mark. (It's in the window on the
far western edge of the building
.)
UPDATE:
Speaking of 20 M, GlobeSt.com is reporting (tucked
in a piece on LEED Gold certification
for 1100 New York Avenue) that
several leasing deals are pending for 20 M
. So perhaps that's why Wachovia has decided to start moving forward.
* I did a bit of needed housingcleaning to the
home page map and project directory
--adding in
88 K
as a "featured project", demoting
1345 South Capitol
to "star-only" status until the project starts moving forward again, and adding a few additional stars for projects like the coming retail renovation of
900 M Street
.
I also did some updating of the tabs with the lists of projects--if you don't realize the tabs are even there (look just above the map for "Residential/Office/Retail/Hotel"), take some time during this lazy summer to click on them and be stunned and amazed by the easy access to project information....
First Peek at Elevations for 900 M
Jun 19, 2008 12:46 PM

With thanks to architect
Gregory Powe
, I've got the early elevations for the planned renovations of 900 M Street, the
beige one-story building
that is being converted into a retail space. (You can see
a larger version here
, showing both the M Street and Ninth Street facades, which you can compare to
current photos of the building
). As I wrote
a few days back
, this building that was once a Hudson automobile dealership and more recently a dialysis unit is looking to become home to "three national tenants," though none have been named. Historic Preservation Review Board staff have now approved the design, and it's also been presented to the Capitol Hill Restoration Society and ANC 6B's Planning and Zoning Committee. Building permits for the exterior renovations are expected to be applied for this summer.
11th and M Exxon Closing; Retail at 900 M?
Jun 8, 2008 7:18 PM
Within the past few days there has been some news from the eastern end of the neighborhood (and thanks go out to the folks who live up that way for passing along the information). Here's what I've heard:
* The
Exxon on the northwest corner of 11th and M will apparently be closing this week
, having been sold. There's rumors of development of some sort planned for the site, so I'm trying to find out if there's any details available yet, and will post if and when I find something out. This is the last gas station in Near Southeast, joining the departed Exxons on South Capitol at I and K, the Sunoco at Half and M, and the BP Amoco at South Capitol and N. Nowhere left for me to
track gas prices
anymore!
* The low-slung building at
900 M Street
, which apparently was once a Hudson automobile garage and most recently was home to a dialysis unit, is going to get a facelift to
become a retail space
, with most likely "three national tenants" who presumably would be seeing the many
Navy Yard
employees across the street as an enticing opportunity. I'm told the plan is to reintroduce the historic storefronts that this building apparently used to have, and designs have been presented to the Capitol Hill Restoration Society, ANC 6B's Planning and Zoning Committee, and the DC Preservation Office; I'm hoping to get some renderings soon. The current expectation is building permits for the exterior renovations will be applied for this summer.
For Sale Signs at 8th and Virginia and 9th and M
Oct 17, 2007 8:40 AM
Recently
a sign has gone up
on the old Miles Glass building at
8th and Virginia
advertising an "assembled lot sale" for eight lots along Virginia and along L, totally nearly 27,000 square feet and having a combined assessed value in 2007 of $6.761 million. The sign seems to indicate that the group sale does not include the Wrenn Barber Shop/Braiding Salon building at 1005 8th, nor the Miles Glass/Al's Diner lot next door at 1003 8th, which was bought on July 19 for $620,000 by "1003 8th Street LLC" (though I'm only now figuring out that the Miles Glass building is part of that 1003 8th lot). The assembled lot sale is being handled by real estate agent Barbara Miles, whose father was the founder of Miles Glass. (And she says that the family did take the
cool old Miles Glass sign
for themselves, which I'm glad to hear because I'm a sucker for cool old signage.)
And
another new sign has popped up
on the beige two-story building at 900 M Street, advertising lease or sale of this 9,624-sq-ft lot, with
Lincoln Property Company
, owners of
Maritime Plaza
at 12th and M, as the contact. Assessment records show the owner as "Paramount Investments," but I don't know if Lincoln manages the property or if they've purchased it or what (the public version of the property sales database runs about six weeks behind actual sale dates). It was assessed in 2007 at $2.651 million.