Near Southeast DC: Past News Items
kruba
Go to Full Blog Archive
---
2 Blog Posts Since 2003
Retail, Restaurant, and Recreation News (New and Old)
Feb 11, 2013 11:40 AM
A hail of bullets on various retail, restaurant, and recreation-type items, some of which are relatively new, but some of which decidedly aren't:

* The boxing and fitness club
DCBFIT
opened last week in the ground floor of
Capitol Hill Tower
, at the corner of New Jersey and L SE. While their web site makes me tired and sore just looking at it, I'm sure there are plenty of folks who will find this offering intriguing.
* Gordon Biersch,
coming soon
to 1st and M, has
"Now Hiring" signs up
: go to
Work4GB.com
.
* Also hiring, according to commenter JT who passed along
the Craigslist link
, is the Park Tavern at
Canal Park
. The Hill is Home
says that it's opening "very soon,"
even saying "around the 20th of February," but We Shall See.
*
Nando's Peri-Peri now has signage up
at the
Boilermaker Shops
--it's a little more than halfway down Tingey between 3rd and 4th, closer to the Bluejacket end of the building. It's supposed to be
opening this spring
.
* The Navy Yard portion of the
Riverwalk
was supposed to reopen today--anyone give it a shot yet? And, if so, is there any actual trail once you go out the east gate? As I showed a couple of weeks ago, the
old asphalt had been ripped up
as part of the 11th Street Bridges work, though of course it will be back at some point.
* Maybe now is finally a good time to mention the opening of petcare store
Wagtime Too
at 900 M Street, where it has been for a number of weeks now, offering boarding, daycare, grooming and "cool stuff." And I
actually have taken a photo of it
.
* Apparently the Quizno's at 8th and Potomac closed permanently back in December. And Chicken Tortilla at 8th and L was closed when I walked by a few weeks ago, though I don't know the story on that.
Comments
(12)
More posts:
100 M
,
900m
,
biersch
,
Boilermaker Shops/Yards
,
Canal Park
,
Capitol Hill Tower
,
dcbfit
,
Restaurants/Nightlife
, kruba,
parktavern
,
Retail
,
riverwalk
,
wagtime
,
The Yards
BID Says Kruba Thai Now Open, Except for Sushi and Alcohol
Nov 9, 2012 2:41 PM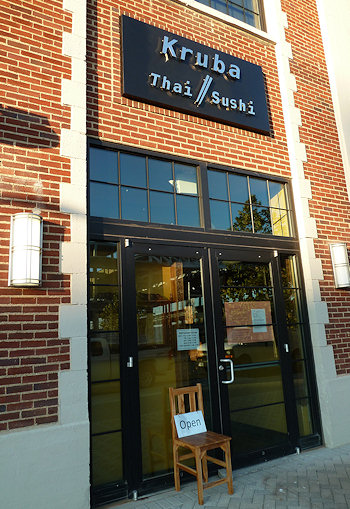 A
tweet just out
from the Capitol Riverfront BID says that Kruba Thai is now open, although with the caveats that the full Thai menu is available, but alcohol and sushi aren't yet, so definitely consider this a "soft opening."
If you swing by and check out this temporarily liquor-free version, post your thoughts in the comments.
Even without the alcohol, Kruba is now the first sit-down/table-service restaurant to open in Near Southeast since Justin's Cafe arrived in spring 2010.
For those who haven't followed closely, Kruba is in the southwest corner of the ground floor of the
Foundry Lofts building
, just north of the
Yards Park
on 3rd Street, SE.
UPDATE:
I wandered down, and they are indeed
open
. A couple of photos: