7 Blog Posts Since 2003
I was lucky enough to get invited one of the dry runs that Gordon Biersch is holding over the next few days to prepare the staff for their April 1 opening (because, with 40,000 Nats fans descending on the neighborhood, Biersch might get a bit of business). And they allowed me
to take a pile of photos
. I'll include the money shot here: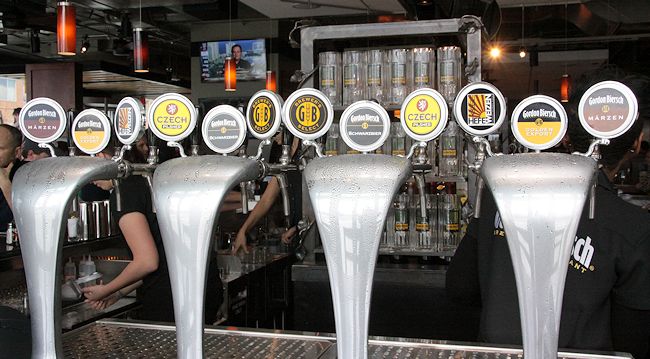 There's one more day of test seatings on Friday, and then a VIP reception on Saturday.
It's a pretty dang big space. Definitely a completely new experience in the neighborhood!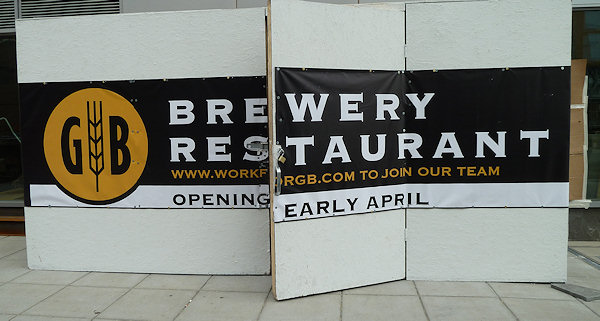 The Post's
Going Out Guide is reporting
that the
Gordon Biersch
at 1st and M is planning for an April 1 opening, which just happens to be the Nationals' 2013 Opening Day as well.
GoG says the restaurant will open at 11 am seven days a week, with happy hour from 3 to 6:30 p.m. Monday through Friday. The bar will stay open open until 2 a.m. Friday and Saturday, and midnight the rest of the week. (Food looks to be available until 10 pm Sunday-Monday, 11 pm Tuesday-Wednesday-Thursday, and midnight Friday-Saturday.)
The restaurant will have 226 seats inside, along with another 88 on the planned outdoor patio (they have applied for the required public space permit, but it's not approved yet). Might be a bit crowded on game days, but it will be interesting to see what kind of crowds it draws the rest of the time, especially from outside the neighborhood.
A hail of bullets on various retail, restaurant, and recreation-type items, some of which are relatively new, but some of which decidedly aren't:
* Apparently the Quizno's at 8th and Potomac closed permanently back in December. And Chicken Tortilla at 8th and L was closed when I walked by a few weeks ago, though I don't know the story on that.
Comments
(12)
More posts:
100 M
,
900m
, biersch,
Boilermaker Shops/Yards
,
Canal Park
,
Capitol Hill Tower
,
dcbfit
,
Restaurants/Nightlife
,
kruba
,
parktavern
,
Retail
,
riverwalk
,
wagtime
,
The Yards
When wandering by the Gordon Biersch space earlier today, I managed to
sneak a peek inside
:
The sign kind of says it all, right? "Early April" -- will they manage to make Opening Day?
Seems hard to believe this is actually coming. There is also a public space permit application in the window for unenclosed sidewalk seating, so you can look forward to dining al fresco at 1st and M while hordes of Nationals fans traipse past in the summer.
Within the past few days, readers have sent tweets with photos of
brewing equipment being delivered
to soon-to-be-
Gordon Biersch
at 100 M and
inside the space
at the
Boilermaker Shops
that will become
Bluejacket
.
No official timeframe on when either of these restaurants will open, though a Biersch employee
told the Post
that he "expects the new Biersch branch to be operating in time for the Craft Brewers Conference in March and the Nats' home opener in April."
As for the other beer joint on tap for the neighborhood (see what I did there?), there doesn't appear to be any action so far in the Willie's Brew and 'Que space at the Boilermaker Shops, but with owner Xavier Cervera's long-in-the-works redo of the Hawk 'n' Dove
reportedly about to debut
, perhaps he'll then be able to shift resources both to Willie's and to the Park Tavern at
Canal Park
.
UPDATE, 1/17:
This
Esquire interview
with Bluejacket bigshot Greg Engert says that the bar will open "in May."
The
Washington Business Journal confirms today
what I've been
chasing
and
rumoring
for just over a year now, that brewery/restaurant Gordon Biersch is indeed coming to
100 M
, the office building on the
northeast corner of 1st and M, SE
, one block north of Nationals Park.
No timetable was announced, but you'd think Opening Day 2013 would certainly be a goal. (Then again, we
once thought
that Opening Day 2012 would be a goal.)
The building permit application
I saw a few weeks ago
that I assumed was Biersch indicated the restaurant will have up to 236 seats indoors, and 94 outdoors.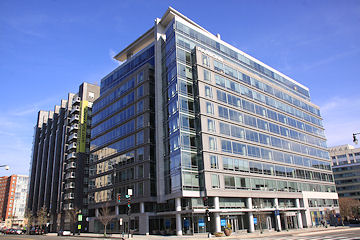 A building permit application has been filed with DCRA for an "interior alteration for new restaurant" at
100 M Street
, one block north of Nationals Park at the corner of 1st and M SE.
The application information as seen online doesn't give any specifics of the applicant, but I wouldn't be surprised that this is at last the signal that brewery/restaurant
Gordon Biersch
is indeed coming to this corner ground-floor retail space in the 220,000-square-foot office building,
as was first rumored last October
.
I know absolutely nothing more than this, and perhaps now the hounds will now be released to get something confirmed. But no matter what tenant ends up in there, a restaurant in that space will be most welcomed by residents and fans.
(I'm guessing a by-the-playoffs timeline might be a bit aggressive, though.)
UPDATE: Meant to include that the application mentions 236 seats indoors, and 94 outdoors. And remember, this is still just an application, it's not approved yet.