Near Southeast DC: Past News Items
Chiller Site/WMATA
Go to Full Blog Archive
---
14 Blog Posts Since 2003
WMATA Looking for Chiller Plant Developers - Again
Nov 5, 2013 9:53 AM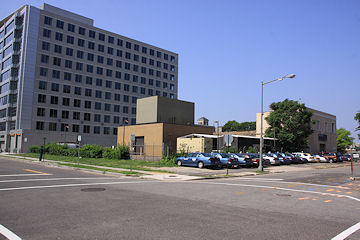 The Post's
CapBiz section reported yesterday
that "In an effort to take advantage of some of the boom in development near public transit, Metro
launched a search
Monday for companies interested in building on properties the transit agency owns at five of its stations: Brookland, Navy Yard, Fort Totten, Grosvenor-Strathmore and Morgan Boulevard."
The Navy Yard-Ballpark land the transit agency is looking to develop is a bit to the north of the station's Half Street entrance, and is known as the Chiller Plant site on the
southwest corner of Half and L
.
While this sounds like positive progress to those who are wanting to see that corner developed, I do invite readers to come with me on a
trip through the JDLand archives
:
Donatelli, WMATA Break Off Chiller Site Plans
Aug 20, 2010 9:06 AM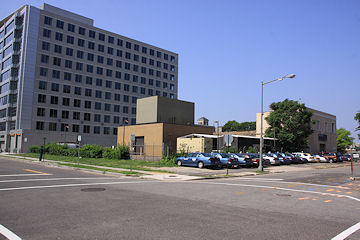 It was only
a few weeks ago
that I discovered (much to my embarrassment) that WMATA had been negotiating for nearly two years with
Donatelli Development
for the rights to build on the
southwest corner of Half and L
, on the Navy Yard station's "chiller site." Metro's
web site on the proposed plan
said that the development agreement is now "expected to be executed in the summer of 2010."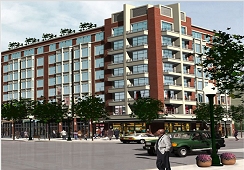 However, the
WashBizJournal reports today
(subscribers only) that the two have now "cut ties," with Donatelli receiving a certified letter from WMATA ending the deal. The article says that, while originally Donatelli proposed 84 apartments with 5,300 square feet of ground-floor retail, the development company last year tried to "reframe the project" as a boutique hotel, but couldn't find financing. WBJ quotes Donatelli as saying "There are too many apartments there already[.] The whole area was getting saturated, and it didn't look like condominiums were a viable alternative," which brought a "perplexed" response from Michael Stevens of the Capitol Riverfront BID: "We think [residential has] been one of the greatest successes of our neighborhood[.] Mr. Donatelli does this for a living, but I don't know what numbers he's looking at."
WMATA says that they won't be putting the small-ish 14,000-square-foot site immediately back on the market for development. (Note that the parcel housing the taxi company at 37 L is not part of the WMATA land.) The lot has office buildings
20 M
and
1015 Half
to its south and north, and (eventually)
1100 South Capitol
to its west.
Metro and Donatelli Negotiating (Still!) for 'Chiller Plant' Site Development at Half and L, SE
Jun 30, 2010 2:01 PM
Today WMATA
sent out a press release
touting a new web page highlighting its "dozens" of current and recently completed Transit Oriented development projects. And lo and behold, on the
page for the Navy Yard "Chiller Plant" site
on the southwest corner of Half and L, we find out that Metro has been negotiating a development agreement with
Donatelli Development
since the summer of 2008 (!) to build an 84-unit apartment building with ground-floor retail on the 14,000-square-foot site. Metro would continue to own the land and would receive lease income from the site, while Donatelli would be responsible for incorporating two new, larger, 350-ton chillers within the project (so that everyone down in both the Navy Yard and Waterfront-SEU Metro stations stay nice and climate-controlled).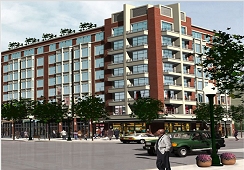 Metro says that this stalled development agreement is now "expected to be executed in the summer of 2010," with a lease between the companies to be signed about 18 months after that, once all development and construction permits are obtained. They say "late 2013" is when the project would open. At right is a rendering from the WMATA site of the proposed building. (Note that the footprint of this project does not include the cab company building just to the west at
37 L
.)
(And yes, I'm hanging my head in shame for not knowing about this. I knew that Metro was negotiating with *someone*, but had never heard who, and figured it fell through as time passed with no announcement. Maybe I'll take all of August off as punishment.)
Metro Board to Vote on N22 Bus Changes
Sep 22, 2008 1:47 PM
As
I wrote a few days back
, there are apparently plans to add a DC Circulator bus route in spring 2009 that would run between Union Station, the new US Capitol Vistors' Center (if it ever actually opens), and the Navy Yard station entrance at New Jersey and M (two blocks from
Nationals Park
). Since it would run on a similar route to Metro's N22 bus, Metro would then discontinue the N22, a move which requires a public hearing. So, on
the agenda
for this Thursday's WMATA board meeting is an item to both authorize the scheduling of the public meeting and also to amend Metro's FY09 budget to extend through March 2009 the current N22 service, which was expanded to evenings and weekends just before Opening Day as a way to move people to and from the ballpark.
Here is more information
detailing the agenda item.
One thing the board will not be voting on this week is the selection of a developer for the Navy Yard station's chiller plant site on the
southwest corner of Half and L
. Back in July there were discussions by WMATA's Planning, Development and Real Estate Committee in executive session about this selection, but nothing has been announced publicly and no items on the chiller site are on
any of Thursday's agendas
. Waaah.
No Chiller Site Developer Yet; Other Tidbits
Jul 25, 2008 10:17 AM
* No big news out of yesterday's WMATA board meetings--the board gave Metro staff the go-ahead to negotiate a deal with a developer for the 14,000-sq-ft Navy Yard chiller plant site at
Half and L
, but didn't say in public session who the developer is or what the project might be. The only tidbits in the resolutions were that the project should be LEED certified and that it should be required to make a contribution to the city's affordable housing fund (both of which, I believe, would be the case anyway given the city's new green building and inclusionary zoning laws unless there's some WMATA loophole I'm unaware of).
* I imagine all the local blogs will be talking about
this AP story today
on DC's levee system. To tie it to the neighborhood, one of the things currently happening at
the Yards
is that they're building up the ground level in places to make sure that it's above the 100-year flood plain.
* What's the Sports and Entertainment Commission doing now that the ballpark has opened? The
WashTimes takes a look
.
* The
Nationals have announced
their promotions and ticket packages for the rest of the season. They'll finally be back at home starting Tuesday after what seems like forever. See
my Events Calendar
for the schedule of home games through the end of the season.
*
NBC4 interviews
one of the coworkers of the
two men killed
on the open-top bus on the way to
Nationals Park
.
* DC Metrocentric
focuses on Near Southeast
by pelting me with questions.
* Off-topic, but readers might be interested in this
WashTimes overview
of the plans for and the current status of redevelopment in Southwest.
Navy Yard Station Chiller Site Decision Thursday?
Jul 21, 2008 10:35 AM
The agendas for Thursday's various Metro board meetings
have been posted
, and, barring a last-minute change, it looks like the Planning, Development and Real Estate committee will finally be taking up the awarding of the
Half and L
"chiller plant" site for the Navy Yard Metro station to a developer. It's going to happen in an executive session (
the agenda
says nothing more than "Term Sheet on Navy Yard Chiller Site"), so it could be possible it's not yet a done deal. They've been trying to bring this up at the board
since February
; the
solicitation for bids
for the 14,100-sq-ft site happened
nearly two years ago
.
Navy Yard Metro Chiller Site Developer Selection Pushed Back Again
Jun 20, 2008 3:32 PM
It's now becoming almost a monthly occurrence, watching for the WMATA Planning, Development, and Real Estate Committee agendas to be posted, to then find that the agenda item for naming a developer for the Navy Yard subway station's 14,000-sq-ft "chiller plant" site on the
southwest corner of Half and L
has been pushed to a "subsequent agenda"--and it's
now happened again
, with a July 24 date now attached to it. (It was last marked for June 26.) This site would be a joint development between WMATA and whoever gets chosen, and beyond that there's no hints as to what sort of development it could be, or whether they'd try to acquire the Empire Cab company next door on L. You can read all my previous entries on the
chiller plant here
--and I bet you didn't know that the blog has such a spiffy search interface!
Metro Board Talking About Monument Suit Again; Chiller Site May Get Developer in June
May 20, 2008 9:25 AM
Just like last month,
the agenda
for the WMATA board of directors meetings this Thursday includes an executive session, and
in that executive session
is the agenda item "Legal Issues - Monument vs. WMATA." For those of you just joining us, this lawsuit is a result of the bidding process for
the Southeastern Bus Garage
at Half and M that
awarded the site
to Akridge for $69 million--
Monument argued
that they were supposed to have first dibs on the site after being named "master developer" by the city. A judge
awarded a preliminary injunction
on the sale in February,
saying that
Monument has "demonstrated a likelihood of success on the merits of their claim that they were substantially prejudiced when WMATA considered Akridge's nonresponsive bid and participated in improper ex parte discussions with Akridge." I never heard about anything coming out of last month's board executive session when this was supposed to be discussed; perhaps there will be some action needing to be taken this time outside of executive session to give us a hint.
There's nothing else of Near Southeast-interest in the
other WMATA board meetings on Thursday
, but the
Subsequent Agenda
for the Planning, Development and Real Estate Committee says that its June 26 meeting will include an action item for approving the term sheet on the Navy Yard Chiller Site at Half and L. A joint development solicitation for this 14,100-sq-ft site was released
back in September of 2006
. A "developer selection" was supposed to be on the board's agenda back in January, but then disappeared; we'll see if this June item actually holds. The
2006 solicitation
described WMATA as "looking for innovative plans . . . that will yield quality developments for the local communities, increase transit ridership, enhance the local tax base and provide a stream of revenue to WMATA for capital needs." Proposals were also supposed to follow the principles of "transit-oriented development" -- "providing safe, walkable, mixed-use communities that emphasize transit connections and reduce auto dependency." While doing all that, the site's developer would still have to replace the chiller operations either on site or somewhere close to the Navy Yard station.
Roundup: Pope Tix, Bus Garage, Cancellations
Feb 26, 2008 8:38 AM
*
The Post
says that 14,000 tickets to the April 17 Mass at
Nationals Park
will be distributed to 120 Catholic diocese outside of the Archdiocese of Washington, with the Diocese of Arlington getting 6,000 and the Archdiocese of Baltimore getting 2,500. And on Friday, parishes that are part of the Archdiocese of Washington will find out how many tickets they're getting--parish priests will then decide how to distribute tickets within the parish.
* The
Examiner has a story
about the
Southeastern Bus Garage
site and that the Nationals and Metro are in talks to provide 350 gameday parking spaces at the garage (plus three nearby WMATA-owned parking lots, though that's not specified in the article). The only real news in the article is that a judge is expected to rule this week on Monument Realty's lawsuit over the sale of the garage site to Akridge. For more background,
read all my posts
on the bus garage saga.
* Yesterday's
scheduled council hearing
on Monument's
request to close the alley
on Square 700 just north of the closed BP Amoco station was cancelled. No new session has been posted on the calendar.
* And the
agenda
for Thursday's WMATA Planning, Development and Real Estate Committee does not include anything on the joint development of the chiller plant site at Half and L, as
had been anticipated back in January
. Maybe next month?
* If you think you're excited about the
local food vendors at the ballpark
announced yesterday, you should
read Marc Fisher
.
*
UPDATE:
I've gotten word that the long article in the March Washingtonian on the ballpark
is now online
. The other related article, about residential developments planned around the stadium, won't be posted for a couple of weeks. So you'll just have to go buy it, I guess. And perhaps you too can then be like the poor soul at Safeway on Sunday reading that article, who got accosted by a pesky blogger in line in front of him pointing to a name on the page, saying, "That's me." Thankfully he didn't call security.
WMATA Choosing Developer for Half and L Chiller Site
Jan 9, 2008 8:51 AM
Back in September 2006
, WMATA
solicited proposals
to develop four of its properties, including the east entrance of the Navy Yard Metro station at New Jersey and M and the 14,100-square-foot parcel on the
southwest corner of Half and L
streets, SE, where the Navy Yard Metro station's "chiller" is located. While the sale of the New Jersey Avenue land to Donohoe
was approved
by the WMATA board in December, there hasn't been even a smidgen of news about the chiller site in more than a year.
But now, nestled deep in the
posted paperwork
for Thursday's WMATA board meetings is an
expected agenda
for the Feb. 14 meeting of the Planning, Development and Real Estate Committee that lists "Navy Yard Station Chiller Site Developer Selection" as one of the action items. Citing the ongoing negotiations, Metro wouldn't give me any additional information, so we may have to wait for Valentine's Day for the "reveal," unless someone blabs beforehand. Once the mystery developer's section is approved by the WMATA board, the final negotiations for an agreement would begin. The property is currently assessed at just under $4 million.
The
solicitation
described WMATA as "looking for innovative plans . . . that will yield quality developments for the local communities, increase transit ridership, enhance the local tax base and provide a stream of revenue to WMATA for capital needs." Proposals were also supposed to follow the principles of "transit-oriented development" -- "providing safe, walkable, mixed-use communities that emphasize transit connections and reduce auto dependency." While doing all that, the site's developer would still have to replace the chiller operations either on site or somewhere close to the Navy Yard station.
There's also a 7,700-square-foot privately owned parcel next to the chiller on L Street, assessed at $1.72 million and currently home to the Empire and DC Flyer Cab Company. It has had "Build to Suit" signs flying for quite some time, so it's possible that the developer of the chiller site could acquire that land as well. And this spot is already surrounded by current and planned office projects, with the completed
20 M Street
and the planned
1100 South Capitol
on adjoining lots, and the starting-any-minute-now
1015 Half Street
across L Street. See my
Square 698 page
for photos.
JPI Adds Project #4: 23 I Street
Jun 6, 2007 5:31 PM
The speed of events is leaving me breathless these days. Today JPI held a groundbreaking ceremony at
909 New Jersey Avenue
, where digging is about to get underway for the 237-unit residential building to be built on that block (former home of the Nexus Gold Club). You can see the obligatory photos of Dignitaries-With-Shovels
here
. (Yes, I did
get my invite
after all. Thank you!)
But there was
big news
tucked into the press release touting what JPI is now calling its "
Capitol Yards
" neighborhood along I Street (with
70 and 100 I Street
across the way from 909 New Jersey about to sprout out of their deep hole): the announcement of plans for
23 I Street
, a fourth JPI residential project on I Street, slated to have 421 residential units and as much as 35,000 square feet of retail space. Its location would be on the south side of I Street between Half and South Capitol, from Half over to (and including) the current
Wendy's lot
. (The moribund Exxon station does not currently appear to be part of the plans.) Construction wouldn't start before 2008. I haven't added it to my main map yet, but I've
put up a few boring shots
of what the block looks like as of now.
With that, the number of not-spoken-for lots in Near Southeast has just about dwindled to zero. Pretty much there's the block on New Jersey across from Capitol Hill Tower (though Akridge now owns a portion of it), the Exxon at South Capitol and I if JPI doesn't grab it, and the Metro Chiller Plant on the southwest corner of Half and L, which might not be made available anytime soon. (And I'm assuming that the rumors of Monument Realty picking up the Sunoco site at 50 M are true.) Everything else west of 7th Street is now spoken for. So if you were hoping to make your millions in Near Southeast and you haven't already staked your claim, your time's just about up, unless you can wrest some parcels out of some other developer's hands.
ANC 6D December Meeting
Dec 12, 2006 4:38 PM
The agenda for last night's
ANC 6D
meeting wasn't made available before meeting time, so I decided to take a chance and skip the session (even though I normally adore subjecting myself to the psychological equivalent of having 2-inch nails driven into my eyeballs for a couple of hours). And it sounds like I picked a good one to miss, because my sources tell me that once again a fight over an alley closing dominated the proceedings, this time being another go-round on Monument Realty's
55 M Street
project on the west side of Square 701. Monument was looking for the ANC's support in advance of their Jan. 11 Zoning Commission hearing; last night the ANC's commissioners voiced concerns (which were also voiced in the past when Monument asked for support for its
alley closing bill
) that Monument's proffered community benefits package is insufficient--as currently constructed, it includes a $10,000 contribution to the Southwest Neighborhood Association's Scholarship Fund, a $50,000 contribution to the local schools, and a commitment to set aside a certain percentage of the residential project for affordable housing. Monument's standpoint is that this project is a "Matter of Right" development, meaning that there is no requirement that they do anything for the community, but they are doing so, anyway. The discussion has been tabled until the ANC's January 8 meeting, and the commmissioners also passed a resolution asking the City Council to table the
alley closing bill
(which already
passed unanimously last week
on its first reading and is scheduled for its final reading and vote on
Dec. 19
) to allow negotiations to continue. In less fractious news, there was apparently a presentation by WMATA about its
Joint Development Opportunities
around the Navy Yard station, including their work with Monument at 55 M Street (on top of the Half Street station entrance) as well as the Chiller Plant at Half and L and a small bit of land near the New Jersey Avenue station entrance. Am hoping to get more information about this....
Deadline for WMATA Land Bids Approaching
Oct 30, 2006 10:15 AM
Today's Post writes about
the two lots in Near Southeast that WMATA has announced will be
made available for private development
, the 14,000-sq-ft lot on the Southeast corner of Half and L and a 4,000-ft patch around the eastern entrance to the Navy Yard station at New Jersey and M. Not really too much in the piece that I didn't address in my
own entry eight weeks ago
when WMATA announced the search, but it's also a nice way to be able to post here that the deadline for developers to submit their proposals is Nov. 17. The article does mention, however, that sometimes these joint development opportunities don't always move like wildfire: "Once WMATA chooses a developer, the proposals must be reviewed by local jurisdictions and the Metro board. Getting the appropriate permits can be a lengthy process. Developers at the Prince George's Plaza Green Line station were selected by WMATA in 2000 but broke ground only last year."
WMATA Looking to Develop Two More Near Southeast Sites
Sep 2, 2006 9:43 AM
WMATA has released a
Joint Development Solicitation
for two sites in Near Southeast--the eastern entrance to the Navy Yard subway station at
New Jersey
and M, and the chiller plant on the southwest corner of Half and L. The sites would be offered for long-term leases, with the goal being Transit-Oriented Development: "safe, walkable, mixed-use communities that emphasize transit connections and reduce auto dependency." The 4.400-sq-ft New Jersey and M site is interesting because it butts up against Donohoe's planned
1111 New Jersey Avenue
office building, and the JDS states: "The Anacostia Waterfront Corporation has indicated a preference for the ground floor area around WMATAs eastern entrance to be an attractive public plaza, complimenting the new development in the area. In this case, development on the parcel would largely occur above the street level." I'm not sure how you create an attractive public plaza that has development above it.... I'm guessing that Donohoe will be quite interested in this land (and their
rendering of 1111 NJ
does indeed show a very nice plaza). As for the chiller site at Half and L, it's 14,100 square feet, with a 7,700-sq-ft privately owned strip right next to it that combined could allow for a 200,000-sq-ft development (just like
20 M Street
just to its south). With two other parcels at the corner of Half and L ready to be developed (the Nation site and the Ron Cohen
Square 699N
project), I'd imagine this site will garner a fair amount of interest. Proposals are due to WMATA on Nov. 17.