Near Southeast DC: Past News Items
teeter
Go to Full Blog Archive
---
11 Blog Posts Since 2003
Catching Up on Photos - Twelve12
Sep 29, 2013 4:02 PM
Teeter/Residential Building Really About to Start Construction
Dec 2, 2011 11:37 AM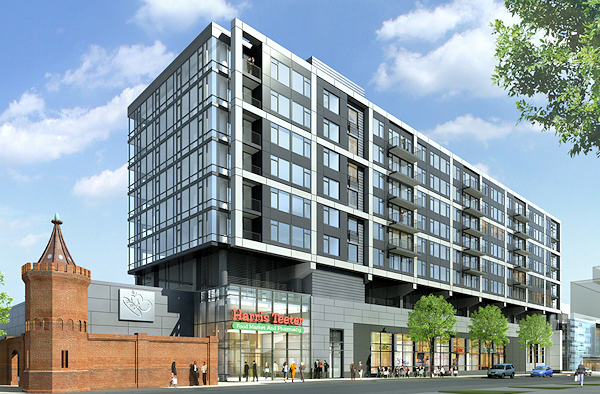 You know how I always like to say that something is expected to happen
Any Minute Now
? In the case of construction getting started on the southeast corner of 4th and M on the
new residential/Teeter/retail building
in
The Yards
, that's now actually a pretty true statement. On Thursday Forest City received the shoring/sheeting permit approval that the project has been waiting for, which will allow the start of digging at the site as soon as some other i's are dotted and t's are crossed.
Also, on Monday night, with almost no discussion, the Zoning Commission approved 5-0 the project's
itsy bitsy teeny weeny design modifications
discussed recently.
Getting construction started Any Minute Now should allow the Harris Teeter to open in late 2013 or early 2014, if all goes according to plan, though hopefully once the shovels hit the ground, we can get a more detailed timeline as to when the entire project will be finished.
LATE UPDATE: And, just like that, i's have been dotted and t's have been crossed, and Forest City tells me that this project is now considered "commenced."
Most Minor of Modifications to Yards' Teeter Building OKed by 6D
Nov 15, 2011 10:23 PM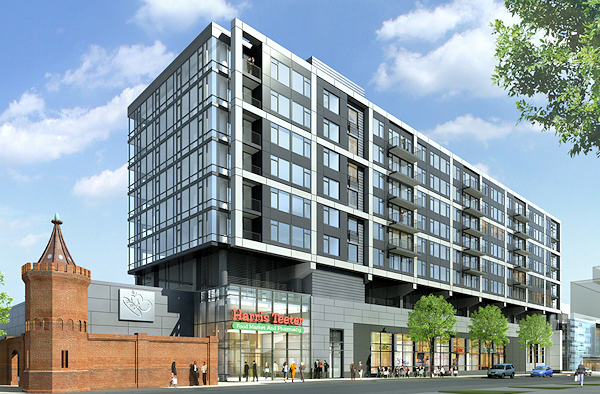 On Monday night, ANC 6D gave its support to a series of minor modifications (very minor--did I mention they were minor?) to the
previously approved design
of the new
residential/retail/grocery development
planned for the southeast corner of 4th and M, SE.
Because the lease with Harris Teeter has been executed since the project's zoning approvals were received, Forest City needs an okay for the company's signage, which you can
see in the updated rendering
. An outdoor seating area on 4th Street has also been added, and the design of the residential building's vestibule on 4th has been altered in order to use "structural glass." There were also slight changes to the roof structure, the sunscreens on the residential windows, the design of the trellises shielding the parking deck, and other items that should probably just be read about in the
Office of Planning report
that supports the proposed changes. (If you want the real nitty gritty of the updated design for this block, you can look through the
full submittal to the Office of Zoning
.)
Alex Nyhan of Forest City told 6D that he expects excavation on the site to start in about a month, with superstructure work beginning in the spring. This would bring the opening date to late 2013 or early 2014. (The entire block, consisting of the 55,000-square-foot Teeter, 218 apartments, and the as-yet-unnamed health club and other retail spaces at the south end of the site, is being built at the same time.)
There weren't many questions from commissioners. David Garber, who said that this was the first project reviewed by his new 11-member Near Southeast Citizen Development Advisory Committee, did question the project's representatives about the plans for bike parking. (Shocker!) Nyhan said there would be racks on 4th Street, and that they would be working with Harris Teeter to allow bikers to bring their bikes into the store and take them down to the parking level via elevator, but that no biking would be allowed into the parking garage. There was also discussion of whether the entrance to the garage could be expanded to allow for bike racks at street level, but Nyhan said there is not enough room in the design to widen the entrance.
The ANC then voted unanimously to support the project. It will be taken up by the Zoning Commission at its Nov. 28 meeting, having been removed from the Monday night agenda so that the ANC could be allowed to weigh in before the ZC voted.
Teeter/Residential Building at the Yards on 6D November Agenda
Nov 10, 2011 5:08 PM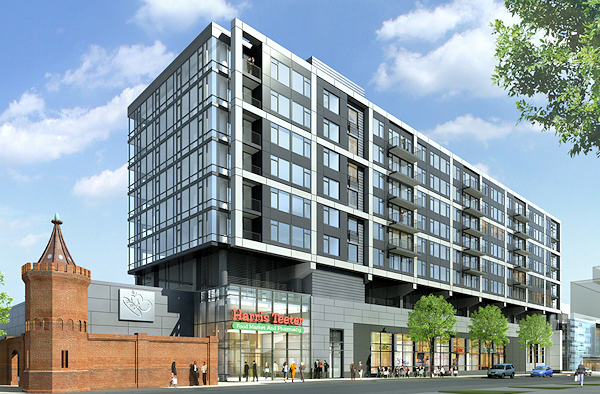 While you're spending your weekend trying not to head toward the
Navy Yard Metro station by mistake
, you can take a moment or two to add Monday's ANC 6D meeting to your calendar. The
agenda
doesn't seem to be getting updated online these days, but an e-mailed version shows that the only Near Southeast item to be discussed will be the
Harris Teeter/residential building
in the
Yards
, on 4th Street south of M. There are few minor modifications to the
design approved by the Zoning Commission nearly a year ago
that need new approvals (including an "upgraded" design for the entrance to the residential building), and so those are what will be presented to the ANC.
There was a bit of a flurry on Thursday morning when a
tweet
from a local business symposium indicated the work would begin on this project "next week." However, I checked with Forest City, and there's still a building permit that hasn't yet been approved, so while they hope to start construction reallyreallyreally soon, "next week" might be a bit optimistic.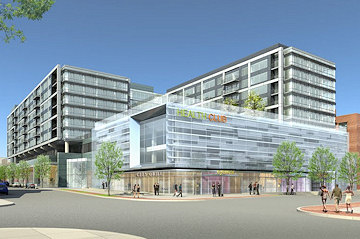 If you're just joining us, this project originally was planned to be an office building on top of the Harris Teeter, but will now instead be two long and narrow apartment buildings with a total of 200ish-units, with their entrance at 1212 4th St. SE. The Teeter will be 55,000 square feet and will have its main entrance near M Street. While the executive architect for the entire project is
Shalom Baranes
, the interior designer for the apartments is
Core Architects
out of Toronto, and you can see
a few renderings
on their site as being for "The Yards" (looks like a lobby or community room space, maybe?) , along with their many other projects.
On the south end of the block, at 4th and Tingey, there will be a four-story building with another 55,000 square feet of retail space, with what's expected to be a spa/fitness center/gym tenant on the top two floors and retail on the bottom two (seen at above left). There will also be a new narrow service road running south from M between this new development and Building 202 for loading zone access. Access to residential parking will be from Tingey, and the grocery and retail parking entrance will be on 4th, next to the residential lobby entrance. The retail spaces are being designed by
Kenneth Park Architects
.
You can check out my
Yards 401 M/Parcel D page
for more information, photos, and renderings. (Plus, in case you're wondering, this building site is just across 4th Street from the
Boilermaker Shops retail space
, about a block to the northeast of the
Foundry Lofts
, and a block from the
Yards Park
.)
The ANC 6D meeting is on Monday Nov. 14 at 7 pm at 1100 4th St., SW (the Safeway building), in the 2nd Floor DCRA meeting room.
Forest City Announces Restaurants at the Yards; Teeter Confirmed
Jun 27, 2011 8:48 AM
A press release went out this morning with the news that so many residents and office workers have been waiting for: the initial list of restaurants that will be opening at
the Yards
, along with confirmation that Harris Teeter is coming to the building at
401 M Street
.
At the
Foundry Lofts
apartment building currently heading toward completion, there will be a
Potbelly
, plus
Kruba Thai and Sushi
, from the
operators
of Teak Wood Thai and Sushi, Regent Thai, and Galae Thai and Sushi. Both are expected to open in the first quarter of 2012. (Pre-leasing of the residential units is expected to
begin in August
, with move-ins starting in October.)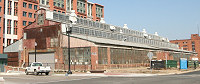 The
Boilermaker Shops
, the 1919-era building nestled between the Foundry Lofts and the US Department of Transportation, will have a number of different offerings:
* There will be
Buzz Bakery
, a full-service bakery, coffee shop, and "dessert lounge," plus an as-yet-unnamed
craft brewery
, both operated by the
Neighborhood Restaurant Group
, the people behind the Evening Star Cafe, Vermilion, Rustico, Tallula, EatBar, Columbia Firehouse, Birch and Barley, and ChurchKey.
*
Austin Grill Express
, a "casual, funky Tex-Mex restaurant drawing on the experience of Austin Grill to deliver a unique menu and environment."
*
BRB
("be right burger").
*
Huey's 24/7 Diner
, a "classic diner experience." (But will it actually be open 24/7?)
It's expected that Huey's, Austin Grill, and BRB will open in the fall of 2012, with the others in "late 2012."
And, at the
401 M Street
residential building (the only one of the three buildings that is 100 percent new construction), a
Harris Teeter
will be coming to the ground floor, which has been rumored for a number of years but is now finally confirmed. The press release says it will open in 2013, though for that to be the case, they need to start work on the building pretty much, um, now.
More as I get it, and you can read the
official press release
for additional details. For more on each project, see my
Foundry Lofts
,
Boilermaker Shops
,
401 M
, and main
Yards
project pages, or see the
official Yards web site
. Especially don't miss the photos from the interior of the
Boilermaker Shops
, which is a space very much unlike anything else in DC.
UPDATE, June 2012:
Because this post is linked to in so many places, it's necessary to update that in late June 2012 it was revealed that Austin Grill Express and BRB would not be coming to the Boilermaker Shops after all. However, Willie's Brew and Que sportsbar had been announced as another tenant in
late 2011
.
Phone Survey on Harris Teeter M Street Store
Nov 17, 2010 10:06 AM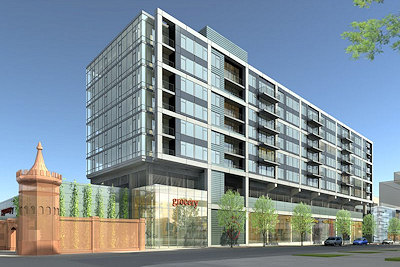 I received a report from reader K on being part of a telephone survey on Tuesday night about neighborhood grocery stores. It apparently started with generic questions on where K shops, followed by questions about what kind of new grocery store K would like to see in the neighborhood, with options like Harris Teeter, Trader Joe's and Yes! being on the list. (Interestingly, given last night's
Twitter eruption
on
Wal-Mart perhaps coming to DC
, K says there were lots of questions about whether the neighborhood would support a "low-price" store.)
The interview then moved to specific questions about what K "would like to see at the new Harris Teeter at
5th and M
by the Navy Yard." K said that the interviewer made the store sound like a done deal--which it certainly has seemed to be for a while now given all the hints and
not-confirmed media stories
about letters of intent, but there still has never been an official announcement from either Forest City or Harris Teeter that HT is indeed coming to the
new residential building
planned for 401 M St., SE at
The Yards
. One way or the other, it appears that construction on this building may be getting started next year--
see my recent entries
for details.
Tuesday Tidbits: 401 M, What if the Blue Castle Weren't Blue, Austin Grill Express at Nats Park?
Oct 5, 2010 2:29 PM
Some news on Near Southeast, still not the
9th Most Dangerous Neighborhood
in the US:
* The
National Capital Planning Commission
's staff has
recommended approval
of the new designs for
401 M Street
at
the Yards
, the new-construction building now redesigned to have residential units on top of a grocery-store-that-totally-isn't-Harris-Teeter-because-they-haven't-said-so-officially. The staff "recommends that the Commission recommend" [I love that] "that the massing and facade scale and articulation of the new building on Parcel D be studied and refined further as the design is developed. Staff notes that the grocery store should be treated with cladding that differentiates it from the residential tower and clearly acknowledges the presence and complements the scale of the sentry tower." You can see the designs on my
401 M page
. The NCPC meets Thursday, Oct. 7, but this is a consent calendar agenda item, so it won't be discussed at the meeting.
*
A subscribers-only WBJ piece
discusses the new "Austin Grill Express" food-court concession that serves wings, burritos, tacos, and salads, that already has 11 locations since it launched about a year ago. There's another 11 on the way by the end of the year, and the owner is hoping for another 40 to 50 of them next year. One of the locations the owners are talking to?
Nationals Park
.
* What would the Blue Castle look like if it weren't blue? Madison Marquette included
a rendering of a revamped 770 M
(with what looks like a grocery offering of some sort) in the slides it showed at last week's Southwest Waterfront public meeting. There's been no official news of plans for the building, or a timeline on when work might happen. For those just joining us, the Blue Castle was originally a "car barn" back when DC had trolleys and then streetcars.
401 M Street Project at the Yards Switching to Residential, Could Deliver a Grocery Store in 2013
Sep 9, 2010 10:59 PM

One of the top three questions that gets asked here at JDLand is "When is a grocery store coming to the
Near Capitol Ballpark River Yards
area?" (Well, maybe it doesn't get asked quite like that.) For a number of years there's been a planned grocery space on the
southeast corner of 4th and M
, as part of the first phase of development at the
Yards
; but thanks to the Economic Difficulties there hasn't been any recent indication of when (or if) that building might get underway.
However, it seems that the wheels are finally beginning to turn, and Forest City is now starting the process of shepherding a revised design for the site (known as "
Parcel D
") through the city's planning processes. And it appears that a full-service grocery store could be arriving in the neighborhood by late 2013 or early 2014. While that's not exactly right around the corner, those dates would seem to be an improvement over "someday, we hope."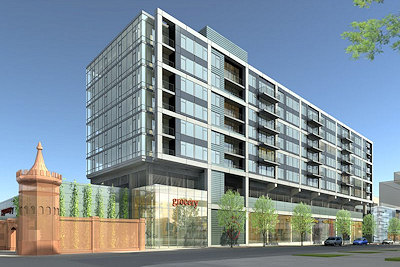 These new designs replace the original plans for one office and one residential building with a single
220ish-unit apartment building
, with 20 percent of the units earmarked as affordable housing. The 50,000 square feet of
ground-floor grocery store space
would still be at the north end of the block (near the red brick wall and turret), plus there would be additional retail space that would include a
three-story fitness and spa facility
. (And note that this is new construction, on a currently empty lot--the large red brick Gun Mount Shop just to the east of Parcel D is a separate project known as "
Factory 202
", designed as condos in the original plans.)
Forest City is hoping that construction could possibly start in early 2012, with a delivery in late 2013 or thereabouts. (But, repeat after me: dates like this are not written in stone.)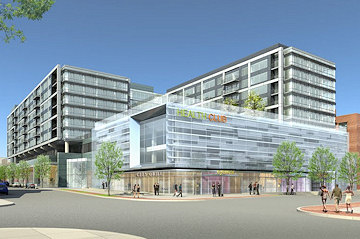 No names are officially attached to either big retail space at this time. However,
WBJ reported a year ago
that
Harris Teeter
has signed a letter of intent for the grocery store space, and, gosh,
Vida Fitness
sure is hanging around in the neighborhood a lot these days! Plus Vida said
a few months ago
that they have plans to open a branch in the Navy Yard area in 2013.
These new designs will apparently be presented to ANC 6D on Monday (a meeting which I, alas, will be missing), plus they are on the
agenda
for Thursday's Commission of Fine Arts meeting. They should also be going to the Zoning Commission at some point, so more details should become available as the process goes along.
I hope to have renderings of the new design soon, and will update this post when I get them. In the meantime, you'll have to settle for some renderings
on my project page
of the old original designs for 401 M and 400 Tingey from back in 2007.
UPDATE:
Renderings have now been added to my
401 M/Parcel D page
. A little taste of Southwest DC in the apartment building design, isn't there? The fitness/spa facility at Fourth and Tingey is much more modern (and I believe it will have space for some additional retail as well).
Zoning Commission Approves Trapeze School at the Yards; A Revised Tentative Phase I Timeline
Sep 21, 2009 7:47 PM
In a blissfully short 26-minute hearing, the city's Zoning Commission approved tonight the series of amendment requests to allow the
Trapeze School New York
to set up shop on Parcel O at
the Yards
, on the
southeast corner of Fourth and Tingey
.
The commissioners seemed satisfied with the information they had in the
Office of Planning report
and the submissions from Forest City and the Trapeze School, and asked few questions (Chairman Hood was clearly trying to move things along). This is a temporary approval, allowing the Trapeze School to be at the Yards for five years, or longer if a Special Exception is later granted. The text amendments also waved the on-site parking requirement for the school, with new commissioner Konrad Schlater saying he was "comfortable" with it because parking "is definitely overbuilt" in the area around the ballpark. ANC 6D had voted 7-0 in support of the case as well. It's now expected that the
National Capital Planning Commission
will address the Trapeze School at its Oct. 1 meeting.
No date for the opening of the school in its new home was mentioned, though it was explained that Forest City was trying to expedite the process since the school is having to vacate its home at the old convention center site. There will still be building permits to be filed for and approved before the tent can be lifted.
Toward the end of the hearing, Ramsey Meiser of Forest City gave a bit of an update on the other projects in the first phase of the Yards. Here's the latest:
* They are continuing to work with the city's Housing Finance Agency to get the money together to (re)start on the
Foundry Lofts
, with a hoped-for completion date of late 2010 or early 2011.
* The
Boilermaker Shop
could open in 2011; this dovetails with what a commenter
in this thread
reported hearing over the weekend, although earlier today Forest City would not officially confirm for me any scheduled start date for the project, only that some retail tenants have been signed, but that Forest City can't name them publicly just yet. (Maybe in October.)
* The first retail in the
Park at the Yards
(in the old Lumber Shed building) could open in 2012; the park itself is expected to open next summer.
* "
Parcel D
", on the southeast corner of Fourth and M, is the site of
the expected Harris Teeter
(though Meiser didn't name them, saying only "a grocery store," since neither Forest City nor Harris Teeter have confirmed this rumor yet), and is now apparently going to be a residential building instead of office, which had been hinted at recently. It's expected delivery date is currently 2013.
* The
Factory 202
lofts building at Fifth and M is not expected before 2014.
And all that's just the first phase! Meiser also said that Parcel N, the site of a surface parking lot on the southwest corner of Fourth and Tingey, would probably be the first project of Phase 2. But no date on that yet.
Long-Rumored Harris Teeter/Yards Deal Closer?
Sep 7, 2009 9:38 PM
Tonight
WBJ is reporting
that Harris Teeter--which has long been rumored to be the grocery store planned for the
southeast corner of Fourth and M
at the
Yards
--has signed a letter of intent, though Teeter isn't confirming.
But don't start making your shopping list just yet--even before the Economic Difficulties, Forest City wasn't expecting to open a building on that parcel before 2011, and that date now looks tough to meet. But there are hints in the article that maybe Forest City is rethinking the plan to have an office building topping the grocery store: "We are currently evaluating the overall development program on
that parcel
, which may result in a revised mixed-use concept," is the quote from Forest City's Ramsey Meiser.
Dogfish Head Alehouse, Jazz Club May Come to the Yards (Teeter, Too); Whole Foods and Square 737
Nov 14, 2008 9:27 AM
Today's print edition of the WashBizJournal has some big retail-related Near Southeast
items of interest
:
* "The developer of
The Yards
, the 42-acre Anacostia riverfront project near the Nationals ballpark, is close to landing
a jazz club
and
Dogfish Head Alehouse
and may move its local headquarters to the former Navy Yard. The two retail tenants would be the first in the
Boilermaker Shops
, a three-story industrial building with walls of red brick and plate glass on Tingey Street between Third and Fourth streets SE." (The Boilermaker Shops are scheduled to open in mid-2010, along with the
Park at the Yards
and the
Foundry Lofts
.)
* The planned office building at
401 M
could become home to Forest City Washington's headquarters; it's the one with the grocery store space in the ground floor. WBJ says Forest City "is 'nearing a deal' with a grocer for 50,000 square feet and an announcement could come in 60 days. He would not reveal the chain, but sources say it is
Harris Teeter Inc
. which has two D.C. stores and plans a third in Northeast." 401 M is not expected to be constructed before 2011, however.
* Also on the grocery store front, confirmation of the rumor that's been hashed around here lately: "William C. Smith & Co., meanwhile, has been in discussions with
Whole Foods Market Inc.
about a store in its planned 4-acre development between New Jersey Avenue, H and Second streets, known as Square 737." (See,
I tried to tell you folks
it wasn't going to be at New Jersey and K; and Jonathan, you're welcome for this tip.)
UPDATE:
Finally getting *some* piece of news about 800 New Jersey finally spurred me, after all this time, to
create a project page for it
. There's no renderings, just a bunch of "before" pictures, but at least it's something. And, since talk of grocery store on this site back in *1999* was one of the first tidbits that led me to start paying attention to the neighborhood, I guess it finally deserves its own page.