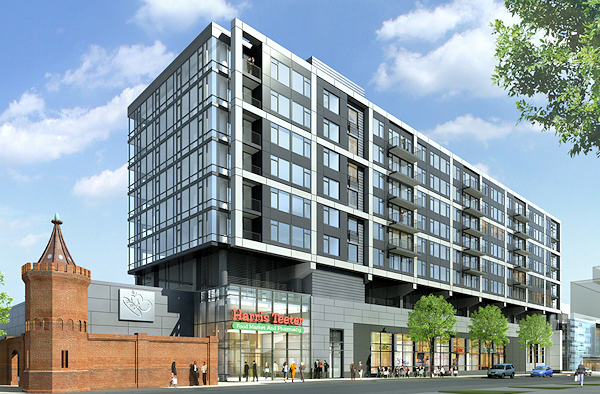 On Monday night, ANC 6D gave its support to a series of minor modifications (very minor--did I mention they were minor?) to the
previously approved design
of the new
residential/retail/grocery development
planned for the southeast corner of 4th and M, SE.
Because the lease with Harris Teeter has been executed since the project's zoning approvals were received, Forest City needs an okay for the company's signage, which you can
see in the updated rendering
. An outdoor seating area on 4th Street has also been added, and the design of the residential building's vestibule on 4th has been altered in order to use "structural glass." There were also slight changes to the roof structure, the sunscreens on the residential windows, the design of the trellises shielding the parking deck, and other items that should probably just be read about in the
Office of Planning report
that supports the proposed changes. (If you want the real nitty gritty of the updated design for this block, you can look through the
full submittal to the Office of Zoning
.)
Alex Nyhan of Forest City told 6D that he expects excavation on the site to start in about a month, with superstructure work beginning in the spring. This would bring the opening date to late 2013 or early 2014. (The entire block, consisting of the 55,000-square-foot Teeter, 218 apartments, and the as-yet-unnamed health club and other retail spaces at the south end of the site, is being built at the same time.)
There weren't many questions from commissioners. David Garber, who said that this was the first project reviewed by his new 11-member Near Southeast Citizen Development Advisory Committee, did question the project's representatives about the plans for bike parking. (Shocker!) Nyhan said there would be racks on 4th Street, and that they would be working with Harris Teeter to allow bikers to bring their bikes into the store and take them down to the parking level via elevator, but that no biking would be allowed into the parking garage. There was also discussion of whether the entrance to the garage could be expanded to allow for bike racks at street level, but Nyhan said there is not enough room in the design to widen the entrance.
The ANC then voted unanimously to support the project. It will be taken up by the Zoning Commission at its Nov. 28 meeting, having been removed from the Monday night agenda so that the ANC could be allowed to weigh in before the ZC voted.