Near Southeast DC: Past News Items
Bluejacket
Go to Full Blog Archive
---
8 Blog Posts Since 2003
Tidbits: Ice Rink Opening Soon, and Other Goings-On
Dec 5, 2013 8:29 PM
While I keep trying to get myself reacquainted with blogging (a process that clearly is not proceeding smoothly), I'm going to cheat and go with some Tidbits lists every so often, so that at least I can feel like I'm getting the spigot working better, even if it's still sputtering. Also, I have to get used to all these events, specials, and activities, which didn't used to be part of the Near Southeast blogging landscape.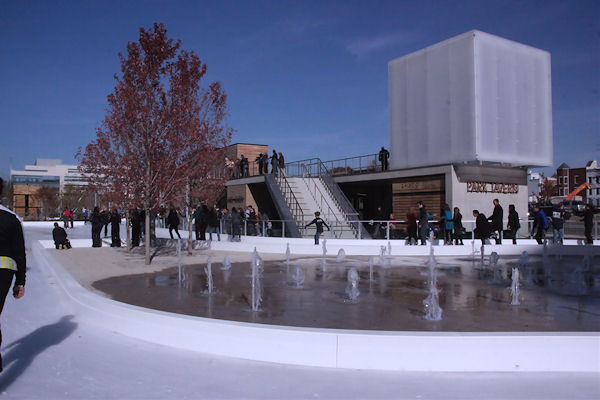 * The BID reports in its latest newsletter that the
Canal Park
ice rink
is scheduled to open on Monday, Dec. 16. And speaking of the park, if you haven't wandered by, you may not know that Christmas trees and wreaths are for sale there this year.
See the market web site for details
.
* On Saturday (Dec. 7), the
11th Street Bridge Park project
is holding two "community design meetings" that will provide an update about the project and break out attendees into smaller groups to work on ideas. A nationwide design competition for the project is expected to be launched early in 2014. The bridge park itself is expected to cost $35 million, which at this point is mostly unfunded. One meeting is at 200 I Street SE from 2 pm to 6 pm (details and RSVP
here
) but there is also
a morning meeting
. (via
DCist
)
*
ArtYards
has the
Chalk a Lot street art event
on Saturday and Sunday (Dec. 7-8) at the NGA parking lot, 1st and M SE. And see also
this Going Out Guide look
at the ArtYards project.
*
Osteria Morini
is now open for lunch, and
here's the menu
. Plus there's
Happy Hour specials now
, too, from 4 to 7 pm Monday through Friday. And Post food critic
Tom Sietsema took a First Bite
there earlier this week.
*
Bluejacket
is going big with
its first New Year's Eve celebration
. For your $160 ticket, you'll get an open bar for all Bluejacket brews, plus a DJ and "passed bites." Then there will be a champagne toast as part of the ceremonial midnight keg drop. (No, seriously.) And Bluejacket/Arsenal is now open for
lunch
, too, and is serving Sunday brunch from 11 to 3, but you probably already know these things.
*
VIDA Fitness
, coming to the
Twelve12 building
at the Yards in 2014, is
now offering membership pre-sales
. Their site says that the Penthouse Pool Club will open on July 1, 2014 and the VIDA Fitness itself on Aug. 25, 2014.
* If you want to look a little farther into the future:
WMATA
has scoped out
the subway alignments it would like to pursue
as part of its 2040 "core configuration" plan. How would you feel about a new Blue and Yellow line under 2nd Street from Union Station, turning west with a station at New Jersey and I before heading to Virginia? (It would also run under M Street NW from Georgetown to New York Avenue.) I can't wait to set out from my retirement home with my brain-embedded camera to take photos of this project.
Post Says Bluejacket (and Arsenal) to Open Tuesday, Oct. 29
Oct 23, 2013 4:14 PM
According to an
article just put up at washingtonpost.com
, the long-awaited Bluejacket Brewery will officially open for business at 4 pm on Tuesday, Oct. 29, with dinner service beginning at 5:30 pm.
And there's this, which is interesting: "The restaurant and bar inside Bluejacket will go by another name, the Arsenal, a moniker that draws on the building's history. [...] Chef de cuisine Dan Hahndorf, formerly of Vermilion, will be running the kitchen. Bailey told me his menu will put a modern spin on beer-hall food, with an emphasis on Mid-Atlantic ingredients. He'll also be using the spent grains from the beer production to make pastas."
It means that Bluejacket is the brewery itself, "which has the capacity to produce 5,000 barrels a year, or roughly 10,000 kegs. Engert expects to sell about 60 percent of Bluejacket's production via retail, but as of now, the brewery does not have a distribution deal. Large-format bottles of Bluejacket beer will be available for take-away at the Navy Yard location. Bluejacket will not sell growlers."
There's some nice interior photos in the Post spread, which may have to do if you're unable or unwilling to brave what will probably be massive crowds at first.
It was
announced way back in June of 2011
that the brewery--along with Buzz Bakery--would be coming to the
Boilermaker Shops
.
Vats, Nats, Glass, Concrete, and Rebar
Mar 14, 2013 8:16 PM
I wandered around on Thursday, it was sunny, I had my camera in hand, etc., etc., yadda yadda yadda.
Some items of note (click photos to embiggen):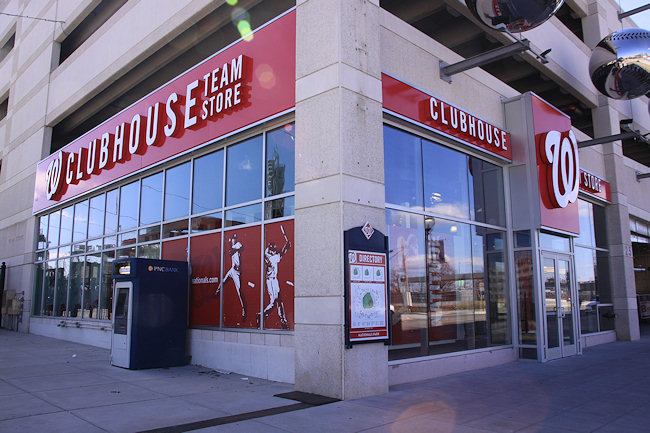 On your left, hard-to-get evidence of the ongoing work at Bluejacket at the
Boilermaker Shops
. They've covered up all the eye-level windows, but peeking through the (dirty!) glass above the large door on 4th shows the fermenters now installed on the mezzanine level.
At right, my first viewing of the renovated Team Store at
Nationals Park
's Center Field Gate.
Below, the
Lumber Shed
in the sun.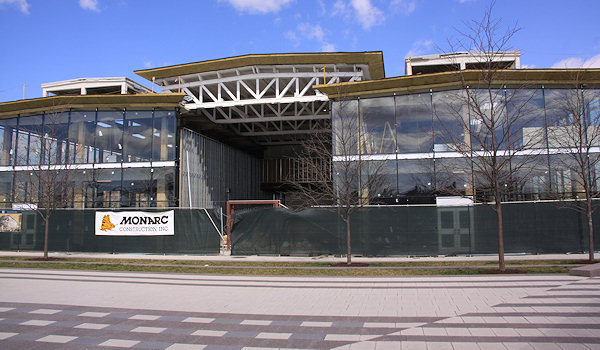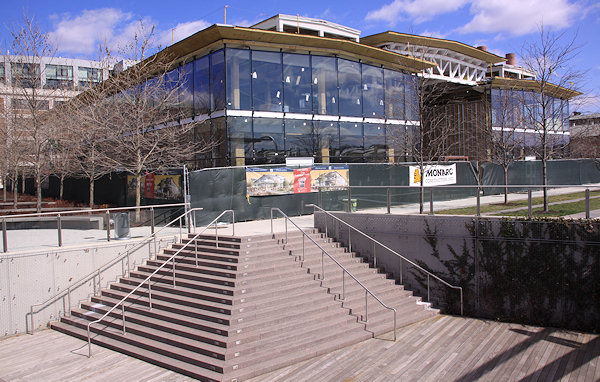 Agua 301
's space is to the left, and
Osteria Morini
's is to the right. (On the ground floor.)
And, everyone's dream come true, a parking garage being born: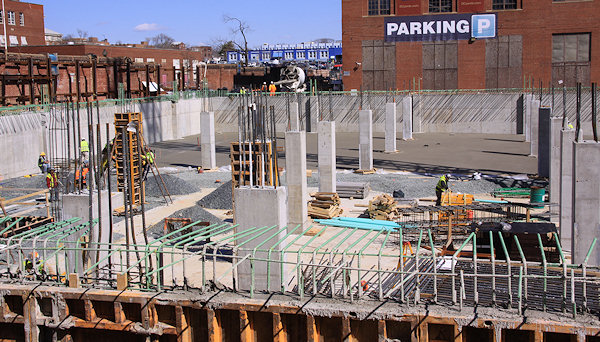 Of course, it's actually the parking garage that will be underneath the
Harris Teeter
in the Twelve12 apartment building at 4th and M, so it's probably allowed. If you want even more photos of rebar and concrete,
my Twelve12 page
has them.
Bluejacket Brewery Gets Big Preview in Post Food Section
Feb 19, 2013 8:45 PM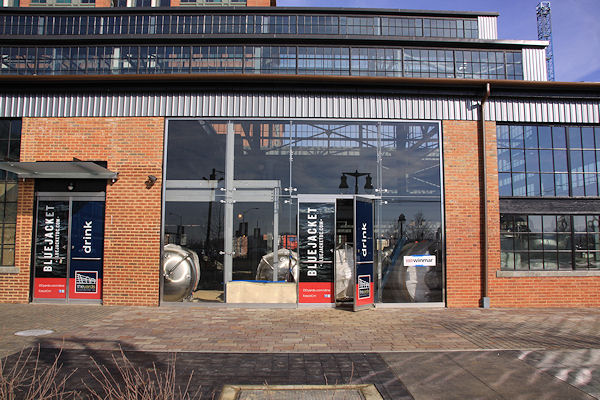 You don't have to wait for the Wednesday print edition of the Post to see the lead article in the Food section,
previewing the Bluejacket brewery
coming to the
Boilermaker Shops
at the Yards this spring.
Quoting: "If most craft breweries are akin to spacious but modest homes, Bluejacket, when it opens in May or June, will be a small mansion with all the amenities. The quantity and variety of equipment, much more than a brewery of its size would usually have and all custom-built, will arguably make Bluejacket like no other small brewery in the country: a facility that [Neighborhood Restaurant Group] hopes will turn out a staggeringly diverse, constantly changing array of topnotch beers."
After much describing of the how Bluejacket's approach to its brewery differs from many other ventures in the US, the Post asks, "So what, then, will be the end result of this perfect-world brewery buildout? Once we descended from the mezzanine to the ground floor, Engert began describing a wildly ambitious beer program: 15 drafts and five cask ales at all times, plus five drafts from other breweries, along with an assortment of house beers in 375- and 750-milliliter bottles and even magnums and Jeroboams. He wants to implement the same sort of constant rotation that is a hallmark of Birch & Barley/ChurchKey and other NRG restaurants."
I haven't been inside the space since September, but the
photos I took that day
, from before the buildout began, should help envision the setup that the
Post piece
describes.
Vats of Beer! Or At Least the Vats to Make Vats of Beer
Jan 15, 2013 12:32 PM
Within the past few days, readers have sent tweets with photos of
brewing equipment being delivered
to soon-to-be-
Gordon Biersch
at 100 M and
inside the space
at the
Boilermaker Shops
that will become
Bluejacket
.
No official timeframe on when either of these restaurants will open, though a Biersch employee
told the Post
that he "expects the new Biersch branch to be operating in time for the Craft Brewers Conference in March and the Nats' home opener in April."
As for the other beer joint on tap for the neighborhood (see what I did there?), there doesn't appear to be any action so far in the Willie's Brew and 'Que space at the Boilermaker Shops, but with owner Xavier Cervera's long-in-the-works redo of the Hawk 'n' Dove
reportedly about to debut
, perhaps he'll then be able to shift resources both to Willie's and to the Park Tavern at
Canal Park
.
UPDATE, 1/17:
This
Esquire interview
with Bluejacket bigshot Greg Engert says that the bar will open "in May."
Inside the Boilermaker Shops, Under Construction
Sep 6, 2012 12:52 PM
Construction continues
at the Boilermaker Shops, the World War I industrial building at
the Yards
that Forest City is adapting into a retail and office space. And today I was able to
see the interior
for the first time since 2007, with camera in hand, of course.
None of the tenant spaces are looking like their final versions yet, but it's still cool to check out the bones before the spaces really get going with their installations. Though I sure wish it hadn't been pouring rain, to get a better sense of how much more natural light will come into these spaces when the sun is out. Next time....
The
photo gallery
shows the spaces where Bluejacket Brewery (above), Buzz Bakery, Willie's Brew and Que (below left), Huey's 24-7 Diner, and Wells Dry Cleaners will be, along with the office space being built out on a new second floor that runs along much of the interior of the building (below right) and some of the as-yet unleased sections.
The photos you see here are just a smattering, so be sure to
check out the whole gallery
.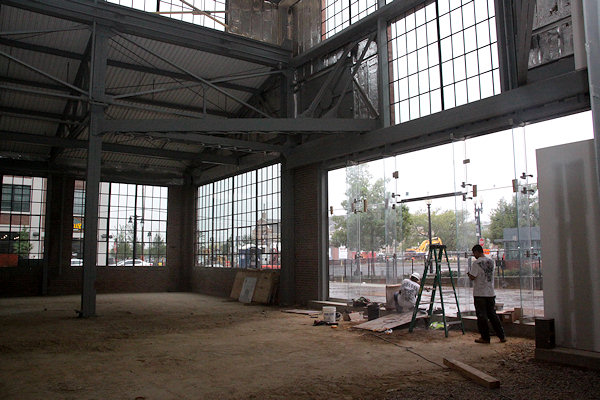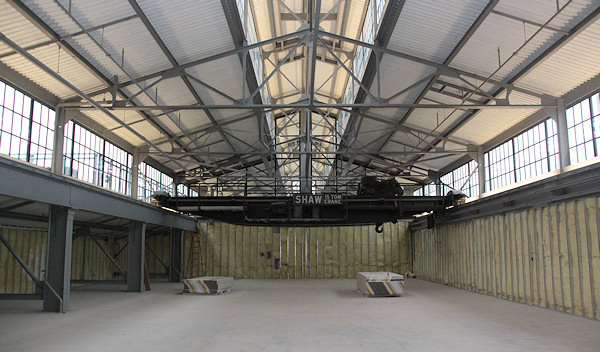 It's too bad that the mondo-cool
Shaw 15 Ton Crane
left from the
building's original incarnation
is up in the office space, rather than somewhere in the public areas, but hopefully the office workers will take good care of it.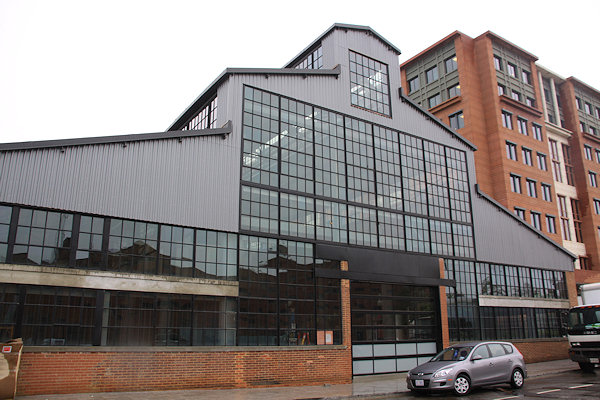 There are no official opening dates for any of the tenants, though it sounds like the dry cleaners will be the first to open (yay...?). Bluejacket has previously announced they are shooting for an early 2013 opening.
For additional information, including lots of (not especially new) photos of the exterior from when the sun is actually out, see my
Boilermaker Shops project page
.
I also tossed in a photo of the
hole in the ground
where
Twelve12 4th
will be sprouting, to be home to apartments and Harris Teeter. I was told that they've dug as deep as they're going to go, and pile work is next on the agenda.
UPDATE:
Also, I was going to grouse about why I don't take photos when the weather is bad by pointing to this
batch I shot along L Street
catching the homestretch progress at
Capitol Quarter
, but strangely enough most of the "before" shots aren't exactly under bright blue skies. Juggling a camera and an umbrella is not my cup of tea, though.
Bluejacket Brewery Debuting - The Beers, That Is
Jul 31, 2012 1:28 PM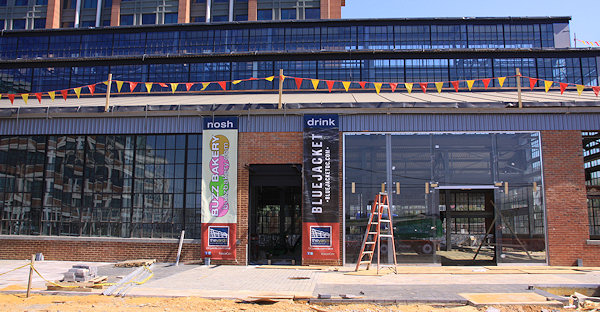 It may still be a number of months before
Bluejacket Brewery
opens on the eastern end of the
Boilermaker Shops
in the
Yards
, but that's not stopping owner Greg Engert and brewer Megan Parisi from getting a head start on the beers that will be offered at the new restaurant. So, tomorrow (Wednesday, Aug. 1) at 6 pm, Bluejacket's first five beers will be unveiled in an event at sibling
ChurchKey
.
If you go to the ChurchKey web site and then click on Events (come on, people, direct links!), you'll see hints about the lineup, which are mainly "mashups" created in collaboration with other breweries around the US, but also includes Sidewalk Saison, Bluejacket's first solo brew. (via
WaPo
)
It's expected that Bluejacket itself will open in early 2013.
UPDATE:
At the risk of not being 1 billion percent accurate, I'll draw attention to the fact that two of the beers have already been "released" (Snack Attack and the Black Berliner Techno Weiss) and three are new, with Sidewalk Saison being the only one that is completely Bluejacket's own creation. But since ChurchKey also bills the event on its own web site as "World Premier: Bluejacket 5 Drafts Unveiled," you can just pick which part of "Premier" and "Unveiled" you'd like to focus on.
New Boilermaker Shops Brewery to be Called Bluejacket
Mar 16, 2012 9:44 AM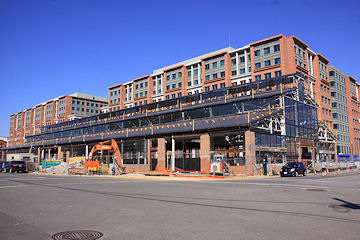 The
Washington Post reports today
that the Neighborhood Restaurant Group has now decided on a name for the brewery it is bringing to the
Boilermaker Shops
at the Yards:
Bluejacket
, which it says is "historically a term for sailors in the US Navy."
The brewery also now has a
web site
, a
Twitter feed
, and a
Facebook page
. And an "Established 2013" tagline, so that's another confirmation that they don't look to be opened before the end of this year.
The brewery will be located on the
eastern end
of the Boilermaker Shops building, fronting 4th Street SE.