Near Southeast DC: Past News Items
wholefoods
Go to Full Blog Archive
---
8 Blog Posts Since 2003
Whole Foods Makes it Official; Updated Rendering
Oct 23, 2013 8:48 AM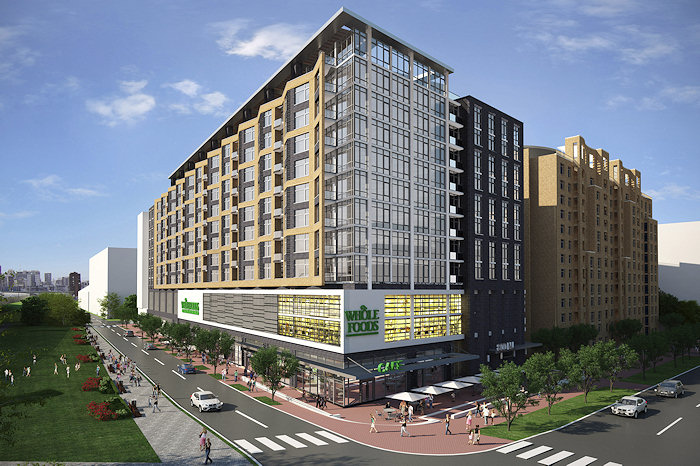 I guess Whole Foods figured that waiting another month for an official announcement after yesterday's flurry of news was a little unnecessary, because this morning there is an official release--and a new rendering, with all the appropriate signage (
click to embiggen
). The under-construction
Park Chelsea
is visible to the right, so this view is of the corner of New Jersey and H.
The William C. Smith release:
"Washington, DC - Developer WC Smith has signed Whole Foods Market to anchor the retail portion of its $443 million development in the District's Capitol Riverfront neighborhood. The 36,000 square foot store will be located on the first floor of the second of three residential buildings the company has in development on New Jersey Avenue SE, two blocks from the Navy Yard Metro station.
"'We are delighted to welcome Whole Foods to the Capitol Riverfront neighborhood,' said Chris Smith, chairman and CEO of WC Smith. 'Their dedication to healthy living and commitment to community dovetails with our mission of creating green, sustainable communities for residents of the District of Columbia.'
"The first component of the new development, a 432-unit luxury apartment building known as
Park Chelsea
, is currently under construction with a projected fall 2014 delivery date. Construction on the
second building
is scheduled to begin early in 2014, with a 2017 opening of the Whole Foods Market and delivery of 336 residential units. The residential units will offer 10 foot ceilings and a commanding view of the Capitol and the monumental skyline. Completion of the third Class A residential building will bring the unit total to over 1,100 for the development.
"All of the buildings will provide on-site parking and will be highly amenitized with club rooms, rooftop pools, and exercise facilities. Additionally, each site will offer a unique amenity space for use by residents of all three buildings. Those amenities include an indoor lap pool, an all-purpose gymnasium, a demonstration kitchen, and a 15,000 square foot courtyard. The development is within walking distance of both the Navy Yard and Capitol South Metro stations and adjacent to newly created Canal Park with water features, ice skating rink, public art, programmed activities, and Park Tavern restaurant."
UPDATE:
The separate joint release with Whole Foods is a little long to cut-and-paste, but there's this quote:
"'Washingtonians asked and we listened," said Scott Allshouse, Whole Foods Market Mid-Atlantic regional president. "People who live and work in Southeast have been requesting a Whole Foods Market for some time. We are thrilled about finding the right fit given the combination of factors that go into deciding on a new location.'"
Whole Foods Signs Lease for 800 New Jersey Avenue
Oct 22, 2013 9:55 AM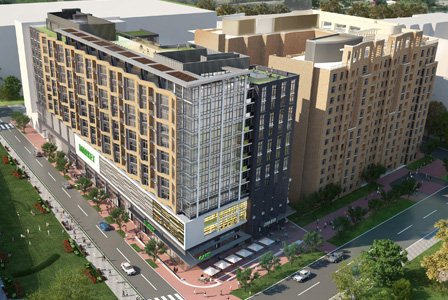 A mere 11 years after the notion was first floated, there is apparently finally
a signed contract
to bring a Whole Foods grocery store to
800 New Jersey Avenue SE
. Though the chain isn't expected to make an official announcement until next month, a representative of WC Smith told Monday night's ANC 6D meeting of the news.
Note that the store won't be at the
Park Chelsea
, WC Smith's apartment building currently under construction at 880 New Jersey. This will be a new apartment building just to the north, running along the
to-be-rebuilt H Street
between New Jersey and 2nd, immediately south of the freeway. It's expected to have 330ish units and all the usual amenities. But with construction not currently expected to start until spring 2014, and the timeline of the buildouts of both the building and the interior work for the store, you probably won't be buying your quinoa there before 2017.
Whole Foods Tax Abatement Dead; Is the Entire Deal Kaput?
May 1, 2011 5:15 PM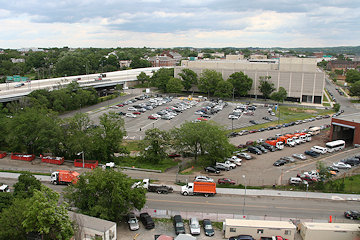 The
Washington Post is reporting
that developer William C. Smith is "no longer seeking" a proposed $8 million tax abatement to bring Whole Foods to a planned 375-unit apartment building at
800 New Jersey Ave., SE
, and that in fact the
news coverage of the proposal
may have killed the deal altogether.
The article quotes a statement from Whole Foods saying that the company "was not involved in any tax break or lease agreement negotiations" with WC Smith, and Michael Stevens of the BID is quoted as saying "I used to know that Whole Foods wanted to be in the neighborhood. After that article, I don't know anymore."
Whether the entire Whole Foods deal is truly dead or there's just some steam being let off is not 100 percent clear in the article, though it quotes an anonymous source as saying that Whole Foods could still end up somewhere in the area and is "fielding entreaties from other developers."
This is/was not the only grocery store planned for Near Southeast, with Forest City including supermarket space in the apartment building that it has planned for
401 M St., SE
at
the Yards
, which could be getting underway late this year or early in 2012. (Standard statement whenever mentioning this: it's long been reported that Harris Teeter will be occupying that space, but neither Forest City nor the grocery chain have ever publicly announced a deal.)
WC Smith Looking for $8M Tax Break to Bring Whole Foods to 800 New Jersey Avenue
Feb 14, 2011 10:06 PM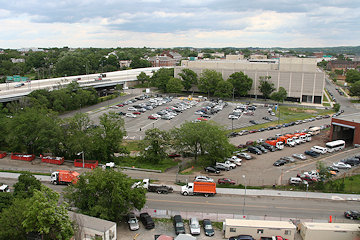 From
Tuesday's Washington Post
, confirmation at last at what has been reported since 2002, but with a bit of a twist:
"Whole Foods Market and a D.C. real estate firm are interested in building a new store in Southeast Washington near Nationals Park, but the developer says that luring the grocer would require $8 million in tax breaks. William C. Smith and Co. is proposing a 39,000-square-foot Whole Foods for
800 New Jersey Ave. SE
as part of a building that would include 375 apartments."
More: "Smith said the $800,000 annual tax break would cover requests by Whole Foods including an additional level of underground parking, extra elevators and higher ceilings on the bottom floor. Without the tax break, he said, he would either wait to develop the site or build a smaller apartment building with little or no retail."
Tax breaks for developments are being requested more frequently during this Era of Economic Difficulties, but the city's own financial troubles, and the amount of assistance that has been going to Ward 6 in comparison to other parts of the city, may make a request like this a tough sell, the
article
says.
There are already plans to bring a not-officially-named grocery store (*cough*Harris Teeter*cough*) to the neighborhood perhaps in 2013 at
4th and M
in the Yards. This Whole Foods site, though, would also be a draw not only for Near Southeast residents but for folks on the south side of Capitol Hill, given its location just on the other side of the Southeast Freeway. You can see
some photos of the site here
.
WC Smith has been planning a four-building, 1.1-million square foot office/residential/retail project on this block (Square 737) for some time. The transfer of a small plot of land known Reservation 17A was finally completed last year from the Feds to the city, clearing a long-time bureaucratic hurdle to getting the site redeveloped. (This will also allow I Street to be built through between 2nd and New Jersey once the DPW building just to the south is demolished, which may happen this year.)
There has been chatter over the past few months that Smith was pitching the entire site for the 1.1-million-square-foot Department of Homeland Security lease that GSA currently has out for bid--this movement on getting a residential building started might seem to signal a shift from that possibility, along with being another indication that developers are sensing Near Southeast is a strong residential market.
This lot is next to
225 Virginia Avenue
, the old Star/Post plant that is
hours away
from starting its transformation into 200 I Street, which will be home to three city agencies when its "re-skinning" and renovation is completed within the next two years.
(A note: The article says that WC Smith purchased the land from the Post in 2000 for $50 million; I think a decimal point got lost somewhere, because DC Property Records say that the lot, which used to be home to an
old warehouse
owned by the Washington Star and then the Washington Post, sold for $50,000 in December 1999. That number might not be right either, but considering that even now, in a completely changed neighborhood 11 years later, the 800 New Jersey land is assessed at just over
$19 million
$58 million, I doubt that Smith paid $50 million.
[UPDATED
because I looked at only one assessment record instead of three.] The WC Smith parcels were assessed at about $2.5 million in 2001, the oldest records that I have.)
Dogfish Head Alehouse, Jazz Club May Come to the Yards (Teeter, Too); Whole Foods and Square 737
Nov 14, 2008 9:27 AM
Today's print edition of the WashBizJournal has some big retail-related Near Southeast
items of interest
:
* "The developer of
The Yards
, the 42-acre Anacostia riverfront project near the Nationals ballpark, is close to landing
a jazz club
and
Dogfish Head Alehouse
and may move its local headquarters to the former Navy Yard. The two retail tenants would be the first in the
Boilermaker Shops
, a three-story industrial building with walls of red brick and plate glass on Tingey Street between Third and Fourth streets SE." (The Boilermaker Shops are scheduled to open in mid-2010, along with the
Park at the Yards
and the
Foundry Lofts
.)
* The planned office building at
401 M
could become home to Forest City Washington's headquarters; it's the one with the grocery store space in the ground floor. WBJ says Forest City "is 'nearing a deal' with a grocer for 50,000 square feet and an announcement could come in 60 days. He would not reveal the chain, but sources say it is
Harris Teeter Inc
. which has two D.C. stores and plans a third in Northeast." 401 M is not expected to be constructed before 2011, however.
* Also on the grocery store front, confirmation of the rumor that's been hashed around here lately: "William C. Smith & Co., meanwhile, has been in discussions with
Whole Foods Market Inc.
about a store in its planned 4-acre development between New Jersey Avenue, H and Second streets, known as Square 737." (See,
I tried to tell you folks
it wasn't going to be at New Jersey and K; and Jonathan, you're welcome for this tip.)
UPDATE:
Finally getting *some* piece of news about 800 New Jersey finally spurred me, after all this time, to
create a project page for it
. There's no renderings, just a bunch of "before" pictures, but at least it's something. And, since talk of grocery store on this site back in *1999* was one of the first tidbits that led me to start paying attention to the neighborhood, I guess it finally deserves its own page.
Rumor Patrol: Whole Foods on New Jersey Ave.?
Aug 22, 2008 3:00 PM
Rumors started flying in a few places lately that Whole Foods is coming to New Jersey and K, SE. I usually shy away from writing about rumors, but this one is persistent enough that it probably needs some addressing. It's not listed on their
Stores in Development page
, and no one's leaping to tell me this is or isn't true (which isn't surprising), but it's not completely out of the realm of possibility. There's been references here or there to "two grocery stores" coming to the neighborhood (with space for one set aside at the
The Yards
, coming in 2011 or later), and I've heard nonspecific Whole Foods/Near Southeast rumors a few times over the past year.
But I'm skeptical about it coming to the New Jersey/K intersection. There's only 6,000 square feet of retail in
909 New Jersey
(not enough for a grocery store), and the plan for the trash transfer station has always been for it to be part of the
Capper
Hope VI project, with an apartment building that probably won't start before 2011. That leaves the southwest corner, where the Cohen family owns the small lots along K between New Jersey and First; there's also the Positive Nature lot at 1021 New Jersey and one to its south owned by Potomac Development Corp., who it should be noted picked up 51,000 square feet of transferred development rights earlier this year. (Can someone at CHT look out their window and confirm that the Positive Nature sign is still there?)
So maybe the "
New Jersey
" part is right, but not the "K"? My gaze (and my betting dollars) might head north a block or two, to
800 New Jersey
(also sometimes known as 120 Canal), where for years William C. Smith has envisioned a grocery store as part of its planned 1.1-million-square-foot four-building development on the Square 737 block bounded by Second, H, New Jersey, and the eventually reconstituted I Street. No timeline for the start of this project has been announced, though. (In fact, there's so little information about the project that I haven't even felt compelled to build a project page for it.)
In other words, there aren't really any tea leaves to be read on this one, so if someone wants to spill the beans, I'm
always listening
.
Blue Castle Sells -- Again
Jan 18, 2008 9:17 AM
Today's print edition of the Washington Business Journal
reports
that the
Blue Castle at 770 M Street
has sold again, this time for $25 million to
Madison Marquette
. The company's managing director of investment told WBJ that the building could be refurbished as a mixed-use development that would serve as an anchor to Barracks Row, and that "the space probably will have one or more major retailers as well as restaurants, an office or residential component and possibly a grocery store." The groups currently in the building have leases that expire in 2012. Preferred Real Estate Investments bought the building in December 2005 for $20.2 million,
saying at the time
that the building was ideal for retail stores such as a Barnes & Noble bookstore and a Whole Foods grocery, and that they hoped to start construction in 2007.
Alley-Closing-Palooza; 2008 Start for Smith/NJ Ave, W Aloft Hotel Coming to Ballpark District
Oct 31, 2006 4:35 PM
Today was a bonanza of Near Southeast alley closing requests, as four pending bills received their public hearings in front of the city council "Committee of the Whole" (i.e., Chairman Cropp, the only council member in attendance).
For all of these bills, the next step I believe is getting them on the council consent calendar, for votes to be taken.
Is that enough information? Can I stop now? :-)