Finally, the weather and the calendar cooperated, and I spent Saturday taking a slew of photos around the neighborhood. To whit:
*
HAMPTON INN
: I can report that dirt is indeed being moved (if not necessary removed) from the site of the
Hampton Inn
on the northwest corner of 1st and N. This is the L-shaped hotel that will wrap around a planned two-story retail building right on the corner (which is not yet under construction). But, in case you weren't around pre-2008 and want to know what this hotel is "displacing," I give to you a peek at the hotel's N Street and 1st Street frontages in their previous lives: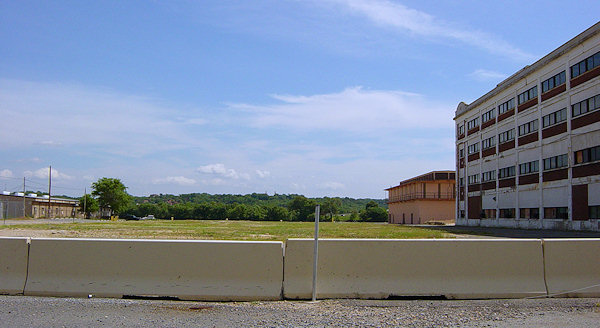 *
YARDS/PARCEL N
: Men in hard hats operating heavy equipment are now found on most of the block where
Forest City's next residential project
is planned, south of Tingey and west of 4th. The
new photos
aren't really all that interesting other than as another tick on the historical timeline, so how about a shot of what the
Parcel N lot looked like in 2004
(right), before any of the work on The Yards began.
*
PARC/PARK:
Toll Brothers's
River Parc
apartment building at 1st and K is almost topped out (below left). A couple blocks away, WC Smith's
Park Chelsea
has reached the halfway point of its vertical construction (below right).
* ST. MATTHEWS: While all sorts of newness is erupting around the neighborhood, there is one farewell worth noting, as St. Matthew's Baptist Church as New Jersey and L has left the neighborhood that had been its home since 1905 and the building that had been its home since 1972. Compare how it looked in 2006 (left) to today (right):
This site is part of the footprint for Donohoe's
1111 New Jersey apartment building
, and with a raze permit application filed, this corner will probably be emptied before too many months go by. The church has found temporary quarters in Ft. Washington as it looks for a new permanent home.
Cleaning out the pending file:
With the
Foundry Lofts
having quickly reached 100 percent leasing earlier this year, and construction underway on the
Twelve12
residential building with a Harris Teeter at 4th and M, it's interesting to hear that Forest City is starting to move on its next residential project at
the Yards
, an 11-story 325ish-unit rental building right next door to the Foundry Lofts, on the
southwest corner of 4th and Tingey
(where a parking lot now resides, across from the Trapeze School). That would also put it just to the south of the under-construction
Boilermaker Shops
retail pavilion and
kitty
-corner from Twelve12.
That's all I know at this point--more will be revealed as the bureaucratic hoops are jumped through.
Also worth mentioning, the design calls for 21,000 square feet of ground-floor retail, and 250-300 parking spaces in a three-level underground garage.