With the
Foundry Lofts
having quickly reached 100 percent leasing earlier this year, and construction underway on the
Twelve12
residential building with a Harris Teeter at 4th and M, it's interesting to hear that Forest City is starting to move on its next residential project at
the Yards
, an 11-story 325ish-unit rental building right next door to the Foundry Lofts, on the
southwest corner of 4th and Tingey
(where a parking lot now resides, across from the Trapeze School). That would also put it just to the south of the under-construction
Boilermaker Shops
retail pavilion and
kitty
-corner from Twelve12.
The 35 percent design drawings will be presented to both the
Commission on Fine Arts
and the
National Capital Planning Commission
over the next few weeks, with initial thoughts/plans/hopes that construction could begin in 2013.
That's all I know at this point--more will be revealed as the bureaucratic hoops are jumped through.
UPDATE:
With thanks to Z. in the comments, here are some renderings, via the
slides for the upcoming NCPC presentation
, which has additional details. Note how the height of the building steps up so that it's not at its full 11-story height directly next to the six-story Foundry Lofts. And remember, these are just the 35 percent drawings--details are still to be fleshed out, and perhaps changed.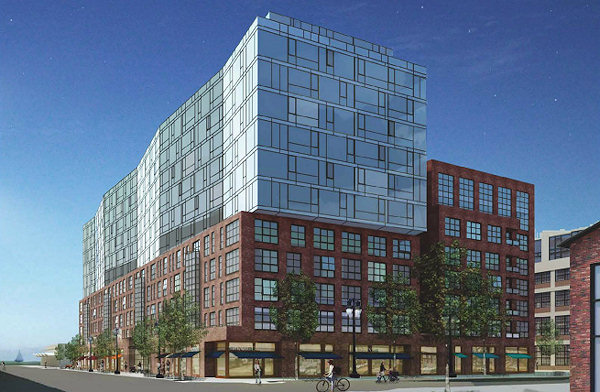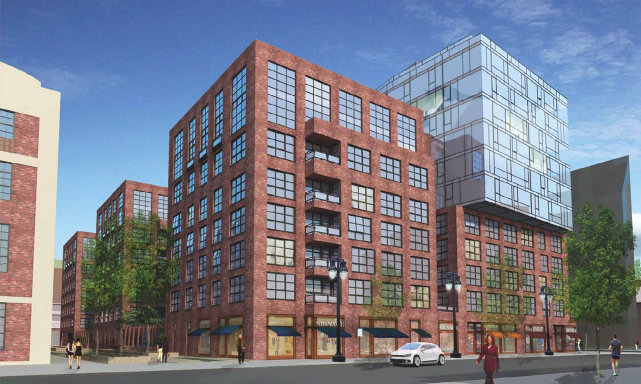 The view on the left is
looking down 4th at Tingey
; the right is looking pretty much from the Lumber Shed/Yards Park to the northeast.
Also worth mentioning, the design calls for 21,000 square feet of ground-floor retail, and 250-300 parking spaces in a three-level underground garage.