Near Southeast DC: Past News Items
osteriamorini
Go to Full Blog Archive
---
3 Blog Posts Since 2003
Osteria Morini Sibling Nicoletta Pizza Coming to Yards Park
May 13, 2013 1:29 PM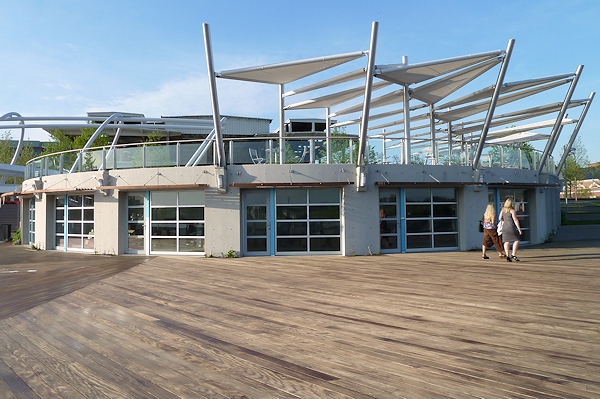 Thanks to a small tidbit on the notice of a liquor license application by
Osteria Morini
for its coming location in the
Lumber Shed
at the
Yards Park
, I can pass along that Morini's chef Michael White will also be bringing his
Nicoletta
pizza/pasta carryout and delivery operation to one of the small retail spaces built into the park's overlook, on the boardwalk near the pedestrian bridge.
Though the boardwalk retail spaces have been envisioned as housing "seasonal" offerings, Nicoletta will be a year-round tenant. The space Nicoletta will occupy is about 250 square feet, so it will have no interior seating, but it will have outdoor seating in the warm months.
Nicoletta is expected to open a few months after Morini, which is still targeting a late summer debut. So, it could be by late fall or by the end of the year, while keeping in mind that restaurant target dates are often a bit fluid.
Nicoletta NYC's web site
includes the
menu
, if you want to start preparing your taste buds well in advance.
As for additional Morini information via the liquor license application, the space, in the southeast corner of the Lumber Shed, is described as a "full service, fine dining restaurant specializing in authentic Italian food" will have an interior seating capacity for 165 and two outdoor seating spaces/"summer gardens" totalling 136 spaces, though that's probably for both Morini and Nicoletta. It also says there will be background music, "and occasional live music and/or DJ will be provided."
There's no web site for Osteria Morini's DC location yet, but the sites for the
Soho
and
New Jersey
locations, as well as those for
White's other restaurants
, may provide some information if you're, ahem, hungry for it.
And if you're wanting to keep up on the neighborhood's new and pending food options,
here's the map
.
Construction on Lumber Shed at Yards Park Set to Begin
Jun 19, 2012 3:22 PM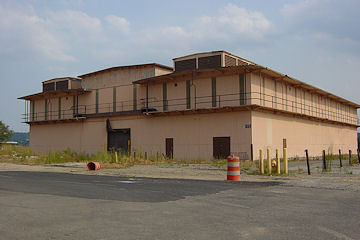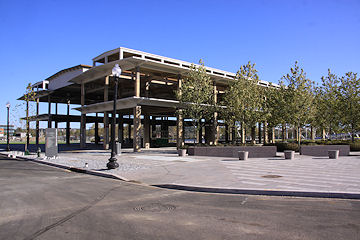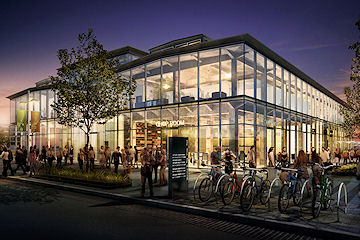 Yards
developer Forest City Washington is putting out the word that construction is about to begin to transform the
Lumber Shed
at the
Yards Park
from its current open-air skeletal structure to the 30,000-square-foot glass-walled retail and office structure that has been in the works for a number of years.
Construction is expected to take 12-14 months, so look for completion probably in early fall 2013. The southeast corner of this building will be home to
Osteria Morini
, the Italian restaurant from New York City chef Michael White, and
Forest City will be moving its offices
to the second floor. The ground floor is designed to offer indoor and outdoor seating for five restaurants in all, and apparently a second unnamed offering is expected to be announced later this summer.
Look for fences to be going up around the structure by the end of this week, with actual construction activity probably beginning by early July.
See my
Yards Park Phase 2 section
for more renderings of the Lumber Shed's final form, along with photos from its faaaaahbulous salmon-exterior days and the more recent stripped down version. There are also plans for two more pavilions directly to the east of the Lumber Shed, though there's no timeframe for them.
And, in other
Yards
news:
* Kruba Thai and Sushi is expected to open in July in its location on the southwest corner of the
Foundry Lofts
(directly across from the Lumber Shed).
* The Boilermaker Shops are still expected to open "later this year," with its lineup of Bluejacket Brewery, Willie's Brew and 'Que, Buzz Bakery, Huey's 24-7 Diner, Austin Grill Express, and brb ("be right burger") well known by now, along with a dry cleaners and with spaces for other non-food/service retailers yet to be filled/announced.

* And the 218-unit residential building at 4th and M with the ground-floor Harris Teeter and unnamed-fitness-club-that's-Vida-Fitness is going to be called

Twelve12

(for its address, 1212 4th Street SE). Excavation of the site has taken a little longer than expected (thanks to

those surprises that kept being dug up

), so the official start of construction there is now going to be "later this summer," with the opening in early 2014 (which is pretty much what I kept telling people to anticipate, anyway).

Lumber Shed Restaurant Announced: Osteria Morini

Feb 14, 2012 2:25 PM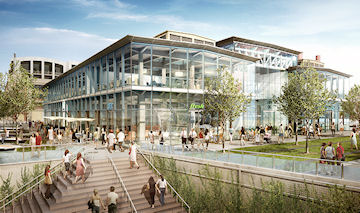 The first tenant for the
Lumber Shed building
at the
Yards Park
has just been announced by Forest City: the Italian restaurant
Osteria Morini
, by New York City chef Michael White. It will be a 4,250-sq-ft space, and is expected to open in the summer of 2013.
Osteria Morini currently has two locations, in Soho and Bernardsville, New Jersey, and is described in Forest City's press release as a "mid-priced, casual restaurant with lunch and dinner menus featuring innovative pasta dishes, grilled meats, fish and regional specialties."
It is part of the
Altamarea Group
, which also includes
Marea
,
Ai Fiori
,
Due Mari
, Al Molo, and the soon-to-be-opened Nicoletta. Chef White is a James Beard nominee and was named best new chef by Esquire magazine in 2002.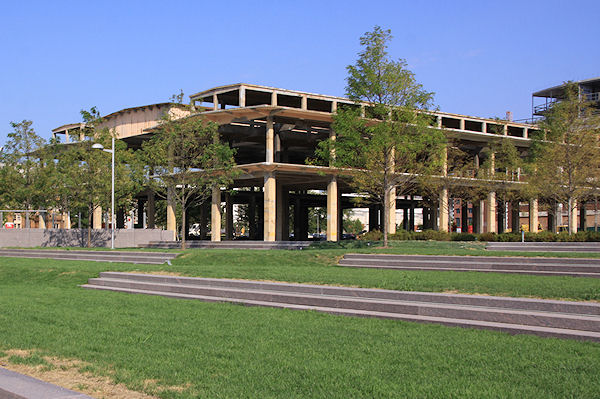 The Lumber Shed is one of the Yards Park's planned retail pavilions, which will also (temporarily) house Forest City's offices on the second floor. The restaurant will be located on the southeast corner of the building (seen at right), facing the Anacostia River and the Navy Yard, and will have outdoor seating on the east and south sides. With this announcement and Forest City's occupancy, the building is 60 percent leased, with the unleased space all on the ground floor for additional retail/restaurants.
This building is just to the south of the
Foundry Lofts
that opened in late 2011, and one block south of the
Boilermaker Shop
, where
six restaurants
will be opening over the next year or so. All three buildings are "adaptive reuse" projects of structures from the site's old days as part of the Navy Yard.