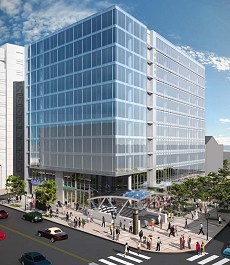 At
tomorrow's WMATA board meetings
, it's expected that Metro will approve a one-year extension to the 2007 agreement with the Donohoe Companies to purchase the 5,600 square feet of land that makes up the east entrance of the Navy Yard Metro station. Donohoe is intending to combine the WMATA land with the 16,400 square feet it owns just to the north (the grassy knoll and parking lot where the Capitol Riverfront Markets have been held this year) to build
1111 New Jersey Avenue
, a 220,000-square-foot office building.
But, according to
the WMATA documents
: "Given the weak economy, it has not been possible to obtain financing to construct the building. A one year extension of the closing date to December 2011 will allow time to respond to evolving market conditions and preserve the contract for both parties." I wrote
back in 2007
that WMATA would be receiving $2.3 million for the property, "
plus an unnamed additional payment if the approved project is larger 206,000 square feet."
It's not anticipated that the station entrance would need to be closed during construction of the new building, As you can see from the rendering, the escalators and canopy would remain outside of the new building's footprint.