Near Southeast DC: Past News Items
streetcars
Go to Full Blog Archive
---
13 Blog Posts Since 2003
No ANC 6D07 Candidates Officially, But Siegel Running Again; WP Story on Wells vs. Robinson
Aug 18, 2010 10:54 AM
A few readers have noted to me that, as of last week, no one from
ANC 6D07
had turned in
any nominating petitions
for this year's elections. The Sept. 3 deadline is still a few weeks away, and while he hasn't done his paperwork, current and longtime 6D07 commissioner Bob Siegel has confirmed to me that he will be running again. It will be interesting to see if anyone else from the neighborhood decides to run--especially now that 6D07 has considerably more residents than it had for many years, meaning that the pool of potential candidates is a lot bigger.
If I've kickstarted the community politician in you and you decide you want to run, Frozen Tropics has a nice run-down of
how to become a candidate
. And the qualifications are pretty simple: you must be a registered voter and have lived in your SMD for 60 days (in other words, having moved into 6D07 no later than July 5, 2010) before submitting your nomination petitions.
I think the more interesting time in 6D07, however, will be in 2012, when the city goes through its once-a-decade realignment of ANC boundaries. Each ANC single-member district (SMD) is supposed to represent about 2,000 residents, which means that
6D07
--with a population now up to around 3,500 thanks to the multitude of new apartment buildings north of
Nationals Park
as well as the
Capitol Quarter
townhouse development--will very likely be broken up into two districts. And, beyond that--would the Near Southeast SMD(s) remain part of 6D, which otherwise is completely within the boundaries of Southwest, or would one or both new districts possibly end up being moved to
ANC 6B
, the southern Capitol Hill ANC. (A small part of 6B is
already south of the freeway
, from Seventh Street over to 11th Street down to M Street.)
In other political news of note for the neighborhood, this
Mike Debonis piece in the WashPost
on Tommy Wells and his challenger Kelvin Robinson is a good look at the issues swirling in the Ward 6 council seat Democratic primary, particularly whether Wells' focus on "liveable walkable communities" and other new urbanism ideas (like the plastic bag tax) are interesting to Ward 6 constituents who aren't necessarily on the streetcar/multimodal bandwagon. And CP's Housing Complex blog
also looks at the story
, commenting that "Instead of painting a picture of a rosy future, Wells might be better advised to depict the absence of excellent transit and walkable communities as a current ill that must be rectified, putting those deficiencies on the level of crime as a pressing issue."
The DC primary elections are on Tuesday, Sept. 14. No matter what your leanings are, be sure to vote.
(I haven't written hardly at all on the mayor's race because, well, there's a billion other people doing that.)
The Week's Agenda (Streetcars, Marines, Happy Hour)
Apr 20, 2010 1:13 AM
A few items for your calendar over the next three days:
* (
Via Streetcars 4 DC
) "Tomorrow, Tuesday, April 20 at 6:30 pm, at a meeting hosted by Advisory Neighborhood Commissions 5B, 6A and 6C, District Department of Transportation (DDOT) Director Gabe Klein and Streetcar Project Manager Scott Kubly will appear at a community meeting to update D.C. residents on DDOT's progress toward bringing streetcars to the District. [...] The meeting will be at Wheatley Elementary School, which is located at 1299 Neal Street NE."
* The "
Community Integrated Master Plan
" project--better known as the process the Marines are undergoing to find a location for a new barracks--is holding two sessions of its third public workshop, on Wednesday (April 21) from 6 to 8 pm at Van Ness Elementary and from 8:30 to 10:30 am on Thursday (April 22) in the North Hall of Eastern Market. And each session will also now have an open house beginning a half-hour earlier to allow participants to look at materials and ask questions. The
agenda for both meetings is now posted
, and this session will be focusing on "Alternatives." For background on what's happened with this project up to now,
read my prior posts
(don't feel like summarizing it all right now!).
* It should be considered a very unofficial and low-key happening, but I am planning to be at Justin's on Thursday starting at around 5:30 pm, and would love to have any and all interested parties come hang out for Happy Hour, not only so I can meet the readers who make JDLand what it is but so that you guys can meet each other. (No fistfights over CSX plans, barracks possibilities, or dog parks, please!) The Nats will be playing the Rockies starting at 4:35 pm (oops), so hopefully we'll be socializing until the game's over for those folks who want to swing by after the game. I hope you'll be there!
A Roundup of Recently Tweeted Tidbits (Mostly)
Oct 29, 2009 1:07 PM
Not much big news these days, but here's some tidbits, most of which are links that I've
Tweeted
in the past few days:
* The BID and the Washington DC Economic Partnership held a "Capitol Riverfront Storefront Summit" on Tuesday morning, which
The Hill is Home summarized
, with quotes from the owners of Cornercopia and the Subway on Second Street. No splashy announcements of new retailers, though.
* The
WBJ's Top Shelf blog
pivoted off of the summit to write about
Justin's Cafe at Velocity
, which the owner now says "hopes to open in about two months from now."
*
UrbanTurf asks
: How do People Like Living in "Capitol Riverfront"?
* Beyond DC went to the Columbia Heights streetcar meeting on Monday, and
posted more details about DDOT's plans
. The
Ward 7 public meeting is tonight
, at 650 Anacostia Ave., NE, from 7 to 8:30 pm.
*
The Bullpen
is still selling tickets for
its big Halloween night bash
, from 9 pm to 1 am (with a fully heated tent!). An e-mail says that more than 400 tickets have been sold.
* The American Cancer Society is hosting
Making Strides for Breast Cancer
, a 5K walk to fund breast cancer research, at
Nationals Park
on Saturday. Two laps around the stadium, and one inside lap on the First Concourse. (I think I've done that walk a whole bunch of times over the past four years!)
DDOT Unveils its Vision for DC Streetcar Lines
Oct 23, 2009 10:27 AM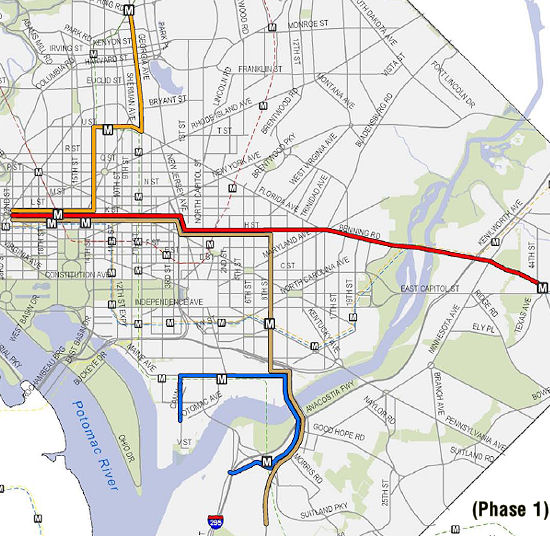 Last night DDOT held the first of its
eight public meetings
to unveil its vision for a
37-mile-long network of streetcar lines
connecting various portions of DC in three phases,
the first of which
would include a line running from MLK Avenue in Anacostia across the 11th Street Bridge, eastward on M Street SE, and then terminating
at
one block west of Nationals Park. (Phase 3 would include a separate line starting from the same
Nats Park
terminus, running along M Street SW and up Seventh Street into downtown.) You can see
a larger map of all three phases
at
DDOT's Streetcar site
.
I didn't attend the meeting, partially because of time constraints but also because I figured the transit bloggers of the city would be all over it;
here's GGW's first post on the plans
. These routes aren't set in stone, and in fact Tommy Wells has already expressed his preference that the line shown running along Barracks Row be moved to Hill East to support the expected development there. And I don't believe any timeline of when these phases could be expected was mentioned.
There are
seven more meetings still to be held
, if you're looking for more detail or to give some feedback to DDOT.
How do we all feel about not only the proposed Near Southeast route, but the plans for streetcars in DC in general?
(UPDATED Oct. 26 after a commenter correctly pointed out that the line is to run down First Street, SW, ending at R Street, not along South Capitol to the ballpark. I need new glasses.)
Streetcar Meetings; Corus/Starwood Deal; ANC 6D; Seniors H1N1 Shots
Oct 15, 2009 10:23 AM
If you can wait an extra minute or to before going back to bed and pulling the covers over you until this cold rain is over, here's a few (very) small items:
* DDOT sent out a press release late Wednesday announcing a series of public meetings to "engage residents and businesses in the implementation of improvements proposed for the transit system for the city, including streetcars", the first phase of which should eventually run across the
11th Street Bridges
from Anacostia to H Street NE. They haven't posted the release
on their own web site
yet, but
Streetcars for DC has it
(
UPDATE
: it's now
posted at DDOT, and amended slightly
). The closest meeting to Near Southeast is the first one, Oct. 22 from 7 to 8:30 pm at J.O. Wilson Elementary, 660 K St., NE. For more information, visit
DDOT's Streetcar pages
.
And, via
BeyondDC
,
the WBJ is reporting
that the H Street portion of the first phase will be completed first, thanks to lobbying by Tommy Wells. Wells is also working to overturn the longtime ban on overhead wires in parts of the city that include H Street, according to the article. But no timeline for the start of construction has been mentioned. (
UPDATE 2:
In a tweet
, DDOT says this: "Our official target date is still late 2012 for Anacostia, but we are working to accelerate that line as well as H/Benning.")
Unfortunately, DDOT's current site doesn't include the early studies for the project, but
Richard Layman ferreted out
the
web archive version of the site
, where you can see the line down M Street SE and SW was one of
the possible additional lines
at this time. Will there be one in the next phase of plans?
* It may not seem like
the sale of Corus Bank's portfolio of distressed construction loans
to a group led by Starwood Capital Group would be of much interest, but included in that portfolio are the construction loans for both
Velocity Condos
and Monument's
55 M Street
office building. This shouldn't have much of an impact on Velocity, but could help 55 M in its quest to lease space, as potential tenants see more certainty surrounding the building's financing.
*
ANC 6D
's October monthly meeting is Monday, Oct. 19, at 7 pm at St. Augustine's, 6th and M streets, SW.
No agenda released as of yet
(which is why I cry when I
see
other
ANCs that post their agendas well over a week [sometimes two] before their meetings).
*
Tommy Wells
has arranged for free seasonal flu shots (not H1N1) to be given to senior citizens in Southwest and near Southeast on Saturday, Oct. 17, from 9 am to noon at the Greenleaf Recreation Center, 201 N Street, SW. The shots will be free for seniors with Medicare Part B as their primary insurance, or $30 otherwise.
* (ADDED) I linked to a story about this idea a few weeks back, but here's a detailed post from
TSArchitect
(cross-posted at GGW) on "McMillan Two," which would radically remake the Anacostia Waterfront by filling in much of the river to narrow it to a width of about 500 feet, the same as the Seine in central Paris.
NCPC Staff Recommends Favorable Comment on 11th Street Bridges Design (Except for the Streetcar Part)
Aug 31, 2009 12:42 PM
The
final agenda
is now out for Thursday's meeting of the National Capital Planning Commission, and contained in it is
a long document setting out the commission staff's recommendations
for a vote on the design of the
11th Street Bridges
.
For anyone interested in the bridges as a driver, bicyclist, pedestrian, water recreationist, neighbor, or construction enthusiast, it's a worthwhile read (even at 26 pages). To cut to the chase, the staff is recommending that the commission "comment favorably" on the designs for the bridges, even though the designs are still in the very early stages, and there's very little new in this document that we didn't see in
the EIS
or other releases. There's even mention of how the city's Comprehensive Plan envisions the eventual dismantling of the Southeast-Southwest Freeway, but that the new bridges are needed until the time comes that I-395 comes down (i.e., far past the date I shuffle off this mortal coil).
However, they are not at all happy with DDOT's decision to choose a streetcar system with overhead wires, and the document goes into detail on how this works against federal interests, as well as listing what non-overhead-wire streetcar options exist out there (none in the US so far). Their conclusions (page 22):
"Recommends that DDOT not include streetcar system components for overhead wires as part of the 11th Street Bridge project and that DDOT prepare an environmental impact statement for its proposed District wide streetcar system that examines potential impacts on the L'Enfant City and Georgetown and that includes an analysis of propulsion systems that do not require the use of overhead wires.
"Advises DDOT that the Commission does not support a streetcar system with overhead wires because it supports the unobstructed views to important landmarks along the city's streets and avenues that are integral to the District's unique character and result from the long-standing federal statutory prohibition against using overhead wires in Washington City (the L'Enfant City) and Georgetown.
"Encourages DDOT to pursue alternative propulsion technologies for the proposed streetcar system that do not require overhead wires in accordance with its January 24, 2008 commitment to include dual vehicle propulsion requirements in a solicitation package for the development and implementation of the broader streetcar system beyond the Anacostia and H Street/Benning Road corridors."
Skanska/Facchina Win 11th Street Bridges Design/Build Contract
Apr 24, 2009 12:58 PM
Dr. Gridlock reports
that this morning the mayor held a press conference to (officially?) announce that the city will be rebuilding the
11th Street Bridges
, with "in-water" work beginning in August.
My project page
gives the basics on what will be happening (along with links to the
EIS
), if you haven't been following along, but here's the high-speed recap: still two spans, but the upriver one would be expanded to become an eight-lane freeway span that would add the missing connection ramps between I-395 and I-295, while the downriver span would be four-lane "local" span tieing together Anacostia and Near Southeast, with pedestrian and bike paths and would be prepped for eventual streetcar usage. The project is expected to be completed in 2013.
A Pile of Little Items
Mar 19, 2009 4:19 PM
All sorts of tidbits came down the pike in the past 24 hours. In no particular order:
* I didn't make Tuesday night's
Anacostia Waterfront Forum
, but the presentation slides ("
Economics of Developing the Anacostia River
")
have been posted
. The slides have a good batch of economic data and detail for those interested; it's estimated that there could be nearly $6.7 billion in public investment along the river over the next three decades. In addition, the February forum is now
available via streaming video
, and the next forum has been scheduled for April 21, with the topic being "
Green Waterfront, Green Jobs, Green Living in a Green DC
." (The
March "Waterfront Watch" newsletter
has these additional tidbits, plus stories on the DC streetcar project and the
Diamond Teague Park
groundbreaking
.)
* The WashTimes's Tim Lemke
gets a first peek
(along with suiteholders) of what new concessionaire
Levy Restaurants
might have in store for
Nationals Park
this season.
* Via the
eckington
blog, a list of the "
shovel-ready
" transportation projects in the district being funded by ARRA (aka "the stimulus package"). Apparently the demolition of the ramps connecting the
11th Street Bridges
and RFK were on the request list, but didn't make the final cut. DDOT's been saying for a while that this demolition would happen Any Minute Now. (Read more about DC and the stimulus package at
recovery.dc.gov
.)
*
Back in December
, the owners of the
810/816/820 Potomac Avenue
properties (the building that houses Quizno's, the abandoned apartment building, and the space between) announced a
sealed bid sale
for the lots. While some bids have been submitted (interest from hotels keeps getting mentioned in the communiques I've received from the landowner), the original March 15
deadline
has been
extended
by another 30 days.
* A link that I saw this morning that I've subsequently lost says that the
Circulator
route replacing the N22 from Union Station to New Jersey and M will begin on
March 30
.
* Two readers reported that the
55 M
construction cam
has been turned off. For the first time since 2006, there are no active web cams in the neighborhood. Waaah!
* Another reader reported that the sign put up in 2006 at the
corner of Second and M
advertising
250 M Street
("Delivery 2008") has been replaced with a new sign, minus any delivery date.
* I know that it's been a *long* time since I've posted new photos. I had grand thoughts of going out this morning, until I looked at the radar. I'm hoping to take some this weekend, though I have a very tricky schedule to work around. But at least know that I'm now feeling guilty about it.
Tidbits: Teague Park Started, Bridges and Stimulus, Reservation 17A, Exxon For Sale?, Capper Zoning, More
Jan 24, 2009 2:40 PM
Some items from the past few days. Big ones first:
* It's probably been true for weeks, but I've just now been by
Diamond Teague Park
for the first time in a while and can confirm that construction is definitely underway there. Fences are up, cranes (three of them?) are in place, and workers were there. Pictures tomorrow. (Probably *lots* of pictures tomorrow from all over, as long as the weather stays reasonably clear.)
*
City Paper got its hands
on the
letter Mayor Fenty sent
to DC Delegate Norton about the city's priorities should the Feds decide to toss some stimulus package dollars in this direction. As I predicted, the two Near Southeast bridge projects were mentioned: "In particular, aspects of the
Eleventh Street
and
South Capitol Street Bridge
replacement projects could be undertaken immediately." He also mentions the city's backlog of maintenance projects, along with investments in Metro and the implentation of the streetcar project. And school modernization. And public safety issues.And environmental initiatives. And housing affordability. And health care. (And now here's
the stimulus bill itself
, though it doesn't get down into specific projects. On the other hand, considering these two bridges ease the commutes to and from the district of the House Majority Leader....)
* Back in mid-November, the transfer of the plot of land known as
Reservation 17A
from the Feds to the city finally took place; it runs between New Jersey Avenue and Second Street, and is straddled by the trash transfer station building. With this now under District control, various wheels can start turning in that area, including allowing the establishment of I Street between Second and New Jersey that will form the southern boundary of WC Smith's
800 New Jersey Avenue project
. There's hopes that the trash transfer station could be demolished in 2010.
* Reader T. reported yesterday that a small bought-at-the-hardware-store For Sale sign went up at
10th and M
yesterday, in front of the fence of the Exxon station. I'm not sure what the deal is, since the land is actually owned by the Exxon Corporation, and you'd think they'd have better methods of marketing the land.
* The public notice for the March 19 Zoning Commission hearing on various Capper PUD alteration requests
is now available
.
* WBJ reports that the Nationals
have parted ways with Centerplate
, last year's concessionare at the
ballpark
. This year it will be Levy Restaurants for the food and Facility Merchandising Inc. for the retail.
* More of the fences are coming down at
55 M
, as you can see on the
web cam
. (Though it took me more than a month to notice that the plywood "tunnel" at the Metro exit had disappeared.)
* The Douglass Bridge
will be closed
at 5 am Sunday until 10am-ish to test the swing span.
New Douglass Bridge: Arched Bascule-Riffic!
Jan 9, 2009 11:14 AM
On January 7, the city and federal agencies working on the various Anacostia Waterfront projects held their first "Interagency Coordinating Council" briefing of 2009, and were kind enough to post
the PowerPoint slides
(28 MB!) at
theanacostiawaterfront.com
. A number of Near Southeast projects are part of this domain, including
South Capitol Street
, the
Frederick Douglass Bridge
, and the
11th Street Bridges
. Let's start with South Capitol Street, where the final designs for the reconfiguration of
South Capitol Street
(under the
South Capitol Street EIS
) appear to have been chosen (the "Final EIS Preferred Alternative"):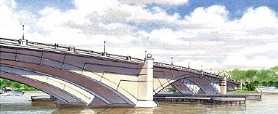 * The top headline is that the
new Douglass Bridge
is apparently going to be an arched bascule design (like the Memorial Bridge), with an opening span to allow for larger vessels to sail through.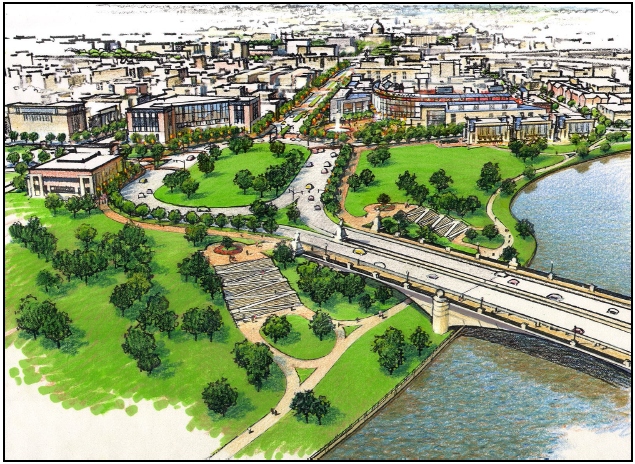 * There will be a
large traffic oval
at the foot of the new bridge (which will be located to the south of the current bridge), reshaping the intersection of
South Capitol Street and Potomac Avenue
. (The
ballpark
's Home Plate Gate and entrance promenade will be the northeast edge of the oval.)
* The intersection of
South Capitol Street and M Street
will become an at-grade intersection (no more underpass for through traffic).
* There will be modifications to South Capitol's interchange with the SE/SW Freeway. They aren't specified in this document, but based on my
previous readings of the Draft EIS
, I believe the final design will remove the existing ramp that begins at I Street with an at-grade intersection underneath the freeway that would have two left-turn lanes to a new ramp. With the removal of the existing ramp to I-395, the intersection at South Capitol and I would also be reconfigured.
* The northern section of South Capitol Street will match the reconfigured portion between N Street and Potomac Avenue, as a six-lane boulevard with a median and wide sidewalks.
* They expect to get a Record of Decision on the Final EIS from the Feds this fall. There's nothing in this document about a start date.
(Hopefully I'll find out more about the final EIS at
Tuesday's ANC 6B meeting
, so look for additional details on all of this in the coming days.)
As for the
11th Street Bridges
, the file says that a demolition contract will be awarded this month for the decommissioned ramps to and from RFK, with the work expected to take place this spring. As for the big work to reconstruct the bridges, the city expects to choose a design/build team and have a contract with them by June 1, with the entire project slated to be completed by the end of 2013.
The PDF also has quick updates on the Anacostia Streetcar Project, the MLK Great Streets Initiative, the Anacostia Riverwalk Trail, the Parkside Pedestrian Bridge in Ward 7, and a new traffic circle at Pennsylvania and Potomac avenues. It's also got some good general bullet points on the South Capitol and 11th Street projects if you haven't been following up to now. I just hope you have a high-speed connection to download the entire 28-MB file. Otherwise, go get some lunch.
UPDATE:
I've taken a little time to give both my
South Capitol Street
and
Douglass Bridge
pages a makeover with the new information (and boy, they needed it)--there's now some graphics pinched from the Draft EIS that do a better job explaining what the future plans are. I'd also suggest reading the
executive summary of the 2008 Draft EIS
, with the knowledge that most of the Design Alternative #2 options apparently have been chosen for the final design. It's a fair amount of detail, but worth it if you want to know how the project has reached its current state, and what's coming in the future. As I said, more to come as the city briefs neighborhoods and groups on the final EIS.
Quick Links: Parking, Bridges, Streetcars
Nov 23, 2007 9:12 AM
I just can't bear to go completely dark for too many days in a row, so here's some light reading for your post-turkey haze:
* These are almost a month old now (oops), but the Hill Rag
has an opinion piece
on the
plans for the 11th Street Bridges
, plus an article on
the community concern
on Capitol Hill and in Southwest over the planning for
ballpark parking
.
* Today's Washington Business Journal
looks at the plans for the return of streetcars to DC
, a very long-term project that could eventually have light rail running down
M Street SE
and across both the 11th Street and
Douglass
bridges. But that's a loooong ways off--first they have to finally get a long-delayed test line in Anacostia off the ground, and then the H Street NE corridor would be next. There used to be a good web site on the project at DCTransitFuture.com, but that site is now hijacked with a fake blog, so the best I can give you is
this DDOT page
with a few links.
* There's also
a WBJ article
on PNC Bank securing the naming rights to the Diamond-level seats (the second priciest) and the club lounge at the
ballpark
. Still no word on naming rights for the stadium itself, though
a few weeks ago we heard
that there might not be a sponsor during the inaugural season.
Article on Light Rail - With Some Clarification
Jan 5, 2007 1:02 PM
UPDATE, 1/5:
Adding a link to
this piece in today's WashTimes
on the Anacostia trolley pilot, which doesn't include much new info, but the Bloomberg piece linked to below has disappeared, so this is good to have; in the meantime, be sure to ignore other pieces
like this one
that try yet again to say that the Bolling line will connect riders to the baseball stadium by 2008, which is just patently false.
Hat tip to the
CHT Shareholder Community
blog for finding this Bloomberg article, "
Washington Trolleys Go Back on Track in Mass Transit Encore," which discusses the plans that have been in the works since 2003 to bring light rail to DC. One thing that the article doesn't quite make clear--when it's talking about building the first 2-mile line (describing it as "pass[ing] near the Washington Nationals' new downtown ballpark"), it's glossing over the fact that this test line is being built in Anacostia, along the east side of the river, whereas Near Southeast and the stadium are on the west side of the river. You can go to the DC Transit Future web site to learn more about the Anacostia Streetcar Project (the test line) and about the long-range plans. The planned corridors do include M Street SE, the 11th Street Bridges, and South Capitol Street. But this project has had many delays over the years (see my first post on it, from October 2003), the Anacostia test line is already at least three years behind schedule; but at least back in October the Transportation Planning Board allotted $3 million to the Anacostia Streetcar Study and added the first phase of construction to the Constrained Long Range Plan, so it's finally getting some funding. But, In other words, don't plan on buying your tokens just yet :-).
Near Southeast Projects in the Long-Range Transportation Plan
Oct 23, 2006 10:22 AM
Monday's
DC Examiner reports
: "
The Transportation Planning Board added more than $1 billion in projects for the District to the region's long-range transportation plan, according to officials.
The stratagem, called the
Constrained Long Range Plan
, estimates about $4.5 billion will be available each year for the next 24 years to complete projects in Maryland, Virginia and the District. Projects can only be added to the board's long range plan if there is a solid funding mechanism in place. "
Three of the DC projects
will impact Near Southeast: the rehabilitation of
South Capitol Street
including transformation of the street into an at-grade boulvard from I Street to N Street and the construction of a new
Frederick Douglass Bridge
(costing $625 million and completed in 2015); the reconfiguration and reconstruction of the
11th Street Bridges
(costing $377 million and completed in 2011); and $3 million for the Anacostia Streetcar Study, which would run light rail across the 11th Street Bridges from Anacostia down
M Street
SE to South Capitol Street. (The first phase of actual construction of the Streetcar Project has been added to the CLRP as well.) Here's an
explanation of the CLRP
as well as the
Transportation Improvement Plan
, which describes the schedule for federal funds obligated to state and local projects.