Near Southeast DC: Past News Items
Justins Cafe
Go to Full Blog Archive
---
18 Blog Posts Since 2003
Agenda for June 14 ANC 6D Meeting
Jun 11, 2010 3:21 PM
The
agenda is now posted
for Monday's ANC 6D meeting, and it does have a few Near Southeast-related items on it. So it follows logically that I'm not going to be able to be there.
Items include: A report from the housing authority on a request for a zoning time extension for the planned (and long-delayed)
community center
at Fifth and K streets, SE; an update on the
upcoming second phase
of
Capitol Quarter
(which EYA tells me resulted in 11 reservations in the first 15 days); an update on the stadium
Traffic Operations and Parking Plan
, presumably coming out of the two recent
public meetings
; and reports/possible votes on Justin's Cafe's proposed sidewalk cafe and the proposed "Harry's" liquor store at New Jersey and I, both of which you can get more detail on
from my report on last week's ABC subcommittee meeting
.
The meeting is at 7 pm at St. Augustine's church at Sixth and M streets, SW--they're trying to get moved to their space in the new Waterfront buildings, but it still hasn't happened.
I'm going to try to find out more about the
community center
request, though I imagine there isn't much more to it other than DCHA says it doesn't still have the money to build it yet and so can't meet the deadline that was set in the zoning
PUD
(planned unit development) for Capper. The time frame for the community center
has already been extended once
, and in fact DCHA told the Zoning Commission last year that they fully expected that new deadline of filing building permits by Jan. 1, 2011, would be too short and that they'd be back to request another extension. Which appears to be what's transpiring.
Comments
(0)
More posts:
909 New Jersey
,
ANC News
,
Capper
,
Capitol Quarter
,
Community Center
,
Restaurants/Nightlife
,
Harry's Reserve
, Justins Cafe,
liquor
,
meetings
,
Retail
,
Traffic Issues
,
zoning
Justin's Applying for Sidewalk Tables; Additional Info on the New Liquor Store (and the Little Red Building)
Jun 3, 2010 10:49 AM
The report from Wednesday night's ANC6D ABC Committee meeting:
* Justin's Cafe is seeking to add four tables, with umbrellas and four chairs each, on the sidewalk directly in front of the restaurant. They would be available the same hours as the restaurant itself, until 1 am Monday through Thursday, 2 am Friday and Saturday, and 10 pm Sunday. There were concerns from a commissioner or two about whether people might walk away from the outdoor seating area with alcoholic drinks, about the additional noise brought by 16 or so people outside, and about whether cigarette smoke from the tables would waft up and bother the Velocity units directly above. Justin Ross replied that a sign would be posted about alcohol only being consumed on the premises, and that smokeless ashtrays would be available for the tables (and that since people can't smoke inside the restaurant, there's already a lot of smoking going on outside on the sidewalk). Velocity's management had sent along a letter in full support of the plan.
The committee voted 4-0 in favor of recommending that the ANC support the application, and that vote should come at the ANC's June 14 meeting, if Justin's voluntary and community cooperation agreements are revised in time.
* The owners of Capitol Hill Wine and Spirits on Pennsylvania Avenue SE came to talk with the committee about their plans for
a new "upscale" liquor store
at 909 New Jersey Ave., SE, which they will be calling Harry's SE & SW. (For about nine years they ran the Harry's liquor store at Waterside Mall in SW, which closed about five years ago.)
They have signed a lease agreement to take the two retail spaces on the north side of the building, at the corner of New Jersey and I, and they will be knocking down the wall between them in order to end up with about 2,200 square feet of space. The hours would be 9 am to 9 pm Monday through Saturday (or possibly 10 pm on Fridays and Saturdays), and closed on Sunday. They would sell beer, wine, and liquor, as well as milk, sodas, juice, cheese, and other "quick stop" items, but would not sell sandwiches as had been mentioned on the meeting agenda. They hope to open in September or October.
Much of the discussion centered around whether they will try to get an exemption in order to allow sales of "singles," which is a very hot-button issue. The owners said that they want the exception so that they can sell "high end" Belgian beers, which come in single bottles, and have no intent to sell the cheaper singles that can attract a somewhat less desirable element. However, ANC 6D chairman Ron McBee said that he imagines it would be very difficult to get support from the full ANC for the exception, and that there would also be concerns about any attempts to amend the singles law that might make it look like the law was targeted toward one socioeconomic class and not another.
Also discussed was the possible impact of this new store on the long-held plans for a similar high-end liquor store at Second and L SE on the site of the "Little Red Building." The ABRA rules state that liquor stores can't open within 400 feet of each other, and these two would be more than 500 feet apart as the crow flies. But Mr. Park, the owner of the LRB, is clearly concerned about whether the neighborhood can support two very similar operations. He is moving forward with plans to demolish the LRB and put up a new structure, and is also looking at an October-ish opening date. (He said he'd send me the building plans soon.)
In the end, the committee voted 4-0 in favor of recommending that the ANC support Harry's license application. A voluntary agreement and a community cooperation agreement will now need to be hammered out, and those involved weren't sure if one could be ready by the June 14 ANC meeting, in which case it would probably come up at the July 12 one.
Comments
(13)
More posts:
909 New Jersey
,
Alcohol/Liquor Licenses
,
ANC News
,
Restaurants/Nightlife
,
Harry's Reserve
,
jpi
, Justins Cafe,
Little Red Bldg/Lot 38 Espresso
,
meetings
,
Retail
,
Square 699n
Liquor Store Coming to 909 New Jersey?
May 25, 2010 2:31 PM
Some potential retail news might have just come onto the radar screen: on the agenda for ANC 6D's next ABC Committee meeting is a proposed Class A license at
909 New Jersey Avenue
for an entity called "Harry's SW & SE". They are proposing apparently to sell beer, wine, bread, milk, cheese, and sandwiches (and no "singles"), which is in line with a
Class A/liquor store license
. If anyone who lives at 909 has heard any rumors, or if anyone else has some scoop,
drop me a line
. I'm trying to find out more, and will update as I can. (Though the last time I started asking questions about a license application when one appeared on the ABC agenda was a few months ago for
55 M
, and it disappeared from the lineup almost as soon as I hit "send." So be forewarned.)
Also on the ABC agenda is a change to Justin's Cafe's license, with Justin now seeking to add a sidewalk cafe.
The meeting is on June 2 at 7 pm at King Greenleaf Recreation Center.
UPDATE:
There was a Harry's Liquor Store at 401 M St., SW back in the old Waterside Mall--I don't think it's reopened in the new building(?). I imagine this is the same owner.
UPDATE II: It is indeed the same owner as the old Waterside Mall store, and he also owns Capitol Hill Wine and Spirits in the 300 block of Pennsylvania Ave., SE.
Justin's Cafe Opens Today (and SW Safeway, Too)
Apr 16, 2010 8:08 AM
The word yesterday from the BID is that Justin's Cafe is opening today, and, if so, that means the neighborhood gets its first new restaurant in a long LONG time and what might be considered its first "real" bar. (For a new restaurant, you have to go back to the opening of Five Guys in 2005, if you're not counting the 2007 opening of Starbucks or the arrival of the restaurant and bar at the Courtyard by Marriott in 2007 or the Bullpen.) If you get there for some
food
or drinks, post your thoughts in the comments.
I'm thinking of maybe next Thursday, April 22, as an unofficial little JDLand Happy Hour? (In other words, I'll go have a drink or two, and see if anyone else comes along. :-) )
Also opening today is the new and improved Safeway at Fourth and M, SW. If you shop there, pass along what you see.
Updates from Capitol Riverfront BID Newsletter
Apr 11, 2010 10:25 AM
It's not online that I can see, but here are some items from the most recent "FRONT Page News" e-mail newsletter from the BID:
* "Capitol Riverfront neighborhood day at
Nationals Park
will be Wednesday, April 21st with ticket discounts available to residents, employees, and friends of the BID." The on-street supervisor of the BID's Clean and Safe Team will be singing the National Anthem. [I think, though, that Southwest is going to be part of this "neighborhood day" as well, even though it's not in the BID. This was mentioned at an ANC 6D meeting a few weeks ago.]
* There will be a "
Fitness in the Front
" event at
Canal Park
on May 1, with free classes offered by local instructors and information tables (and freebies!).
See the link
for the lineup and additional info.
* Residential update: "The residential population in the Front is estimated to have reached 3,030 as of the first quarter of 2010. Rental properties including the
Onyx
,
Axiom, Jefferson
and
909
are 95% leased. For sale units including
Capitol Quarter
,
Capitol Hill Tower
and
Velocity
are 71% sold. The residential population is predicted to reach 3,500 by the end of 2010."
Justin's Cafe Gets Liquor License; April 16 Opening
Apr 6, 2010 8:32 PM
I've just received the news from Justin Ross that he got his liquor license today, and that
Justin's Cafe
is on target for an April 16 opening. (Yes, I know I was skeptical of that date a while back, but now that I've heard it from the guy who's name is on the sign....)
If you haven't been following along, Justin's will be a restaurant with full bar serving pizzas, sandwiches, and salads, open seven days a week with regular "bar hours," just a few blocks up First Street from
Nationals Park
. Here's an
electronic version of the menu
.
We'll have to do a JDLand get-together there in late April.
Links Roundup (Evergreen Media Coverage, Justin's, Nexus Gold Club Memories, Marines Meeting Reminder)
Mar 23, 2010 9:46 AM
*
WBJ is first out of the gates
with what I expect to be an avalanche of whats-new-around-the-ballpark stories, tied to Opening Day and now a March staple for all DC media outlets. Nothing new in it, and a few quibbles (Justin's Cafe isn't open yet, the water taxis also ran late last year, Sayres lease is 20k), but I guess it's a decent quick roundup if you're not keeping track. Which, if you're reading this blog, you are. :)
UPDATE:
Ah, now I know where WBJ got the idea--the BID's
State of the Capitol Riverfront Spring Update
. Basically a straight copy-and-paste. (Not the end of the world, of course, but never a bad idea to be straight with readers about your sourcing.)
* Speaking of Justin's,
ABRA said yesterday
that there were no protests filed for its liquor license application. A reader reports that
Velocity
is telling residents that the restaurant will open April 16, but after watching rumored opening date after rumored opening date come and go for other places in the past, I remain skeptical of any rumor other than "it's opening tomorrow." (That isn't to say that the dates that get floated are necessarily propaganda--just that the final road to opening a business has a lot of potential pitfalls, especially in the permit process.) On the other hand, a reader passed along
an electronic version of the menu
, if you want to whet your appetite while waiting; though note that
the web site listed
hasn't launched yet.
* From
the Post
: the nude dancing license that used to belong to the Nexus Gold Club--on the site of what is now
909 New Jersey
--is now being rebirthed as the "
Stadium Club
," a strip club getting ready to open on Queens Chapel Road, NE.
* Don't forget that the second public workshop in the Marines'
project to build a new barracks
, focusing on potential development sites,
is tonight from 6:00 to 8:00 pm at Van Ness Elementary (1150 5th St., SE), with a repeat tomorrow from 8:30 to 10:30 am at the North Hall of Eastern Market.
The agendas are here
(and if you're trying to figure out how to get into Van Ness, the project web site says: "Enter through the main doors on the eastern side of the building (where the parking lot is) and follow the signs to the auditorium downstairs"). If the discussion going on
in this comments thread
is any indication, it's going to be an interesting meeting.
Justin's Cafe Liquor License Hearing March 22
Jan 26, 2010 10:23 AM
For those keeping track, the Alcohol Beverage Regulation Administration has finally
posted the hearing date
for the liquor license for Justin's Cafe, and it's scheduled for March 22 at 10 am. From the notice: "NATURE OF OPERATION: New cafeteria-style restaurant serving salads, sandwiches, and pizza with 33 seats. Occupancy load of 61. HOURS OF OPERATION AND SALES / SERVICE / CONSUMPTION OF ALCOHOLIC BEVERAGES: Sunday 11:30 am - 10 pm, Monday through Thursday 11:30 am - 1 am and Friday & Saturday 11:30 am - 2 am."
As
I've written
, Justin is also asking for a stipulated license, which will allow him to open the restaurant and sell alcohol before the March 22 hearing date. But I haven't heard of an opening date yet, though a reader reports that the amount of construction "stuff" in the space seems to have lessened.
ANC Supports Liquor License for Justin's Cafe
Jan 11, 2010 11:46 PM
Tonight ANC 6D gave its support in two separate votes to restaurateur Justin Ross's liquor license application for his new "Justin's Cafe" sandwich/salad/pizza place in the ground floor of the
Velocity
condo building at First and L streets, SE. There was little discussion, other than some concerns by commissioner Roger Moffatt about voting to support the full liquor license before the hearing is even "placarded," i.e., posted on the restaurant site, because he felt that this might prevent residents' concerns from being part of the ANC's decision (though, of course, the ABRA liquor license hearing process specifically allows for public comment). Two residents in the audience spoke strongly in favor of the proposed plans, and, in the end, the votes were 6-0-1 for a temporary "stipulated" license and 6-1 for the full license (Moffatt voting present/against on the two motions).
There's still no date set for the license hearing (Justin filed his application on Dec. 30), but he indicated that things should be moving pretty quickly in terms of getting the restaurant opened, and the stipulated license will allow him to serve alcohol until the full license is voted on.
Other Near Southeast-related tidbits:
* The Marines are going to be hosting an open house on January 27 from 5 to 8 pm at Eastern Market's north hall--they are formulating a new master plan for all of their space needs, and are looking to "partner" with residents, developments, government agencies, or any organization that can provide the space they're looking for. The open house seems to be the first step in "reaching out," though it all seemed a bit murky, and perhaps will be better explained when announcements for the open house are released. (Though "
lower Eighth Street
" was mentioned.)
* The commission also elected its offers for 2010, with Ron McBee being named chair. Vice chair Robert Siegel, secretary David Sobelsohn, and treasurer Jane Jorgensen retained their posts.
* This was the first time in all the ANC 6D meetings I've attended (starting in probably 2004) that I actually stayed until the very end (it lasted a mere three hours). Whether this is something to celebrate is another issue, especially on a night like this one where the heat at St. Augustine's seemed particularly, um, nonexistent. They did announce that soon the ANC and the Southwest Neighborhood Association will be moving to new digs at Waterfront (the new development about to open at the old Waterside Mall site at Fourth and M, SW). They will also have a public meeting space that presumably will have both sufficient HVAC offerings and decent acoustics, so that I will actually be able to *hear* what's going on.
Tidbits (ANC 6D, Boathouse, Georgia Ave, Cupcakes!)
Jan 11, 2010 12:00 PM
A few items of note:
* Tonight is
ANC 6D'
s monthly business meeting, at 7 pm at St. Augustine's Church, Sixth and M, SW. But, as is so often the case, there's no agenda yet released. However, the commission should be voting on whether to support the liquor license application of Justin's Cafe,
which was approved
by the ANC's alcohol/beverage subcommittee last week. Other than that, the lineup will just be a bundle of surprises!
UPDATE:
The
agenda is now posted
.
*
The folks with
A rower from the
Anacostia Community Boathouse Association
has
started a blog
to track the move of the boathouse operations away from its current home in between the
11th Street Bridges
up-river to the Anacostia Marina. The move is happening because the new bridges are going to necessitate the demoition of the
two existing boathouse buildings
. (
UPDATED
with a new name for the blog, along with a clarification)
* The Hill is Home has
a "Lost Capitol Hill" post
about the original Georgia Avenue, SE, which is now Potomac Avenue. On
these maps from the early 1900s
of Near Southeast, you can see Georgia Avenue in
1903
, but not in
1909
. (If you haven't wandered through these maps before, they're worth a few minutes. Go to
the main page
, click on a section of the neighborhood, and then you can use the links to go from 1903 to 1909 to 1915 to 1921.
*The
Curbside Cupcake
folks are venturing into Near Southeast these days, and will be at New Jersey and M tomorrow (Tuesday, Jan. 12) from noon to 1 pm. (They set up shop there for a while last Tuesday, too.)
* And, while outside my boundaries, I think it's worth mentioning that Big Chair Coffee opened at 2122 MLK Avenue in Anacostia this morning--And Now, Anacostia has a
pile of photos
of the place, which is one of the only (if not
the
only) coffee house east of the river.
Justin's Cafe Gets 6D's ABC Committee Support
Jan 6, 2010 9:40 PM
A very quick update from tonight's meeting of ANC 6D's alcohol/beverage committee, which voted 3-0 both to recommend support Justin's Cafe's application for a liquor license, and to recommend that a "stipulated license" be granted. This means that the restaurant could operate under a temporary license until its (still as yet unscheduled) hearing in front of the liquor board is completed. The full ANC will vote on these recommendations at their meeting on Monday (Jan. 11).
Owner Justin Ross said that the build out isn't quite complete yet and that there's still a few weeks of work to take care of, but he's hoping to open within four weeks or so.
A Few Tidbits on Justin's Cafe
Dec 10, 2009 11:11 AM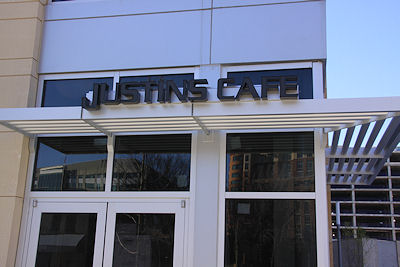 From last night's meeting of ANC 6D's ABC Committee, some bullet points on Justin's Cafe, the planned "fast casual" restaurant in the ground floor of
Velocity
on First Street between K and L (some of these are old, some are new, but for those just tuning in...):
* Justin Ross, the owner, is hoping to open the place by late January, although because of some issues with an ill partner, the liquor license has not yet been applied for, but he hopes that the paperwork will be filed with the city within the next week. (He won't open the restaurant until the liquor license has been granted, although he says the construction is now about 85 percent done.) He's applying for a Class C restaurant license, for beer, wine, and liquor.
* Expected hours are 11:30 am to 11 pm for food service (10 pm Sunday), with hopes that the bar can stay open later, perhaps until 2 am Friday/Saturday and 1 am other days.
* The space is not huge, about 1,400 square feet--it will have 24 seats for eating, and nine stools at the bar. There will be no outside tables. It will be an order-at-the-counter-and-sit set up (though he also expects a fair amount of takeout orders for nearby offices).
* No live entertainment, just TVs and music.
* The menu is salads and soup, sandwiches/paninis, and American-Neapolitan pizzas. Lots of veggies with the sandwiches and on the pizzas (he handed out a draft of it at the meeting). Sweet potato fries are on the menu, and bread choices are three-grain wheat, ciabatta, baguette, and spinach tortilla wrap (along with white/wheat crusts for the pizzas).
*
JustinsCafe.com
will be the web site, though it's not up yet.
Nats fans should note that this will become the closest *indoor* bar to the
ballpark
, as it's only two blocks north of the parking garages.
The ANC and Justin will be negotiating a voluntary agreement, which will probably go to the ANC for approval at its January meeting, but the subcommittee members and the 6D commissioners in attendance seem very pleased with the project.
Next Week's Events (Justin's Cafe Liquor License, Boathouse Lighting, ANC6B)
Dec 3, 2009 9:17 AM
A couple events on the calendar for the week of Dec. 7 to highlight:
* On Wednesday, Dec. 9, ANC 6D's ABC committee will be having its monthly meeting (in advance of the
full ANC meeting
on Dec. 14), and on the agenda is "presentation of plans by Justin Ross re Justin's Cafe planned for 1st & L Streets, SE." This is the first step in the (long) process for
Velocity's
restaurant to get its liquor license, although I haven't yet seen an announcement/posting for their official ABRA hearing (maybe it'll be in tomorrow's DC Register). The meeting is at 7 pm at King Greenleaf Recreation Center, 201 N Street, S.W.
CapQuarter Framing at Fourth and I; Final Velocity Pics
Nov 28, 2009 2:53 PM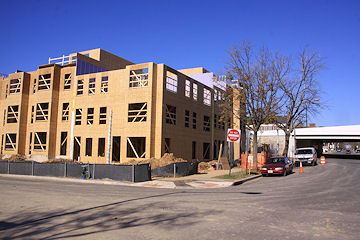 Though I'm about to disappear down the college football rabbit hole for the the rest of the day, I couldn't resist getting a few quick photos of the new framing that's going up on the last block of
Capitol Quarter's first phase
, on the
northwest corner of Fourth and I
.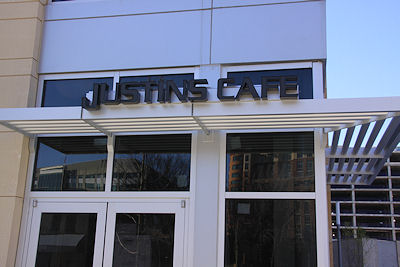 I also wandered over to First Street to get "final" photos of
Velocity
building now that the building has opened, including a shot of the
sign now up at Justin's Cafe
(not that you can really see the sign, thanks to poor sun positioning. Might have to sneak back over there early in the morning).
BID Holiday Market; Justin's Cafe Photos
Nov 27, 2009 9:28 AM
News from the Capitol Riverfront BID:
* They've announced their
second annual Holiday Market
, running Dec. 15-18, from noon to 6 pm each day, at Second and M, on the Canal Park footprint.. "For four days, the Capitol Riverfront will present a festive holiday market with local artisans selling handcrafted jewelry, crafts, photography, holiday trees and greenery, and more. Enjoy a variety of festive foods and live music daily from noon - 2 pm."
* The BID has also posted a few photos of the construction work (and the sign) at the "soon-to-open" Justin's Cafe at
Velocity
on their Facebook page
.
Back Soon, I Promise; But Here's a Few Tidbits
Nov 13, 2009 1:15 PM
I warned last week that this was going to be a week where I'd be missing almost everything, and I haven't disappointed. This is probably the longest period this site has been quiet in many years, and I apologize. But all will be back to normal in the next few days, and I'll catch up with all the various doings, I promise.
In the meantime, mark your calendars for two meetings:
The next
Lower 8th Street Visioning sessions
, on Nov. 17 at 8:30 am and 7 pm, where one topic of discussion is apparently going to be the CSX plans for Virginia Avenue. (This was discussed at Tuesday's ANC 6B meeting, and one of my readers was nice enough to
send his detailed notes from the session
; also, here's
the report from The Hill is Home
.)
The next night, on November 18, DDOT is
holding a public meeting on the Ward 6 Performance Parking Pilot program
. There will be updates on signage improvements, the revenue generated from the meters, plans for "non-automotive transportation improvement modifications" that will be paid for with the meter revenue, and more. It's at Friendship Baptist Church, 900 Delaware Ave., SW, from 6:30 to 8:30 pm. If you're not sure exactly what the Performance Parking Pilot program is,
here's the scoop
.
Also, I see on the DCRA Building Permits Feed that the building permit for Justin's Cafe at
Velocity
was approved on Nov. 9. No evidence yet online of a liquor license application yet.
Hope this can satisfy everyone's insatiable thirst for Near Southeast news for a little while longer....
A Roundup of Recently Tweeted Tidbits (Mostly)
Oct 29, 2009 1:07 PM
Not much big news these days, but here's some tidbits, most of which are links that I've
Tweeted
in the past few days:
* The BID and the Washington DC Economic Partnership held a "Capitol Riverfront Storefront Summit" on Tuesday morning, which
The Hill is Home summarized
, with quotes from the owners of Cornercopia and the Subway on Second Street. No splashy announcements of new retailers, though.
* The
WBJ's Top Shelf blog
pivoted off of the summit to write about
Justin's Cafe at Velocity
, which the owner now says "hopes to open in about two months from now."
*
UrbanTurf asks
: How do People Like Living in "Capitol Riverfront"?
* Beyond DC went to the Columbia Heights streetcar meeting on Monday, and
posted more details about DDOT's plans
. The
Ward 7 public meeting is tonight
, at 650 Anacostia Ave., NE, from 7 to 8:30 pm.
*
The Bullpen
is still selling tickets for
its big Halloween night bash
, from 9 pm to 1 am (with a fully heated tent!). An e-mail says that more than 400 tickets have been sold.
* The American Cancer Society is hosting
Making Strides for Breast Cancer
, a 5K walk to fund breast cancer research, at
Nationals Park
on Saturday. Two laps around the stadium, and one inside lap on the First Concourse. (I think I've done that walk a whole bunch of times over the past four years!)
Velocity Says Restaurant Opening 'This Fall'
Oct 7, 2009 11:18 AM
From the new "
Velocity Voice
" newsletter that a reader was nice enough to pass along, a blurb that says "
Justin's Cafe
" in the ground floor of
Velocity
(at First and L) will open "this fall." The menu will feature "fresh salads, sandwiches and wood oven baked pizzas," and there will be a full bar. Earlier this year a "late August/September" date had been being given for the restaurant's opening, but clearly that has slipped.
I've been scrounging around for a bit more detail, but don't have much more news. Judging from the city's building permits database, it looks like the restaurant's construction permit was filed in June but hasn't been approved yet (I'd link to it, but DCRA rebuilt their pending apps database to make any links to inside pages impossible--boo). The city's
Alcohol Beverage Regulation Administration site
doesn't show any current liquor license for the site, nor does there appear to have been any recent
notification
to ANC 6D about one, but the ABRA web site isn't always up-to-the-minute accurate; I've got a question into them about any pending license. (I'll update when/if I hear back.)
UPDATE:
ABRA doesn't have any liquor license already on file, and no new application has been filed yet. Doesn't mean that one isn't coming, of course, just that it hasn't happened yet.