List of all Event Photo Galleries
Diamond Teague Park and Piers
August 27, 2009
Work is finishing up on the first phase of Diamond Teague Park, the new half-acre site on the Anacostia River that will provide piers for water taxis bringing fans to and from Nationals Park. For more details about the project, see my
Diamond Teague Park
page.
The new piers, built around the Old Capitol Pumphouse, which has been maintained by the Earth Conservation Corps for a number of years.
Let's pretend you're arriving by water taxi. This is the view of the shoreline as ships arrive at the docks, with the walkway to the land-based portion of Teague Park at left, Nationals Park looming at rear, and the floating walkway at right. (They haven't yet installed the plantings along the shoreline.) The red buildings at rear are owned by WASA, and someday the park will be extended into that property, but not anytime soon.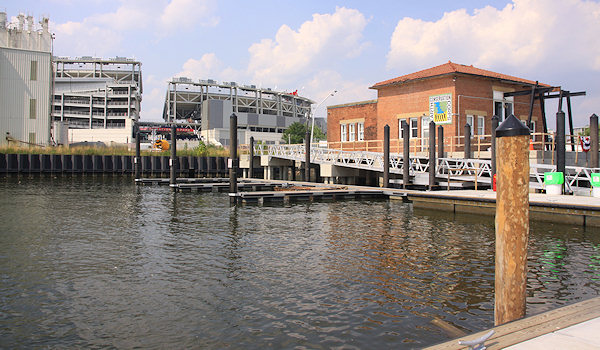 The view from the western side of the piers, showing the pumphouse, the ballpark, and the Florida Rock concrete plant. The land along the bulkhead will eventually be the
RiverFront
development.
The water taxi pier, with its view of the Navy Yard, the display ship Barry, and the Yards....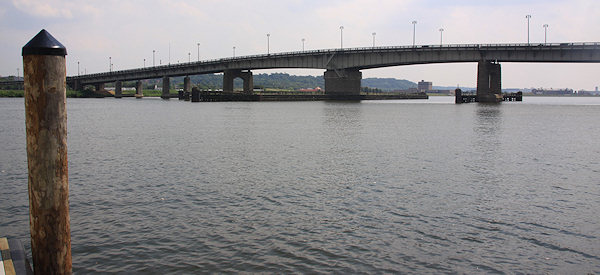 ...And of Anacostia Park and the South Capitol Street Bridge.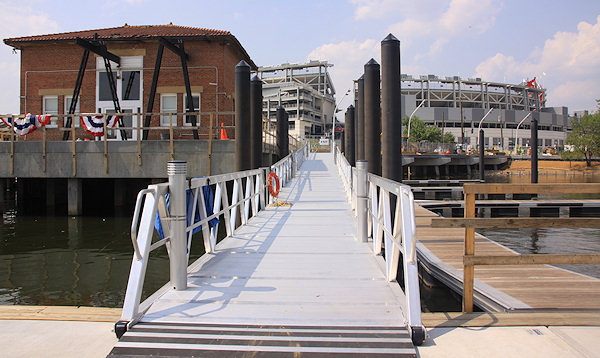 The gangplank that leads to the shore and almost directly to the grand staircase and the First Base Gate at Nationals Park.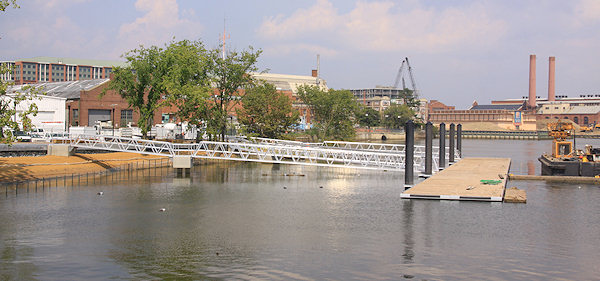 To the right on the way up the gangplank is a view of the floating boardwalk, with the Yards Park footprint at rear.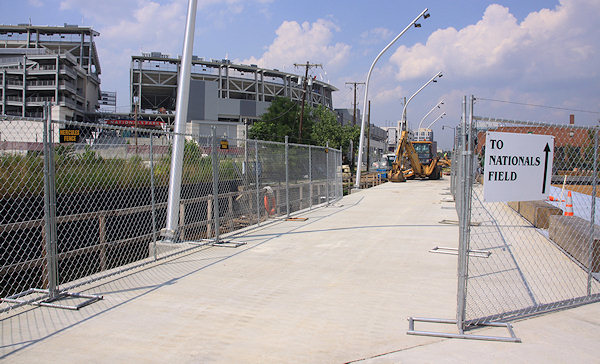 The last stretch of pier isn't quite finished yet, but you get the idea.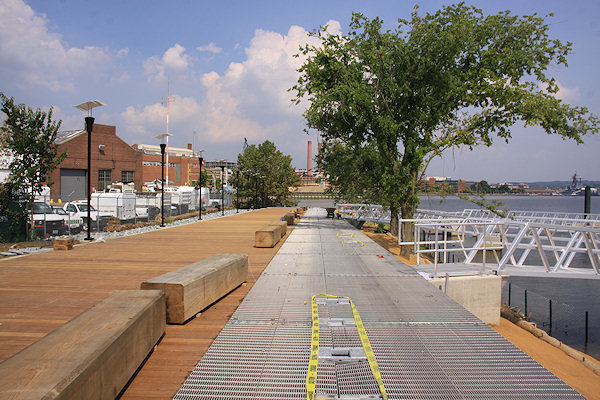 The land-based boardwalk, looking east.
The view of the Anacostia shoreline (and the Yards and the Navy Yard) from the very end of the boardwalk. Someday a floating bridge will connect this spot to the Yards Park, but there's no schedule for that yet.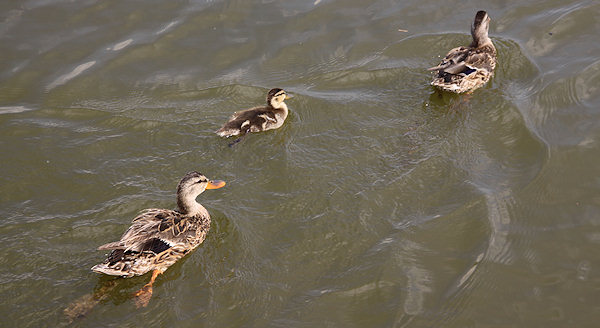 Some residents already recreating at Teague Park.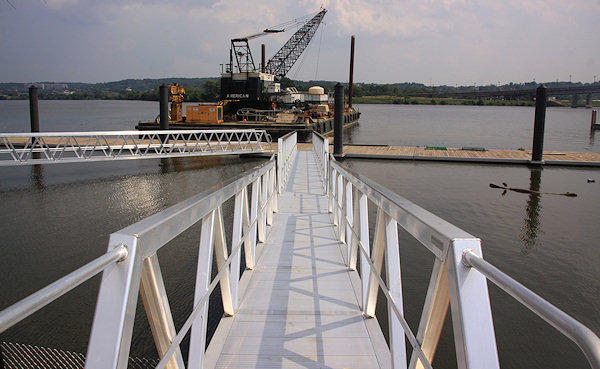 Heading down the walkway to the floating boardwalk. The construction barge at rear is due to depart soon.
Standing on the floating boardwalk, looking at the pumphouse and the Florida Rock concrete plant. This boardwalk is where kayaks and canoes will be able to dock.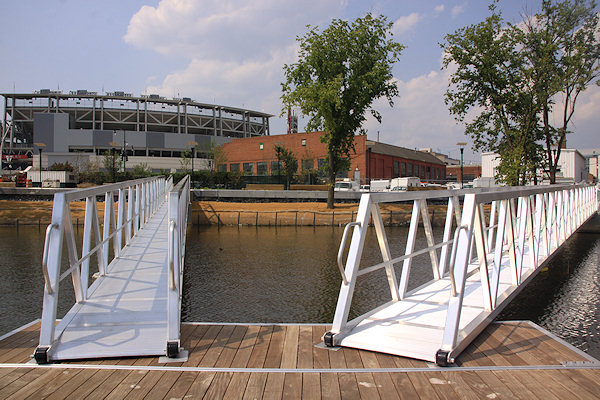 Ready to walk back up the gangplanks.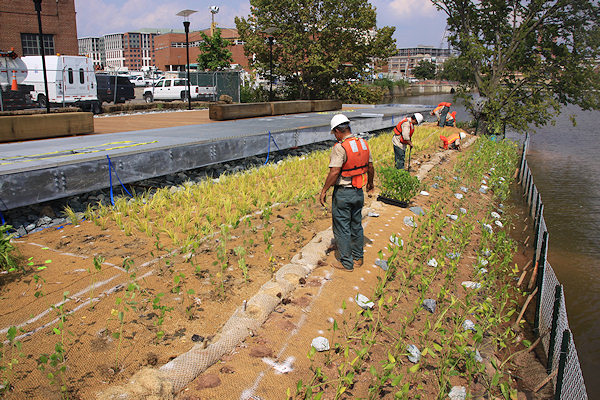 Planting underway.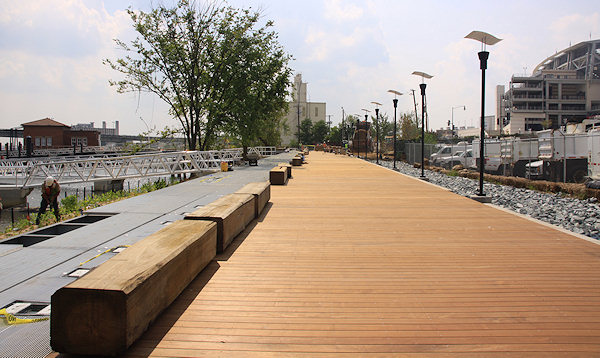 Walking back toward the ballpark on the boardwalk.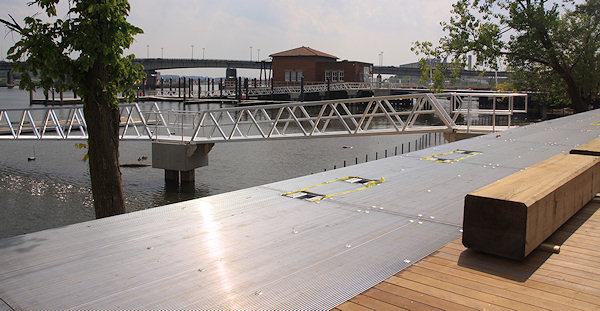 A peek at the pumphouse and all the new piers and walkways from the new boardwalk.
Concrete is still being poured at the park entrance at First Street and Potomac Avenue.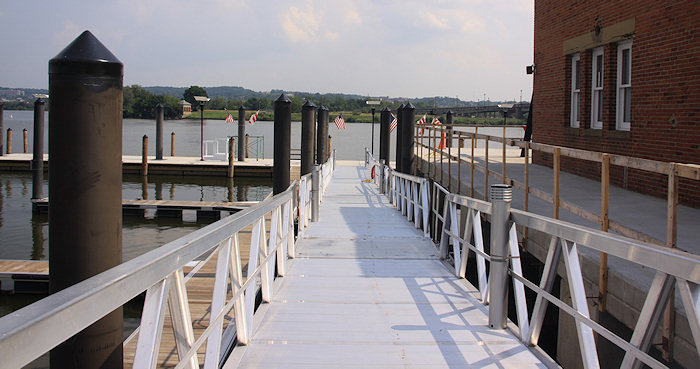 One last view of the gangplank to the taxi piers, with Anacostia Park visible on the other side of the river.