List of all Event Photo Galleries | Nationals Park Information and Photos
What's New at Nationals Park
April 3, 2009
The Nationals invited various hangers-on to
Nationals Park
to sample the new food being offered in 2009 by concessionaire Levy Restaurants, and also to see some of the changes around the stadium.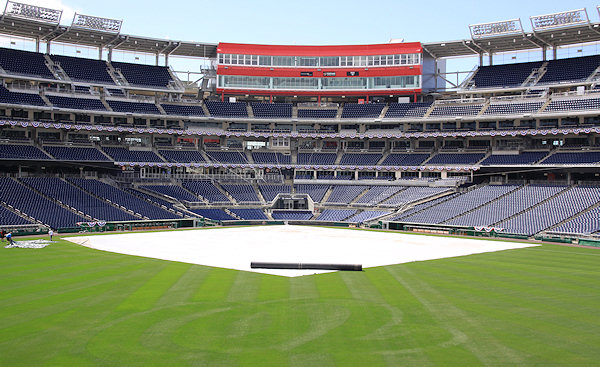 Ready and waiting.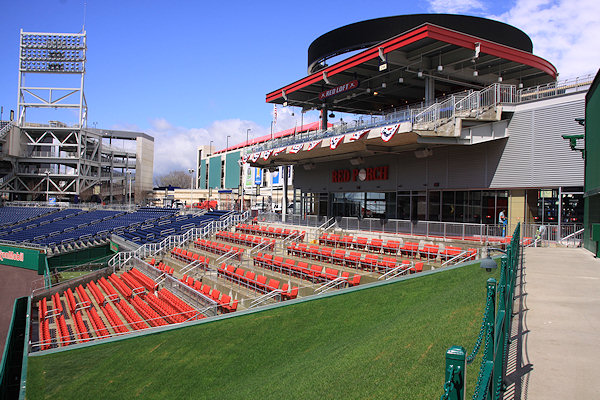 The Red Porch after the sun came out. Note the new grass in the batter's eye, replacing the mondo grass of 2008.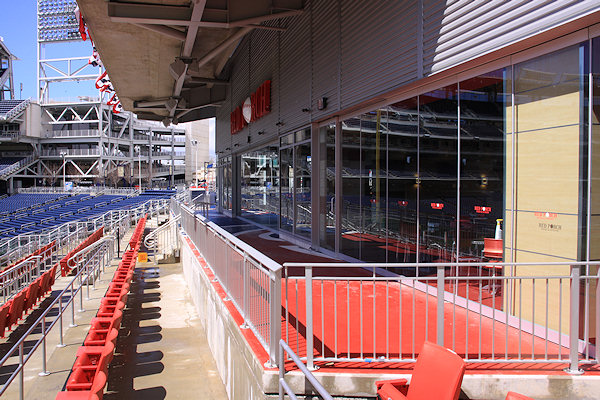 The top row of seats at the Red Porch has been removed so that a little deck could be created, where tables will be placed allowing people to eat and watch the game. (The bar area has also been expanded outside on the west side of the Porch, but I forgot to get shots of that.)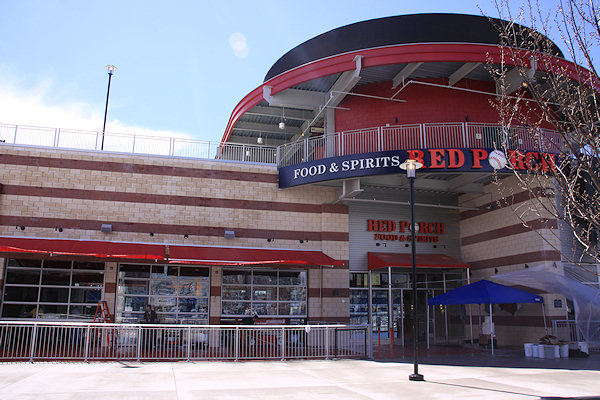 The plaza side of the Red Porch, showing the new signage and the new garage-door-type windows at lower left.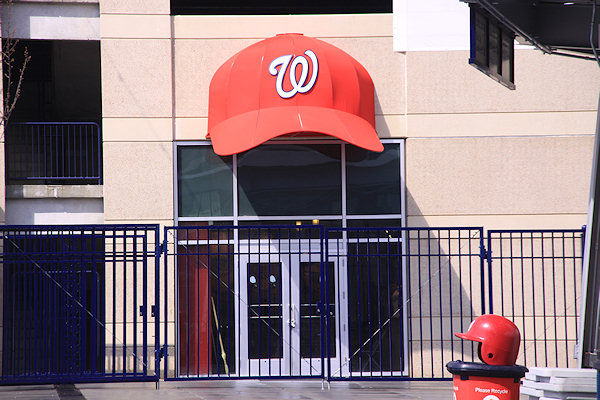 The new hat on top of the entrance to the team store.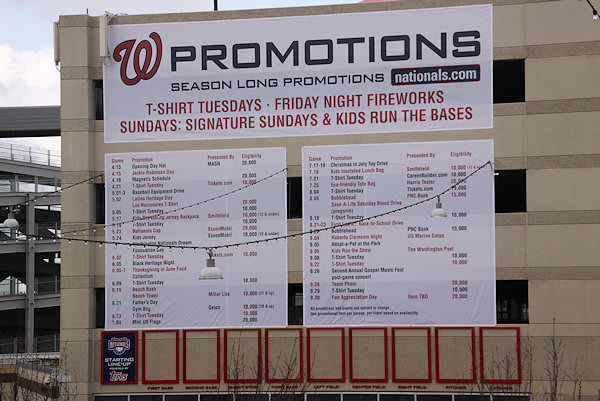 The banner with the list of promotions is new, as is the spot beneath it where each game's starting lineup will be showcased.

The new informational signs above the Center Field gates. (There are similar signs now above the ticket windows as well.) 'Watch Fire' is the name of the sign manufacturer, not some new Nationals slogan.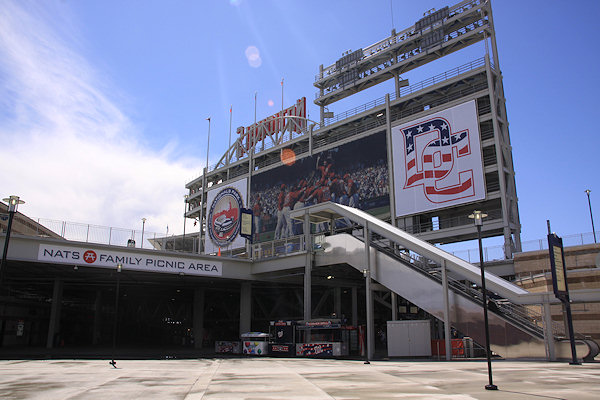 Slightly new signage for 2009, naming the Picnic Area and also replacing the red banners with white ones.
New branding for the *Exxon* Strike Zone, and now the entire play area is called the 'Nats Family Fun Area' (banner at right).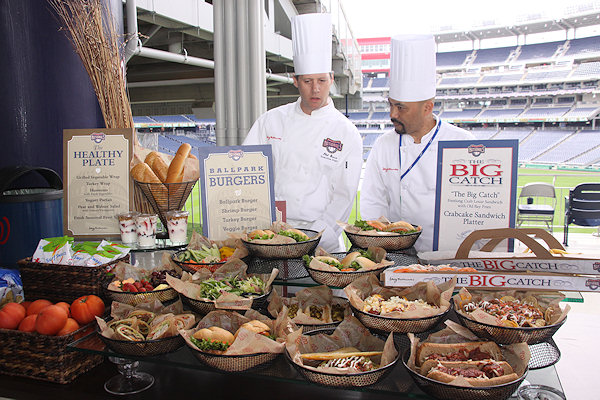 Executive Chef Phil Bucco shows off the many new food offerings now that Levy Restaurants has taken over as ballpark concessionaire.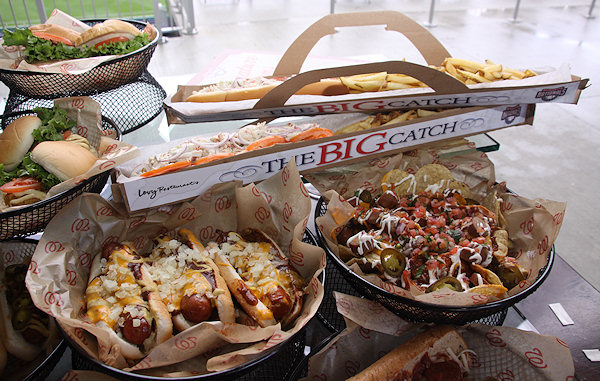 It's not all fru-fru and healthy.
Why, yes, that is a Big Catch.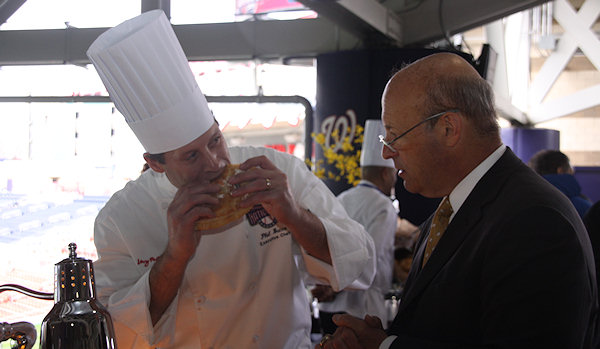 Chef Bucco shows Stan Kasten how to dig in.
More food.
Still more food.
Kid tested, Stan approved.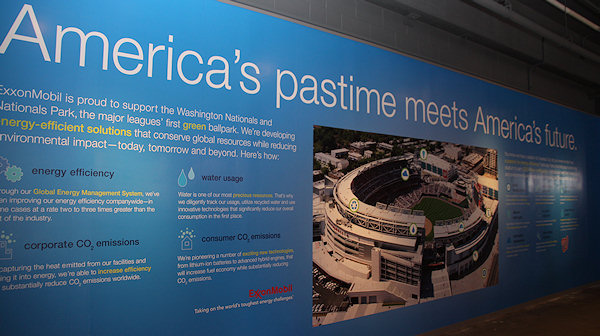 One of the educational exhibits in the Strike Zone showcasing the many 'green' aspects of Nationals Park.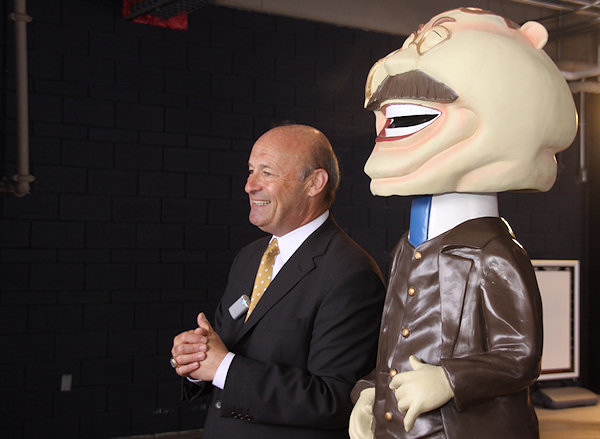 New for 2009, seven-foot-tall bobbleheads of the Racing Presidents and the Geico Gekko for kids (and Stan) to pose with when the real ones aren't around.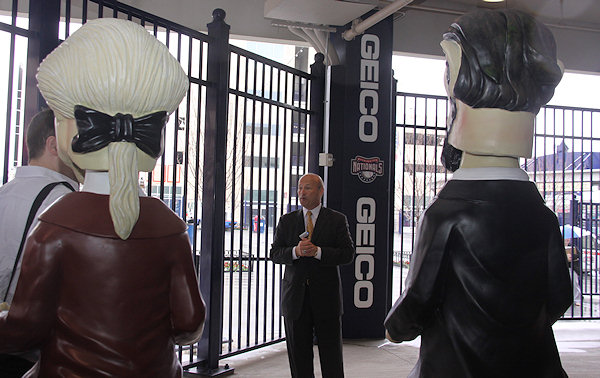 Presidents'-eye view of the team president.
I tried so hard to get him correctly under the hat, but it didn't work.