List of all Event Photo Galleries | Nationals Park Information and Photos
Opening Night at Nationals Park - Before the Game
March 29, 2008
I should be sent back to the minors for my lousy coverage of this most momentous night. Nevertheless, here's a few impressions of the first part of the day. But, when the team took the field, and my 4 1/2-year odyssey of watching this stadium be born came to a conclusion of sorts, I put away the damn camera and watched the game.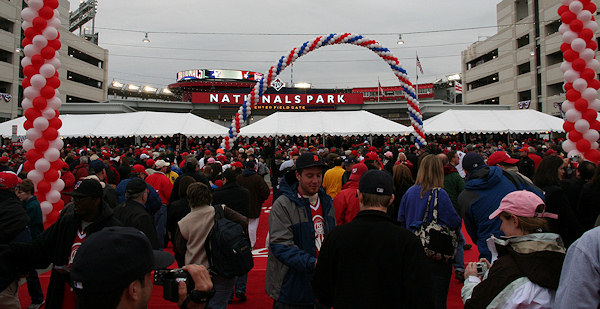 The red carpet was rolled out at Half and N, and by 6:15 the crowd waiting to get in the park was huge, thanks to the need for everyone to pass through magnetometers because of the president's presence.
And then I watched the game, with camera safely stowed. F for effort, but A for enjoyment.