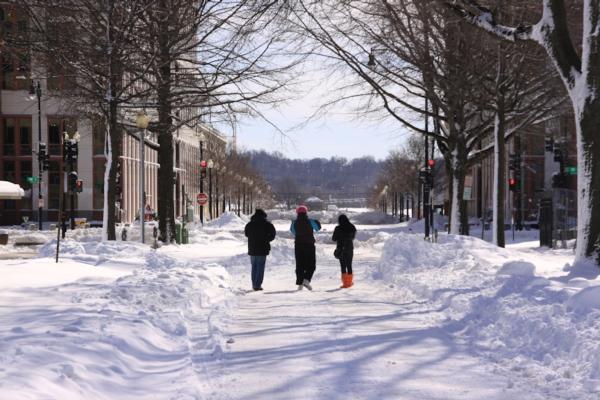 I am briefly emerging from the JDLand Weather Monitoring Bunker to pass along these items--feel free to talk all things snow (or anything else) in the comments. (The photo is from Feb. 2010, between the two big snow storms,
just one of many I took that day
. And no, I'm not going to call it #snowmageddon.)
*
IL PARCO:
A reader reports this morning that a sign is being hoisted on the Park Tavern building at
Canal Park
for "
Il Parco
," with a pizza slice-type icon. I haven't heard anything about how close it is to opening, but the sign should be a good, um, sign. (I expect to have a photo as soon as the official JDLand stringer gets moving.)
UPDATES
:
Bluejacket
is "currently open with a limited menu".
Due South is open
all weekend (see down in the comments for the list of their Snow Daze Drink Specials).
Aura Spa
is closed for the weekend.
ANOTHER:
Nando's is closing
all its DC locations at 8 pm tonight, reopening Sunday at noon.
MORE:
Everyone will be crushed to hear that the Virginia Avenue Tunnel
demolition will be on hold
until Monday morning at 5:30 am. Weekend work will be limited to snow removal and "maintenance of traffic controls."
*
RESIDENT SNOW INFO
: ANC commissioner Meredith Fascett has
this lineup of tidbits
about city storm preparations and items residents need to know. And
snow.dc.gov
is another good resource.
SATURDAY UPDATE:
Keep an eye on
my Twitter account
for retweets of openings and closings. So far, Bluejacket and TaKorean have said they are closed today, while Willie's and Due South are open. I'll keep updating when I can tear my eyes away from my window.
SUNDAY UPDATE:
Bluejacket is open at 1:30, and Morini is open at 2 pm, both with limited menus.
Agua 301 is opening at 3pm.
Due South and Scarlet Oak are open.
Justin's and the Big Stick are open for libations, but the kitchens are closed.
Ice Yards has been moved to Jan. 30.
TaKorean and Ice Cream Jubilee are closed.
The Canal Park Ice Rink is closed, too.