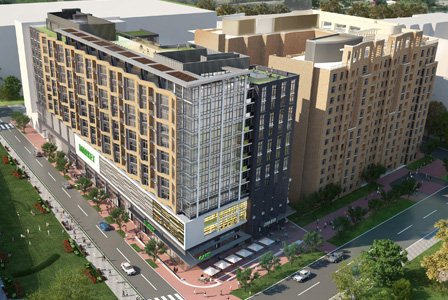 A mere 11 years after the notion was first floated, there is apparently finally
a signed contract
to bring a Whole Foods grocery store to
800 New Jersey Avenue SE
. Though the chain isn't expected to make an official announcement until next month, a representative of WC Smith told Monday night's ANC 6D meeting of the news.
Note that the store won't be at the
Park Chelsea
, WC Smith's apartment building currently under construction at 880 New Jersey. This will be a new apartment building just to the north, running along the
to-be-rebuilt H Street
between New Jersey and 2nd, immediately south of the freeway. It's expected to have 330ish units and all the usual amenities. But with construction not currently expected to start until spring 2014, and the timeline of the buildouts of both the building and the interior work for the store, you probably won't be buying your quinoa there before 2017.
The neighborhood's other grocery store, Harris Teeter, is currently under construction at the
Twelve12 apartment project
in the Yards, and is now expected to open in the fall of 2014.