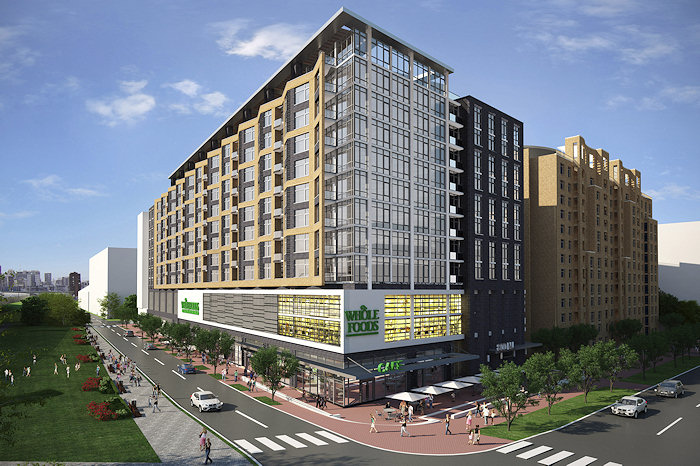 I guess Whole Foods figured that waiting another month for an official announcement after yesterday's flurry of news was a little unnecessary, because this morning there is an official release--and a new rendering, with all the appropriate signage (
click to embiggen
). The under-construction
Park Chelsea
is visible to the right, so this view is of the corner of New Jersey and H.
The William C. Smith release:
"Washington, DC - Developer WC Smith has signed Whole Foods Market to anchor the retail portion of its $443 million development in the District's Capitol Riverfront neighborhood. The 36,000 square foot store will be located on the first floor of the second of three residential buildings the company has in development on New Jersey Avenue SE, two blocks from the Navy Yard Metro station.
"'We are delighted to welcome Whole Foods to the Capitol Riverfront neighborhood,' said Chris Smith, chairman and CEO of WC Smith. 'Their dedication to healthy living and commitment to community dovetails with our mission of creating green, sustainable communities for residents of the District of Columbia.'
"The first component of the new development, a 432-unit luxury apartment building known as
Park Chelsea
, is currently under construction with a projected fall 2014 delivery date. Construction on the
second building
is scheduled to begin early in 2014, with a 2017 opening of the Whole Foods Market and delivery of 336 residential units. The residential units will offer 10 foot ceilings and a commanding view of the Capitol and the monumental skyline. Completion of the third Class A residential building will bring the unit total to over 1,100 for the development.
"All of the buildings will provide on-site parking and will be highly amenitized with club rooms, rooftop pools, and exercise facilities. Additionally, each site will offer a unique amenity space for use by residents of all three buildings. Those amenities include an indoor lap pool, an all-purpose gymnasium, a demonstration kitchen, and a 15,000 square foot courtyard. The development is within walking distance of both the Navy Yard and Capitol South Metro stations and adjacent to newly created Canal Park with water features, ice skating rink, public art, programmed activities, and Park Tavern restaurant."
UPDATE: The separate joint release with Whole Foods is a little long to cut-and-paste, but there's this quote:
"'Washingtonians asked and we listened," said Scott Allshouse, Whole Foods Market Mid-Atlantic regional president. "People who live and work in Southeast have been requesting a Whole Foods Market for some time. We are thrilled about finding the right fit given the combination of factors that go into deciding on a new location.'"