Near Southeast DC: Past News Items
New Jersey Ave.
Go to Full Blog Archive
---
The Smokestack, Getting De-Smoked
Sep 13, 2012 3:56 PM
A moment many people have been looking forward to (but which at least one person might be lamenting):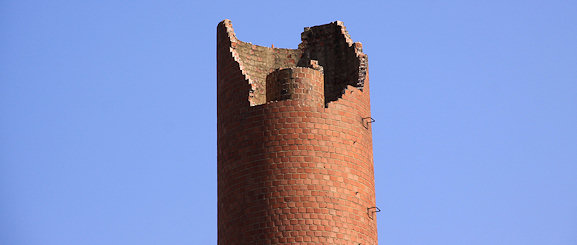 Yes, demolition has started on the smokestack at the DPW/Trash Transfer station at New Jersey and K. It'll take a few days, I was told, so you have a little more time to say goodbye.
Check back in a few, when I'll have some additional photos in the main photo archive (
UPDATE
: here's a few,
from New Jersey and K
). But here's a couple more showing the first bite taken out of the top of Ye Olde Smokestack:
Fitness Club Files Building Permit Application for Capitol Hill Tower Retail Space
Aug 23, 2012 2:26 PM
Today a building permit application was filed for a new tenant layout in the retail space on New Jersey Avenue at
Capitol Hill Tower
between the Georgetown medical space and the Courtyard by Marriott. The permit application says: "Construction of Boxing-Fitness Club located on the lobby level approx 2685 sq. ft. as per plans." Whispers I'd been hearing about this have said that the boxing is kickboxing, but until the (as yet unmasked) tenant steps forward, people will probably have to settle for wild speculation. So have at it!
More as I get it.
Robbery Under the Freeway on July 25 - Details
Jul 30, 2012 8:27 PM
Today on the
MPD-1D mailing list
, police provided some detail on the robbery that happened on at around 10 pm July 25th,
originally reported by MPD
as having happened in the 100 block of I Street SE. It turns out it was actually on New Jersey Avenue under the freeway, and police gave this capsule: "The complainant reported that while walking at the location he was approached by three individuals, one of who produced a weapon, and robbed of his property. The suspects were last seen running through Garfield Park. The suspects were described as 3 black males in the teens, slim build."
(If you haven't scrolled down the main JDLand page in a while, don't forget about the
Crime Reports feed and map
, which comes directly from MPD data.)
ANC 6D Recap 1: Water Pylons, and Parking
May 15, 2012 9:49 AM
It was a busy ANC 6D meeting on Monday night for Near Southeast-related issues, so I'm going to put it all in a series of posts:
*
New Jersey Avenue Underpass Art
: The
Capitol Riverfront BID
gave an update on the "Water Pylons" art installation, which is now moving forward after being "dormant" for about a year. This is the project partially funded by a grant from the
DC Commission on Arts and Humanities
that will paint and light the pylons holding up the Southeast Freeway in a "modern representation of water that announces New Jersey Avenue, SE as a gateway to the Capitol Riverfront community." The reflective blue paint should go up in July, followed by light fixtures in August, and the installation should be dedicated in September, which will be right around the time that DCCAH moves into its new nearby digs at
225 Virginia/200 I
. Passers-by may note that new fences and LED overhead lighting have already been installed along New Jersey as part of the transformation of the underpass. The BID's presentation to the ANC, with
more information about the project
, is here.
*
Parking Parking Parking
: There was a discussion about issues with
game-day parking
in the neighborhood, specifically the prohibition of parking along K and L streets, as well as other restrictions that have made residents unhappy. Damon Harvey of DDOT says that the agency is "reassessing" the current configuration, to figure out how to provide better access to residents while not allowing stadium-goers to then hog all the parking. He expects that changes will be announced in a month or so that will allow for "greater residential protection during games." One other non-game day change for residents has already gone into effect: meters are now turned off at 6:30 pm (but still 10 pm on game days).
However, those who came to the meeting hoping to hear about changes in the Residential Parking Permit system that would allow residents in the high-rise buildings west of Canal Park to park on the street throughout Ward 6 were disappointed, as DDOT continues to hold that large residential buildings in mixed-use neighborhoods will not qualify for RPP. (Harvey used the Ellington on U Street as a specific example of this being the case elsewhere in the city, but there are more buildings in this situation than just that one and the Near Southeast ones.)
Also, in somewhat related news the ANC unanimously passed a resolution protesting the plan in the mayor's new budget to redirect most
performance parking
proceeds to other areas, such as Metro, rather than their being used as originally intended, to fund non-automotive transportation improvements in the neighborhood.
First Details on WC Smith's 880 New Jersey Apartment Project
Jun 20, 2011 5:47 PM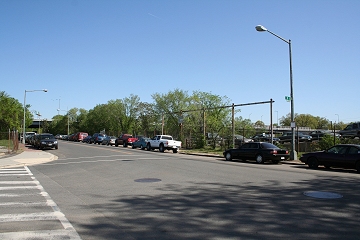 With the DC apartment market continuing to perform strongly (perhaps even
too strongly
), and with Near Southeast's existing rental buildings continuing to be successful in attracting tenants, it would seem to follow that developers who have been long planning new residential projects in the neighborhood would be making moves to get their projects underway. And that's what's happening with William C. Smith & Co., which has been working on the initial plans for a 13-story, 430-unit apartment building at
880 New Jersey Ave. SE
, just south of the freeway on the southwest corner of their
Square 737
site that they've owned since 1999.
WCS isn't ready yet to release renderings of the building, though they did show me an early design by
Esocoff and Associates
(who also designed
Onyx
and who are working on
Akridge's Half Street
residential building), showing a brick/masonry structure with a lot of "articulation" (i.e., not a big flat box) and with double-height windows. Some anticipated amenities include an indoor pool as part of its fitness center (which could also have spinning and yoga rooms), in addition to the now-all-but-standard rooftop pool, and a bicycle entrance to a sizeable storage room separate from the three levels of underground parking. There will also be an interior courtyard that the building wraps around.
One amenity that this building won't have is a Whole Foods Grocery store, after that plan
collapsed earlier this spring
. There will be a small amount of "convenience" retail (1,500 square feet), on the southeast corner of the building.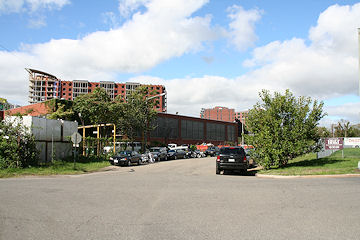 There are a couple of items that need to happen before construction can get underway, starting with the move of the Department of Public Works out of their site at New Jersey and K to a new location on Okie Street in Northeast, the construction of which can now proceed thanks to the council passing last week
emergency technical legislation
allowing a portion of
Capper PILOT monies
to be used for off-site construction (though another bill still has to pass to actually allocate the funds). Then the DC Housing Authority needs to demolish the trash transfer building (a raze application permit
having been filed
last week), at which point WC Smith will purchase the portion of the trash transfer site that juts across and north of the I Street footprint, as seen at right; the Smith site is on the right side of the photo.
It is hoped that DPW will relocate by early fall and that DCHA will get the site cleared by the end of 2011; WCS is targeting April 2012 for the start of construction on the building itself, with the project expected to take 24 months. (It should be mentioned here that this is not the apartment building planned for the trash transfer site itself; that will be a Capper mixed-income building, with no current start date announced.)
WCS will also be building the new stretch of I Street that will run between 2nd Street and New Jersey Avenue, as well as punching H Street through to New Jersey on the north end of Square 737. (And no, this won't drive out the horse stables nestled under the freeway just north of H.) They are expecting that the new block of I Street will have two travel lanes, two bike lanes, and two parking lanes. And this stretch of New Jersey Avenue will get the wide landscaped sidewalks that are seen in front of the other new developments on the street.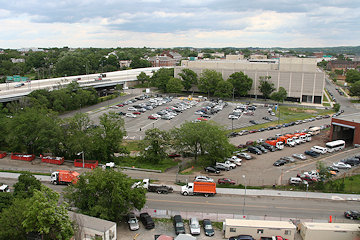 This is the first phase of Smith's plans for Square 737, seen at left from above, back in 2008. While originally the plan had been for two residential buildings and two office buildings, the current realities of both markets have the company looking toward filling the block with apartments, totalling around 1,200 units in four buildings. (And note that the entire four-building project is "matter of right," so there will be no zoning reviews or PUDs.) They are anticipating greater amounts of retail in the two buildings that will front 2nd Street, near
Canal Park
and across from
225 Virginia
.
If you want to see more photos of Square 737 and get additional background, check my
project page
and
previous posts
. And, given that Smith's representatives say that they are "very excited to get started" on the development, hopefully renderings of 880 New Jersey and additional details will be available in the next few months.
While this will be William C. Smith's first apartment project in Near Southeast, they have been committed to the neighborhood for a number of years, having constructed 1100 New Jersey Avenue in 2004 (which is where their offices are). They have also been a big player in the creation of
Canal Park
, and are part of the
Capper
PUD team as the developers of the planned
250 M Street
office building.
Performance Parking Brings Monies for New Bikeshare Station(s), Transportation Study; Some Parking Costs Going Up in 2011
Mar 24, 2011 1:38 PM
Michael Perkins
at GGW got his hands on the draft version DDOT's
2010 Ballpark District Performance Parking Report
, and while I'll leave it to him to handle the
in-depth discussion of pricing and meter use
in Near Southeast as well as other neighborhoods, there are a few action items in the report that might be of general interest (you should read all 31 pages if you want the nitty-gritty).
Now, this is a
draft
report, but assuming it becomes final...:
Revenues from the
parking program
have been able to provide $812,100 for "non-automotive transportation improvements" in 2011, which will include a new Capital Bikeshare location at the
Yards Park
and $135,000 for a new fence along New Jersey Avenue by the railroad tracks (presumably it won't hide the
"Water Pylons" public art
coming to the freeway underpass). There will also be two or three other new bikeshare stations somewhere in the Ballpark District parking zones (Near Southeast, Southwest, and southern Capitol Hill), but those haven't been announced.
There will also be a $70,000 grant to partially fund a Capitol Riverfront BID Transportation Study, which the page 25 of the report says will happen during this fiscal year and will look at:
* The need for additional traffic signals and stop signs based on pedestrian and vehicular patterns (and recent accidents);

* Neighborhood traffic circulation patterns including one way street circulation and freeway access and turning movements onto the freeway frontage roads;

* How the CSX tunnel reconstruction will impact traffic flow and SE/SW freeway access/egress;

* Existing and future parking demand and the proposed parking supply to meet that demand;

* On street parking strategies and supply for commercial, residential and visitor populations;

* Optimum Circulator routes and hours of operation;

* Recommended routes for bike lanes that tie into the Riverfront Trail system;

* The optimum route for a streetcar line in the M Street right of way and how it would service the Buzzard Point subdistrict; and

* How M Street is designed and works as a multi-modal transit corridor while exhibiting a high quality of design in the public realm.

Gosh, I'm just not sure if residents will be interested in any of these! If perchance a reader or two might have an idea or data point for the above items, feel free to discuss in the comments.

Note that this study doesn't quite seem to match the overarching Near Southeast/Southwest combined traffic study that got

some discussion late last year

, but perhaps there's more going on than what's mentioned in the DDOT report.

DDOT is also proposing that non-gameday parking rates at the multispace meters between South Capitol and 2nd Streets from the freeway to M Street go up to $6 for three hours (first hour $1.50, second hour $2.50, third hour $3). Plus, the boundaries of the parking zone will move eastward to 11th St. SE from 9th St.

By the way, if you have a fab idea for how some of the proceeds from the parking revenue can be spent on the aforementioned non-automotive transportation improvements, you can submit a written proposal to DDOT (further information on page 26 of the

report

). And if you want background on how the Performance Parking Pilot came into existence back in 2008, my

Stadium Parking page

can help with that.

Courtyard Hotel on New Jersey Ave. Bought for $68 Million

Feb 28, 2011 5:54 PM

Just crossing the wires

: "

Chesapeake Lodging Trust

announced today that it has entered into a definitive agreement to acquire the 204-room Courtyard Washington Capitol Hill/Navy Yard located in Washington, DC for a purchase price of $68 million, or approximately $333,000 per key." The

hotel

, at New Jersey and L, SE, opened in spring 2006 along with its next door neighbor, the

Capitol Hill Tower

co-op; both were developed by Valhal Corp. (whose principals then formed Ranger Properties in 2007). It will apparently remain a Courtyard; no word of what if any impact this sale would have on Capitol Hill Tower.

'Water Pylons' Coming to New Jersey Ave. Underpass

Jan 10, 2011 3:22 PM

In its latest newsletter, the

Capitol Riverfront BID

reports that it has received a

2011 Public Art Building Community Grant

to spruce up the

underpass

where New Jersey Avenue crosses under the Southeast Freeway. The installation is called "Water Pylons," and will "transform the underpass into a modern representation of water that announces New Jersey Avenue as a gateway to the Capitol Riverfront community."

The 18 freeway support columns will be painted with reflective paint in various shades of blue, and four LED lights will help to illuminate both the art and the underpass. The BID says that the "painted blue pylons will reference the neighborhood's waterfront in an abstract theme that is distinct and surprising, but not distracting to motorists or pedestrians."

There will be public meetings on the project this spring, with installation expected to be finished by September.

Tidbits: Spiffying Up the NJ Avenue Underpass; CSX Archaelogy Digging; More Near SE History

Sep 7, 2010 9:09 AM

A few things to pass along as we kiss summer goodbye (yes, I know it technically doesn't end for another few weeks, blah blah blah):

* The Capitol Riverfront BID is applying for a

DC Public Art Building Communities grant

to get funding to "improve the look, feel and experience of traveling into and out of the Capitol Riverfront along New Jersey Ave., SE, while also creating unique gateway art that represents the identity, sense of place and community in the Capitol Riverfront neighborhood." They will be presenting their concepts at the Sept. 13 ANC 6D meeting, with applications being due on Oct. 13. If the project is selected to receive a grant, there would be public meetings sometime next year to "refine" the concepts, with hopes to complete the project by fall 2011. Though I can't imagine why anyone would want to beautify

THIS

!

* I'm not seeing this on the

posted agenda

yet, but a reader reports to me that CSX will be making presentations to ANC 6B's Planning and Zoning Committee tonight (Sept. 7) and the full ANC on Sept. 21 about a permit the freight company is apparently requesting to conduct an archaeological survey of Virginia Avenue Park prior to their planned expansion of the tunnel that runs under the park.

* Tonight you might see some folks with clipboards hanging around the Navy Yard Metro station entrances; they will be part of the

Public Transportation Takes Us There

petition drive by the American Public Transportation Association, trying to convince Congress to pass a long-term surface transportation funding bill. For the point of view of someone who has signed the petition, read this

recent Richard Layman post

. (I am wondering, and have no answer, whether this is the bill that CSX has been looking toward [along with other public money options] for funding the rest of the

National Gateway project

, which includes the expansion of the Virginia Avenue Tunnel.)

* You may have seen commenter MJM referencing recently his newfound obsession with the history of Near Southeast, and now

he's put up a blog

where you can share in the fruits of his research.

Tidbits: Teague Park Started, Bridges and Stimulus, Reservation 17A, Exxon For Sale?, Capper Zoning, More

Jan 24, 2009 2:40 PM

Some items from the past few days. Big ones first:

* It's probably been true for weeks, but I've just now been by

Diamond Teague Park

for the first time in a while and can confirm that construction is definitely underway there. Fences are up, cranes (three of them?) are in place, and workers were there. Pictures tomorrow. (Probably *lots* of pictures tomorrow from all over, as long as the weather stays reasonably clear.)

*

City Paper got its hands

on the

letter Mayor Fenty sent

to DC Delegate Norton about the city's priorities should the Feds decide to toss some stimulus package dollars in this direction. As I predicted, the two Near Southeast bridge projects were mentioned: "In particular, aspects of the

Eleventh Street

and

South Capitol Street Bridge

replacement projects could be undertaken immediately." He also mentions the city's backlog of maintenance projects, along with investments in Metro and the implentation of the streetcar project. And school modernization. And public safety issues.And environmental initiatives. And housing affordability. And health care. (And now here's

the stimulus bill itself

, though it doesn't get down into specific projects. On the other hand, considering these two bridges ease the commutes to and from the district of the House Majority Leader....)

* Back in mid-November, the transfer of the plot of land known as

Reservation 17A

from the Feds to the city finally took place; it runs between New Jersey Avenue and Second Street, and is straddled by the trash transfer station building. With this now under District control, various wheels can start turning in that area, including allowing the establishment of I Street between Second and New Jersey that will form the southern boundary of WC Smith's

800 New Jersey Avenue project

. There's hopes that the trash transfer station could be demolished in 2010.

* Reader T. reported yesterday that a small bought-at-the-hardware-store For Sale sign went up at

10th and M

yesterday, in front of the fence of the Exxon station. I'm not sure what the deal is, since the land is actually owned by the Exxon Corporation, and you'd think they'd have better methods of marketing the land.

* The public notice for the March 19 Zoning Commission hearing on various Capper PUD alteration requests

is now available

.

* WBJ reports that the Nationals

have parted ways with Centerplate

, last year's concessionare at the

ballpark

. This year it will be Levy Restaurants for the food and Facility Merchandising Inc. for the retail.

* More of the fences are coming down at

55 M

, as you can see on the

web cam

. (Though it took me more than a month to notice that the plywood "tunnel" at the Metro exit had disappeared.)

* The Douglass Bridge

will be closed

at 5 am Sunday until 10am-ish to test the swing span.

Positive Nature Leaves Near Southeast

Aug 22, 2008 4:37 PM

Rumor Patrol: Whole Foods on New Jersey Ave.?

Aug 22, 2008 3:00 PM

Rumors started flying in a few places lately that Whole Foods is coming to New Jersey and K, SE. I usually shy away from writing about rumors, but this one is persistent enough that it probably needs some addressing. It's not listed on their

Stores in Development page

, and no one's leaping to tell me this is or isn't true (which isn't surprising), but it's not completely out of the realm of possibility. There's been references here or there to "two grocery stores" coming to the neighborhood (with space for one set aside at the

The Yards

, coming in 2011 or later), and I've heard nonspecific Whole Foods/Near Southeast rumors a few times over the past year.

But I'm skeptical about it coming to the New Jersey/K intersection. There's only 6,000 square feet of retail in

909 New Jersey

(not enough for a grocery store), and the plan for the trash transfer station has always been for it to be part of the

Capper

Hope VI project, with an apartment building that probably won't start before 2011. That leaves the southwest corner, where the Cohen family owns the small lots along K between New Jersey and First; there's also the Positive Nature lot at 1021 New Jersey and one to its south owned by Potomac Development Corp., who it should be noted picked up 51,000 square feet of transferred development rights earlier this year. (Can someone at CHT look out their window and confirm that the Positive Nature sign is still there?)

So maybe the "

New Jersey

" part is right, but not the "K"? My gaze (and my betting dollars) might head north a block or two, to

800 New Jersey

(also sometimes known as 120 Canal), where for years William C. Smith has envisioned a grocery store as part of its planned 1.1-million-square-foot four-building development on the Square 737 block bounded by Second, H, New Jersey, and the eventually reconstituted I Street. No timeline for the start of this project has been announced, though. (In fact, there's so little information about the project that I haven't even felt compelled to build a project page for it.)

In other words, there aren't really any tea leaves to be read on this one, so if someone wants to spill the beans, I'm

always listening

.

A Gorgeous Day - A Good Time For Rooftop Photos

Jun 24, 2008 2:48 PM

Are you stuck inside, maybe not even near a window (like me), on this gorgeous summer day? Then take a few minutes to run through this

new batch of photos from up high

at the

Courtyard by Marriott

at New Jersey and L, SE, showing views east across the Cappers and west across New Jersey Avenue (both down toward the

ballpark

and up toward the Capitol), displayed alongside the 2006 "befores" from the same angles. If somehow the differences between "old" and "new" Near Southeast haven't quite been apparent to you before now, this batch of photos should finally take care of it--remember, it's a mere 27 months between the oldest and newest shots.

Positive Nature Getting Help from the City

Apr 16, 2008 9:54 AM

From

Bruce Johnson's blog

, word that the city council has introduced the "

Positive Nature Property Tax Exemption Forgiveness Act

," which will provide some temporary relief from the property taxes that have endangered the youth program's existence at 1017 New Jersey Avenue.

I've received a draft version of the bill (even though today is

Emancipation Day

and government offices are closed--good service!). It says that Lot 18 on Square 740 is exempt from real-property taxation as long as it is leased to Positive Nature. Further, "The Council orders that all unpaid real property taxes, interest, penalties, fees, and other related charges assessed against real property located at Lot 18, Square 740 for tax year 2008 shall be forgiven."

This is still just pending legislation at this point, of course, and is a short-term solution while (Bruce says) Tommy Wells, David Catania, and the Deputy Mayor for Planning and Economic Development search for new space for

Positive Nature

.

UPDATE:

And who did I just run into at 15th and K, NW--none other than Bruce Johnson himself, doing Man on the Streets about the pope. I took a minute to introduce myself as "that blogger whose photos of the ballpark

you've used

on your blog." He laughed, and apologized for not originally crediting the photo (and rightly noted that he did so after what I'm sure was an

avalanche

of feedback from JDLand readers), and we talked for a moment or two about this Positive Nature news. It's a small town....

Positive Nature 'Bucket Fundraiser' Saturday and Sunday; Bus Garage Sales Office Closes Thursday

Mar 25, 2008 10:47 AM

Short items:

*

Positive Nature

, the program for at-risk youth that is in danger of losing its rented space at 1017 New Jersey Avenue because of a sharp increase in its property taxes, is looking for volunteers to help with a "massive bucket fundraiser" on Saturday and Sunday as fans arrive for the first games at

Nationals Park

. They have been working on raising $200,000 by the end of March. The fundraiser info, which came via e-mail, isn't posted on

their web site

yet.

* Metro says

via press release

that the sales office at the Southeastern Bus Garage will close on Thursday (March 27), in advance of the garage itself shutting down operations the next day. And WTOP is reporting today on the proposal to lease the bus garage and its parking lot to the Nats for parking, but you can find

far more detail about it all in my post from Friday

than you will in WTOP's blurb.

DOT Curb Cuts Not ADA Compliant; Positive Nature Rally; Douglass Bridge Ceremony Coverage

Mar 18, 2008 9:06 AM

* The Examiner writes about the

Washington Area Bicyclists Association

's look last week at the crosswalks and curbs at the

US Department of Transportation HQ

, which WABA says are not ADA compliant: "An inspection of the area Friday found security bollards blocking curb ramps, bus shelters with virtually no sidewalk access, and multispace parking meters inaccessible to people in wheelchairs. Also, several crosswalks at non-signalized intersections feed into curbs with no access ramp[.]" DDOT says that the crosswalk at Second and M is not supposed to be used anymore (since there is a fully compliant crosswalk just to the west at New Jersey Avenue) and will be sending crews to take away the crosswalk marks.

* City Paper continues its saturation coverage of the Positive Nature youth program at 1017 New Jersey with

video from Saturday's rally

. The organization is trying to stave off eviction thanks to the huge increase in its property taxes.

Roundup: Metro and Pope Day, Positive Force

Mar 13, 2008 8:06 PM

(News is getting so overwhelming that I'm having to go to two-a-day link roundups. And still, I feel like I'm missing stuff or giving it short shrift. I guess all that patience being pleaded for by the city and the Nationals and Metro needs to extend to JDLand for the next few weeks, too.)

* Today Metro

put out an expanded press release

(after a similar one

a few days ago

) with additional details on how they're planning to handle the April 17 Mass at

Nationals Park

, or as I call it, Pope Day. There's also stories on Metro's plans by

WTOP

("Forget about baseball, is Metro ready for the Pope?") and

NBC4

. In the meantime, Agence France Presse has a piece on

how huge the demand

for Pope tickets is.

* Via

City Paper

(which has taken the story to its bosom), a

report from Fox 5

on the

Positive Nature

youth program at 1017 New Jersey, which is struggling to stay afloat after the huge increase in property taxes that has accompanied the redevelopment of Near Southeast. Don't forget that they're having an open house (they're calling it a "

radical rally

" to keep their doors open) on

Saturday March 15 from noon to 3 pm

.

Positive Nature Rally/Open House on March 15

Mar 10, 2008 3:14 PM

Positive Nature

, the non-profit at 1017 New Jersey that works with at-risk youngsters, is having a "radical rally" on

Saturday March 15

from noon to 3 pm, an invitation to the public to tour the facilities and meet the participants as they try to save their program. You can read about their work and their struggle to remain at their New Jersey Avenue site as their property taxes have skyrocketed in this recent

City Paper article

.

Monday Morning Roundup and Reminders

Mar 3, 2008 11:01 AM

* The tarp is coming off the field today--

look at that pretty turf

! It's probably being done today because Tuesday the Nats are holding a ceremony to install home plate and officially unveil the HD scoreboard (not open to the public).

*

The Examiner reports

that Metro is tamping down expectations a bit for performance along the Green line for weeknight ballgames: "The transit agency expects the number of riders on the Green Line, which serves the Navy Yard station near the ballpark, to more than triple on game days. But Metro can't add more cars to that section of the system during the week because all of its 820 railcars are committed to rush hour service, officials said." So, perhaps that notion of walking from Capitol South is looking more attractive--I've added to my

Take Metro! page

a map of the

JDLand Suggested Route between Capitol South and the stadium

, along with a few photos showing the current state of

New Jersey Avenue

(which certainly isn't as scary as it used to be).

And, Tuesday is just chock full of Near Southeast-related activities. In addition to the ceremony mentioned above, there's also these items to remember:

*

Single-game ticket sales

open at 9 am (yes, including Opening Day).

* The City Council will be meeting at 10 am for its monthly legislative meeting, and the

agenda

includes emergency legislation to enact the "

Performance Parking Pilot

Zone Emergency Act of 2008",

B17-0644

, the "Ballpark Safety Emergency Amendment Act of 2008", and

B17-0608

, the "Vending Regulation Emergency Act of 2008". It's in Room 500 of the Wilson Building, beginning at 10 am, and will be broadcast on DC cable 13 and live

webcast

.

* The first of two public meetings on the

South Capitol Street Draft Environmental Impact Statement

is at 6:30 pm at Birney Elementary School, 2501 Martin Luther King Jr., Ave., SE, from 6:30-8:30 pm. The second one is Wednesday night (March 5) at Amidon Elementary School, 401 I St., SW, also from 6:30-8:30 pm.

WTDW: DPW's 900 New Jersey Ave. Site

Feb 8, 2008 2:28 PM

In our latest edition of

What's the Deal With....

, reader JD of JDLand.com asks: "WTDW with the old trash transfer site at

900 New Jersey Avenue

, that place with the smokestack and all the Department of Public Works operations?"

At Wednesday's

marathon capital budget hearing

(no, I'm still not done watching it) the agency's director mentioned both the New Jersey Avenue site and the maintenance yard on O Street beneath the 11th Street Bridges as DPW locations that will eventually be moving to make way for development associated with the city's Anacostia Waterfront initiatives. I e-mailed DPW to get some clarification on his remarks, and have been told that the street sweepers that currently operate out of 900 New Jersey will be relocating in November to DPW's Bryant Street, NW, facility, but that other DPW functions are going to remain at New Jersey and K until the Office of Property Management can find them a new home.

This site is eventually supposed to be redeveloped as a mixed-income apartment building under the

Capper/Carrollsburg

Hope VI plan, but no timeline has been announced. And William C. Smith's plans for a 1-million-square-foot project on the block just to DPW's north, which include reopening I Street between New Jersey and Canal, would seem to need DPW to move out before they can get started.

As I wrote about over the summer, neighbors have been wanting that building closed

for a long, LONG time

.