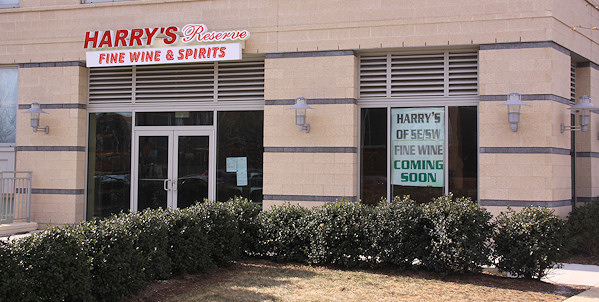 I haven't been there myself, but readers are reporting
via
Twitter
and
Facebook
that Harry's Reserve Fine Wine and Spirits is now open for business on the southwest corner of New Jersey and I, in the ground floor of
909 New Jersey
. It's been
almost 10 months
since the owners first signed a lease and started the liquor license process, but it's now the neighborhood's first outlet for the hard stuff in a number of years. It's also the first retail space at 909 New Jersey to be occupied, and the first new retail offering in Near Southeast since Justin's Cafe opened last April.
This is apparently a bit of a soft opening (so be gentle!), with a true "Grand Opening" coming in two weeks or so. The owners are the same folks who own Capitol Hill Wine and Spirits in the 300 block of Pennsylvania Ave., SE, and who owned the Harry's liquor store in the old Waterside Mall in SW. When the owners
met with ANC 6D's ABC subcommittee
, they indicated that "they would sell beer, wine, and liquor, as well as milk, sodas, juice, cheese, and other "quick stop" items, and are very much wanting to emphasize that this is going to be a 'community' store, with higher-end products, wine tastings, and other offerings beyond what people normally think of when they hear 'liquor store.'"
I will get down there myself to check it out if the rain ever stops, but if you've paid a visit, let us know in the comments what's on the shelves and any other impressions.