Near Southeast DC: Past News Items
Courtyard/Marriott
Go to Full Blog Archive
---
21 Blog Posts Since 2003
Go to Page:
1
|
2
Courtyard Hotel on New Jersey Ave. Bought for $68 Million
Feb 28, 2011 5:54 PM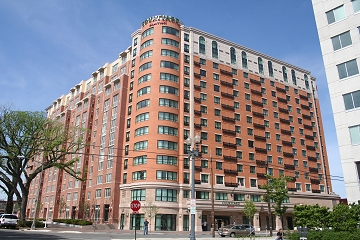 Just crossing the wires
: "
Chesapeake Lodging Trust
announced today that it has entered into a definitive agreement to acquire the 204-room Courtyard Washington Capitol Hill/Navy Yard located in Washington, DC for a purchase price of $68 million, or approximately $333,000 per key." The
hotel
, at New Jersey and L, SE, opened in spring 2006 along with its next door neighbor, the
Capitol Hill Tower
co-op; both were developed by Valhal Corp. (whose principals then formed Ranger Properties in 2007). It will apparently remain a Courtyard; no word of what if any impact this sale would have on Capitol Hill Tower.
Upcoming Events, and Other Linky Goodness
Jul 14, 2009 12:14 PM
* This Sunday (July 19), there's going to be a "Grill-Off" at Nationals Park before the 1:30 game against the Cubs. Phil Bucco, who oversees the menus at the ballpark, will be competing against Teddy Folkman, the executive chef at Granville Moore's. It'll be an Iron Chef-like challenge, where the chefs won't know the ingredient they're working with beforehand. The event starts at noon, but the first-come first-served seats (in the Nats Family Fun Area) can be grabbed starting at 11 am, when the gates open. Plates will be judged at 1 pm.
* On Tuesday, July 21, the BID is hosting a
"Mental Mapping" event
, where they're asking residents to "Sketch out your shopping route to assist in a study about neighborhood retail needs." It's at
Capitol Hill Tower
at 6:30 pm; RSVP to
rsvp@capitolriverfront.org
.
* On Saturday, Aug. 8, the
3rd Annual Youth River Sports Day
will be held at the
Anacostia Community Boathouse
, from 10 am to 2 pm. Rowing and paddling instruction, guided river tours, and more will be offered;
my photos from last year's event
give a taste of the activities.
* This is a ways off, but
SWDC Blog reports
that the next ANC 6D meeting, on Sept. 14 (no August meeting) will be held in Southeast, at the Courtyard by Marriott at New Jersey and L. I've been attending ANC meetings off and on for six years, and this is the first one I remember that will be crossing South Capitol Street.
* Even farther off (well, the next day), Urban Land Institute Washington is holding its third
Urban Marketplace Conference and Expo
, which brings together "the private, nonprofit, and public sectors to explore redevelopment opportunities and best practices in emerging neighborhoods and corridors across the Washington metropolitan region." One of the day's discussions will focus on the ballpark district (and I'm one of the panelists). Early-bird registration ends July 31.
* In non-event news,
Fox 5 reports
on how the Nationals' problems on the field "are making the city's $700-million stadium look like a bad investment." To wit: "Before the stadium was built, the city projected average attendance at 34,708 per game and tax revenues from tickets and merchandise of $15.1 million for this season. The reality, average attendance is about 23,213, ranking the Nationals 24th out of 30 teams. Based on attendance figures through June, the city now estimates tax revenues of about $8.9 million. The office of the Chief Financial Officer says tax revenues could increase because average attendance has improved slightly since June." However, "The office of the Chief Financial Officer estimates the city will raise $50.2 million through its Ballpark Revenue Fund, more than enough to make the $32-million bond payment on the stadium with money left over. The bulk of that however does not come from the Ballpark itself, but rather from a utility tax and a business tax in the city."
* Since I was out of town this weekend, I missed all the Elton/Billy hullabaloo. Here's
a pile of reviews and blog posts
having to do with the big show.
* For your (off-topic) Real Estate Development Collapse reading pleasure, a long piece on
Williamsburg, NY
: "Most unsettling are the cases of the developers who seem to have vanished, leaving behind so many vacant lots and half-completed buildings--eighteen, to be precise, more than can be found in all of the Bronx--that large swaths of the neighborhood have come to resemble a city after an air raid."
L Street Doings, and Stories on Stuff There's Already Been Stories On
Jun 4, 2009 11:21 PM
*
ANC 6D
's meeting on Monday night (June 8) looks to be a little shorter than usual, with only a few agenda items, one of which is a public space permit request by the
Courtyard by Marriott
to expand (?) their sidewalk cafe.
* Speaking of L Street, a reader wrote today about the
Little Red Building at Second and L
, once known as the Star Market. Apparently the owner was posting a liquor license hearing notice, which gives me a feeling of deja vu, since this
also happened in September 2006
. The owner told my anonymous tipster about his plans for the building, which are pretty much what we've been hearing since 2006: tear down the building and build a new two-story structure, with the first floor being a liquor store and the second floor being a deli (at other points over the past few years it was a
sushi bar
and then a wine bar on the second floor). The plans have even stayed mostly the same after the
building changed hands last year
for $900,000. See
my various posts from 2006 through 2008
about the previous attempts to change the building's liquor license and the negotiations with the ANC.
A Gorgeous Day - A Good Time For Rooftop Photos
Jun 24, 2008 2:48 PM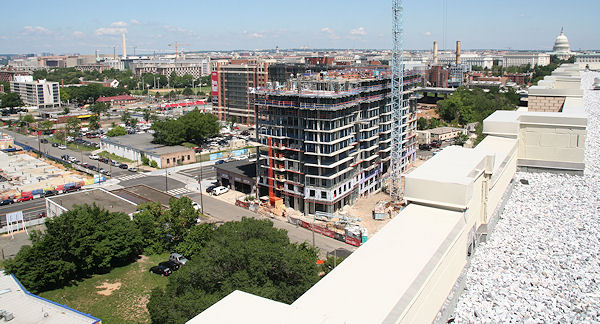 Are you stuck inside, maybe not even near a window (like me), on this gorgeous summer day? Then take a few minutes to run through this
new batch of photos from up high
at the
Courtyard by Marriott
at New Jersey and L, SE, showing views east across the Cappers and west across New Jersey Avenue (both down toward the
ballpark
and up toward the Capitol), displayed alongside the 2006 "befores" from the same angles. If somehow the differences between "old" and "new" Near Southeast haven't quite been apparent to you before now, this batch of photos should finally take care of it--remember, it's a mere 27 months between the oldest and newest shots.
Clear Sunny Skies. That Must Mean....
Mar 20, 2008 3:51 PM