On-Street Parking Take Metro! Parking Lots and Traffic Flow Parking/Transit News Items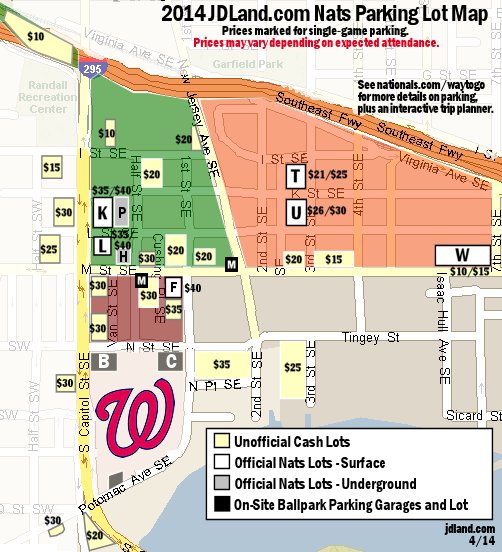 This map shows the expected lots and prices for the 2014 season at Nationals Park, based on the season-ticket holder
and
individual game parking
maps at nationals.com.
In 2014, the Nationals removed former lot F from the official inventory. While construction is now happening on the south end of the lot, and may get underway on the rest of it in 2014, it should be available as a cash lot at least at the start of the season.
There are also cash lots being operated around the neighborhood near the ballpark, usually starting at around $20 per game.
Biking to the Ballpark
According to the Nationals' Way to Go section on biking, there are more than 250 bike racks around the ballpark, and also a free bike valet, located in Red Garage C at the corner of N & 1st Street, SE. Access to the valet is on N Street just left of the entrance. The valet accepts bikes two hours before game time and will close 1 hour after the last inning.
A large Capital Bikeshare station is available at 1st and N, directly across from the bike valet. There are also stations at 1st and K and New Jersey and M. See the web site for more information on how the bikesharing program works.

On-Street Parking Take Metro! Parking Lots and Traffic Flow Parking/Transit News Items