Near Southeast DC: Past News Items
theater
Go to Full Blog Archive
---
7 Blog Posts Since 2003
Renderings of Sweetgreen, Yards at DC Water
May 24, 2013 12:18 PM
The Friday of a holiday weekend is no time to post anything that requires a lot of concentration, so I'll just go with a couple of pictures.
First, at right (
click to enlarge
), a rendering of the
Twelve12
development's southwest corner at 4th and Tingey SE, now updated to show in the corner ground-floor retail space that
Sweetgreen will be coming to
when the project is completed in mid-2014.
And below, an overhead view of what some of the
DC Water acreage
could look like if/when
Forest City's plans to Yard-ify the site
come to fruition: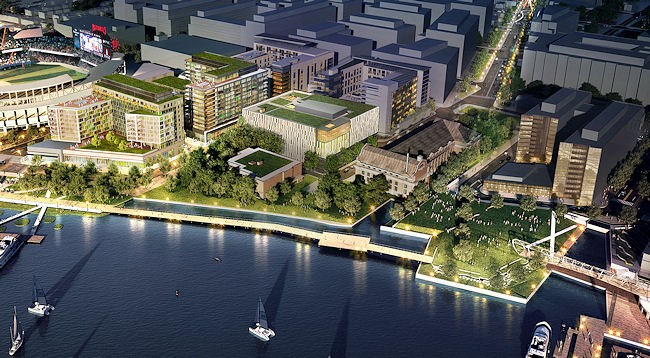 Working from the far left, you see Nats Park at 1st Street and the two green-roofed residential buildings totalling 625ish units, along with the
16-screen movie theater
just to their east. There's also a whole lot more grass and greenery around the two
DC Water
buildings that would remain on the site, the historic Main Pumping Station and also the more midcentury O Street station building by the river. And, if you know what you're looking for, you can see that
Diamond Teague Park
has been expanded northward, and Potomac Avenue has been extended one block east to a new street (1 1/2 Place) that would run between the theater and the residential buildings.
(There's also a couple of other interesting tidbits on this drawing, including two new buildings at far right just to the north of the Yards Park's great lawn, and two other buildings just to the north of the theater and 1st street buildings. All of these are within the footprint of the
Yards
, on sites currently occupied by surface parking lots. But those are probably still a good ways off. And you can also see at the very bottom right the first hint of the marina that is supposed to be coming to the
Yards Park
someday.)
Council Restores Funding for Partial DC Water Relocation
May 22, 2013 3:25 PM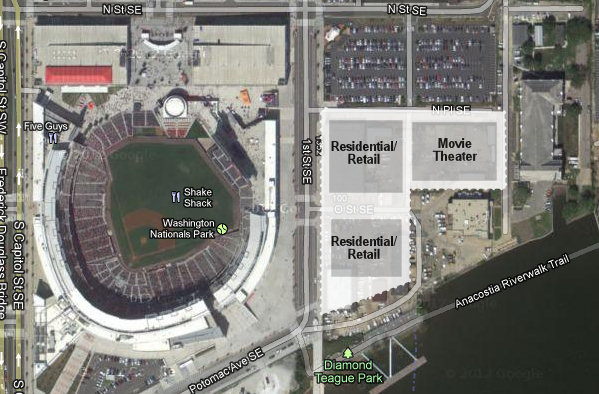 As part of a first vote today on the city's FY14 budget, the DC Council restored funds for the planned relocation of some of DC Water's functions currently at
1st and O SE
, monies that
had been moved to Ward 4 projects
by the council's Economic Development Committee chair Muriel Bowser (who happens to represent Ward 4, and who happens to be running for mayor).
The relocation, once completed, makes way for an expansion of the
Yards
footprint and the
potential addition of residential and retail offerings
, including a planned movie theater.
Originally $8 million was earmarked for the DC Water relocation--
according to the Post's Tim Craig
on Tuesday, $5 million of that money was to be restored. (I am working to confirm exactly what the final number is, and will update.)
UPDATE:
The restored funding is $6 million,
according to Charles Allen
.
(Note that DC Water will not be removed completely from this area--the
Main Pumping Station
will continue to operate in its lovely historic building. It appears to be mainly "fleet management"/parking operations that will relocate.)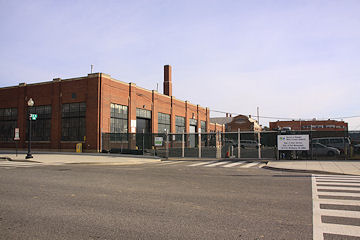 In a
press release
on the restoration, Tommy Wells (also running for mayor) is quoted thusly: "This is great news for the riverfront. I'm very glad we were able to restore these funds to keep this important project on schedule. Working with my colleagues, these funds will be used to create a project that develops new jobs and residences, and importantly, will serve as a critical link in the revitalization of the riverfront neighborhood."
Additionally, the press release quotes Forest City Washington president Deborah Ratner Salzberg: "Today's action by Council allows us to continue to work with DC Water to keep this project on schedule for the neighborhood and the city. This mixed-use component of The Yards is an important link for the overall project and its riverfront neighborhood – bringing jobs, residents and desired new amenities. We appreciate the work of Chairman Mendelson working with Councilmembers Wells, Grosso and Barry and the unanimous support of their Council colleagues to restore the funding and ensure the project moves forward on schedule."
Budget Moves May Delay Yards Movie Theater Project
May 10, 2013 4:01 PM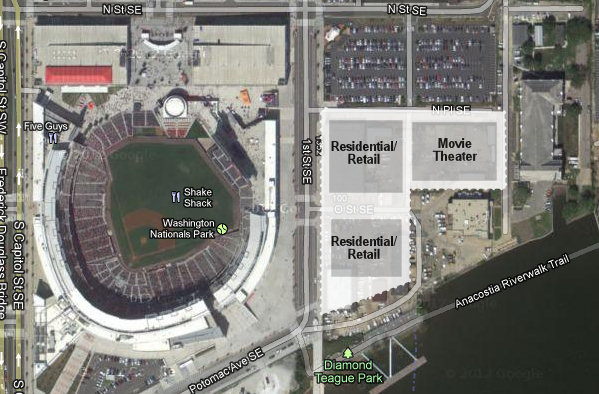 On Thursday, the news broke that the DC Council's economic development committee voted to shift $8 million of the city's 2014 budget from the planned relocation of some of the
DC Water facilities
at 125 O St., SE, to three projects that happen to be in the ward of the committee's chair, Muriel Bowser (who also just happens to be running for mayor).
This relocation is a step on the path to Forest City's
plans for a mixed-use development
including a
movie theater
on that site. The project is currently going through the zoning process, and is expected to have a hearing within the next few months.
Let's hand the narrative over to the
Washington Business Journal
: "Bowser described the D.C. WASA project, in the report, as a 'poor use of capital funding,' given that a replacement WASA site has not been identified. Later Thursday, the councilwoman said that she supports the relocation project and that she left enough money in the fund -- $1 million in 2014 and $9 million in 2015 -- to continue community outreach and relocation work.
"The WASA project, she said, will require extensive environmental remediation and can't possibly be done next year.
"'They can't use it,'" she said of the $9 million set aside in 2014."
As for how the mayor's office feels about the move? "'Stopping the Yards project -- who in their right mind thinks that's a good idea?' responded Pedro Ribeiro, Gray's spokesman."
This is not the final word in the budgeting process--the full council still needs to vote on the budget, and there could still be some maneuvers to come.
Movie Theater Zoning Plans Submitted; Late '15 Opening?
Mar 1, 2013 11:06 AM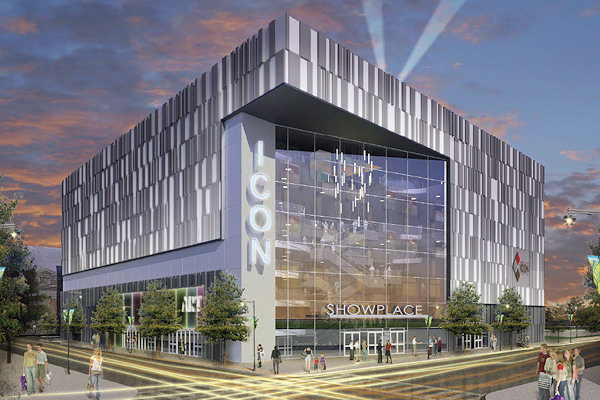 Forest City Washington is moving forward with the plans for a
sixteen screen movie theater
near
Nationals Park
, having submitted a truckload of documents this week to the Zoning Commission for its plans to redevelop more than five acres of land currently occupied by DC Water.
This
site
, which sits between the current footprint of
the Yards
and the ballpark, would be turned into four new city blocks with 600 residential units in two buildings, an expansion of Diamond Teague Park, and somewhere around 50,000 square feet in retail, which would include the theater that we first heard about a few months ago.
The plan apparently would be to build the theater first (and in fact FCW is requesting second-stage PUD approval for the theater plans, for those of you who know what that means), and in the zoning filing FCW says that they intend to file for building permits by this fall and start construction by the beginning of 2014, with an expected opening of the theater by late 2015.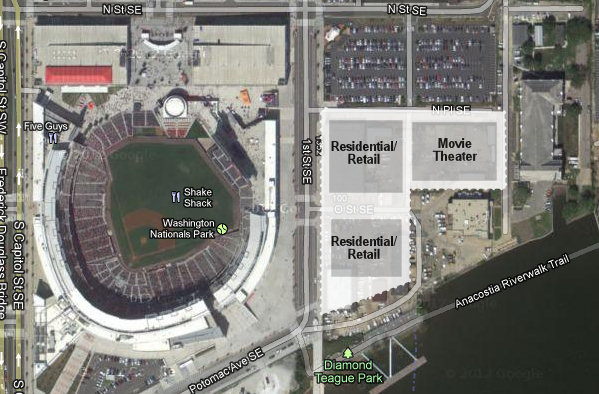 There would be 337 parking spaces at the theater, which would be above-ground and contained within the first four floors of the theater building. DC Water would continue its operations on the other three blocks that are part of this plan while the theater is constructed and operating, with the development of those blocks waiting until those operations can be relocated (and, of course, "subject to market conditions)."
A few months ago I
wrote in great detail about the plans for the theater itself
, expected to be operated by Showplace Icon, after a public meeting was held for residents about the crowds that might be drawn, who seemed mostly mollified by the "policies to encourage courteous behavior."
Read that post for more
.
There should be a hearing on these plans within the next few months. And I'll dig through the documents to look for more tidbits, but mainly I wanted folks to finally see a rendering!
Prospective Yards Movie Theater Operator: Showplace Icon
Nov 15, 2012 10:39 PM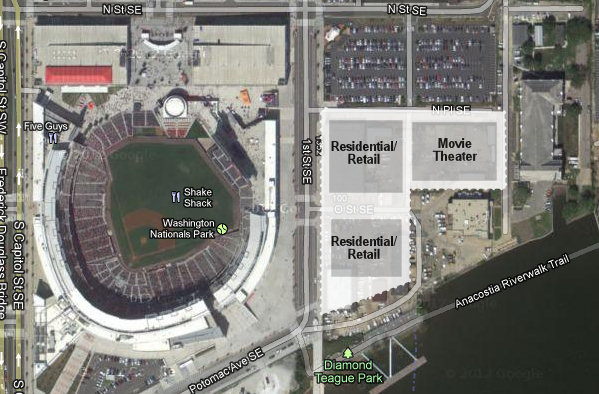 At a public meeting on Thursday night, Yards developer Forest City Washington presented very early plans for the portion of the
DC Water/WASA
site on 1st Street that the company is currently working to secure the development rights for.
While people are always interested in projects for more residential buildings with ground-floor retail, it was the
plans for a movie theater
on the site that drew a decent-sized crowd to the meeting, and the attendees learned that
Showplace Icon
is the heretofore unnamed operator that Forest City is currently in negotiations with.
It would be a 16-screen theater with more than 2,000 seats on N Place SE (see
my quickie map
for placement in regards to Nats Park and the main WASA pumping station), and Icon's more upscale amenities and approach to movie-going were extensively touted, including all reserved seating, VIP areas in each theater with extra-wide seats and person tables, wall-to-wall and ceiling-to-floor digital screens, no on-screen pre-show advertising, fresh-not-frozen food prepared on site, and their "
lobby lounge
," with about 100 seats and 21-and-over-only admittance.
But it was Icon's "policies to encourage courteous behavior" that seemed to defuse the "ZOMG GALLERY PLACE" concerns about the theater that had been cropping up on neighborhood mailing lists and
elsewhere
over the past few weeks. The theaters will not allow children under 17 after 7 pm without an adult, no one is admitted after the movie starts, no children under seven are admitted to PG-13 or R movies after 7 pm, and the adult admission price also applies to children.
Bob Gallivan of Kerasotes Showplace Theaters said that the company's theaters in Chicago and suburban Minneapolis are "bringing people back to the movies who haven't been for awhile" thanks to these policies, because they are trying to "create a civilized atmosphere." ("We're not a babysitting service," he also said.)
Thanks to being an all-digital theater, the venue would also be able to offer other content, such as simulcasts of the Metropolitan Opera, sporting events, and other events. And the theater would also have some small retail and maybe artist space along N Place.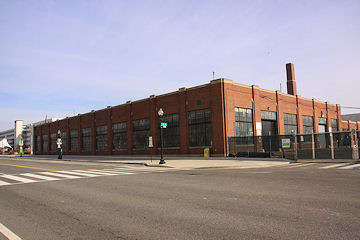 As for the rest of the plans for the site, along 1st Street across from Nationals Park there would be two residential buildings, totalling 625ish units, each with ground-floor retail; and the northern one of the two would incorporate the brick/industrial facade of the existing DC Water fleet management building on 1st between N Place and O (seen at left).
O Street would be re-established from 1st east to the new 1 1/2 Place, and Potomac Avenue would be extended east from 1st as well to 1 1/2 Place.
Forest City's planners envision a "lower-scale" retail experience along 1 1/2 Place (smaller "eclectic" retailers, not "low-end"), with more "large-scale" offerings long 1st thanks to the size of the street and its location across from the ballpark. All told this area of the Yards would have about 50,000 square feet of retail.
Diamond Teague Park
would also be expanded somewhat to the north of its current footprint, up to the new Potomac Avenue. It's possible that Potomac Avenue and the lower part of 1 1/2 Place could be closed at times for street festivals, etc.
As for any timeline on all of this, first Forest City has to actually acquire the land from DC Water and the city, and then has to complete the negotiations with Showplace Icon. (The fact that Forest City has even named Icon before executing the lease is a pretty big departure for the company, and shows an understanding of the need to clearly define what sort of theater experience would be on the boards.) Then the project has to go through the zoning process (it will be a PUD), and then get building permits. Forest City "hopes" to begin the approximately two years of construction for the theater in 2014, but that's a lot of ducks to get in a row first. (The residential buildings would come later.)
Audience members had questions about security (Icon uses off-duty police in Chicago, and Forest City would have its own security as well), types of films that would be offered (art-house and blockbusters), worries that the Lobby Lounge might become a club (not an issue, Icon says), and how traffic generated by the development would co-exist with 40,000 fans one block away at Nationals Park 81 nights a year (or more!). Because it's still early in the process, there weren't concrete answers to some of the concerns, but this project still has to go before ANC 6D and the Zoning Commission before being approved, so there will be plenty of opportunities for additional detail to be insisted upon.
Should I mention again that this is all still subject to both the DC Water land deal and the lease with Icon getting finalized?
Much more to come on this, obviously. And, for people who weren't at the meeting who didn't get to see any of the EARLY CONCEPTUAL NOT FINALIZED drawings, I have asked for at least the EARLY CONCEPTUAL NOT FINALIZED rendering of the glass-walled theater exterior to post, and hopefully before too long Forest City will be ready to share it.
Public Meeting Thursday on Proposed Yards Movie Theater
Nov 13, 2012 1:30 PM
This Thursday, Nov. 15, at 7 pm, there is a
public meeting
being hosted by ANC commissioner David Garber about the
proposed movie theater at the Yards
.
Yards
developer Forest City Washington will be there, plus their planners and architects. Also in attendance will be what Forest City took pains to emphasize to me is the
prospective
theater operator, because no deals have been signed, and because (as we all found out with Vida Fitness), Forest City never confirms a specific tenant until a lease has been executed. (They're not even naming who this prospective operator is in advance of the meeting.)
There will be some draft images of potential designs for discussion and feedback, but this is earlier in the process than these sorts of presentations are often given, so don't be looking for firm plans just yet.
As I wrote when
this news first broke in September
, developer Forest City Washington is working on bringing a theater operator offering an "elevated experience" to land currently controlled by
DC Water
along First Street SE between
Nationals Park
and the Yards, along with residential and retail. But the deal with DC Water for the site is still not finalized, let alone the theater lease, so none of this is happening next week.
The meeting is at
200 I Street SE
(aka 225 Virginia Avenue, aka the old Post Plant, aka the old Star Plant) at 7 pm.
Negotiations Ongoing to Bring Movie Theater to DC Water-Yards Site
Sep 27, 2012 11:57 PM
The cat got let out of the bag
during a recent neighborhood walking tour
(probably a bit sooner than desired) that
Yards
developer Forest City Washington is working on bringing a "high-quality theater operator" offering an "elevated experience" to land currently controlled by
DC Water
along First Street SE between
Nationals Park
and the Yards.
FCW tells me that it is still early in the process, that an overall deal with the city and DC Water for the land needs to be finalized first, but that if it all moves forward, "the theater operator would be new to DC and would offer a premium quality option that is differentiated by quality of design, food and customer service."
It's probably worth noting that Forest City was awarded the right to "enter into exclusive negotiations" for a six-acre portion of the larger then-WASA site by the now-defunct Anacostia Waterfront Corporation in
December 2005
, at a time when a development strategy was being formulated by Forest City, Western Development, Cordish, and Monument Realty for the "Ballpark District" (
remember that
?)
Forest City's plans for the DC Water site would also include residential and retail in addition to the theater, and with this site being close to the possibly-getting-started-next-year residential building and plaza at the foot of 1st Street that will be
Florida Rock
's first phase, the ballpark's eastern and southern sides would certainly begin to be "activated," even on the 280ish days of the year when the Nats aren't playing.
However, despite the oft-stated desire of residents to have a movie theater in Near Southeast, as well as the continued yearning for more development in general, there has been a bit of trepidation about this particular plan in some comments on a
neighborhood mailing list
, especially given that it could be a pretty large theater. Would it bring too much traffic, would it be
too
much of a draw for boisterous crowds--Gallery Place was mentioned a number of times as an example to avoid at all costs. For others, of course, the notion of a theater so close to home is exciting news, and a plan to be supported.
Forest City anticipates it will go before ANC 6D sometime this fall to brief the community on the plans and to get feedback.
Earlier this year, there
was an item
about Landmark Theatres wanting to open a second DC location, with the Yards being a possible destination (though city officials apparently were/are for something east of the river). However, Forest City's statement saying that the operator they are talking to "would be new to DC" seems to take Landmark out of the running, along with AMC and Regal, the two largest chains in the US.