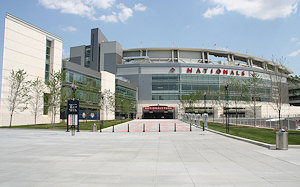 [I'm just back from a week in Florida (hence the
spring training pics
), and today I'm celebrating the ultimate April Fool's joke (getting married in Vegas 12 years ago today!), so I'm going to ease back into the blogging thing.]
For people who follow the neighborhood closely (i.e., JDLand readers), there's probably no new nuggets of information, but it's good as a "reset" piece if perhaps you haven't followed every twist and turn since the Nationals first came to DC in 2004.
There's also some additional detail and points of view from across the South Capitol DMZ, which of course I don't generally write about here. [Though, ugh, "Capitol Street"?]
"The worries that [council member Jim] Graham, former mayor Adrian Fenty and other opponents shared about the ballpark becoming a financial dead weight seem to have been for naught.
"In the past three years, the ballpark fee, a tax levied on the city's 1,800 largest businesses, has brought in $85 million, double what the city had projected. Sales taxes at the stadium have lagged behind estimates because of lower attendance, but the city's overall take has been so strong that millions in excess collections have been used to balance the D.C. budget. The gusher of tax dollars will allow the District to pay off the 30-year stadium bonds as much as 12 years early, which will let the city scrap the business tax sooner than planned[.]"