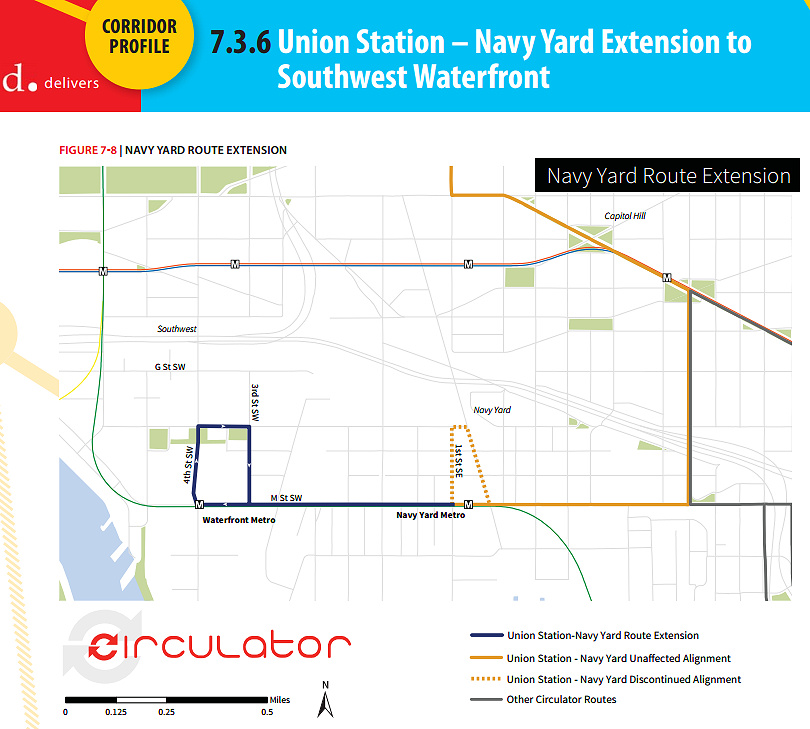 This week DDOT released its
Final Circulator Development Plan
, which among many other items
calls for the extension
of the
Union Station-Navy Yard route
along M Street to the Southwest Waterfront, sometime in the next two years, a plan that already has funding from the DC Council.
I asked about the timeframe for the new service, and DDOT informed me that it is proposed for the summer or early fall of 2015, pending the receipt of new buses, which have already been ordered and are expected to arrive in late spring or early summer.
The plan also calls for a "Union Station-Navy Yard Schedule and Span Pilot Study," that would provide additional evening and weekend service to see if ridership demand and the increasing population around the Navy Yard Metro station supports making the changes long-term. DDOT tells me that this study is expected to begin in the first half of 2015. Currently the route runs until 7 pm weekdays in winter months, and 9 pm in the summer months along with Saturday service and extended evening/Sunday service for Nationals games.
One other nugget very deep in the 128-page report is that down the road, if and when the Convention Center/Southwest Waterfront line is reestablished, "additional analysis should be conducted to determine the potential of extending the Convention Center-Southwest route to the Navy Yard in lieu of extending the Union Station-Navy Yard route to Southwest."