Near Southeast DC: Past News Items
mnorth
Go to Full Blog Archive
---
32 Blog Posts Since 2003
Go to Page:
1
|
2
Akridge Buys More Land on Square 740
Oct 30, 2008 3:29 PM
According to the city's land records, on October 7 Akridge paid $4.65 million for the three properties totalling about 7,000 square feet
on the south side of K Street between New Jersey and First
, all owned by the Cohen family. (Currently on these properties are a defunct garage and an empty lot, as seen in the photo at right). Akridge already owns the lots along First Street south of K down to the Market Deli at L Street; and, from what I can see in my very-unlearned reading of other land records, it also now has agreements with both the
Market Deli
and the cab garage on the
northwest corner of New Jersey and L
.
The only non-Akridge lots left on this block (known as Square 740) are two tiny lots directly behind the Market Deli on L Street and the buildings in the middle of the block along New Jersey where Positive Nature used to operate. (I'll also note, for those for whom this actually means anything, that the Positive Nature lots were the recipients of 52,000 square feet in transferable development rights earlier this year.)
This block is kind of the "last frontier" in the neighborhood, the only one without any sort of large development announced anywhere on it.
Morning Roundup: Office Space Market, Gun Stores, Live Online Chat about Drag Queens
Aug 11, 2008 10:08 AM
* Monday's Post has a couple of pieces on the state of the area's commercial real estate market, and
looks specifically
at how NoMa doesn't have tenants racing in despite the high-profile acquisitions of NPR and the Justice Department. It also compares NoMa to Near Southeast, and quotes Russell Hines of Monument Realty as saying that "although the slow economy has made leasing the building more complicated, the company had seen interest from some associations and other private companies looking to escape high rents downtown." Alas, the piece mentions "50 M" as Monument's 275,000-sq-ft office building scheduled for completion next year when it means
55 M
. (50 M is Monument's project, too--a proposed 130,000-sq-ft office building on the old Sunoco station site, but they are looking for tenants before starting construction there.)
* A
Sunday Examiner piece
looks at the temporary zoning rules covering where gun stores can be located in DC: "Firearms dealers who apply for a D.C. location will be largely restricted to high density commercial areas downtown and kept at least two football fields away from where people live, play and pray, according to emergency rules now in place." Included in the allowed zones are C-3-C areas, which means that the area of Near Southeast between South Capitol, Second, M, and the freeway (my "
North of M
" area) is covered. (See the map on
page 8 of the OP report
for exact boundaries.) Other restrictions: "All applicants, under the new rules, must appear before the Board of Zoning Adjustments to obtain a special zoning exception. Retail stores will be limited to the downtown area, generally between Massachusetts and Pennsylvania avenues Northwest, in addition to about 25 square blocks between Independence Avenue and M Street in Southwest. No dealer will be allowed within 600 feet of a residence, school, library, church or playground." Of course, the gun stores would have to be able to afford the rents in the pricey new buildings going up, since there aren't too many other places left in the neighborhood.
Updated Photos for a Lazy Summer Friday
Jul 18, 2008 12:11 PM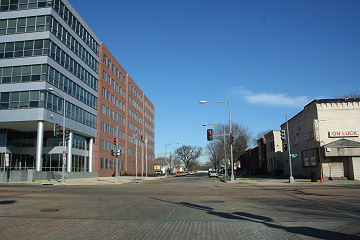 Despite my preference to not ever actually step foot outside in Washington during the summer, I wandered around on Thursday afternoon and got updated photos of
909 New Jersey
,
Velocity
,
Onyx
,
100 M
, and
55 M
. I especially enjoy the view that's now developed looking up First Street at M(above), where you see five new buildings in the same vista where 80 M stood all alone less than three years ago.
If you've really got some time to kill today, check the
Photo Archive
for before-and-afters of these intersections that have changed so much:
1st and I
,
1st and K
,
1st and L
,
1st and M
,
Half and M
,
Half and L
,
Half and K
,
New Jersey and K
,
New Jersey and I
. Or, just start clicking around on the
Archive Map
to look at other spots.
Coming soon, photos from a few locations I've never had access to until now....
Clear Sunny Skies. That Must Mean....
Mar 20, 2008 3:51 PM


Caught a break with such beautiful weather today, and so I snagged a
new batch of overhead photos
from up high at the
Courtyard by Marriott
. I took the entire batch, both east and west, and
have paired them with the first ones I took
, in March 2006. It's quite a difference; these are the views that people should see when they're carping about "how the area around the ballpark is one big construction zone" -- yes, it is, but look what that construction has done in just two years. (And think of what the commentary would be if this construction *weren't* happening.) You can also toggle to
include all the photos from here in 2007 as well
, to watch the process step-by-step.
Comments
(0)
More posts:
100 M
,
600 M/Square 882/Old Capper Seniors
,
70/100 I
,
909 New Jersey
,
Capper
,
jpi
,
Courtyard/Marriott
, mnorth,
Onyx
,
Square 743N
,
Square 699n
Photos: The New First Street, Views of I (Finally), and (Too) Much More
Mar 16, 2008 2:50 PM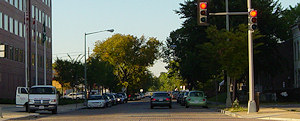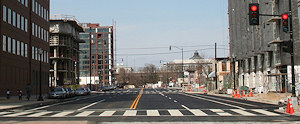 When setting out to photograph a changing neighborhood, it might initially seem like a good idea to create a scheme where you take photos of 16 different views at each intersection (from up to four different angles) so that you don't miss anything and so that you can easily match photos as time goes on--until you arrive at a time when there are more than 30 intersections where visible change is happening on a day-to-day basis. Then you end up taking nearly 500 photos in one 90-minute walkabout on a sunny Saturday afternoon (without even venturing near the
shiny new ballpark
that's only two weeks away from opening), making you almost embarrassed when it's time to post a selection of them on your obsessive-compulsive web site.
This is all just hypothetical, of course.
Yesterday was the first time I saw the striped and open-to-traffic First Street north of M, now widened to four lanes with a bike path, and it's kinda different from the First Street I've spent so much time on these past few years. (The four new buildings with one more about to pop up might be part of the feeling, too.) Here's a gallery of before-and-afters for
First Street at I, K, L, and M
so you can see the changes. This was the first time I've been able to take a complete set of pictures
at First and I
in nearly a year, so it was especially nice to get those updated.
I also took new photos along
Half Street between I and M
,
Cushing at L and M
, and a
smattering along M
at South Capitol, Van, and New Jersey. And the wide views from the
freeway at South Capitol Street
. (My
previous entry
has the links to the photos I took of the various parking lots under construction.) For all of these, don't forget that clicking on the
icon will show you all photos in the archive of that location if you want to see the progression of the changes.
Of course, many of these new photos are also now on the project pages for the under-construction buildings: see
70/100 I
,
909 New Jersey
,
Velocity
,
Onyx
,
100 M
, and
55 M
for details.
(There sure were a lot of folks taking either a drive or a walk through the area yesterday--let the onslaught begin! And thanks to those who said hi while I was out and about ["Are you the one who does that web site?"]. As always I appreciate everyone who made the effort to not run me over when I was standing in the middle of the street taking pictures. My days of being able to do that may be at an end, though.)
New Photos, from Up High and from Across the River
Feb 28, 2008 1:01 PM
Let's take a breather from all this
parking stuff
(which I had my fill of about two years ago) and get back to the original JDLand modus operandi--posting lots of photos of the neighborhood. Yesterday's press conference on the-subject-I-just-said-I-wasn't-going-to-talk-about was held on the 10th floor of
20 M Street
, giving me a chance to update my photos from that perch, with views of
70/100 I
,
Velocity
(now working on floor #2), the
1015 Half Street
site (where nothing seems to be happening just yet),
55 M
, and the
ballpark
. You can see
all photos I've taken
from atop 20 M in the past 10 months, or just
compare the oldest and newest
ones (there's been a few changes!).
Switching to the opposite side of the neighborhood, I took
a few shots from Poplar Point
on Sunday of the ballpark and The Yards.
You can also see all the new photos (along with the ones taken inside the ballpark looking out at the surrounding neighborhood) on
a single page
.
I hope to get out this weekend and update the ground-level photos of all the latest happenings.
A Day Without Parking News Is a Day Without....
Jan 7, 2008 10:49 AM
Sometime within the past few weeks, the surface parking lot at 1100 South Capitol Street has come under the management of Colonial Parking. The spiffy new sign (and the
Colonial web site
) indicate that it is open for monthly parking only, at a rate of $80 a month. It's on the site where Ruben Companies plans eventually to build its
SC1100 office project
, but no start date has been announced for that.
As for whether it could possibly be one of the lots that the Nationals are planning to use for
season ticket holder parking
, I have no information on that, but it's certainly interesting that this lot has suddenly gotten big-time management....
And, in case you didn't see it mentioned in
my photo update yesterday
, work has begun on the Capper parking lots along Third Street. Some PVC pipes are piled up on the two blocks, and some trench digging is underway at
Third and I
.
Too Darn Many New Photos, Including N Street, At Last
Jan 6, 2008 9:32 PM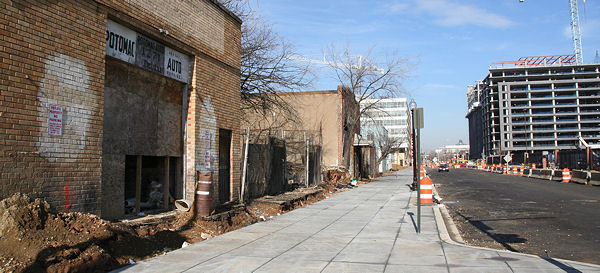 It was time this weekend to catch up on photos for a bunch of locations, including the most aged batch of them all, the views of the
ballpark
's northern footprint
along N Street
, which haven't been updated since September, so you can now have your fill of photographs of imposing parking garages. The curbs and historic streetlamps are now in, and N Street has been paved from South Capitol to Half, and it looks like the paving east to First isn't far behind. So even though the half-shadow half-sunlight conditions weren't the best to work with, I took full updates of the
First
,
Half
,
Cushing
, and
Van
intersections along N,
all of which you can see here
.
One thing that really struck me today for the first time is just how wide First Street is becoming, as you can see in
this batch of northward-looking photos
. I also saw that all the businesses on the west side of First south of M have now vacated--as you can
see above
, it's odd to see those old about-to-be-demolished buildings with sparkly new sidewalks and streetlamps in front of them.
I also trudged around the road construction along First Street north of M as best I could to update photos of
100 M
,
Onyx
, and
70/100 I
, and also got a good new batch of
55 M photos
as well as the always showy views from
the freeway at South Capitol
. And I finally got the last set of
old Capper Seniors photos
to show that the building is indeed gone. And heaven help me I even took a photo of
the new sign
advertising the
Square 696 project
, and also a few shots barely showing that work started this week on the
first Capper parking lot at Third and I
(because there's nothing more exciting than documenting the construction of a parking lot). There's just too much change, and I couldn't stop until it had all been documented! Aaaiiiieeeeee!!!!
For those of you brave enough to try,
here's all the photos from the past two days
on one page. (Thank heavens I've done a lot of work over the past year or so to automate the update process as much as possible.) Don't forget to click on the
icons to see all photos of a location over the years....
Comments
(0)
More posts:
100 M
,
1015 Half
,
600 M/Square 882/Old Capper Seniors
,
70/100 I
,
Capper
,
jpi
, mnorth,
Monument/Half St.
,
Onyx
,
Square 743N
,
Square 699n
,
staddis
,
Nationals Park
,
Square 701
CNN Looking at Three Near Southeast Sites
Sep 14, 2007 9:09 AM
Today's print edition of the Washington Business Journal (
online for subscribers only
) reports that CNN, wanting 80,000-100,000 sq ft of space to upgrade its studios, is looking at three in-development office buildings in Near Southeast: Opus East's 440,000-sq-ft
1015 Half Street
, at the old Nation site, which is scheduled to begin construction in October; Lerner's 320,000-sq-ft
1000 South Capitol
right next door, which has no announced start date; and Ruben Companies' 350,000-sq-ft 1100 South Capitol, one block to the south. "Sources familiar with the search say the sites were picked for their views of the Capitol, access to transportation and the opportunity to build a structure designed to fit CNN's needs instead of retrofitting an existing building." It should be noted
that WBJ also wrote back in late March
that CNN (and other companies) were looking at Near Southeast.
Amendment Allowing Strip Club Relocation in Near Southeast (An Analysis)
Jun 6, 2007 10:49 AM
Tucked in the stories (
Post
and
WashTimes
) about the bill that passed its first reading in front of the council yesterday--allowing the relocation of the strip clubs that have left Near Southeast because of the arrival of the
stadium
and surrounding development--was word that an amendment to the bill had passed allowing clubs to relocate to certain zoned areas within 5,000 feet of the ballpark. People are already e-mailing me with the vapors, so here's what I've been able to find out.
The circle covered by a one-mile radius around the stadium site stretches across all of Near Southeast, most of Buzzards Point, a fair amount of Southwest, and even into Anacostia and small portions of Capitol Hill. But the
text of the amendment
says that the clubs can relocate "in any C-3, C-4, or C-5 zone within 5000 feet from the Baseball Stadium footprint"; once you take into account those restrictions, when you look at the
zoning
maps
you'll see that there are very few locations that have those zone designations; in Near Southeast, the only areas meeting that criteria are the land bounded by South Capitol, I, M, and New Jersey (what I call the "
North of M
" area) and the area just south the freeway over to the
Post Plant
. In Southwest, the area between I, M, South Capitol, and 2nd St. SW, and the Waterside Mall parcel, are the only C-3/4/5 zones within the 5,000-foot radius. And across the river in Anacostia there is only one small area zoned C-3-A.
But, given the character of the areas in Near Southeast where these one-time strip club relocations would be allowed, it would appear to be a remote possibility--after all, what the clubs generally look for are large spaces with low rents, and with most C-3 parcels in Near Southeast now purchased by developers with grand plans for shiny new buildings, it would seem that the large-space/low-rent options east of South Capitol are few and far between. Unless the club owners decide to build big tents beneath the freeway.
DRI Project Taking Up Entire Block?
May 11, 2007 6:21 PM
Updates from Here and There
May 6, 2007 5:23 PM
Another New Development North of M?
May 5, 2007 4:00 PM
Nation and Sunoco Sites to Change Hands?
Apr 27, 2007 10:36 AM
Nation Demolition Underway
Apr 25, 2007 6:12 PM
Another Small Business Closes
Feb 6, 2007 2:34 PM
ANC 6D December Meeting
Dec 12, 2006 4:38 PM
Akridge Pays $7 Million For 1st Street Land
Nov 22, 2006 10:14 AM
Reading the Tea Leaves on Nation/1015 Half
Nov 15, 2006 10:16 PM
Deadline for WMATA Land Bids Approaching
Oct 30, 2006 10:15 AM