Near Southeast DC: Past News Items
400m
Go to Full Blog Archive
---
33 Blog Posts Since 2003
Go to Page:
1
|
2
Near Southeast Residents Demand a Grocery Store! (The More Things Change...)
Jun 1, 2010 8:49 PM
I'm just now coming across a Washington Post story entitled "Housing Area Pushing for Supermarket," which says that a group of residents "in a small triangle of Southeast Washington launched a 'supermarket project' yesterday to persuade a grocery chain to build a store in their neighborhood," with a planned petition drive looking to get 1,500 signatures.
But, of course, I'm yanking your chain, since this Post article is dated Dec. 16, 1965.
The group, the "Community Commitee Group," planned to visit the regional offices of Safeway, Giant, and Kroger to present the case that the residents of the area bounded by 8th, Virginia, M, and New Jersey had only two corner groceries, with the closest supermarket being at Seventh and G, SE, which was too far for the "aged who live in the Carrollsburg Dwellings project at Fourth and M." Also, because many of the residents in the area qualified for food stamps, they needed to be able to shop at a full supermarket, where the stamps would stretch farther.
The group "also hopes to interest a chain drug store and a combination dry cleaning-shoe repair shop to locate next to the proposed supermarket." Their suggested locations? "The west side of New Jersey Avenue between K and L Streets to replace some condemned buildings [
ahem
], the Washington Navy Yard parking lot on 2nd Street between M and I Streets [
ahem
], and the Lennox School annex at 4th and M Streets [
ahem
]."
In the meantime, while you're mourning the fact that no progress has been made in the brief 45 years since this article was published, you can think about another big development that Near Southeast missed out on: In the early 1990s the Federal Bureau of Prisons was looking for a location for a new 1,000-bed federal detention center, and one of the spots it considered was on the north side of I Street between South Capitol and New Jersey, the spot that's now home to the
Axiom and Jefferson
apartment buildings. And McDonald's. And Splash. (The other possible locations were in Northeast, but after battles with the National Capital Planning Commission and thanks to some pretty staunch opposition by city officials and residents, the Justice Department scrapped the plans in 1993.)
What's Next at Capper/Carrollsburg
Jul 31, 2008 12:04 PM

While the focus lately has been on the start of the
Capitol Quarter townhouses
, there is more to the redevelopment of the old Capper/Carrollsburg public housing complex. There are the two completed seniors buildings (
Capper Seniors #1
and
400 M Street
), now providing 300 of the 700 old Capper public housing units that are being replaced. The first phase of Capitol Quarter includes 39 subsidized rental units, and the second phase (which is probably not going to start delivering until 2011) will have another 47 subsidized rentals; this is in addition to the sales of 121 market-rate and 91 workforce-rate townhouses throughout both phases. That leaves a little over 300 public housing units to come, which will be included in the 1,300 apartments expected to be constructed at Capper over the next five years or so.
There are
five new apartment buildings
slated to be built, three of which along the east side of
Canal Park
where the temporary parking lots are, and another at New Jersey and K on the trash transfer site. And there is a new plan for a fifth apartment building, on L Street across from the
Marine Bachelor Enlisted Quarters
(B.E.Q), on the northern portion of the
old Capper Seniors
footprint.
Under the
original Capper plans
, there was to be a strip of 61 townhouses built on this spot, but the DC Housing Authority has recognized that these homes would be dwarfed by the B.E.Q. to the north and the two planned office buildings directly behind them at 600 M Street. So DCHA has now
filed a request with the Zoning Commission
to allow an expansion in the total number of housing units allowed at Capper to 1,747, which would allow the construction of a four-story 189-unit apartment building (with a massing very similar to the B.E.Q.) on this stretch of L Street known as Square 882N. This Zoning Commission request is also looking to expand the number of units in the planned apartment building on the south side of L Street between Second and Third (let's call it Square 769N) to 171 units, as a result of its block-mate
250 M Street
having
recently gotten approvals
to be built higher than originally requested.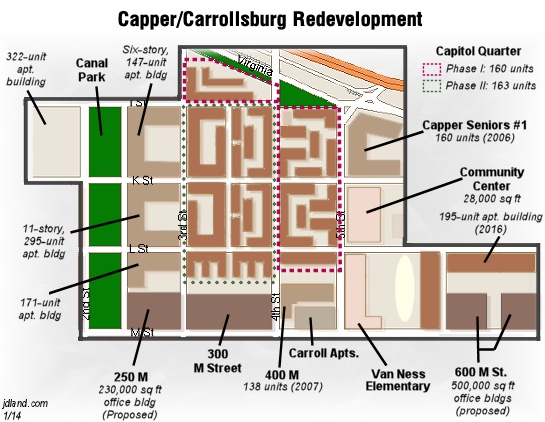 I've updated the map and descriptions on my
Capper Overview page
to reflect these latest plans for the area, and it's worth taking a look at if you're not really familiar with exactly how wide-ranging the Capper Planned Unit Development is. (Reading the
2004 zoning order
establishing the PUD and laying out the requirements isn't a bad idea, either.) I should also note that the apartment and office buildings will combine to have about 50,000 square feet of ground-floor retail. There should also be a new community center at Fifth and K, but it doesn't seem to be on the front burner just yet.
Of course, the question then becomes: when? Timelines are always dicey and should be taken with a couple pounds of salt, but it appears that these two L Street apartment buildings (882N and 769N) would be first up on the agenda, perhaps being delivered in 2011. The other two buildings on Second Street would come next, and the anticipated 400-unit building on the trash transfer site would probably be the last one to be built, finishing maybe sometime in 2013. The three office buildings and the second phase of Capitol Quarter townhouses would be sprinkled throughout that time frame as well, with 250 M Street probably being the first office building to get underway, possibly even later this year. (Have I thrown in enough "maybe"s and "possibly"s and "perhaps"s for you?)
At least these plans don't have to wait until school buses get moved!
Capper Building 2 (Now 400 M Street) Move-Ins Underway
Nov 25, 2007 10:19 PM
[bump] Residents are now starting to move into
400 M Street
, the building long known around these parts as
Capper Building #2
. They've launched a web site,
400mdc.com
, and the sales office at the building is now open. There's a one-bedroom furnished model, of which one measley photo is posted on my
Capper #2 page
along with other photos from the building's interior.
The 139-unit building was originally designed for low-income seniors, but its profile has been expanded to also include renters who earn a moderate income of between 50 and 60 percent of the area's median income (AMI). This translates to a household income between $33,000 and $38,000 for one person and $38,000 to $45,000 for two people, and up to $54,000 for a family of four. The rental price is then set at 30% of the household income, which makes the rent for a one-bedroom unit range from $877 to $993 per month. But even with the change to allow renters with higher incomes, the building continues to rent to fixed-income seniors and other residents with lower incomes, placed through the D.C. Housing Authority, in order to maintain an overall income level of 45 percent AMI.
Fifty of the building's units have already been rented, including the four two-bedroom corner units facing the intersection at Fourth and M, which have some nice views of The Yards and the U.S. Department of Transportation headquarters. Twenty of the one-bedrooms and one of the two-bedrooms are for the mobility-impaired. As I mentioned
in a post a few weeks ago
, the building's first floor has a community room with kitchenette, and laundry, computer, fitness, and conference rooms. Outside there's a landscaped interior courtyard that also serves as a stormwater management system, and is also available for use by the residents of the Carroll Apartments low-income senior-citizens building next door.
Capper Apartments: Out with the Old, In With the New
Oct 20, 2007 10:23 AM
After being vacant since the beginning of the year, the
old Capper Seniors building
at 601 L Street is in its final days, with demolition scheduled to begin the first week in November. Once the hazmat cleanup that's been going on is finished, the building, which opened in the late 1950s, will be brought down floor-by-floor (no Vegas-style implosion). I was inside the fences yesterday and between the raindrops
got a few pictures
of this building, though I hope to get some more before the final curtain.
At the same time the old building is coming down, the 139-unit
new Capper Building #2
at 400 M Street is going to be opening its doors to residents. Originally designed as a building for low-income seniors, its profile has been expanded to also include renters who earn up to 60 percent of the area median income (from $38,000 for one person to $54,000 for a family of four). I was given a tour yesterday and got
photos of the inside
; the first floor has a community room with kitchenette, and laundry, computer, fitness, and conference rooms, and the landscaped interior courtyard also serves as a stormwater management system. The two-bedroom corner units at Fourth and M have some pretty nice views of
The Yards
and
DOT
(but I think they're all already spoken for). Twenty of the one-bedrooms and one of the two-bedrooms are for the mobility-impaired. A web site for the building will be launched soon, and there will be a rental office on-site. With Building 2's opening, there are 300 new affordable housing units now available in the Capper Hope VI redevelopment (with
Capper Seniors #1
having opened late in 2006), with another 400 to come as mixed-income
Capitol Quarter
gets underway early next year, and the other mixed-income
Capper apartment buildings
planned for Second Street loom farther at some unannounced date in the future.
New Photos and News
Aug 27, 2007 7:19 PM
After a week of days that were either overcast and drizzly or ridiculously hot and humid, today's sunny-and-warm profile gave me no choice but to venture out for a reconaissance mission. My report:
The masses of workers and the well-positioned fences make it nearly impossible to take photos of the current state of South Capitol Street, but I have added a decent photo to my
Douglass Bridge makeover page
showing
the new South Capitol and Potomac intersection
,
which appears very close to being ready for traffic. Streetlights are in place, curbs have been built, paving has begun, and the historic globe streetlamps are installed all along the length of the bridge.
I also snuck a peek into the huge hole where
Monument Realty's Half Street project
is underway, and from N Street you can see what appears to be vertical construction is already underway at the bottom of the hole. It's along the M Street portion of the site, which will be home to the 55 M Street office building, which itself will contain the expanded entrance to the Navy Yard Metro station. Because that Metro work must be completed by Opening Day 2008, I guess it shouldn't be surprising that they're already pouring concrete and working upward, eight months into construction. The office building itself and the rest of the Half Street Phase I won't be completed until 2009.
And I unexpectedly found
Demolished Building
entry #138, as the beige garage that has long sat on the
northeast side
of the Half and I Street intersection bit the dust today, which I'm sure JPI is happy to see, given that
70/100 I Street
is growing like a weed right next door.
Speaking of
70/100 I
, it got updated photos today, along with
Onyx on First
and
100 M Street
. You can look at those project pages (and their accompanying
expanded archives
), or you can browse this page
showing all photos I've posted from today
, which includes a few new shots of
Capper Building #2
, which I believe is just minutes from opening. And I even finally added a photo of the "Starbucks Coming Soon" sign out in front of the
DOT HQ
, for the caffeine-deprived.
More posts:
100 M
, 400m,
70/100 I
,
909 New Jersey
,
Capper Senior Apt Bldgs
,
US Dept. of Transportation HQ
,
jpi
,
Metro/WMATA
,
Monument/Half St.
,
Onyx
,
Retail
,
Square 743N
,
staddis
Capper/Carrollsburg Groundbreaking (and Capper Background)
Jun 24, 2007 10:30 AM
The DC Housing Authority is having a
groundbreaking ceremony
on Tuesday (June 26) at 11 am for the first phase of the
Capper/Carrollsburg
mixed-income townhouses (i.e.,
Capitol Quarter
), at 4th and L by the EYA sales office. This isn't a signal for the actual start of "vertical" construction, though--that won't begin until later this year.
And maybe this makes for a good time to have a
refresher
on what exactly "Capper/Carrollsburg" is:
In 2001, DC
received a $34.9 million Hope VI grant
to redevelop the 23-acre 700-unit Capper/Carrollsburg public housing project as a mixed-income development, replacing every one of the low-income units and then adding to them another 700-plus market-rate and workforce-rate rental and ownership units. The redevelopment project is being handled as a joint venture by
Forest City Washington
,
Mid-City Urban LLC
, and the Housing Authority.
The
townhouse
portion of the redevelopment, being marketed by
EYA
as Capitol Quarter, will have approximately 121 market-rate and 91
"workforce"-rate
ownership houses; an additional 65 townhouses will contain 111 subsidized rental units and Section 8 ownership units. The market-rate houses are already being made available for reservations in monthly blocks, with the attendant
tent cities popping up
at the sales center as hopeful homeowners stake their claims. There was a lottery back in 2006 for the first 20 workforce units; I imagine another will be coming before too long.
Three hundred low-income rental units have already been completed (or are about to be) as part of the new
Capper Seniors #1
and
Capper Building #2
projects. The rest of the public housing rental units will be included in
four mixed-income apartment buildings planned
along
Canal Park
, three on the eastern side of the park between 2nd and 3rd and I and M, and a fourth on the site of the DPW Trash Transfer lot at New Jersey and K. None of these are anticipated to start construction before 2010, so in the meantime,
temporary surface parking lots
will soon appear on those blocks to help ease the expected
Nationals stadium
parking crunch.
Additionally, 700,000 sq ft of office space will eventually be built within the Capper redevelopment area;
250 M Street
is a 190,000-sq-ft joint venture between
William C. Smith
and the DC Housing Authority, and although it now has all of
its zoning approvals
, we just learned
a few days ago
that Smith is going to wait until the building is 30 percent leased before beginning construction. There will eventually be another 500,000 sq ft of office space developed at 7th and M on the site of the
old Capper Seniors building
(itself scheduled to be demolished late this year), but with no current timetable for that project a temporary surface parking lot is coming to that site as well. There will also be another 30-45 townhomes built along L Street behind these new office buildings, but those are a long ways off.
Topping it all off, a new 28,000-sq-ft
community center
is planned at 5th and K, replacing the one demolished earlier this year. It could start construction in 2008, but those plans might change if, say, a developer or the Housing Authority manages to snag from DCPS the Van Ness Elementary School site at 5th and M, which
was closed in 2006
and is now administrative space. A new elementary school could be then constructed to serve families as they move into the rebuilt Capper neighborhood, and the community center could be part of the school rather than being a standalone project. But with the changes in the structure of the public schools' governance, who knows when any decision like this could happen, if at all. Just some Sunday morning speculation for you.
(This info has all been available on my
Capper overview page
, but it's good to get it out front once in a while.)
Background on New Capper Buildings
Jun 21, 2007 10:24 AM
Capper Building #2 Almost Finished
Jun 18, 2007 8:58 AM
The final touches are starting to be put on
Capper Building #2
, the wraparound addition to the Carroll Apartments at
4th and M
. It's expected that new residents will start arriving in July, with full occupancy by the end of the summer. While this was originally planned as a building for low-income senior citizens, there was a
modification to its zoning
back in March to allow younger residents with lower incomes as well. Seniors who have lived at Capper / Carrollsburg but chose not to move to the new
Capper Seniors #1
when it opened in December get first dibs on units in this second building, followed by other former Capper residents who meet the requirements of having an earned income and having participated in their
community supportive services
program. Applications are also being accepted from non-Capper residents who have incomes between 50 and 60 percent of the area median income (just under $38,000 for a single person or $54,000 for a family of four). If you meet the income requirements and are interested in applying, you can visit the
BallparkApts.com
web site for more information, or call 202-546-1024.
As for the
old Capper Seniors building
at 601 L Street, it is scheduled to be demolished
sometime this summer
late this year. Temporary surface parking lots will be built on the site in time for the opening of the
ballpark
in spring 2008, but long-range plans call for office buildings to be eventually developed there.
UPDATED 6/19 with the revised timeline for demolition of the old Capper Seniors building; it's now scheduled to happen toward the end of 2007, thanks to hazmat abatement needing to take longer than originally planned.
ANC 6D May Agenda - And 250 M Back at the Zoning Commission
May 9, 2007 12:46 PM
The agenda for May
ANC 6D
meeting has been sent out (though it's not yet available on
their web site
). In addition to a presentation and vote on the Waterside Mall plans, there's a bunch of Near Southeast-related items on the agenda, ones that I've been posting about here for a while:
* There will be a presentation and vote on
1325 South Capitol
's
resubmission
to the Zoning Commission as a PUD (that hearing is now scheduled for
May 31
). This is the planned 276-unit residential building across the street from the
Nationals ballpark
, which because of some procedural muck had to resubmit its plans in a different format.
* Also scheduled is an update by the DC Housing Authority on the latest goings-on at
Capper/Carrollsburg
, including status reports on the
Senior Buildings
(which I imagine will include the change for
Capper Building #2
[aka the "
Ballpark Apartments
"] to
allow workforce-level residents
in addition to low-income seniors), as well as on the planned demolition this summer of the
old Capper Seniors building
at 7th and M, and the latest with the townhomes at
Capitol Quarter
, as more market-rate houses go on the market and with infrastructure construction expected to begin soon (and "vertical construction" probably starting in early fall).
* And there's also a presentation and vote on the (gaaaaak) Supplemental Stadium Surface Parking plan that's having its zoning hearing on
May 21
. My
Stadium Transportation and Parking
page (and its News Items tab) can give you the gory details.
This meeting is scheduled for the same time as
Monday's Zoning Commission meeting
, which includes on its newly-posted agenda the final approval vote on the
250 M Street
office building project (which has been delayed a bit over the past few months), so it's a tough call which one I'll be focusing on. (Especially since we know how much I love ANC meetings.)
More posts:
1325sc
,
250 M
, 400m,
50m
,
600 M/Square 882/Old Capper Seniors
,
ANC News
,
Capper
,
Capper Senior Apt Bldgs
,
Capitol Quarter
,
parking
,
zoning
Zoning News
Mar 27, 2007 8:45 AM
A few items of Near Southeast interest were on last night's
Zoning Commission
agenda. First, the commission unanimously approved the
modification
to the
Capper/Carrollsburg
PUD to change the makeup of
Capper Seniors #2
(now nearly completed at 4th and M) from all units for low-income seniors to add some workforce-level (30-60% median income) units as well. Seniors will have first preference, followed by former Capper/Carrollsburg residents who meet the income requirements; because there are no one-bedroom units in the public housing portion of
Capitol Quarter
, making this switch at Capper Seniors #2 means that former residents in need of a one-bedroom have the chance to move back this year, instead of waiting for 2011 when the multifamily mixed-income buildings get built
along 2nd Street
. In return for this modification, the developers agreed to amendments recommended by the Office of Planning that additional shared parking spaces be created within three blocks of the building, and that two ride-sharing cars be located at Capper/Carrollsburg (also within three blocks of Seniors #2). So, look for more news in the coming weeks on the "
Ballpark Apartments
".
The commission also unanimously approved a modification to the office building at
100 M Street
that needed to be undertaken because their sidewalk along 1st Street is being narrowed thanks to a decision by DDOT to widen 1st Street north of M to allow for two traffic lanes, two parking lanes, and a bike lane. The commissioners were
not
happy with DDOT's move, lamenting that the ZC's attempts to create walkable communities with vibrant ground-floor retail and outdoor seating space can get thwarted by a DDOT decision like this one. But the commissioners also agreed that the 100 M developers shouldn't be penalized for DDOT's mischief.
Zoning Commission and Capper Seniors #2; Other Zoning Items
Mar 16, 2007 3:11 PM
The
Zoning Commission
has deferred until its
March 26 Special Public Meeting
any decision on whether to allow
Capper Seniors #2
to be
redesignated
as a mutlifamily workforce (30%-60% annual median income) dwelling in addition to having its low-income senior citizens units. ZC chair Carol Mitten noted a bit of a disconnect between statements offered by the DC Housing Authority and the Office of Planning, and so both are to meet before March 26 to formulate a recommendation.
The March 26 special meeting will also have the ZC's final vote on the
1325 South Capitol Street
residential project, and also the "minor modification" being requested at
100 M Street
.
And, since I gave the Office of Zoning a
bit of a hammering
a few weeks back when they debuted their
new online calendar
, it's only fair that I now rave over the return of monthly at-a-glance lists for
Zoning Commission
and
BZA
meetings, which make finding out what's happening far far easier. Thanks, guys, not only is it great to see this functionality back, but you did a really nice job with it, too.
Request to Add Workforce Housing to Capper Seniors #2 -- And a Mystery Solved?
Mar 7, 2007 2:10 PM
A new item popped up on this coming Monday's (March 12)
Zoning Commission agenda
, and apparently it is a request by the developers of
Capper/Carrollsburg
to revise one of the conditions in the original
PUD
to allow units in the new
Capper Seniors #2
building to be
made available as workforce housing
(30%-60% annual median income) in addition to the already approved low-income senior units. This will probably be something that the ZC will have to have hearings on, but we'll find out on Monday.