Near Southeast DC: Past News Items
Go to Full Blog Archive
---
Council Restores Funding for Partial DC Water Relocation
May 22, 2013 3:25 PM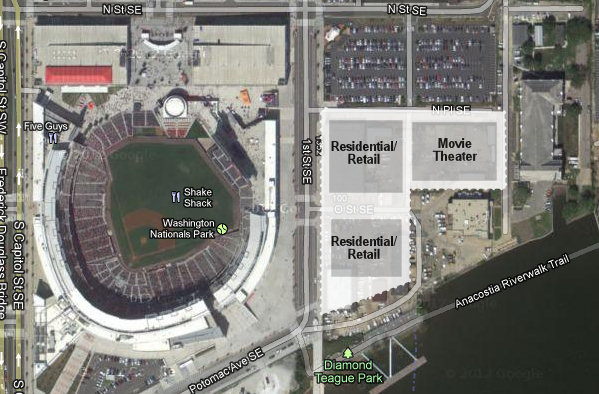 As part of a first vote today on the city's FY14 budget, the DC Council restored funds for the planned relocation of some of DC Water's functions currently at
1st and O SE
, monies that
had been moved to Ward 4 projects
by the council's Economic Development Committee chair Muriel Bowser (who happens to represent Ward 4, and who happens to be running for mayor).
The relocation, once completed, makes way for an expansion of the
Yards
footprint and the
potential addition of residential and retail offerings
, including a planned movie theater.
Originally $8 million was earmarked for the DC Water relocation--
according to the Post's Tim Craig
on Tuesday, $5 million of that money was to be restored. (I am working to confirm exactly what the final number is, and will update.)
UPDATE:
The restored funding is $6 million,
according to Charles Allen
.
(Note that DC Water will not be removed completely from this area--the
Main Pumping Station
will continue to operate in its lovely historic building. It appears to be mainly "fleet management"/parking operations that will relocate.)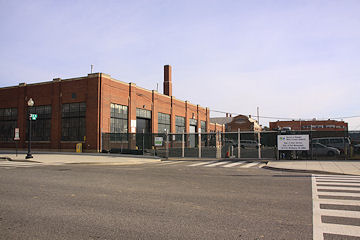 In a
press release
on the restoration, Tommy Wells (also running for mayor) is quoted thusly: "This is great news for the riverfront. I'm very glad we were able to restore these funds to keep this important project on schedule. Working with my colleagues, these funds will be used to create a project that develops new jobs and residences, and importantly, will serve as a critical link in the revitalization of the riverfront neighborhood."
Additionally, the press release quotes Forest City Washington president Deborah Ratner Salzberg: "Today's action by Council allows us to continue to work with DC Water to keep this project on schedule for the neighborhood and the city. This mixed-use component of The Yards is an important link for the overall project and its riverfront neighborhood – bringing jobs, residents and desired new amenities. We appreciate the work of Chairman Mendelson working with Councilmembers Wells, Grosso and Barry and the unanimous support of their Council colleagues to restore the funding and ensure the project moves forward on schedule."
Sweetgreen Confirmed For Twelve12 at the Yards
May 21, 2013 1:20 PM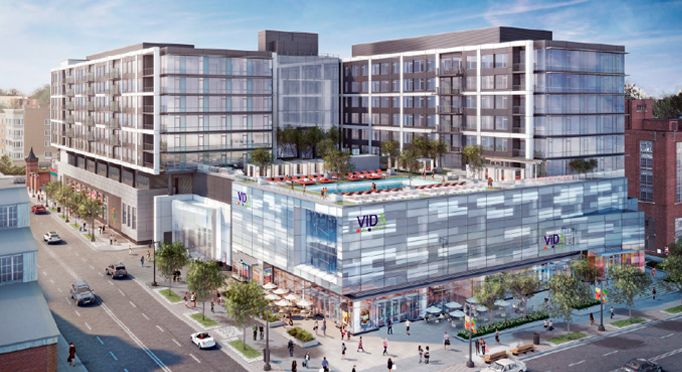 With
this photo
yesterday from the little Yards tent display at 1st and N lighting the fuse, the announcement was made today that local salad chain
Sweetgreen
will be coming to
Twelve12
, the new 218-unit apartment building now under construction at 4th and M SE that will also be home to Harris Teeter and Vida Fitness.
Sweetgreen is currently expected to open in mid-2014, and will be located right on the corner of 4th and Tingey, with "exposure" on both streets, as seen in the
image
at right.
Forest City's press release for today's news also gives some timeline updates for the
Boilermaker Shops
, saying that
Bluejacket
and
Buzz Bakery
are expected to open in
June
late July/early August,
Nando's Peri-Peri
"this summer," and
Willie's Brew and Que
"in late summer." Over at the
Lumber Shed
,
Osteria Morini
is expected "in mid-late summer of this year," and
Agua 301
is coming "this summer." And, as reported last week, year-round pizzeria
Nicoletta
will be coming to the Yards Park boardwalk "in late 2013." In the non-food category,
Desi Living Loft Furniture
is still expected in June.
UPDATE: Forest City sent an update to the expected opening date for Bluejacket/Buzz Bakery.
Hill Country 'Working On' Possible Outdoor Venue at USDOT
May 20, 2013 2:18 PM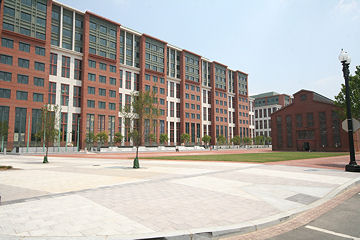 WashBizJournal
reports today
(and it's verified in
my building permit feed
) that
Hill Country
, esteemed purveyor of slabs of meat, is looking at the possibility of a pop-up "outdoor venue with tents, food and beverage sales and live music" on Tingey Plaza behind the
US Department of Transportation HQ
, at New Jersey and Tingey.
But this isn't a done deal--WBJ quotes Hill Country reps as saying that they've started the permitting process but "we don't have a deal yet that would allow us to proceed with that opportunity." Getting all the moving parts together could take a while, as WBJ says the restaurant found with the
similar pop-up it recently launched
on the lawn of the National Building Museum.
If this happens, it could join the
Fairgrounds
at Half and M and possibly the "
Riverfront at the Ball Park
" site at
Florida Rock
as temporary outdoor offerings catering mainly to Nats Park attendees. And Rocklands BBQ has set up shop on gamedays at 1st and N, and is in the process of getting a liquor license.
The Tingey Plaza site is owned by JBG Cos., the developers of the USDOT building, which was completed in 2007.
As for the empty historic red brick building on the southeastern corner of the plaza, it was slated to be a retail/food court of sorts back when the plans for DOT were unveiled, but so far....
Osteria Morini Sibling Nicoletta Pizza Coming to Yards Park
May 13, 2013 1:29 PM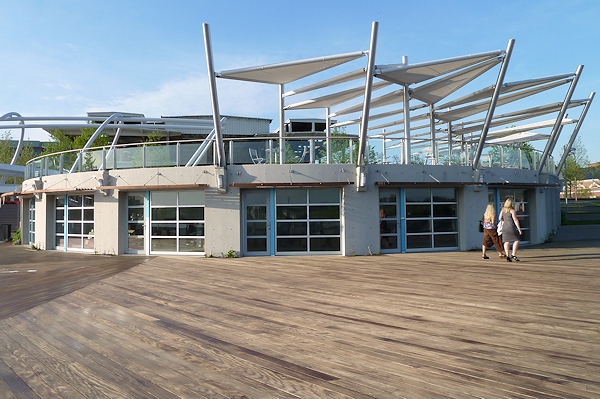 Thanks to a small tidbit on the notice of a liquor license application by
Osteria Morini
for its coming location in the
Lumber Shed
at the
Yards Park
, I can pass along that Morini's chef Michael White will also be bringing his
Nicoletta
pizza/pasta carryout and delivery operation to one of the small retail spaces built into the park's overlook, on the boardwalk near the pedestrian bridge.
Though the boardwalk retail spaces have been envisioned as housing "seasonal" offerings, Nicoletta will be a year-round tenant. The space Nicoletta will occupy is about 250 square feet, so it will have no interior seating, but it will have outdoor seating in the warm months.
Nicoletta is expected to open a few months after Morini, which is still targeting a late summer debut. So, it could be by late fall or by the end of the year, while keeping in mind that restaurant target dates are often a bit fluid.
Nicoletta NYC's web site
includes the
menu
, if you want to start preparing your taste buds well in advance.
As for additional Morini information via the liquor license application, the space, in the southeast corner of the Lumber Shed, is described as a "full service, fine dining restaurant specializing in authentic Italian food" will have an interior seating capacity for 165 and two outdoor seating spaces/"summer gardens" totalling 136 spaces, though that's probably for both Morini and Nicoletta. It also says there will be background music, "and occasional live music and/or DJ will be provided."
There's no web site for Osteria Morini's DC location yet, but the sites for the
Soho
and
New Jersey
locations, as well as those for
White's other restaurants
, may provide some information if you're, ahem, hungry for it.
And if you're wanting to keep up on the neighborhood's new and pending food options,
here's the map
.
Budget News Pt. 2: Van Ness Elementary Modernization Funds
May 11, 2013 9:55 AM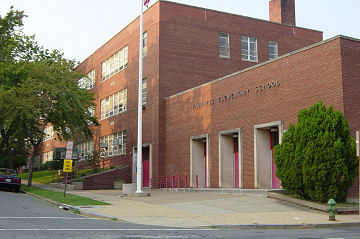 Via
Charles Allen
, news that is music to the ears of the parents who have been hoping for a reopening of Van Ness Elementary School at 5th and M,
shuttered since 2006
: on Thursday, the DC Council's Committee on Education approved the DC Public Schools budget, and it includes $9.8 million for modernization, which is "consistent" with a plan to reopen Van Ness for the 2015-16 school year.
In a letter shared with the "Parents on the Capitol Riverfront" mailing list, DCPS's COO Anthony deGuzman described what will come under this plan: "The Phase 1 modernization focuses capital funds on renovating academic spaces (classrooms) where we upgrade lighting, acoustics, technology, ergonomics/furnishings, and climate/air quality. Additionally front entrances, front offices, corridors, and student restrooms are targeted. Other building upgrades are evaluated on an as needed basis."
The letter goes on to say that the community will be asked to be involved in the planning process along with school administrators and staff, on a team called the School Improvement Team, which will be "formally convened just prior to when the funding will be available which is this case would be towards the end of the summer of 2014." deGuzman also says that the SIT has a "great deal of influence over priorities, aesthetics and whether the design is meeting the programmatic needs of the school."
Neighborhood parents have been working
since 2010
to get the school reopened--you can read more about what's been going on during Van Ness's years in the wilderness in
my previous blog posts
.
Budget Moves May Delay Yards Movie Theater Project
May 10, 2013 4:01 PM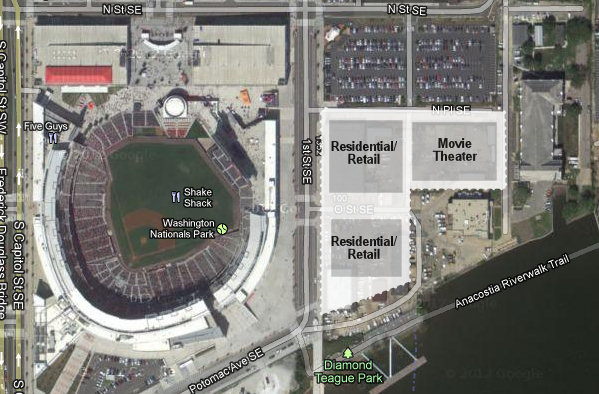 On Thursday, the news broke that the DC Council's economic development committee voted to shift $8 million of the city's 2014 budget from the planned relocation of some of the
DC Water facilities
at 125 O St., SE, to three projects that happen to be in the ward of the committee's chair, Muriel Bowser (who also just happens to be running for mayor).
This relocation is a step on the path to Forest City's
plans for a mixed-use development
including a
movie theater
on that site. The project is currently going through the zoning process, and is expected to have a hearing within the next few months.
Let's hand the narrative over to the
Washington Business Journal
: "Bowser described the D.C. WASA project, in the report, as a 'poor use of capital funding,' given that a replacement WASA site has not been identified. Later Thursday, the councilwoman said that she supports the relocation project and that she left enough money in the fund -- $1 million in 2014 and $9 million in 2015 -- to continue community outreach and relocation work.
"The WASA project, she said, will require extensive environmental remediation and can't possibly be done next year.
"'They can't use it,'" she said of the $9 million set aside in 2014."
As for how the mayor's office feels about the move? "'Stopping the Yards project -- who in their right mind thinks that's a good idea?' responded Pedro Ribeiro, Gray's spokesman."
This is not the final word in the budgeting process--the full council still needs to vote on the budget, and there could still be some maneuvers to come.
Bringing Back the Neighborhood Crime Reports
May 9, 2013 10:45 PM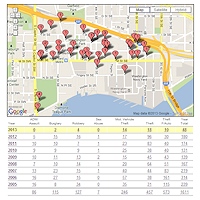 In September of last year, the city stopped updating its
public crime data reporting
in order to overhaul the system. That meant that my neato maps of crimes in the neighborhood (both
on the JDLand home page
and my more extensive
Crime Incidents Archive
back to 2005) went silent.
Then, a few weeks ago, MPD announced that data was once again flowing to their crime map application. But what about the
XML feed from OCTO
that I have been using since about 2006? Unfortunately, despite a fair amount of pestering by me on Twitter that never elicited any official responses (boo), that feed appears to be the victim of an unreported homicide.
Finally, though, I found some free time and built a new system to import data from the Crime Map into my own database, and you can now see the most recent
two weeks' worth of reports on the JDLand home page
and
everything for 2013
and the rest of
2012
in the main archive. This won't be all nice and automated like the XML feed system was (again, boo), so don't expect the map to be updated every single day, but I will try my best to get to it on a regular basis.
In the switch to their new data system, MPD did change some of the category names--from Stolen Auto to Motor Vehicle Theft, for instance--so I'm having to tinker some with my code to deal with that, and I'm still uncovering bugs here and there, but I feel like the data is in generally good enough shape to post.
("Anything is Better Than Nothing" is my motto these days.)
One thing I'm seeing in the data: Can there really have been 14 stolen autos--excuse me, motor vehicle thefts--already this year? It seems kind of high, especially since there are only 19 reports from 2012, but perhaps this now also covers scooters, motorcycles, etc. And judging by the more complete records that are sent out via the
MPD-1D mailing list
, it can also include "Unauthorized Use by Family Member" or some such. If I were really good I'd start incorporating the additional details that are sent out on the mailing list, but that will require another coding run, so probably not tonight.
Teetering Along, So To Speak, at Twelve12
May 7, 2013 11:48 AM
I think I've mentioned before my understanding that construction photos consisting mostly of rebar and concrete pillars are not for everyone. But I can't shirk my duty to capture the progress at the
Twelve12 project
at the Yards, the building at 4th and M that will be home to Harris Teeter and Vida Fitness (and 220ish rental units) when it is completed in 2014. The vertical construction on the north/Teeter end of the site is now peeking above the historic brick wall along M: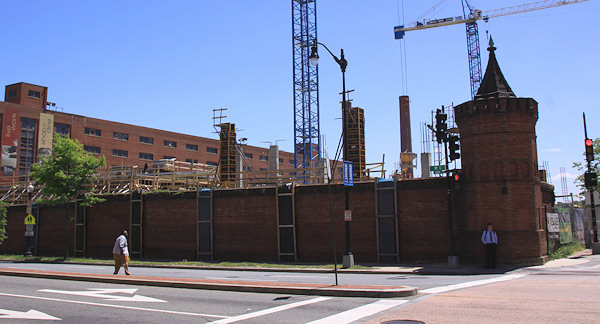 But it's better to look north from Tingey to really get a feel for where construction is currently at:
More photos, and information and renderings of the project, are on my
Twelve12 page
.
In the meantime, I'm thinking that if you had told me when I stood at 4th and M in October 2003 to take this photo that in 10 years there would be a Harris Teeter rising behind the turret, I might have snickered at you: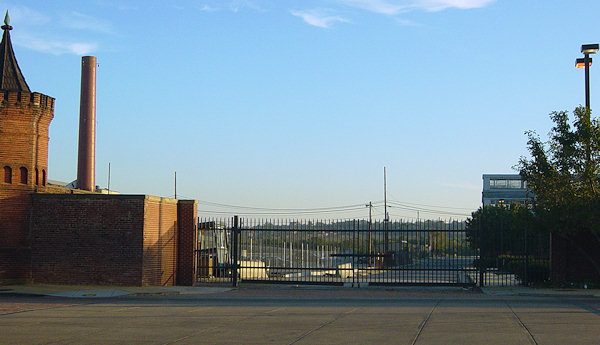 (And, speaking of the Yards, I should also mention that when I took these photos last week I saw workers in both the Nando's Peri-Peri and Willie's spaces at the
Boilermaker Shops
. And I also snuck a peek through the Bluejacket window and
got a glimpse of these
.)
New Temporary Event Site in the Works at Florida Rock/Riverfront
May 3, 2013 11:30 AM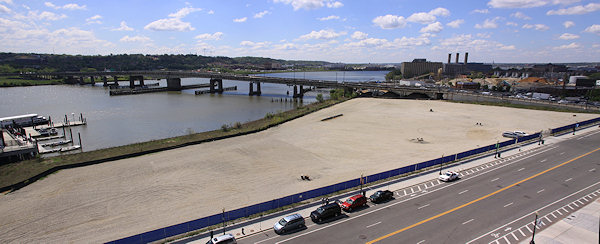 Today a liquor license notice appeared in the DC Register for a Class C Tavern application for "Riverfront at the Ball Park" [sic!], at 25 Potomac Ave., SE, which is the address just south of Nationals Park of the
Florida Rock/Riverfront on the Anacostia
development that has long been in the works.
The application is for a "new tavern," and "food will come from various local restaurants nearby," plus "there will be a stage for live entertainment."
According to ANC commissioner David Garber
, the plans are for the site to be a food and drink venue before and after Nats games, plus the operator is also creating partnerships to bring kickball and bocce, weekend food and flea markets, and other events to the site.
The developers of the 5.8-acre site that was long home to a concrete plant have plans but no firm timeline to build the first phase of the project, a 350-unit residential building on the eastern portion of the lot, near Diamond Teague Park. In the zoning hearings for the latest designs, there were discussions of
installing temporary uses just to the west of the residential building
, similar in nature to what's currently in the works. The additional phases of the project as currently designed would include another residential building, an office building, and a hotel, also with no timelines.
And, in a similar vein, Rocklands Barbeque is applying for a license to serve beer at the temporary site they are operating on game days just north of the ballpark at 1st and M SE.
Capturing How Spring Has Sprung at Canal Park
May 3, 2013 9:39 AM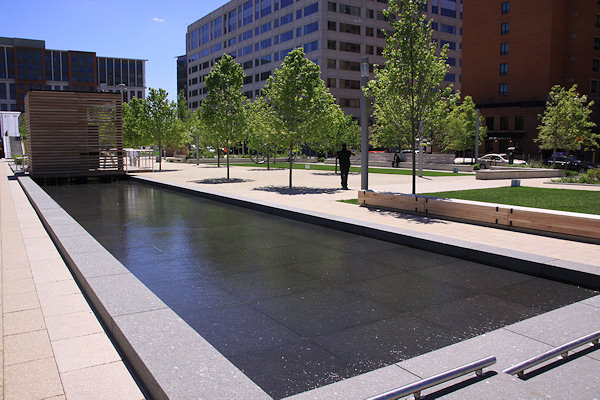 When last I wandered around
Canal Park
with my camera,
it was cold
. And brown. (But
skateable
!) With Thursday's gorgeous weather surprisingly managing to win a tough battle against my inherent laziness, I took a far warmer and greener walk, and updated my
Canal Park page
with some springeriffic images.
And, if you really want to see how the three blocks along 2nd Street SE between I and M have changed in the past decade, I invite you to scroll through the many before and afters in my
Canal Park Expanded Photo Archive
. After all, with my work at the park pretty much done, this might be the last time I have the excuse to make you look at numerous photos of school buses and overgrowth.
Speaking of the buses, I do have one "new" before-and-after I can't resist highlighting.
First, October 14, 2006: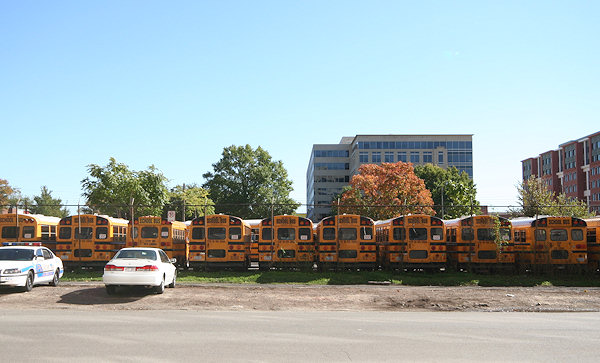 And the same location, May 2, 2013: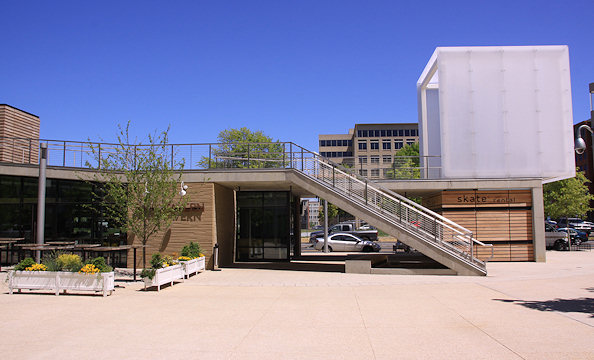 Cobbled-Together Coverage of Half Street Market Hearing
Apr 26, 2013 9:39 AM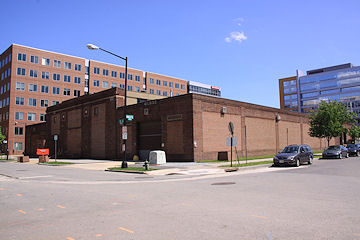 I wasn't able to be at Thursday's hearing on the fate of the federally owned warehouse at Half and L Streets, but I can cobble together an update thanks to the folks who were there:
City Paper
: "A group of Capitol Riverfront residents has been pushing to turn a vacant warehouse at 49 L Street SE into a community amenity called the
Half Street Market
. But if a congressional hearing there this morning was any indication, they may be facing an uphill battle."
WashPost
: "An official for the General Services Administration, which manges federal real estate, told the representatives that the 32,013-square-foot brick building was no longer needed by the government and that the agency was in the process of preparing it to be sold or traded for construction services on other projects, for which the GSA is in need of funding.
"'Given the high real estate value and rate of growth in the surrounding Capitol Riverfront neighborhood, the 49 L Street property presents us with many potential opportunities to find a better use for or to dispose of a vacant property from the federal real estate inventory and provide considerable savings to taxpayers,' said Michael Gelber, acting deputy commissioner of the GSA's Public Buildings Service."
WBJ
: "D.C. Councilman Tommy Wells, D-Ward 6, testified, saying that the District could be willing to put up the $19 million price tag for the property. U.S. Del. Eleanor Holmes Norton, D-D.C., spoke passionately in support of the project.
"The will is certainly there. But what of the way?
WashPost
: "The GSA, however, is not in the business of giving away property at a discount even if its acting administrator, Dan Tangherlini, is a former D.C. city administrator and transportation official. Gelber reiterated in an interview that the agency's preference was to trade the building for construction services, similar to the way the GSA is trying to use the J. Edgar Hoover Building as a trading chip for a new FBI headquarters elsewhere in the region.
"GSA has not disclosed how much it believes the L Street warehouse is worth but Gelber said putting it up for auction, as the agency did with the West Heating Plant, would likely fetch the highest price. Adding a requirement that a market be part of the redevelopment wasn't likely to help the sales price — quite the opposite. 'The more conditions you put on a sale the more that you affect valuation,' he said.
City Paper
: "So it appears likely that the feds will be selling the property to the highest bidder—and with Union Market and Eastern Market both within a few miles of the site, the highest bidder probably won't want another market there."
JDLand
: It's also worth noting that 50 M Street, the empty lot on the
south end
of the warehouse's block, fronting M Street directly across from the Navy Yard Metro station entrance, is
now on the market
, making it possible for a developer to have the entire block if it were to gain control of the warehouse and buy the 50 M site.
UPDATE:
Here's
Urban Turf's take
on the hearing, which includes this:
"A sizable contingent (for a Thursday morning) came out to the meeting in support of the Half Street concept, and Councilmember Tommy Wells and ANC 6D Commissioner Ed Kaminski testified in support of the project. Kaminski brought up a potential revenue stream that could help fund the market and culinary incubators on the ground floor: a boutique hotel on the upper floors could send a stream of cash to the GSA. Generally, Kaminski felt that the air rights over the warehouse could be utilized in a profitable manner.
The representatives seemed supportive of the local officials, and were open to the prospect of putting in motion a process that would lead to selling the building to the city. However, the question remains: can DC afford it?"
Congressional Hearing April 25 on Empty L Street Warehouse
Apr 18, 2013 9:23 PM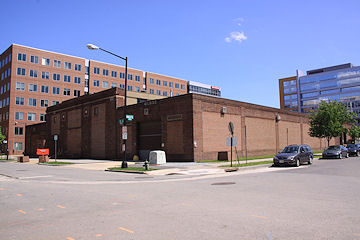 News came
via
Twitter
on Thursday that the House Committee on Oversight and Government Reform's
Government Operations subcommittee
will be holding a
hearing
on the future use of the empty warehouse owned by the Feds at Half and L SE, the building being
eyed by neighbors
as the potential
Half Street Market
.
Tommy Wells and ANC 6D02 commissioner Ed Kaminski will be testifying in support of returning the building back to DC's control, and to make it all even more festive, the hearing is going to be held in the warehouse itself, at 9:30 am on Thursday, April 25.
Rep. John Mica (R-Fla.), who is the chair of the committee, has
been making his displeasure known
about the (lack of) speed with which GSA has been disposing of excess property. And,
as Housing Complex puts it today
, "At the time, Rep. Jeff Denham (R-Calif.) said the subcommittee would consider holding hearings at vacant federal properties around the country if GSA didn't start moving on them more quickly. Now, the congressmen appear to be making good on their pledge."
Tidbits from the Multi-Unit Residential Dwellings Department
Apr 10, 2013 9:11 AM
A few items that are small, but worth passing along: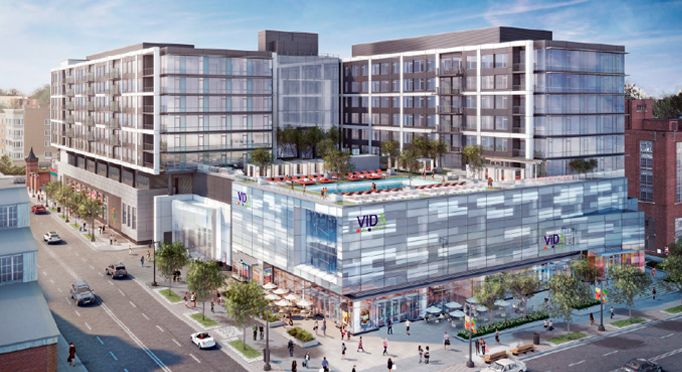 * Forest City has put up fence signs around the
Twelve12
construction site, showing new sleeker renderings of the exterior. The signs also announce the official web site,
Twelve12dc.com
, which is pretty much just a placeholder at this point, but does at least show two of the new renderings, including the one at right that I pilfered. (I asked for the other drawings on the signs, but Forest City isn't ready to release them yet. Waah.) This is the
220ish-unit rental project
at 4th and M that will be home to both Harris Teeter and Vida Fitness when it's completed in spring 2014. And if you look through the fences, you can see that the northern end of the construction, near M Street, is already about up to ground level.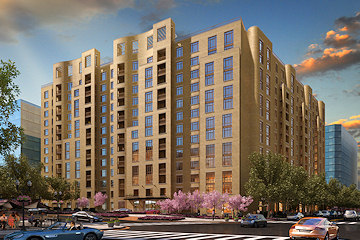 * Construction at the 432-unit
Park Chelsea
at New Jersey and I continues to move along, and the two tower cranes should be up on the site by late May/early June. While the increasingly large hole on the site makes it look like they are excavating the entire block, folks at William C. Smith tell me that they dug beyond the building's actual footprint to make excavation easier, and will be filling it back to the property line as construction continues. Also, they have now cleared and smoothed out the small hill that used to exist between the old Canal Street and New Jersey Avenue, so that you can even see a dirt-road version of H Street running from 2nd Street west to New Jersey. (It would help if I had new pictures of what I'm talking about to match to the
old ones
, but soon.)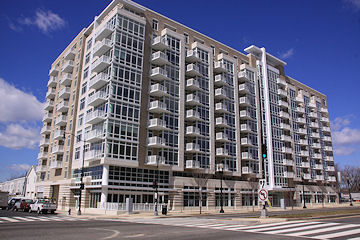 * Technically outside of my borders, but yesterday there was a
ribbon cutting
at the new
Camden South Capitol apartment building
at South Capitol and O, across from Nationals Park. The 276-unit building begins leasing its lower floors today, with rents ranging from $1288 per month for the smallest studio to $3225 per month for a 2BR/2BA unit. The web site, which includes floor plans, is available
here
. I used to follow this project back when it was getting underway, so you can
see my before-and-afters of the site
going back to 2006, though I haven't gotten into the ballpark yet to get the true "afters" from there.
Park Tavern Says It's Open For Business
Apr 8, 2013 4:43 PM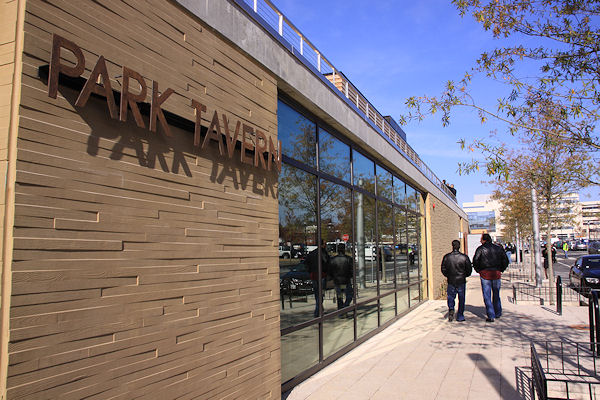 After months of waiting,
a simple tweet a few moments ago
says that the Park Tavern restaurant at 2nd and M SE in
Canal Park
is open for business.
If you stop by there, give us some details in the comments.
UPDATE:
I should also mention that the
BID tweeted
that the water feature (some might call it "fountains") at Canal Park is operational today as well, after a breather during the switchover from ice rink to warm weather retreat.
UPDATE II:
Here is the menu
. (If you want to see the chicken, parm cream, and dried cherries flatbread,
here 'tis
. And
here's the taps
. And
the cocktail menu
, blurred to give you the experience of ordering after you've had a few.) The manager told me they will just be open for dinner for a few weeks, then expand to lunch.
UPDATE III:
Photos of the interior
here
and
here
. (Yeah, they were taken back in November, but nothing's changed!)
Paul McCartney Coming to Nats Park, and Other Concerts
Apr 4, 2013 3:02 PM
It's not being announced officially until Friday morning (though
this was a pretty big hint
), but the
Post is reporting
that
Paul McCartney
will be performing at
Nationals Park
on July 12, as part of his "Out There" tour.
This is the latest in big-name appearances at the stadium that happen about once a year, following Springsteen, Dave Matthews, and Billy Joel/Elton John in previous years.
I assume Friday's announcement will say when tickets go on sale, but I just couldn't bear to wait that long to post.
UPDATE:
Tickets go on sale
April 12 at 10 am, though American Express card members get their shot starting at 10 am April 9.
If you can't get enough of concerts at the ballpark, the Nationals also announced this week the lineup for their
NatsLive
free postgame concerts: Blues Traveler on June 8, Thompson Square on July 6, Gavin DeGraw on Aug. 31, and Montgomery Gentry on Sept. 21. The concerts are free for anyone holding a ticket to that day's game.
And, on a slightly different scale, the
U.S. Marine Band
is going to be free playing weekly concerts at the
Yards Park
, on Thursdays at 7:30 pm beginning in June and running through August. They'll be set up near the Terraced Lawn Steps, and will be playing "light classics, country music, and popular band favorites."
(Which means you can stroll from the Marine Band's appearances at the Yards Park on Thursday evening right up to Canal Park for the
BID's Outdoor Summer Movie Series
.)
This is also a good time to mention that I'm not really going to be keeping up with the many smaller events that now go on at the Yards Park, the Fairgrounds, and elsewhere. I'll mention big ones (I think McCartney qualifies as "big") and the series-type events, but otherwise, I'm playing my semi-retired card. If organizations are wanting to get the word out via JDLand about such events, there's always
those flashy boxes at the top and sides
of all of my pages....
Movement on Planned Hotel, Probably at 1st and N
Apr 3, 2013 9:36 AM
A report this morning from
GlobeSt.com
says that
PM Hospitality Strategies
is close to a deal to manage a hotel located in what they describe as "in Capitol Hill, specifically the Navy Yard" (eww). "Principal Joseph Bojanowski tells GlobeSt.com that the developer is currently wrapping up development financing and will ink a deal on the project shortly. 'The land was purchased last month and the hotel is expected to roughly deliver in mid-2015,' he says."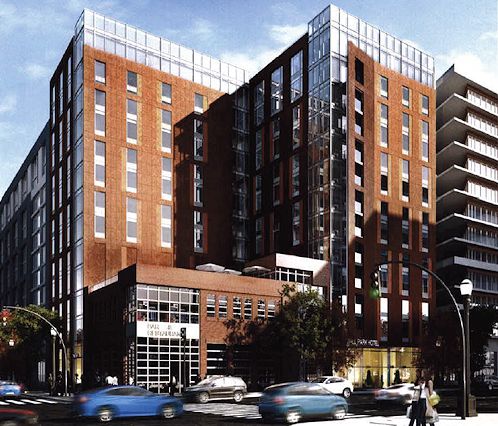 The article doesn't give any additional details on where the hotel might actually be, and the story's RSS summary describes it as "a 165-key hotel in Capitol Hill," but given that the story's headline is actually "PM Hospitality Eyes Navy Yard Hotel," and assuming that the project won't actually be *in* the Washington Navy Yard, signs point to this being the
L-shaped hotel planned for the corner of 1st and N SE
on land formerly owned by the Welch family. Those plans for a 13-story 167-room hotel were okayed by the Zoning Commission in December, and in mid-March a $5.44 million sale was recorded of the Welch lots to Capital Riverfront Hotel LLC. (The rendering at right is from the zoning filings.)
At the zoning hearing, representatives of the developer said that it was expected that construction would take about 16 months, which would point to a start date sometime in early 2014 to then deliver in mid-2015 as the article says.
This is one of three hotels currently planned for the block just north of
Nationals Park
, along with no-timeline projects by
Monument Realty
and
Grosvenor
.
The 1st and N hotel will have no on-site parking, and
no ground-floor retail space
. (
UPDATE:
Per commissioner David Garber in the comments, there will be no "traditionally leased" retail space, but there will be a retail space operated by the hotel facing N Street, which is shown in the final zoning drawings as a restaurant or bar.). It wraps around Grosvenor's planned two-story retail building, and would be nestled between the residential buildings also planned by Grosvenor and Monument. My
previous post on this hotel project
has additional details.
PM Hospitality Strategies is an affiliated company of the
Buccini/Pollin Group
, which is the developer listed on this project's zoning documents. BPG owns properties throughout the mid-Atlantic, including the
Madison Hotel
. Not known at this point is the brand this hotel will operate under, though of course I hope they call it the L Hotel. (
UPDATE:
Or not, given how now we're all mistakenly referencing it being on L Street.)
Washington, Let's Play Ball! (2013 Version)
Mar 28, 2013 10:44 PM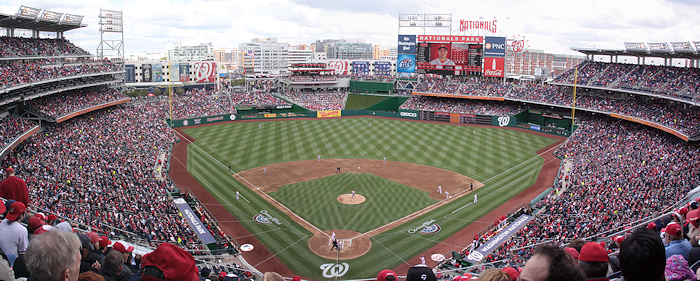 This weekend the Nationals are coming home to start their sixth season at
Nationals Park
(can it all really
be
five
years
ago
?). They return to the ballpark on Friday at 2:05 pm for their final exhibition game, against the Yankees, then the 2013 season starts for real on Monday at 1:05 pm against the Marlins, followed by two more games against Miami on April 3 and 4.
Residents and office workers should be prepared for very large crowds on both days, and given that both are day games, be prepared for extra-heavy traffic on the roads and in the subway.
A few links and items for those coming to the game or just those nearby:
* My
Visiting Nats Park page
has the basics on
how to get to the game
,
where to park
, what the options are for
food and drink outside the ballpark
(now and coming soon), and
what is new in the neighborhood since last season
.
* I'm looking for crowdsourcing assistance to make sure my
map of gameday parking lots
is up-to-date for the new season. Tweet #parknats (or just mention
@jdland
) with lot locations and prices you see during these first four games. (Especially of interest is what the former lot HH will be charging.) Prices may be higher on Opening Day than for other less-showy games, so all intel from any game day is appreciated.
* The return of baseball also means the return of expanded hours for the
Union Station-Navy Yard Circulator route
, which on April 1 will start running until 9 pm on weekdays and from 7 am to 9 pm on Saturdays, with additional expanded service on game days (this includes Sundays).
* The new Gordon Biersch brewery/restaurant at 100 M St. SE is in its
final preparations
for its
Opening Day opening
. They are in the midst of soft opening/test service, and there will be a "VIP" reception on Saturday night, so be prepared to see people inside but then be turned away at the door if you don't have a golden ticket.
UPDATE:
Biersch will be opening at 10 am on Opening Day (compared to its normal 11 am).
* When will the Park Tavern at
Canal Park
have its own opening day? "Soon" is what the signs on the doors say, but there's been no official word of a date yet. (The latest newsletter from the BID says "mid-April," but the
Going Out Guide says April 1
.)
* The
Fairgrounds
at
Half and M
is back for the 2013 season beginning Friday at 11 am.
*
Inside the park
, Papa John's has replaced Flippin' Pizza, and there's also now the Schawafel stand, featuring Shawarma and Falafel sandwiches.
*
Weatherbug has a Nationals Park station
, if you want to know what the current conditions are right smack at the ballpark. The
forecast
for Opening Day looks good as of now (mostly sunny and 61), but it might be a bit chilly for those other two Marlins games.
Let the Natitude begin!
PARKING UPDATE:
I've heard from Monument Realty that they are still planning to operate the old Nats lots J, M, and N as cash lots this season, but they aren't open today and won't be open next week. They are shooting for the week of April 8. These are the lots at Half and M, South Capitol and M (old Domino's site) and South Capitol and N (old BP Amoco), and are marked on my
map
as TBD.
PARKING UPDATE 2:
A reader reports that the old lot HH operated as a cash lot for Friday's exhibition game, still charging $10.
PARKING UPDATE 3:
Be prepared that the prices at the three Yards lots have gone up $5 from last season, so $25 at 3rd and Tingey and $30 at 1st and N. The lot behind the wrought-iron fence at 1st and M will be $35, but it will also be open for every game this season.
And, a
question I had a few weeks ago
has finally been answered: the new Nats Lot P is indeed the garage under 1015 Half Street, and not a surface lot as the Nats map shows. Their map will be updated;
mine
is already correct.
Biersch Gearing Up; Photos (Of Course)
Mar 28, 2013 2:00 PM
I was lucky enough to get invited one of the dry runs that Gordon Biersch is holding over the next few days to prepare the staff for their April 1 opening (because, with 40,000 Nats fans descending on the neighborhood, Biersch might get a bit of business). And they allowed me
to take a pile of photos
. I'll include the money shot here: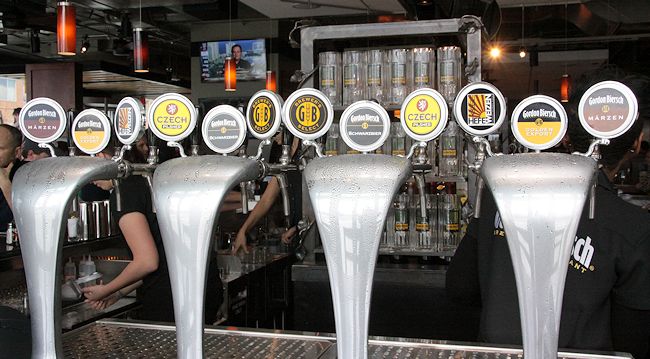 See all the pictures here
.
There's one more day of test seatings on Friday, and then a VIP reception on Saturday.
It's a pretty dang big space. Definitely a completely new experience in the neighborhood!
Willie's Gets a Building Permit; Other Permits of Note
Mar 26, 2013 12:07 PM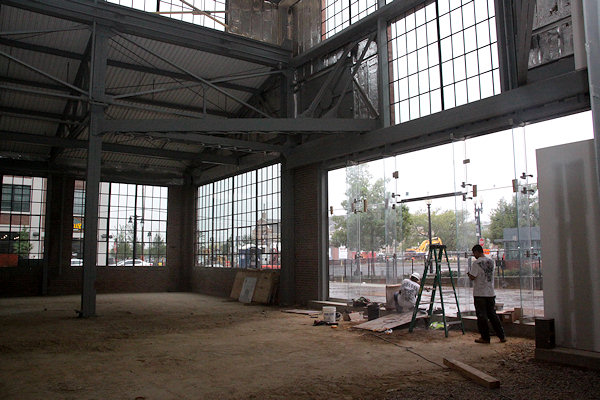 Now that the Park Tavern looks just about ready to open (and the grapevine tells me it got its liquor license on Monday morning), it looks like Xavier Cervera is turning his attention to the project we have known as
Willie's Brew and Que
at the
Boilermaker Shops
at the Yards.
According
the
latest batch of approved building permits
, a building permit has been issued (to Williams Willies Sports, technically), for a restaurant with 109 seats and 156 occupancy load.
So now everyone can start keeping an eye out for any work in the space on the Boilermaker Shops' western end, on Tingey at 3rd Street. (The photo above is from a visit I made to the Willie's spot back in September.)
Other items worth noting in the latest permitting blitz:
* The Park Tavern has gotten its permit for a 75-seat summer garden.
* Gordon Biersch's outdoor seating has been reduced from a 94-seat area to a 60-seat summer garden.
Then there's this additional tidbit, which needs to have a glaring "CONJECTURE!" label attached to it. But a few weeks ago EYA got a soil boring permit for 908 2nd Street, SE, which is the empty parking lot owned by the Housing Authority between I and K and between Canal Park and EYA's now-completed Capitol Quarter townhouse project. I have heard rumors for a while now that there's been talk of another deal between EYA and DCHA, though not for townhouses this time around. The empty lot where the soil borings took place is part of the
Capper Hope VI footprint
, and the plans have always been for a six-story, 147-unit mixed-income building on that site. Is something in the works? All together now: We shall see!
Baseball Not Far Off; A Visitor's Guide to the Neighborhood
Mar 21, 2013 10:38 AM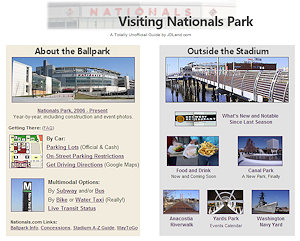 It seems like it's been forever since baseball was at
Nationals Park
(except for that Game 5, which feels like yesterday), and now we're in the final homestretch before the team returns to town, first for an exhibition game against the Yankees Friday, March 29, at 2 pm, followed by the season opener at 1 pm on Monday, April 1.
So, once again I highlight my
Visting Nationals Park
page, which I built last year to bring together links and information both about the ballpark itself and what's available and interesting outside the stadium.
For those wanting to know what's happened in the Near Capitol Ballpark River Yards (#NeCaBaRY) neighborhood since last season, my
What's New and Notable
list fills in the headlines, while the Google Map of
Food and Drink options
shows both the currently opened eateries and the ones coming soon.
There's also links to information on the
Riverwalk
, the
Yards Park
and new-to-you
Canal Park
, and the
Navy Yard
, for people looking for other ways to pass the time before and after games.
As for the ballpark itself, there's my
map of official and "cash" parking lots
, a "
Getting There
" guide, and of course all of my
photos of the stadium's construction and milestones
.
But, for people who can't even bear to
click a link
, I'll give the headlines that I know are most of interest:

*
Brewery/Restaurant Gordon Biersch
should open on Opening Day
at 1st and M.
* The
Park Tavern
at 2nd and M
could be opening Any Minute Now.
*
Kruba Thai and Sushi
at 3rd and Water in the Foundry Lofts has been open since November.
* Highly anticipated brewery
Bluejacket
is expected to open at 4th and Tingey in the
Boilermaker Shops
in late spring or early summer, as will
Nando's Peri-Peri
,
Buzz Bakery
, and (maybe)
Willie's Brew and 'Que
.

* Later in the summer should see the opening of the first two restaurants in the
Lumber Shed
at the
Yards Park
: Agua 301 (which
has just begun its buildout
), and
Osteria Morini
.
There's also still Justin's Cafe, Five Guys, Subway, Potbelly, Lot 38 Espresso, McDonald's, and the Fairgrounds.
And, alas, there's also still the hole in the ground at
Half and N
.
On the bright side, there are two new holes in the ground where work is actually underway, for new apartment buildings the
Park Chelsea
at New Jersey and I and
Twelve12
at 4th and M, both expected to open next year.
And the
Camden South Capitol
apartments directly across South Capitol from the stadium are opening in just a few weeks.
In other words, believe it or not, good things are actually happening outside the ballpark. And it seems like good things should be happening inside the ballpark this year, too.
So
bookmark the guide
and use it whenever you come down to Near Southeast/Capitol Riverfront/Navy Yard/Nats Town/#NaYa/#NeCaBaRY.