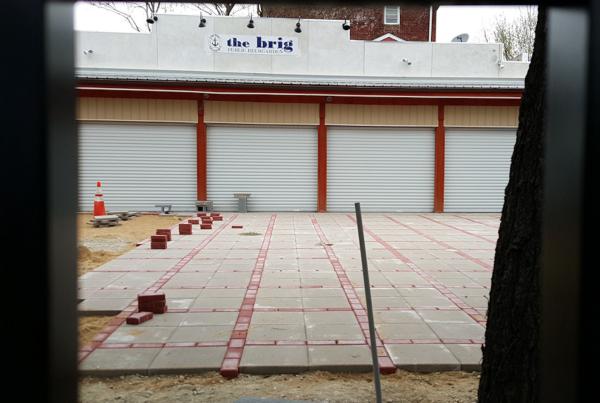 Here's a good object lesson in reading the fabulous JDLand comment threads on a regular basis--because if you did, you would already know that on Friday, in the midst of the
spirited discussion about the Bardo Big River liquor license
, a
comment appeared
from the owner of the
Brig
, the long (long long) in-process beer garden at 8th and L Streets, SE:
"the brig is on track to open in 30-60 days.
"Pavers are going in as are the 40 taps.
"More info and probably a big story after JD reads this.
"Bring your well behaved dogs here too.
"1007 8th Street SE at the corner of 8th and L."
And lo and behold, as my pictures from mere minutes ago attest, pavers are indeed going in, and temporary signage has appeared, and a new iron fence (currently still behind the existing cyclone fence).
There is still work to be done on the inside of the building, and then certificates of occupancy and health department approval, so I wouldn't carve any date in stone just yet, but the homestretch does appear to be in view.
When it does open, perhaps it will be a good spot for the next JDLand Happy Hour.