Near Southeast DC: Past News Items
foundry
Go to Full Blog Archive
---
Desi Living Loft Furniture Store Coming to Foundry Lofts
Mar 19, 2013 1:12 PM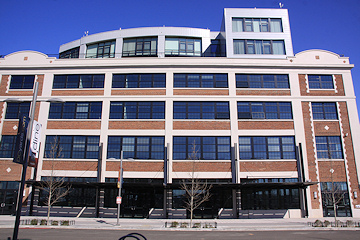 The Yards has announced on its
Twitter
/
Facebook
feeds that furniture store
Desi Living Loft Furniture
is coming to the
Foundry Lofts
in June.
The company, which according to its web site currently has locations in Rockville, Arlington's Pentagon Row, and Annapolis Towne Center, bills itself as "the DC area's premier stop for the most affordable, stylish, and unique concepts in living room furniture." Presumably this is coming to the retail space on the building's southeast corner, next to Kruba Thai and across from the Lumber Shed at the Yards Park.
This would be the first non-food non-services retailer to open in the neighborhood (other than CVS).
I've reached out to Forest City for more information, and will update when I get it.
UPDATE:
The store will be a 3,000-square-foot showroom, and the official press release says "late spring" for opening. The release also gives a slightly different name for the company than its own web site, calling it "Desi Living Loft Furniture," apparently because this will have a slightly different type of furniture mix, so I've changed the title of this blog post.
BID Says Kruba Thai Now Open, Except for Sushi and Alcohol
Nov 9, 2012 2:41 PM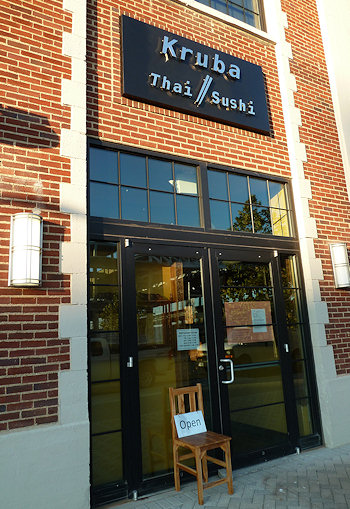 A
tweet just out
from the Capitol Riverfront BID says that Kruba Thai is now open, although with the caveats that the full Thai menu is available, but alcohol and sushi aren't yet, so definitely consider this a "soft opening."
If you swing by and check out this temporarily liquor-free version, post your thoughts in the comments.
Even without the alcohol, Kruba is now the first sit-down/table-service restaurant to open in Near Southeast since Justin's Cafe arrived in spring 2010.
For those who haven't followed closely, Kruba is in the southwest corner of the ground floor of the
Foundry Lofts building
, just north of the
Yards Park
on 3rd Street, SE.
UPDATE:
I wandered down, and they are indeed
open
. A couple of photos:
Canal Park Grand Opening Set for November 16
Oct 25, 2012 5:58 PM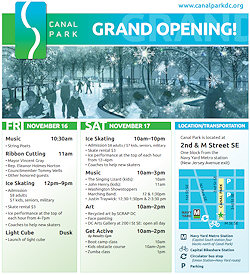 A
flyer just sent out
by the Capitol Riverfront BID is announcing that
Canal Park
will have a two-day Grand Opening, on Friday, Nov. 16 and Saturday, Nov. 17, kicking off with a ribbon cutting with the mayor and other dignitaries at 11 am on the 16th.
The park's much anticipated ice rink will be the center of attention for the rest of the festivities, and it will be open from noon to 9 pm on Friday and 10 am to 10 pm on Saturday--admission is $8 for adults and $7 for kids/seniors/military, with skate rentals costing $3. There will also be "ice performances" at the top of each hour from noon to 4 pm, and coaches available to help new skaters.
Saturday will also have live music in the park from 10 am to 3 pm, various art-y options, and a "Get Active" program from Results Gym with boot camp, a kids obstacle course, and a Zumba class.
Considering that it was nine years ago this month that I first wrote about the plans to remove the school buses from the park's three-block site along 2nd Street between I and M, SE, I'd say this opening indeed qualifies as a milestone in the neighborhood. See
my Canal Park project page
for photos of what the footprint has gone through over the years.
(The BID also says that the management of
Kruba Thai and Sushi
says that their restaurant in the ground floor of the
Foundry Lofts
at the
Yards
is opening on Monday, Nov. 12. Will that come true as well? We shall see!)
UPDATE: I should add there's no word in this whether the Park Tavern restaurant will open on this same weekend--my guess is that the pressure is pretty strong to have it open in some format, but there's no announcement.
Kruba Thai and Sushi Liquor License Gets ANC Support
Jul 10, 2012 8:53 AM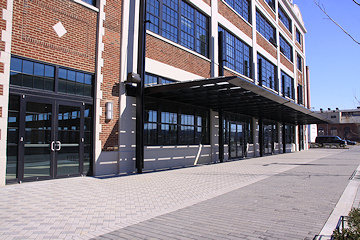 I wasn't at Monday night's ANC 6D meeting, but commissioner David Garber
tweeted the news
that the commission voted to support the liquor license for
Kruba Thai and Sushi
, which apparently is now hoping to open in August in the southwest corner of the ground floor of the
Foundry Lofts
at the Yards. It will have "tons of outdoor seating facing
Yards Park
," given its location directly across from the Lumber Shed. This is another slippage of the opening date, but work does appear to be ongoing in the space, and movement on a liquor license application is good to see.
Upcoming Events: South on South Capitol, Science, Ballpark, More
May 16, 2012 8:49 PM
A few new events and happenings to mention, along with some reminders: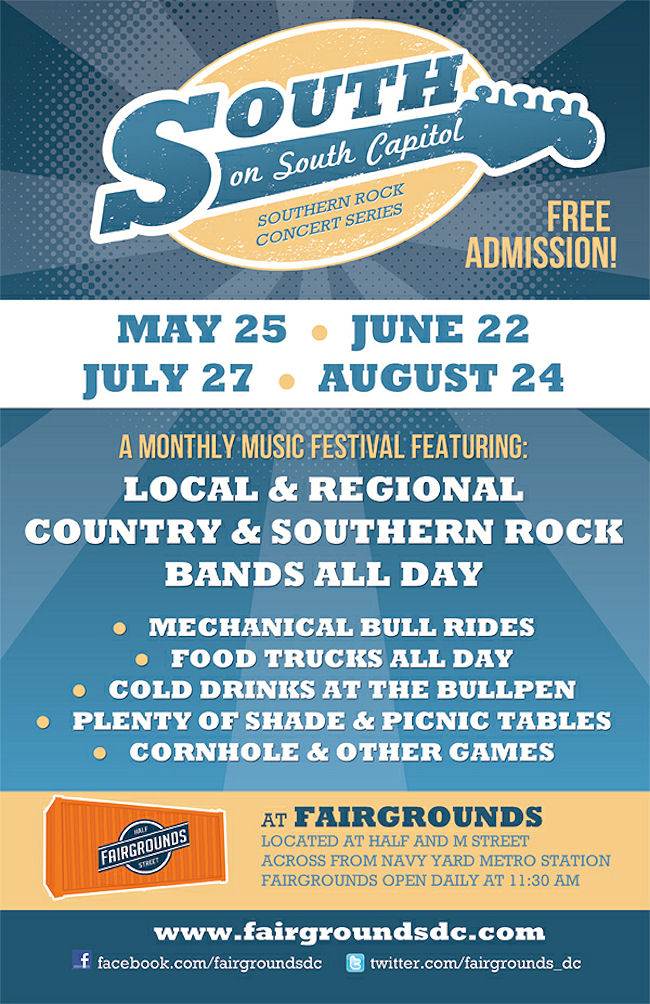 *
South on South Capitol
: The Fairgrounds folks are launching a "
South on South Capitol
" southern rock concert series, featuring local and regional country and southern rock bands, along with mechanical bull rides (!), food trucks, and the Bullpen bar. The first one is
scheduled
for May 25, then June 22, July 27, and Aug. 24. (They're all Fridays.) Admission is free.
And, speaking of Fairgrounds, there's a corrected list of dates for their
Sunday Family Days
, which are just once a month (next one on June 3).
*
Science + You
: If you've wandered by the southeast corner of the
Foundry Lofts
building just north of the
Yards Park
, you may have already seen the
Science + You
exhibit. It's geared toward kids ages 3-8, giving them the hands-on chance to "become scientists for a day." It's being managed by
Living Classrooms of the National Capital Region
, and was developed by
Kohl Children's Museum
in Chicago in cooperation with scientists from
Abbott
. The web site has lots of
photos of the various interactive stations
within the exhibit. It runs until Aug. 5, and
is open
from 12:30-4 pm Tuesday-Friday and 10 am-4 pm Saturday and Sunday. Admission is free.
*
Ladies Night
: The Nats' first
Ladies Night
of the 2012 season is Thursday (May 17), and they're going with a "Pretty in Pink" theme along with a Majestic women's apparel fashion show, drink specials, games, prizes, music, and whatnot. VIP tickets are $40 and include access to the party tent at 1st and Potomac from 5 to 7 pm along with special group seating. If you can't make the tent happy hour, you can buy a $25 ticket and enjoy the Scoreboard Pavilion festivities. (The
tickets
include a $10 concession credit.)
*
Bike to Work
: Friday, May 18 is
Bike to Work Day
, and the Yards Park is one of the pit stops, from 7 to 9 am. Alas, the free t-shirts for the first 11,000 registrants have already been snapped up, but you probably already own a t-shirt or two anyway.
*
Battle of the Beltways
: Be forewarned that the right-near-first-place (!) Orioles are coming to
Nats Park
for a
Friday-Sunday
interleague series
, and so all three games will probably bring a lot of fans and traffic.
*
Third Eye Blind
: I
mentioned last week
about the Wallflowers being lined up for the 2nd of the
NatsLive
free post-game concerts, and soon after the
word went out
that
Third Eye Blind would be playing the third concert
, on Aug. 18 after the Nats play the New York Mets. Dierks Bentley kicks off the series on June 2, and tickets for all three games
are on sale
. (The concerts are free for game-ticket holders.)
Thursday Tidbits: Roundup of Pre-Opening Day Roundups
Apr 5, 2012 11:18 AM
Before everyone disappears down the Nats Opening Day/Masters/Caps rabbit holes (myself included!), here's some links to items that might be of interest.
First, a few new entries in the
What's New Around the Ballpark?
lineup:
* On Tap Magazine surveys the neighborhood with "
The Hidden Gem That is the Capitol Riverfront
." (Another jewelry metaphor to go with the Post's "
Diamond in the Rough
" piece from Sunday.)
*
WJLA wandered around
looking at the ballpark environs.
*
The Post's Going Out Gurus blog
checked out the
Fairgrounds
' sneak peek on Tuesday. (Though what's the deal with the photos that look like they were taken through a veil? Will this Instagram obsession never ebb?)
*
WTOP runs down the options
for arriving at the ballpark by water taxi. (American River Taxi, by the way,
says that they are almost sold out
for the April 12 home opener.)
Some other items:
*
Two
reports
from MLB.com on the Wounded Warrior Amputee charity softball classic, played Tuesday after the Nats-Red Sox exhibition. The Warriors pounded their celebrity challengers 17-4.
* "DC Modern Luxury" magazine's Men's issue picks the
Foundry Lofts
as one of the city's "Best Bachelor Buildings."
Go here
, then click on the Best Bachelor Buildings subhed to get to page 62, then look at the bottom of the page. (As an aside, the write-up sounds even better if you imagine it being spoken by
Stefon
.)
* Or, if you like your tidbits a bit less glossy, Multihousing News has "
Foundry Lofts Blazes Trail on DC Riverfront
."
*
Bluejacket
gets a big write-up and cover photo in
Beer Advocate magazine
, though we don't get to read it online. You'll just have to make do with the Sept. 2011 batch of photos from inside the
Boilermaker Shops
the brewery has
put up on their Facebook page
.
* Nineteen "experts" have
picked the Nationals to make the playoffs
this year. No pressure!
Potbelly Opening for Business Tuesday at 10 am
Mar 11, 2012 10:03 PM

Unless things fall apart in the final few hours, the
Potbelly Sandwich Works
at 301 Tingey St. SE should officially open for business on Tuesday, March 13, at 10 am. (At least,
that's what the sign says
!) On Sunday afternoon workers were on site getting training, and on Monday there will be a dress rehearsal/dry run for "
friends and family
."
It will be open from 10 am to 7 pm seven days a week, and, if you're unfamilar with Potbelly's menu, you still have
a little time left to bone up
.
Tidbits: K Street Closure; Potbelly Opening Date; Brewers Ball; More
Feb 29, 2012 11:14 AM
* The portion of K Street SE within the
Canal Park
footprint will be closed through March 31 after workers found "major unmapped utilities" that have caused delays to the construction. Park head Chris Vanarsdale says that in order to meet spring planting requirements, it was necessary to close K now. (A little bit of hassle in exchange for purty plants this year, otherwise the planting would have had to wait until next year.) This means that to cross Canal Park drivers and pedestrians need to either use I Street or M Street.
*
A sign posted
at
Foundry Lofts
for its residents says that they expect the
Potbelly
to open the week of March 13. And here's the
Store Locator page
, still marked as "Coming Soon." (Here's
what it looked like inside
on Sunday morning.)
* If you can't wait until the Nationals finish Spring Training to drink beer at the stadium, there's the
2012 Brewer's Ball
on March 13 at
Nats Park
, benefitting the Cystic Fibrosis Foundation. Guests can sample "a variety of handcrafted microbrews from more than a dozen of the region's best microbreweries and brewpubs, while also enjoying the cuisine of several popular restaurants."
Individual tickets
are $115, and deadline to purchase is tomorrow, March 1.
Photos from All Over, Feb. 2012 Edition
Feb 27, 2012 11:34 AM
Take a gorgeous Sunday, add an obsessive-compulsive need to document all the change underway, and what do you get? Nearly eight miles of walking and a shameful number of new photos.
The
Foundry Lofts
building is all but done, with only the retail spaces left to be built out, so I took a bunch of "after" photos that will probably last for a while. But that new Potbelly sign sure stands out! I also pressed my nose against the glass to peek inside the sandwich shop's space--it sure doesn't look far from opening.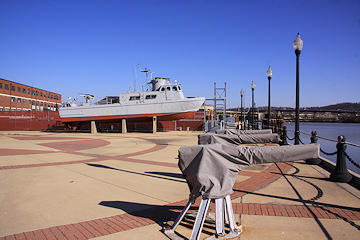 Embarrassingly, I haven't had a camera in hand on the Navy Yard's portion of the Anacostia Riverwalk since 2004. (I'm always worried they're going to toss me in the brig as a security threat, especially after a run-in a few years back where I was chased down by both a gate sentry and the DC police after taking photos of the Hull Street gate from across M Street.) But I pushed forward yesterday and got a bunch of new shots that I've added to my
Navy Yard page
, taking care to demonstrate to the many security cameras that I was photographing the river and not the installation. (Don't miss the especially cool before-and-after of the gate to the Yards Park.)
I will probably be creating a separate Riverwalk page before too long, but not today.
Along 11th Street at
N
and
M
, photos are more notable for what's not there anymore, as the demolition of the embankment for the old outbound RFK ramp is done, and the path of the new ramp from M Street for traffic headed to the outbound
11th Street Bridges
freeway traffic becomes more obvious. Also see
this picture of the work on the 11th Street Local bridge
, showing the demolition of part of the old outbound bridge approach, which has to be done before the new local bridge can hook up with 11th Street. (You can see it as well in my
O Street before-and-afters
, if you figure out what to look for.) Check my
11th Street Bridges photo page
for more images.
Then there's
Canal Park
, where I mainly took some new photos of the pavilion under construction near M Street, since photos of digging and ground work don't quite rise to the level of "interesting." I also hit most of the angles for the
Boilermaker Shops
, as well as for
Capitol Quarter Phase II
, where the security guard expressed concern about my actions (I need a laminated Photography Approved card or something). And I wandered the
225 Virginia/200 I
perimeter.
If you're a glutton for punishment, you can browse the
267 pictures from this trek
that are now in my
Photo Archive
, using the
links to see before-and-afters.
Thursday Tidbits: Wagtime, Potbelly, Ballpark Taxis, More
Feb 22, 2012 10:33 PM
[Yeah, yeah, the title says Thursday but I messed up and pulled the trigger before midnight.]
For those not following my precious prose on
Twitter
or
Facebook
, some tidbits:
* Pet day care/supplies retailer
Wagtime
is wanting to open a second location to go with its Shaw operations, and
is looking at
the
900 M St. SE building
(where Domino's is located). This would, however, require a zoning change, and a BZA hearing for a special exception and a variance is
scheduled for May 8 at 1 pm
.
* Potbelly must truly be coming to the ground floor of the Foundry Lofts,
because its sign is now up
.
*
WashTimes
: "The D.C. Taxicab Commission will allow so-called 'shared riding' outside
Nationals Park
to manage the chaotic jumble of pedestrians who leave in search of taxis and sometimes engage in what the agency calls 'aggressive behavior.' [...] The commission says shared riding, in which separate groups of passengers may get in the same taxicab if they are heading the same way, is needed to quell disorder and stop the use of unlicensed cabs from surrounding areas that are 'illegally pilfering' fares from the District's licensed drivers." There is already a taxi stand at Half and M; it sounds like the one the article mentions as where riders will need to queue up in order to get cabs.
* Forest City's Deborah Ratner Salzberg
has been named co-chair
of Mayor Gray's new task force on affordable housing.
* The Coalition for Smarter Growth looked at 2010 census figures and determined that Near Southeast has one of the city's higher totals of
households without a vehicle
, at somewhere between 53 and 67 percent.
Tuesday Tidbits: Briefer-than-Brief Briefs
Feb 7, 2012 9:26 AM
I'm a bit under the weather these days, so I'll go with a minimalist approach of mostly
Tweeted
items:
* Lost in the digital piles on my digital desktop was the
CapBiz tidbit about a Bang Salon
being housed in the new Vida Fitness gym that is supposed to be coming to the neighborhood as part of the Yards'
Teeter/Residential project
on 4th Street. (As for the "at the Navy Yard" description, I'm pretty sure that this project isn't happening inside the walls of the Washington Navy Yard.) Note that Forest City has yet to officially announce Vida as a tenant for the project, though
they sure came close
a few weeks back.
* If the neighborhood seems locked down on Wednesday, it's probably because of
this little get-together
at
Nats Park
.
* Speaking of the stadium, the
Nats have launched "Take Back the Park"
to try to head off the Philly Fan Invasion for the May 4-6 games.
* The
agenda for ANC 6D's next meeting
is out, with the only Near Southeast item being "Half Street Shipping Container Fairgrounds Concept," which
according to David Garber
will be on the Das Bullpen site at Half and M and is
something along the lines of this
. Looks hipster-riffic! The meeting is Feb. 13 at 7 pm.
* Outside the boundaries updates from SWill:
Z-Burger is supposed to be opening
over yonder today, and
a juvenile facility
will be moving into that long low gray building on the west side of South Capitol between M and N.
*
DDOT tweeted
that the
11th Street Local Bridge
"is expected to open in late spring." This is the bridge with the pedestrian/cycling path that will run from 11th Street south of N by the Navy Yard into downtown Anacostia.
Another Look Inside the Foundry Lofts, Nearing Completion
Jan 26, 2012 11:15 AM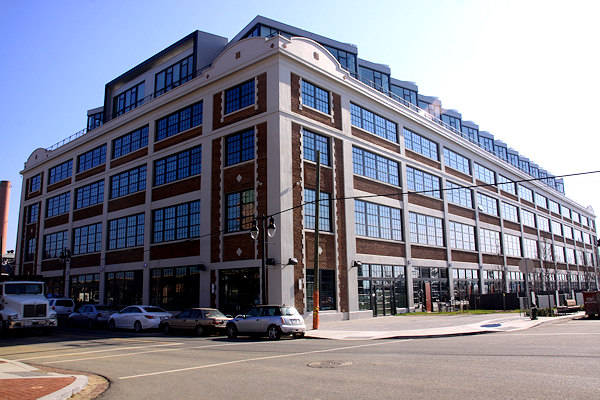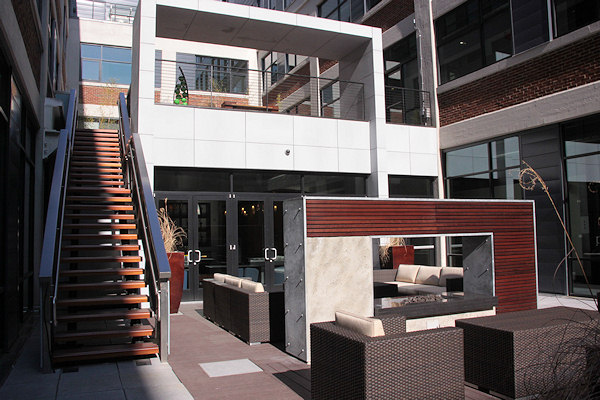 When last I visited the
Foundry Lofts
, it was about a month before the first residents moved in. I took a pile of photos, but while model units were furnished, a lot of the shared spaces were still being worked on. So I finally made a return visit this week to see all the finishing touches on the interior courtyard, lobby, community room, etc. And
I took one or two photographs
, of course.
The leasing office tells me that the 170-unit building is now about 65 percent leased and 40 percent occupied, and construction on the non-retail spaces is not far from 100 percent completion. The four priciest units--the corner penthouses, which were announced with rents in the $4,500 range--are all taken. And the two eateries in the ground floor--Potbelly and Kruba Thai and Sushi--have their building permits and are working toward opening within 90 days.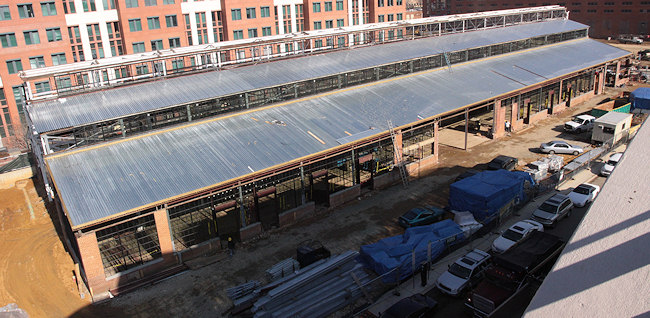 Also, because I can't walk past the
Boilermaker Shops
without taking pictures, I added a few new shots to that page, including the panorama at right that I got from one of the Foundry Loft patios.
As if this all isn't exciting enough, here's a first
terribly not exciting photo of the excavation underway
at the
1212 4th/Teeter site
a block east of the Foundry Lofts and across the street from Boilermaker.
Plus, since I had to walk down 4th Street to get to all of this, I snapped some shots of the continuing
Capitol Quarter
progress at
K
and
L
.
Boilermaker Shops, Now With More Windows and a Mezzanine
Jan 11, 2012 10:49 AM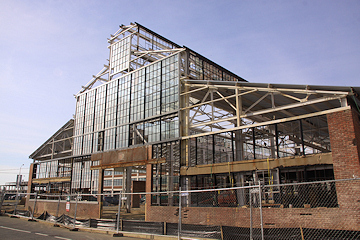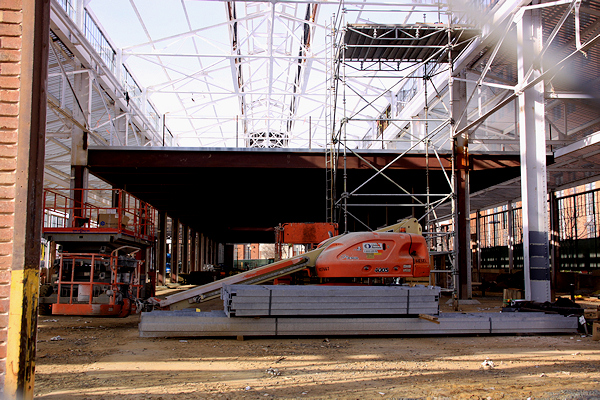 Do you get excited about new windows? Then this latest batch of
photos of the Boilermaker Shops rehab
is for you!
But, in addition to all the new glass, you can also see that the construction of the mezzanine level has begun as well. (There's a rendering midway down the page of how the mezzanine level will look, if you're having a hard time envisioning it.)
If you're just joining us, this is the project at
the Yards
that will bring
six restaurants
to this historic building by the end of 2012: a brewery by the Birch and Barley/Churchkey Folks, Austin Grill Express, BRB burger joint, Huey's 24/7 Diner, Buzz Bakery, and Willie's Brew and 'Que.
And, speaking of restaurants at the Yards, interested parties will like to hear that construction has begun on the
Potbelly Sandwich Works
shop in the ground floor of the
Foundry Lofts building
, just south of Boilermaker on the southeast corner of 3rd and Tingey. It is expected to open this spring, as is Kruba Thai and Sushi, which just received its building permit last week for its space in Foundry's southwest corner, just north of the
Yards Park
.
Some Very Small Items: Velodrome, Bikeshare, 11th Street Bridges
Dec 7, 2011 11:14 AM
* There was a "Wait, what?" moment on Tuesday when
DCist reported
that a velodrome would be coming in 2012 "in the shadow of Nationals Park in Southeast DC." I did some quick sleuthing, looking at the
organization's web site
and seeing Akridge as a partner, but I just couldn't place the design as being along Half Street. Then, thinking about how people so often can't get Southeast and Southwest straight when it comes to anything near the
ballpark
, I took a look at the
Google Maps view
of Akridge's Buzzard Point land at 1st and V SW, and
Ta-Da! A pretty clear match.
But this morning, Akridge is no longer listed as a partner on the web site, and the site rendering is gone, too. Perhaps this is all just because final leases and paperwork hadn't quite yet been signed. (A not uncommon tale, young upstarts getting all excited about a pending deal and blabbing just a little too much info for the comfort of the big company they're dealing with. Though it doesn't necessarily mean the deal is dead.) Of course, this is all actually outside my territory, so you'll want to go to
SWill
for updates.
UPDATE:
Jonathan O'Connell has
tweeted this out
: "Akridge spokeswoman on velodrome: 'We don't have an agreement.' And: 'I would say that putting Akridge on the site was probably premature'."
* Last Wednesday,
DDOT installed the new Bikeshare station at 3rd & G, SE
, on the north side of the Results parking lot. This is technically outside of Near Southeast, but it's probably now the closest station for Capitol Quarter folks (and me!). It has 19 docks.
* DDOT is
shooting for the weekend of Dec. 16
to open the new inbound/outbound freeway spans of the
11th Street Bridges
, and they
tormented me
with some
helicopter shots of the current progress
. (Though remember that it's just the spans opening--they still have work to do on the ramps and flyovers to add the new movements to and from DC-295.) They also
tweeted
that the 11th Street Local bridge is ahead of schedule and will open spring/summer of next year. My
construction progress photos from Nov. 1
are a smidge out of date by now, but still worth looking at.
*
Foundry Lofts
now has
19 moved-in residents
.
A Slew of Shots Snapped on a Sunny Saturday Sojourn
Dec 4, 2011 5:24 PM
Yes, it's time for another batch of updated construction photos. This is a tough stretch of year to take these--the sun never gets very high in the sky, so anything facing due south is about impossible to get without glare. And, for places like
Canal Park
, it's hard to even get some locations out of the shadows long enough to get a photo that you can decipher. But you can see (below left, and on the project page) a couple of shots of the progress on the park's pavilion where the
Park Tavern restaurant
will be housed, along with plenty of shots vaguely showing the other ongoing ground-level work. Meanwhile, at
Capitol Quarter
(below right), they continue to just zip right along, with framing now well underway on the north side of L and around up 4th, and prep work for foundations continuing in the project's final block, on the south side of L.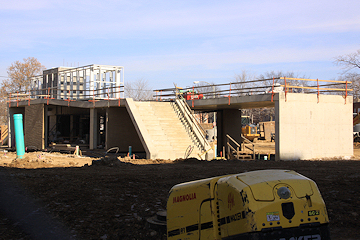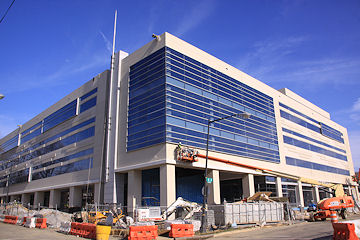 In the Renovation/Rehabilitation portion of the tour, we have a few updated images of the
Boilermaker Shops
(above left), another building that's tough to shoot in winter, even more so when there's not much of it other than steel beams at the moment (though they have recently been painted white). Meanwhile,
225 Virginia/200 I
is coming pretty close to the end of its exterior renovations, though work inside will continue in preparation for the arrival of three DC agencies later this year.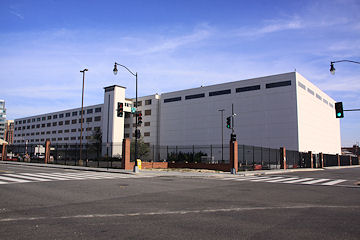 There isn't much new to see of
Lot 38 Espresso
(aka the Little Red Building 2.0, above left), which the grapevine says is now shooting for a mid-December opening. (But, really, at this point, it opens when it opens--the last batch of permits and approvals is always slow going, and I bet the owner wants it open even more than you do.) I also took a bunch of shots of the
former National Geospatial Intelligence Agency building
at 1st and M (above right), not because there's been any changes to it, but because I really enjoyed finally being able to aim a camera at it without having guards reaching for their guns. (Nyaah! Nyaah! Click! Click! Click!)
I came home with 438 new photos (yikes), and you can browse the 180-plus I decided to upload to the
online archive here
. (Yes, it's true, you don't actually get to see every photo I've ever taken. Which is probably for the best.)
Remember to click the
icon to see the entire range of photos for any location, while the project pages linked to above are your best bet if you're looking for paired before-and-afters and/or narrated tours.
And, in case you didn't see
my tweet
or my
late-night update
, the
residential/Teeter project at 4th and M
got all the dotted i's and crossed t's I mentioned in my initial post, and is officially now considered by Forest Ctiy as "commenced." (I just can't call it 1212 4th Street yet. Doesn't really make the location pop as well as "4th and M.")
First Look Inside the Foundry Lofts Building at the Yards
Nov 1, 2011 1:52 PM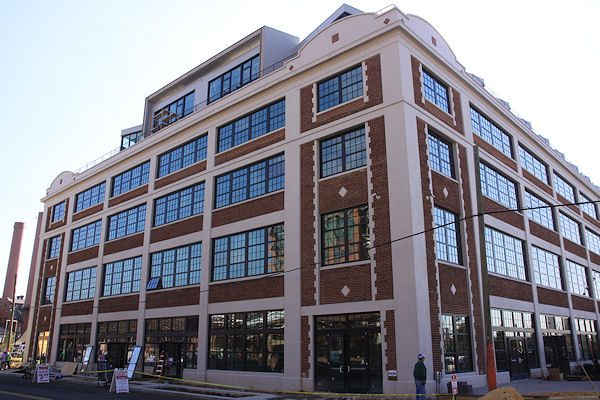 The fine folks at the
Foundry Lofts
leasing office
were kind enough to give me a hard-hat tour of the still-under construction building today, and of course I went with camera in hand. It was hard to pare down my photos to a manageable amount, but I think this
Foundry Lofts Construction Progress Gallery
does a good job of showing the general aura of the building's units and public spaces. (I even got to visit a few of the penthouse units, although there's still much work to be done on them.)
The 170-unit building is now about 43 percent leased, and the first residents are expected to move in at the end of this month. And within the next month or so, Potbelly Sandwich Works and Kruba Thai and Sushi will start work on their ground-floor spaces, with both looking to open during the first quarter of 2012.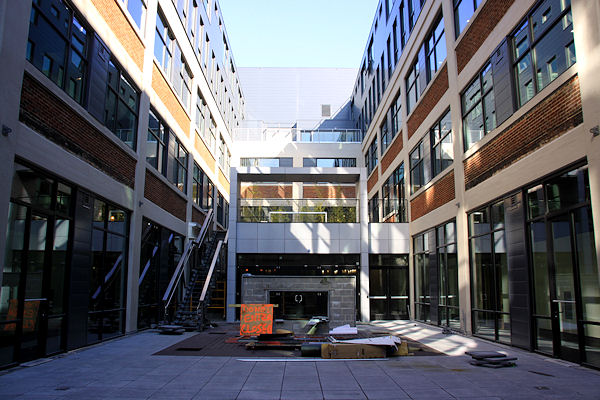 One aspect of the building's design that many people may not be aware of--since it isn't visible from the outside--is the large interior open-air courtyard, which even includes a yoga platform complete with bamboo. (I did confirm, though, that attendance at the daily yoga sessions will not be mandatory for residents.)
And, because I can never resist, I also got a couple photos of the so-close-to-being-finished bridge between the
Yards Park
and
Diamond Teague Park
(which should be opening Any Minute Now), as well as the increasingly naked
Boilermaker Shops
building. Those photos are at the bottom of the
gallery
.
For more about the project, see my
Foundry Lofts project page
, which includes many "before" photos that are worth looking at to be reminded at just what an amazing job has been done in transforming this 1918 building. And for much more detail about floor plans, available units, and other information, visit the
official leasing office web site
. Rents, according to the web site, start at about $2,000 a month for the one-bedroom units, $2.900-ish for two-bedroom units, and $3,200 and up for the two-story penthouses. (The corner ones with the great views run at about $4,500 a month.)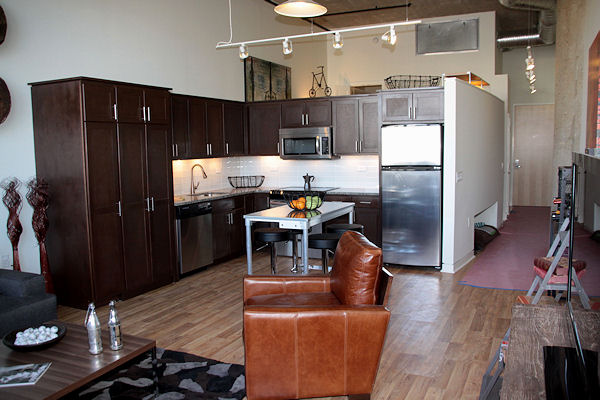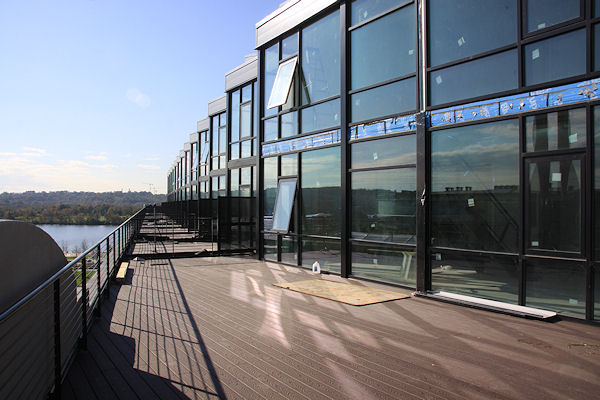 New Photos: Catching Up on a Lot of Change in a Lot of Spots
Sep 12, 2011 2:32 AM
I took a lot of photos on Sunday, so many that I'm not going to waste time trying to come up with some pithy introduction. What you see below are just a taste of all the new images I posted, so be sure to follow the links for more.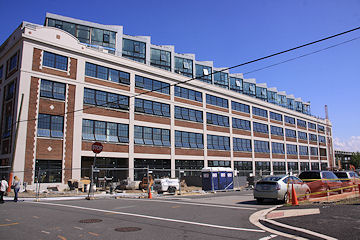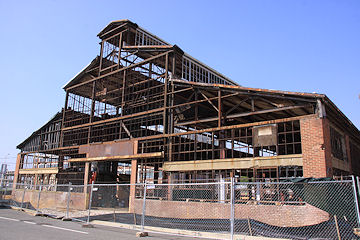 At
the Yards
, the
Foundry Lofts
(left) are looking close to done, and it's striking to compare it to its
Before
shots to see just how well the exterior of the building has been cleaned up. Meanwhile, the
Boilermaker Shops
(right) is now defrocked, with work underway to transform it into the 46,000-square-foot retail space that will open about a year from now.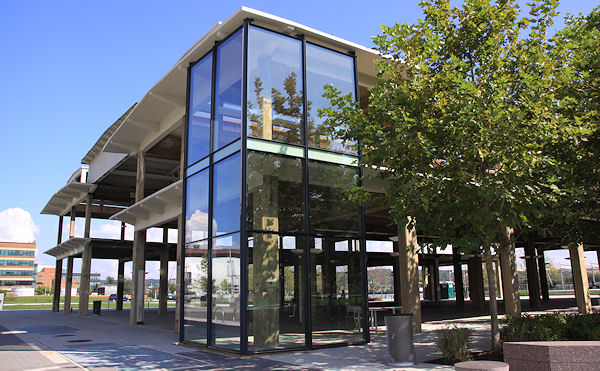 In the
Yards Park
, work will start this fall to make the
Lumber Shed
into another retail space, and earlier this summer
test panels were hung
on one corner of the building (left) to show how currently bare structure will look when it is completely enclosed in glass. And, over on the western edge of the park,
the new bridge
that will connect Yards Park to
Diamond Teague Park
(and
Nationals Park
) is coming along (right), with a number of the signature curved "fence posts" already installed. The bridge is scheduled to open in a few months.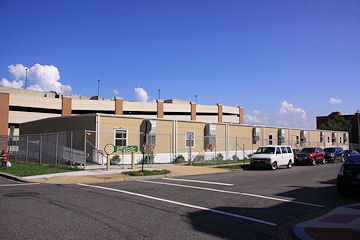 I finally got some not-very-exciting shots of the under-construction pavilion on the south end of
Canal Park
(left), along with updating what photos I could of the perimeter (the fencing around 2nd Place in particular puts a cramp in my methodology). This pavilion is where a restaurant is planned, which could be home to the latest Xavier Cervera offering
if a deal is finally reached
. The park is expected to open next year. Plus, I captured the
temporary home
of the Capitol Hill Day School (right), so that some day many years from now there will be a record of the modular classrooms that stood for nine months or so on the site of the eventual
Capper Community Center
at 5th and K.
And change is happening at a ridiculously rapid pace at
Capitol Quarter
, so much so that a trip through the
Phase 2 Extended Photo Archive
is definitely recommended to see all of the new vistas in comparison to the old
Capper
footprint. Less showy but still moving forward is the transformation of
225 Virginia/200 I
, including the beginnings of the work on the parking deck at 3rd and I.
Want to plow through all 213 new images?
Have at it
.
Bikeshare Birthday Party, Blocktoberfest, and Other Tidbits
Sep 5, 2011 11:33 PM
First, some events coming to the neighborhood later this month (if anyone can think past the return of Stephen Strasburg, weather permitting, ahem):
*
Capital Bikeshare
is
celebrating its first birthday
at the
Yards Park
on Sept. 22 from 6 to 9 pm, with live music, food, games, giveaways, and moonbounces. Note that this is the same evening as
Opera in the Outfield
a few blocks away, so you can double your pleasure and double your fun.
* Two days later, on Sept. 24, the park will host
Blocktoberfest
, "DC's Largest Oktoberfest Music Festival." I believe there is beer involved.
See the web site
for info on tickets, etc.
* In a more professional vein (i.e., probably no live music or moonbounces), the
2nd Annual Anacostia River Business Summit and Expo
is being held at 100 M St. SE on Sept. 20 from 8 am to 12:30 pm. Former mayor Anthony Williams is scheduled to be one of the speakers, and there will be three separate panel discussions. There will also be boat tours given afterwards, though space is limited.
* And I mentioned it in my last tidbits post, but why not pass along again that the next
Truckeroo
is scheduled for Sept. 30.
Other pieces of this-and-that:
* The city's Office of Motion Picture and Television Development named the Yards Park the "
One City Location of the Month for August
," calling it "one of the city's most beloved, yet fairly untapped, attractions." The agency is doing this to promote "cinematically compelling locations that are available to film and television producers."
* Should have mentioned this sooner, but the
Foundry Lofts
folks ran a "
Twitter Tour
" of the building on Aug. 25, then posted
some additional shots
of the interior and the views.
* The Washington Business Journal
reported last week
(subscribers only) that Kaplan has abandoned its search for space to open a law school in the DC area. Late last year it had been reported that they had been
looking for up to 130,000 square feet
of space in Near Southeast. [Full but probably unnecessary disclosure: in my real life I work for the Washington Post newspaper, which is under the same Washington Post Co. umbrella as Kaplan.]
* The Sunday Post Magazine's cover story
focuses on the McDonald's
at 2 I St. SE, its staff, and its manager, Raul Reyes, who in 2009 won a Ray Kroc Award as one of the top 1 percent of managers from the 14,000 McDonald's nationwide.
Pre-Leasing for Foundry Lofts at the Yards Now Underway
Aug 15, 2011 6:45 PM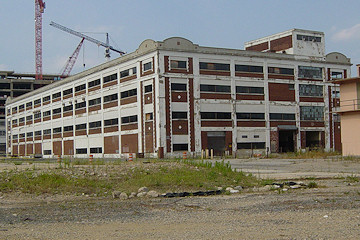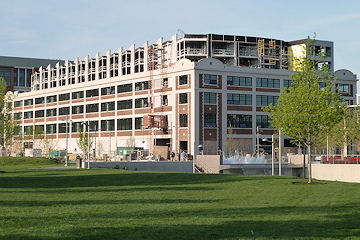 In a big milestone for the continued transformation of the old walled-off Southeast Federal Center into the huge mixed-use development known as
The Yards
, pre-leasing has begun for the
Foundry Lofts
, which developer Forest City has been transforming from its previous incarnation as the historic Pattern Joiner Shop building in Navy Yard shipbuilding days into a 170-unit apartment building. (Pre-leasing was officially supposed to begin today, but with the leasing trailer on site and open to visitors for the past week or so, interest from potential residents overtook the planned launch and leasings actually have already started.)
The units will have 12-14' ceilings, exposed brick, and concrete beams (befitting the term "loft"), along with the hardwood floors, stainless steel appliances, and granite countertops that would be expected in this sort of building. Rents will start at $2,000 a month, going up to $3,100 a month for one of the 33 two-level penthouse apartments in the new floors added to the top of the original building. (There are also a small number of affordable units available as well, though I don't have details on those.) Forest City expects move-ins to begin in October.
And,
as previously announced
, a Potbelly Sandwich Works and Kruba Thai and Sushi will occupy ground-floor retail space early next year. Plus it's pet-friendly, too!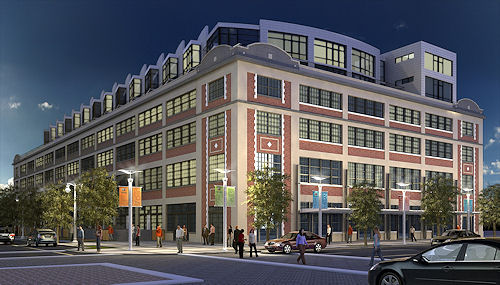 With its location on Tingey Street SE, immediately north of the
Yards Park
(and surrounded by parking lots used by fans heading to
Nationals Park
), the Foundry Lofts building is probably already familiar to many people who've come to Near Southeast over the past few years. It's the first residential component of the huge Yards redevelopment to be coming to completion, and will be the first multiunit residential building to open in the neighborhood since 2009. The renovation of what used to be known as Building 160 began in 2008, but was halted for well over a year at the height of The Economic Difficulties before
work began again
in August of 2010.
There is also plenty of construction activity right around the Foundry Lofts that will bring additional offerings to the Yards over the next two years. Just to the north, work has begun on the renovation of the
Boilermaker Shops
into a retail pavilion (to house a number of restaurants when it opens later in 2012), and soon work should get underway a block to the east on the second Yards residential project, the apartment building at
401 M Street
that will
have a Harris Teeter
in the ground floor. Plus, construction on the Lumber Shed building in the Yards Park to make it a retail pavilion (and home to Forest City's offices,
temporarily
) should begin later this year.
For more information, you can visit the leasing trailer now open from 9 am to 6 pm at 3rd and Tingey, SE, or go to
FoundryLoftsDC.com
, which hopefully will have some more complete information soon. (There's also their
Facebook page
, or
Twitter feed
, if you're feeling particularly social media-y about it all.) I haven't made it to the leasing office yet, having been gloriously unplugged in Wyoming for most of early August, but I hope to get there this week. And my
Foundry Lofts
page gives additional before-and-during photos of the construction and a few additional renderings, including one of the building's interior courtyard.
Zoning Commission Approves Office Space in Yards Lumber Shed
Jul 7, 2011 7:33 PM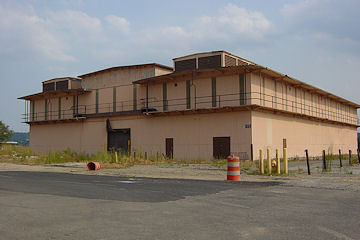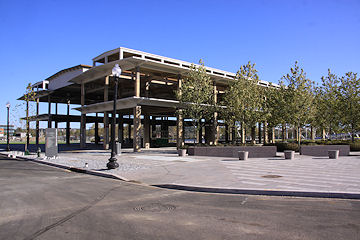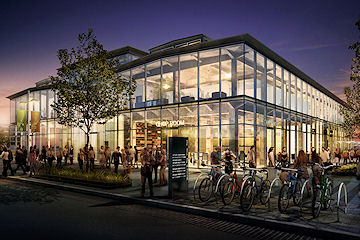 In a wonderfully short hearing on Thursday night, the Zoning Commission voted 5-0 to approve Forest City Washington's
request
for an amendment to the current
Southeast Federal Center Zoning Overlay
to allow the company to temporarily move its offices to the second floor of the historic Lumber Shed building at the
Yards Park
.
The company made the request because, while there has been "great interest" from potential retail tenants for the first floor of the building, the second floor has not as yet been as enticing, and filling the ground-floor spaces alone is not enough to get construction financing secured. Because Forest City is "anxious" to get the building started, their move to occupy the second floor can settle the financing issues and finalize deals with interested tenants, which means that construction on the 34,000-square-foot building could begin this year and be open by early 2013.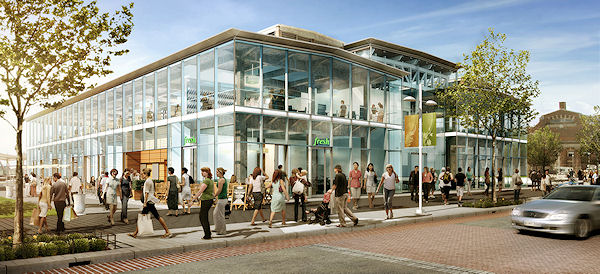 There had been some concerns at the setdown hearing
back in April
about the "temporary" request being for a period of 20 years, but Forest City's representatives emphasized (as they also
did to the ANC
in April) that their intent is to be in the Lumber Shed only until there is office space elsewhere in the Yards to which they can move. Alex Nyhan of Forest City explained that getting retail uses into the second floor is currently "challenging" because the building is "by itself" at the Yards (without much built out around it), which is exacerbated by the fact that it's a somewhat seasonal destination. But Forest City feels that once the other projects in the first phases of the Yards are built out, there will be a demand for the second floor, plus "the onus is on us" to make the Yards into a location where second-floor retail not only at the Lumber Shed but
in
other
Yards buildings is attractive to tenants.
The discussion seemed to satisfy the zoning commissioners, and with the
Office of Planning in support
of the change and no voices in opposition, the unanimous vote came quickly.
Nyhan also gave the commission a quick update on the status of the other first-phase Yards projects, to help illustrate that "after many years of planning" things are starting to move: