Near Southeast DC: Past News Items
ANC News
Go to Full Blog Archive
---
8th Street Lot to Open to the Public
Oct 28, 2008 5:36 PM
ANC 6D Report (909 NJ and Cap Quarter Permits)
Oct 21, 2008 3:11 PM
Here's a brief wrap-up of Near Southeast-related items from last night's ANC 6D meeting (though the folks following
my Twitter feed
got some pithy tidbits in real time):
* JPI was there requesting support for a public space permit to put up a sign at
909 New Jersey
. If you've been thinking that this apartment building looks pretty far along, you're correct: the JPI rep said that they're looking to deliver the first units in February. The building has 6,000 square feet of ground-floor retail space, of which 4,000 is expected to be leased to restaurants. The discussion about the sign permit devolved into concerns about the main staircase on New Jersey Avenue splitting up the public space, which DDOT's public space committee has already approved but which ANC members weren't sure they'd ever seen. The vote on the sign permit request was 4-0-2 in favor of asking DDOT to postpone the decision on the sign as a protest against the sign and NJ Ave public space permits not having been done together.
* EYA and the DC Housing Authority presented their request for ANC support for some new brick "screens" on certain public housing units at
Capitol Quarter
that won't have alley access and so will need to have their trash and recycling cans placed by the buildings' fronts. There are nine corner buildings in Capitol Quarter with 27 public housing units that will need these screens, though there are also corner buildings at CQ that are not public housing, and there are additional public housing units that are not in these corner buildings. But the ANC felt that these trash screens would make the affected units easily identified as public housing, which would negate what commissioners described as the "concept of Hope VI" where you're not supposed to be able to "tell the difference" in market-rate and public-housing units from the outside. There were also concerns about units with windows above the trash enclosures (i.e., the smell and also having to look out at the trash bins). The rep from DCHA asked the ANC to table the request for support rather than oppose it (so that EYA and DCHA could come back with some revised designs), but the ANC voted 5-0 to oppose the request anyway.
Both these public space permits are on Thursday's agenda of the city's Public Space Committee.
There was also to be a discussion of the stadium
Traffic Operations and Parking Plan
, but it got moved to late in the agenda, and it sounded like it was going to be just in terms of the impact on Southwest, so I will admit that I didn't stick around.
Roundup: ANC 6D Agenda, 11th Street Bridges Short List, Metro Ballpark Crowds
Oct 15, 2008 2:20 PM
* The ANC 6D agenda for its meeting on
Monday Oct. 20
has been sent around (though not yet
posted online
). There will be a discussion of the
Ballpark Traffic Operations and Parking Plan
as it relates to Southwest, plus public space requests for building signage at
909 New Jersey
and "Brick Walls for Trash Enclosures" at
Capitol Quarter
. (These are also on the
Oct. 23 agenda
of the city's Public Space Commitee.)
*
The short list
for a design/build team to reconstruct the
11th Street Bridges
is out--Shirley Design-Build LLC, Skansa/Facchina, Archer Western Contractors LLC, Perini/Parsons Joint Venture, and KCA Constructors Joint Venture. According to the
procurement schedule
, a draft RFP should already be out (haven't found it online), and final RFP should be issued by the end of the year, with a contract signed with the vendor by June 1, 2009.
*
Metro announced yesterday
that 53 percent of baseball game attendees this year arrived at
Nationals Park
via Metrorail. That's 1.8 million bodies, averaging 23,000 people entering and exiting the Navy Yard station at the 80 home games in 2008. (It apparently doesn't count people who took the bus or walked down from Capitol South.) In the last two years at RFK, only 38 percent of attendees took the subway.
Marc Fisher has some thoughts
on it all (including some questions on Metro's math).
801 Virginia's Switch from Condo to Office
Oct 8, 2008 6:30 PM
At Monday night's
ANC 6B
Planning and Zoning Committee meeting, there was a presentation about the new plans for the
southeast corner of Eighth Street and Virginia Avenue
, where a few years ago a small group of investors planned a four-story condo building dubbed "The Admiral." As
I mentioned a few days back
, the owners are now wanting to switch to an office building that would still have ground floor retail, and are going in front of the Board of Zoning Adjustment
on Nov. 25
for some items that need to be addressed as part of this change.
According to the presentation, the new office building would use the same design as the condo building, with a few tweaks (they appear to be wanting to get rid of the turret in
the original design
). But because of the switch to office space, the number of parking spaces required goes up to 30, far more than the 13 in the condo design. According to the architects, groundwater and possible soil contamination issues (since a gas station used to be located there) would make digging two extra levels of parking prohibitively expensive, and so they are seeking relief from the 30-space requirement. (And, for those wondering, the garage entrance would be on L Street, not Eighth or Virginia).
Commissioner David Garrison asked about the ownership of the lot (which has been on the market for nearly a year) and about the property's tax status, given that it was
listed on the city's tax sale rolls
last month. He was told that the lot has not been sold but that investment partnerships are being shuffled and sold, which should be completed soon, and that the delinquent taxes are to have been taken care of; Garrison asked for some sort of documentation on both before the ANC votes (presumably on Oct. 14) on whether or not to support the zoning exception requests.
801 Virginia Office Bldg Plans Coming to ANC 6B
Oct 3, 2008 4:33 PM
I
wrote a few days back
about the appearance of a zoning variance request for a new office building at
801 Virginia Avenue
, site of the once-planned Admiral condo project that fell by the wayside last year. The Board of Zoning Adjustment will be taking it up
on Nov. 25
, and I now see this request on the
ANC 6B
docket, first at its Planning and Zoning Committee meeting on Oct. 7, and then in front of the
full ANC on Oct. 14
. Both meetings are at 7 pm at the Old Naval Hospital, 921 Pennsylvania Ave., SE. (As always, all these dates are on my nifty
Near Southeast Events Calendar
, brought to you by Google Calendar with all sorts of bells and whistles to either subscribe to an
RSS feed
of calendar updates or
add the events to your own Google Calendar
or other
iCal
-enabled offering.)
ANC 6D Meeting Tonight; Monument Half Street Withdraws Public Space Approval Request
Sep 15, 2008 11:55 AM
* Tonight is
ANC 6D
's monthly meeting. Alas,
no agenda
has been released yet, so I can't tell you what might be happening. (And I can't go, so I won't be able to tell you what happened.)
* We'll have to wait a little longer to find out what exactly was meant by that "146 fountains" part of the public space improvement application by Monument for 1200 Half Street (aka
55 M
) that I posted
a few weeks back
--they've asked for a postponement and are no longer on the Sept. 25 Public Space Committee agenda. The draft agenda had said: "Application by M.R./BR Residential #1A, LLC for installing various fixtures in public space ( 23-benches, 9 trash containers, 32 lights, 146 fountains, 8 bollards, 18 bike rack all located around Half Street in public space."
ANC 6D Meeting Monday Night
Jul 13, 2008 1:50 PM
I'm back from a week in Wyoming, Montana, and South Dakota, where I took
all sorts of photos
despite the fact that there were almost no buildings under construction. And what better way to get back in the blogging saddle than to post notice of Monday's
ANC 6D
meeting.
The agenda
has one Near Southeast item, which is a public space permit for
100 M Street
(for trees, a driveway, and sidewalk paving). The rest of the agenda includes a presentation by the Office of Planning on a zoning study of Southwest, a resolution on the proposed moratorium on "singles" (alcohol, not unmarrieds), and admin minutiae in conjunction with some events planned in Southwest. The meeting starts at 7 pm, at St. Augustine's church at 6th and M Streets, SW. I'll be the one in the audience griping about not still being out west.
ANC 6D Monthly Meeting Agenda; Parking Tweaks
Jun 6, 2008 11:41 AM
It's that time of the month again (wait, that didn't come out right). Monday night is ANC 6D's monthly meeting, and
the agenda has now been posted
. (Yay!) No specific Near Southeast items are included, but there will be a discussion of changes that are coming to the
Performance Parking Plan
, some of which were telegraphed at the
community meeting last month
and
described in the latest Hill Rag
.
These parking plan changes include an earlier end on weeknights and making Sundays free for the metered parking on the commercial strips north of the freeway. There have also been changes made already to the multiple-guest pass system (for all those dinner parties and book clubs that everyone on the Hill is apparently having every night)--residents don't need to gather visitors' car and license info anymore, they can just go to the 1D or 1D1 police stations and pick-up one-day passes that can be filled out at home.
I won't be able to be at the ANC meeting, but I'm sure it will as always be a scintillating and uplifting discussion of the issues.
Yards Park Phase I Gets Zoning Approval
May 31, 2008 7:19 AM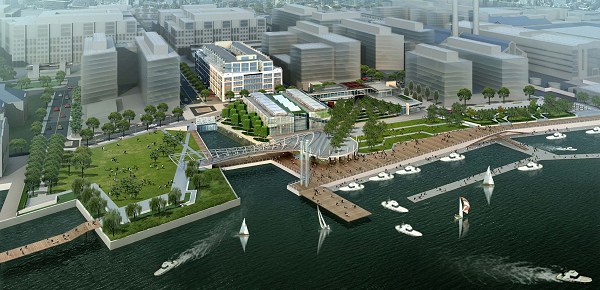 In what chair Anthony Hood remarked might have been the Zoning Commission's first-ever landscape architecture-only case, the Zoning Commission on Thursday night approved the design for the first phase of the
waterfront park at The Yards
, the nearly 6-acre green space along the Anacostia River on the site of the once walled-off Southeast Federal Center.
My project page
has a number of the renderings that were displayed during the presentation, and additional descriptions of what's planned for the site can be found in
these
two
blog entries.
Representatives of Forest City said that they are committed to opening the
first phase of the park in the summer of 2009
. The second phase, which will include the renovation of the Lumber Storage Shed and the construction of other retail pavilions and buildings, is expected to come before the Zoning Commission this fall. Phase 3 will be the piers and marinas. Somewhat surprising was the news that the floating boardwalk connecting the Great Lawn on the western side of the park to
Diamond Teague Park
and the
ballpark
is now going to be built by the city as part of the construction of Teague rather than by Forest City as part of this park.
Much of the discussion by the zoning commissioners (that I saw--I watched from home in my fuzzy slippers and the webcast went wonky a few times in the middle) centered around the pedestrian bridge that runs across the bulkhead and the new freshwater canal. Its very "forward" design---described by Commissioner Etherly as an "aggressive architectural play" and by vice chair Jeffries as a "Slinky," a moniker that I'm sure the developers would probably prefer to not catch on--was not met with universal acclaim. The commissioners did seem recognize its intended role as a piece of art and one of the iconic elements of the park. Jeffries emphasized--and others agreed--that because the designs for the buildings and for the "art tower" are coming at a later date, the bridge is setting the stage for the rest of the architecture at the park, and that the future designs must play off what the bridge has started.
Peter May did not like the bridge (though I missed a lot of his comments because of the webcast problems). He expressed a worry that the bridge, along with the not-yet-designed art tower and whatever's planned for Poplar Point, could create a series of "Look at Me" moments along the Anacostia, all trying to compete for attention. "The 'Look at Me' moment for a waterfront park should be the river itself," he said.
There were also discussions of the lighting plans, and concerns as to whether or not the bridge has a railing (it does). Jeffries asked a lot about the vegetation planned for the different sections of the park, and expressed a wish for some landscaping that is a bit more "wild" in nature, to which Forest City seemed receptive.
There were letters of support from ANC 6D, which voted 7-0 on May 12 to approve the plans, as well as from the Deputy Mayor for Planning and Economic Development and the National Capital Planning Commission, which
approved the park's design back in February
. So, in the end, the commission decided to go ahead and vote for approval of the plans immediately, although the issuance of the final order is subject to the commission receiving some new renderings showing more clearly the railing on the bridge. The vote was 4-0-1, with commissioner Turnbull not present.
Monday ANC Meeting Agenda Items
May 11, 2008 3:37 PM
The agenda for Monday's ANC 6D meeting has been sent around (although not posted on their
web site
, sigh), and it has a couple of Near Southeast items. There will be a presentation on the plans for the
Waterfront Park
at The Yards, in advance of a
May 29
Southeast Federal Center Overlay District
Review covering new structures that will be built to house retail pavilions at the park. There's also apparently a public space permit application from the Onyx folks at 1100 First Street for a fence along L Street, plus garden masonry piers and light fixtures. And the developers of the
250 M Street
office building are back again, after having
not gotten very far at last month's meeting
with their request for support for a second-stage PUD modification at a
May 28 zoning hearing
to increase the building's height (but not its square footage) from what was originally approved, since the commissioners wanted a new round of community benefits in return for their support, which W.C. Smith balked at given that the project isn't requesting to take any new amount of public space. We'll see if there were any negotiations since then. The meeting will be at 7 pm at St. Augustine's church at 6th and M streets, SW.
Thursday Meeting Preview (WMATA, Yards, Five Guys)
Apr 23, 2008 10:36 AM
A somewhat busy Thursday (April 24) is on the boards:
* We might be getting some news on the state of Monument Realty's lawsuit against WMATA over the sale of the
Southeastern Bus Garage
to Akridge--the WMATA
Board of Directors is meeting
at 11 am, and the
agenda for their executive session
includes "Legal Issues - Monument vs. WMATA." I know nothing beyond that.
* Forest City's plans for the office/residential/retail project at
401 M Street
will be getting a
Southeast Federal Center Overlay District
Review in front of the
Zoning Commission
at 6:30 pm at Suite 220 South, 441 4th St., NW; you can also catch it via
live webcast
, if it's working. Read more about this from my
ANC 6D wrapup last week
and
an earlier entry on the project
.
* And, if you want to make your voice heard about the public space application by Five Guys for a sidewalk seating area, the
Public Space Committee
will be bringing it up at its monthly meeting, at 941 North Capitol Street, NE, 7th Floor, starting at 10 am. This is the application that ANC6D
refused to support last week
because of the lack of a community benefits package for the "loss of public space."
Pope Day Arrives in the Hood; This Week's Column
Apr 17, 2008 8:56 AM
So, the faithful are streaming toward the
ballpark
as we speak. Although the
55 M cam
showed the upper decks pretty empty with about 90 minutes to go, Channel 9 (already
on the air
with its coverage of the mass) gives a better view of the tens of thousands already inside. (48,000 people are expected.) How's everyone faring, either trying to get out of the neighborhood or into it for work? Or is everyone just staying home? And, for those reading this later today who went to the mass, how did your trip go?
In other news, my
Ballpark and Beyond column this week
is yet another one about stadium parking, taken mainly from my Monday night post about
ANC 6D's muted reaction
to parking and traffic issues (along with the Zoning Commission's approval of having additional lots built in Southwest if landowners want them). I also tossed in a quick roundup of the private cash lots springing up.
Zoning Approval for Possible Additional Surface Lots; ANC 6D Says Little About Ballpark's Debut; Community Meeting about On-Street Parking
Apr 14, 2008 11:12 PM
On Monday night, without much discussion, the Zoning Commission gave approval to the request to
add additional blocks
in Buzzards Point to the
zoning amendment allowing temporary surface parking lots
near the
baseball stadium
. The commissioners who spoke mentioned the need to give the Nationals the flexibility the team was seeking to be able to build new surface lots as development possibly takes away the lots currently in use. The vote was unanimous, although Commissioner Turnbull stated for the record his concern that lots north of Potomac Avenue, closer to the residential portion of Southwest, could introduce significant traffic. As of now, the Nationals have announced no plans to use any lots at Buzzards Point this season.
At about the same time the Zoning Commission was voting,
ANC 6D
was discussing how the first few games at the ballpark went, in terms of traffic and parking impacts on Southwest and Near Southeast. And, for a group of people who, shall we say, have not been shy over the past few years about voicing fears as to how the new stadium would impact their neighborhood, the reaction was surprisingly muted. Visitor parking passes did not seem to get to all residences, additional signage needs to be installed, issues with left turns and parking enforcement on G Street, SW will need to be addressed, and there were questions about whether the parking restrictions on M Street could be eased, but overall the commissioners seemed to feel that there had been no major issues. Commissioner Robert Siegel, who represents all of the ANC east of South Capitol, proclaimed himself "very pleased." (Though Commissioner David Sobelsohn did remark that things "will go smoothly as long as the Nationals keep losing.")
The meeting itself was pretty sparsely attended, with few of the residents who have been vocal about potential problems at previous meetings on hand. Only a couple people in the audience spoke up about any issues they'd had or seen, and did so without much emotion. The discussion was over in probably about 15 minutes. If you've ever attended an ANC 6D meeting, you know how astonishing this is.
Tommy Wells will be having a
community meeting to look at how the new on-street parking regulations are working
, both for residential streets and the retail stretches along Pennsylvania Avenue and Barracks Row, on
May 7 at 7 pm
, at the Capitol Hill United Methodist Church (Fifth Street and Seward Square, SE).
There's other items to report from tonight's meeting, but I'll write about those in an entry to come.
Monday Meetings; Parking Signs; Birds-Eye View
Mar 9, 2008 3:18 PM
* I mentioned this
a few days back
, but why not pass along another reminder that Monday at 7 pm is the
ANC 6D monthly meeting
, with presentations and votes on
401 M Street
, the
ballpark traffic management plan
, and the
South Capitol Street
Draft EIS
, plus a briefing by the Nats on the Opening Day "Fan Fest" activities. To get in on the fun, go to St. Augustine's Episcopal Church at 6th and M St., SW, starting at 7 pm.
* If the ANC isn't your bag, you can watch the Zoning Commission
take up again
the
Capitol Gateway Overlay Review
for Donohoe's planned office building at
1111 New Jersey
. It's a continuation of the
last hearing
, which revolved mostly around whether the garage access would be from New Jersey or from the alley. The hearing
starts at 6:00 pm
, and 1111 is also on the public meeting agenda at 6:30 pm, which perhaps is a display of optimism that Donohoe and DDOT will have the garage issue straightened out and the review ruling can be made.
Watch the webcast
, if you're so inclined. (I'm going to be missing both of these meetings, so it might be a few days before I can get the scoop on them.)
* The new
Enhanced Residential Parking Permit
signs, which allow non-Zone 6 parking only on one side of the street in certain areas near the
ballpark
, continue to get installed. They came to my street north of the freeway within the past day or so.
* I thought I did good with last week's find of a
November 2006 satellite photo
of the neighborhood, but reader JK has upped the ante with the "Bird's-Eye View" option
at Microsoft Live Search
, showing not-real-high-up images from March 2007. But be careful when you're scrolling around--if you go to fast, the images flip back to shots from early 2003. (Which is festive in its own fun-house kind of way.)
Hearings on First New Buildings at the Yards; Ballpark and South Capitol EIS Also on ANC 6D Agenda
Mar 7, 2008 8:49 AM
Beginning the trek through the approvals process are
the first new-construction buildings
planned for
The Yards
--a 320,000-square-foot office building at
401 M Street
and a 170ish-unit apartment building to its south at
400 Tingey Street
. They would both have ground-floor retail, but it's what's planned for 401 M that will probably have everyone's attention, because
a grocery store
is proposed for that space, just inside the historic wall and sentry tower on the southeast corner of Fourth and M. (No, which grocery store it could be hasn't been announced yet.) Recent documents have said that 401 M could begin construction in late 2008, with delivery in 2010; the residential building's start depends on "market conditions." (Uh-oh.) A few more early renderings are on my
401 M/400 Tingey page
. (See my
Yards First Phase
page for information on the
retail
and
residential
projects that are getting underway this year.)
There's a Zoning Commission
Southeast Federal Center Overlay Review
of the plans
scheduled for April 17
, and ANC 6D will be voting on whether to support the project at its
March 10 meeting
.
Also at Monday's
ANC 6D meeting
will be presentations and votes on plans for the Opening Day Fan Fest at the
ballpark
, the ballpark
Transportation and Residential Curbside Management Plan
(formerly known as the TOPP), and the
South Capitol Street
Draft Environmental Impact Statement
. I attended Wednesday night's public meeting on the Draft EIS, and while the slides from the meeting haven't yet been posted on its web site, the DEIS's
executive summary
is a good substitute for the information that was available at the meeting--you can read
my summary of the plans as well
. There wasn't much public comment (maybe seven or eight speakers), and the concerns seemed to be more about making sure DDOT does a good job of handling the inconveniences and resident issues as a result of the planned changes, rather than any real opposition to the plans themselves. The
public comment
period ends March 31, and the Final EIS is expected to come out late this year.
Alas, I won't be able to attend this ANC meeting that's so chock full of Near Southeast goodness. But I'm guessing that spending that evening watching the Roger Federer-Pete Sampras exhibition at Madison Square Garden might be a bit more enjoyable.
Performance Parking Bill Passes; Additional Zoning Hearing on Southwest Lots on March 24; Public Meeting on Traffic and Parking March 12
Mar 5, 2008 2:50 PM
(I'm having so much fun with posts on
home plate's arrival at the ballpark
,
ballpark food
, and
raze permits
that I hate to kill the buzz with a post on parking, but alas it must be done.)
Yesterday the city council
passed an emergency version of Tommy Wells's Performance Parking pilot plan
, which will be used to regulate curbside parking on streets near the ballpark (as well as in Columbia Heights, along with a new taxicab zone pilot in Adams Morgan and a Visitor Pass pilot in Mount Pleasant). I've got the
text of the bill as passed
, and there's much more detail than was in the draft version of the bill (though not the detail that everyone really wants, namely the rates and fines), so definitely look at it if you're looking for additional information. A few items that jump out at me (though I'm hoping that Tommy's office sends out a release soon with more info):
* The pilot is only for two years.
* The mayor gets to set the rules, fees, and fines for the zones, but the council gets to set the zones themselves.
* Parking fees cannot be increased by more than 50 cents in any one-month period (or more than once per month).
* Councilmembers and ANCs must be notified of any fee changes at least 10 days in advance.
* "The Mayor shall publish a web site that includes the following: pilot zone boundaries, rules/regulations, information about how to use new parking fee technologies, and a parking pilot project manger's name and contact information." (Until then, you can
look at my page
on the curbside parking regulations around the ballpark.)
* DDOT has to submit a plan to the council and the ANCs with zone-specific parking management targets and with details on parking charges.
* DDOT has to conduct quarterly public meetings to provide updates on the parking management targets and to receive public comments on the program.
* The mayor has to submit an annual report on the parking pilots with all sorts of statistics.
Speaking of parking, the March Hill Rag
has a roundup
on the parking plans for the area (similar to
my page
). And I've been very remiss in not reporting that
Feb. 21 Zoning Commission hearing
on allowing additional temporary surfacing parking lots in Southwest was continued to March 24 after representatives of DDOT were not in attendance to discuss traffic management plans for the new lots. The Hill Rag has a
summary of the Feb. 11 ANC meeting
where there was much unhappiness about these potential new lots.
UPDATE:
Bad link to bill text fixed.
UPDATE II:
DDOT is now announcing
a public meeting
on March 12 from 6 to 8:30 pm at 20 M St., SE,
for "residents and business owners and operators to review and comment on the most recent version of the
Transportation and Residential Curbside Management Plan
(often referred to as the Transportation Operations and Parking Plan (TOPP)). DDOT will also offer their appreciation to the area residents and business owners for their support and patience during the recent street upgrades in the South Capitol corridor. The meeting is an open workshop that will highlight the numerous parts of the overall transportation and parking operations that will be in effect during events at the new stadium. The TOPP was originally drafted to address concerns by residents on the expected increase in vehicular movement during stadium events in the southeast and southwest neighborhoods surrounding the ballpark. Representatives from the DC Sports and Entertainment Commission (DCSEC) and the Nationals will also be available to address concerns and answer questions." (This is the meeting that was described in testimony at the city council last week as being "at the ballpark." I guess they used "at the ballpark" in the same literary way one could say that the Navy Yard Metro station is "at the ballpark." Ah well.)
Zoning Amendment for Parking Lots in SW; Residents Not Happy
Feb 13, 2008 2:35 PM
At Monday's
ANC 6D
meeting (which I missed because I had three meetings on my calendar for that night and the ANC never released an agenda for me to know whether I should go or not), there was apparently a big discussion of Zoning Case
07-08A
, scheduled to be heard on Feb. 21, which seeks to allow temporary surface parking lots for no more than five years on a series of blocks in Southwest, mainly in Buzzards Point (squares 603, 605, 658, 661, 662, 662E, 664, 664E, and Square 658, Lot 7 for those of you with tax parcel maps handy, or
look on the last page of this
). A temporary emergency version of this text amendment passed with no discussion
back in October
; the Feb. 21 hearing is to make the amendment good for five years.
When the original case (
07-08
) establishing the ability to build temporary lots on a number of blocks in Near Southeast was passed, parking lots did not automatically appear on every block covered in the amendment. However, ANC 6D and residents of Southwest are apparently viewing this new amendment as the city going back on a promise to not build any parking lots in Southwest. Here is
the ANC 6D resolution
.
I've been at meetings over the past few months where city and team officials have said that there would be no ballpark parking offered in Buzzards Point
this season
because of the lack of sidewalks, streetlamps, and other improvements; the
Office of Planning report
for Case 07-08A says: "The Nationals have advised OP that, to date, no agreements with owners of individual lots have been reached so it is not likely that any of the temporary parking will be located on these sites prior to opening day in 2008[.]" I'm checking with the Nationals to see if this has changed. But certainly Buzzards Point would be still be viewed as a prime location for additional surface parking, if it's needed.
1111 New Jersey - Where to Put the Garage
Feb 1, 2008 10:39 AM
Last night the Zoning Commission heard the
Capitol Gateway Overlay Review
case for
1111 New Jersey
, Donohoe's now 220,000-square-foot office building on the northwest corner of New Jersey and M. The
Office of Planning report
laid out how the project properly adheres to the requirements of the CG Overlay, and there was actually very little discussion by the commissioners of the building's design or landscape (save for a few questions about the width of the sidewalk on M Street, which is wider than what the CG Overlay calls for, because of various hardware for the Navy Yard Metro station below).
What took up the bulk of the discussion was whether the building's parking garage should be accessed via New Jersey Avenue or via the block's alley that runs north-south between L and M (which is shared with
100 M
,
Onyx
, and whatever gets built on the St. Matthew's site). The original design had the garage driveway on New Jersey, but DDOT is asking that it be moved to the alley because of both a desire to not have curb cuts on a major state street like New Jersey and because the alley is an existing curb cut where pedestrians expect vehicular flow. But the commissioners were uniformly unhappy with the alley solution, given the narrowness of the alley (14 feet), the heavy amount of traffic there will be, and the very awkward garage entrance/exit that Donohoe has had to come up with in order to make the alley entry work. Donohoe didn't appear to be especially happy with the alley solution, either, but DDOT was pretty firm in their desire to have it there.
The record was left open, and DDOT and Donohoe said they would continue to work on the garage issue. A ruling on the overlay review could come at the March 11 Zoning Commission meeting.
Chairman Anthony Hood also briefly touched on
ANC 6D's opposition
to the project because of a lack of a community benefits package--Hood said that this project is not a PUD, and any desires to have amenities packages be part of CG Overlay reviews should have been dealt with when the Overlay was created, so the ANC's opposition was viewed as not germaine.
Monday's Public Meetings (Parking, Half Street)
Jan 29, 2008 1:47 PM
Last night
ANC 6D
held a special public meeting to decide whether or not to support Tommy Wells'
Performance Parking bill
when it has its
council hearing on Wednesday
. I was unable to attend, but reports from my vast network of moles indicate that the ANC will be supporting the bill, albeit it while "expressing strong concern" over some still-outstanding issues. (We'll find out what those are during Andy Litsky's testimony at the hearing.) The ANC vote was 4-2.
At almost the same time, the Zoning Commission held a brief special public meeting to take up the
series of minor modifications
that Monument Realty requested to its design for the east side of Half Street (yes, the area that's
already under construction
). I talked about these in slightly more detail
a few weeks ago
when this first came to the Zoning Commission; the ZC declined to approve these as part of its consent agenda at that meeting because the commissioners wanted a little bit more clarification, which they got in the filings for this second hearing. The only question that came from the dais was why Metro nixed the wire mesh panels with LED lights that Monument had originally envisioned as the walls around the Navy Yard station entrance at Half and M--the reply was that, in addition to weatherproofing concerns, Metro wanted its security people to be able to see into the station by shining a light from a car on the street, instead of having to go into the station. The wire mesh is now being replaced with a glass "frit" (yes,
I had to look it up
, too) that will be backlit with the lighting scheme Monument wants. With that, the commission approved the request 5-0; all the minor modifications are explained in the
Office of Planning report
.
Ballpark and Beyond This Week - ANC Wrapup
Jan 24, 2008 10:52 AM
This week's
Ballpark and Beyond column
is a shortened summary of last week's ANC 6D meeting; but here's the links to my more detailed reports on the what transpired at that meeting with
1111 New Jersey
, an
alley closing request
by Monument Realty, and
Florida Rock
.
And, since it's been a busy week, you might have missed my
2008 State of the Hood
, which rises above all the daily minutaie to look at what's happened in Near Southeast in the last 12 months and what's coming in 2008; if you're coming late to the party and are looking for an overview, take a few moments to browse it.