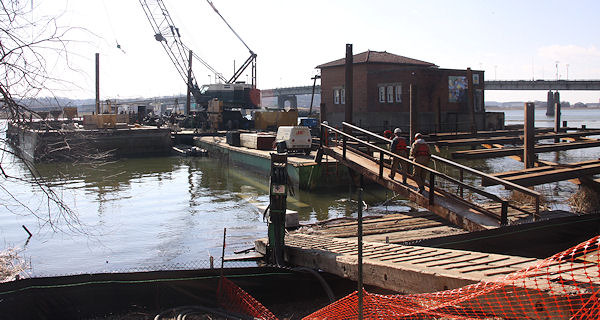 "Mayor Adrian M. Fenty on Friday joined community leaders in a groundbreaking ceremony for Diamond Teague Park, an $8 million waterfront park that will link Nationals Park to the Anacostia River.
"'Diamond Teague committed his life to restoring, protecting and preserving the Anacostia River,' Mayor Fenty said. 'This park will be a fitting tribute to his legacy and it will mark our commitment as a city to carry on his work.'
"[...]It will connect the ballpark to a pair of public piers and a 20-mile network of waterfront trails. A 250-foot pier will be built to host commercial vessels such as water taxis and charter boats. The pier will also include slips for the ECC and the District's fire and life safety vessels.
"The park will feature a separate 200-foot environmental pier for educational groups, kayaks and canoes. The piers are expected to be complete by baseball's Opening Day, April 13, 2009.
"Construction and planting work on the upland portion of the park will be completed by July. Muralist Byron Peck and City Arts are also working to complete a memorial dedicated to Diamond Teague that will be unveiled later this summer.
So far I haven't heard of any events in Near Southeast for Monday's Day of Service that is part of the inauguration schedule, but I have received word that the
Earth Conservation Corps
(who occupy the pumphouse where
Diamond Teague Park
is soon to be) is participating in "
Renewing the Anacostia Together
," which is "a tree-planting and community service project in celebration of the Presidential Inauguration Day of Service." This event at Anacostia Park has been put together by Maryland Rep. Steny Hoyer, along with other members of the Maryland congressional delegation and DC Delegate Eleanor Holmes Norton. Alas, I see from the
info page
that it's already reached the maximum number of RSVPs (350!).
A few items to catch up with from my lazy past few weeks:
*
The Examiner looks (again)
at the city still paying $500,000 a month in rent for
225 Virginia Avenue
(aka the old Post Plant) even though there are no plans to use it, which apparently
continues to drive
Phil Mendelson nuts. The city
requested expressions of interest
from developers to take over the lease in the fall, but has yet to announce any deal. The Examiner piece frames the continued payments for an empty building against the District's budget shortfalls: "The last thing Fenty should do, Mendelson said, is 'dump the building below cost' just to escape the lease. 'It makes sense to me to use it,' he said." If you want the entire sordid past of the city's relationship with this building, browse through my
225 Virginia news items
.
* Also from the Examiner, a story last week on how the
murder of Diamond Teague remains unsolved
: "Diamond Teague was 19 years old and going from the rough streets of D.C. on to college when he was gunned down on his Southeast Washington front stoop, and police are still looking for his killer. Teague had earned a scholarship to the University of the District of Columbia by helping with projects for the Earth Conservation Corps, a nonprofit organization for disadvantaged youth. Teague was the drummer at Galilee Baptist Church and an avid basketball player, and friends and family said he had managed to avoid the street life and violence that had marred his neighborhood." The
park named in his honor
is expected to open this spring.
Today's Post has a profile
of the Earth Conservation Corps, noting how the environmental awareness group "aims to have events in the children's play zone at Nationals Park as soon as this week. The ballpark plans include having young corps members interacting with an owl and a hawk, and having members facilitate educational games and activities. The group will also encourage fans to walk to its facility in the Old Capitol Pumphouse, steps from the ballpark, at Diamond Teague Park, after games." The ECC is also
the recipient of a three-year grant
totaling $120,000 from the
Nationals Dream Foundation
. The article says that the city is still planning to build the new docks at the pumphouse this summer or fall, to enable water taxi service to begin there by the opening of the 2009 baseball season. You can see my
ECC/Diamond Teague Park page
for photos and renderings of the plans for the park.
During my poking around on the
DC Office of Cable Television
web site recently, I discovered that many of the groundbreakings and other events in Near Southeast this year that have been broadcast on the city's cable channel 16 are also available
On Demand
; the same goes for council hearings, available on
Channel 13's On Demand page
. (I kinda sorta knew that the On Demand stuff was there, but when I checked it many moons ago, it didn't seem quite so complete, so I hadn't looked back in on it for a while.)
So if you've missed any of the following four-star telecasts from 2007, you can watch them at your leisure:
This morning the DC Council Committee on Economic Development is having a public oversight hearing on "Projects Managed by the Office of the Deputy Mayor for Planning and Economic Development" (it's being broadcast live on DC Cable 13 and
live webcast
, if you're interested). The hearing is still ongoing, and is addressing many projects around the city, but there were two Near Southeast-related items in Deputy Mayor Neil Albert's opening statement that I thought were worth passing along now.
First, it's been decided to not continue to use the old Anacostia Waterfront Corporation space at 1100 New Jersey Avenue after all, and so the expanded Deputy Mayor's office will be split between the Wilson Building and the old National Capital Revitalization Corporation office space at 2020 M Street, NW, and the office moves should happen this week.
If there's additional news from today's hearing, I'll update this entry.
DOT Pilot Agreement; Ground to be Broken on Canal and Diamond Teague Parks in 2007
Feb 16, 2007 5:20 PM