List of all Event Photo Galleries
11th Street Bridges Project Photos
January 8, 2012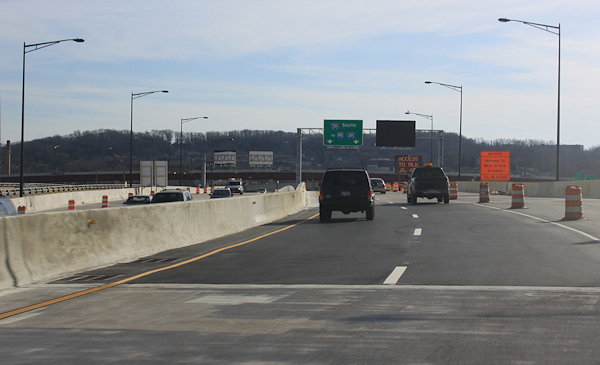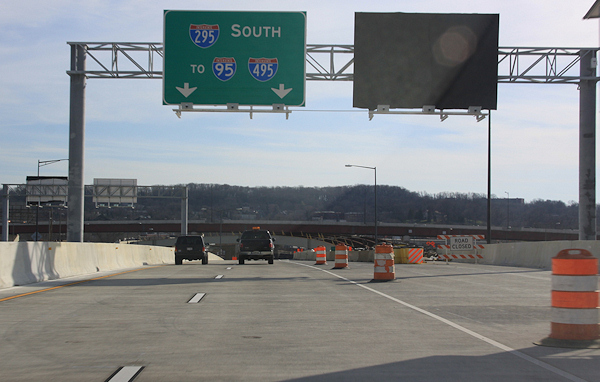 Further along the bridge, at the point where there will eventually be an exit (visible to the right) to go north on DC-295, which means that Southeast Freeway folks will at last be able to do that without having to get onto Pennsylvania Avenue and turn left. (You can see the girders of the new exit ramp in the right-center distance.)

The new bridges at far left, then the under-construction 11th Street Local bridge at center, and the old outbound bridge, which is still being used for traffic coming up from 11th and N SE (in the far-right lane) to go over to MLK, Howard Road, and Anacostia Park. (I just walked up the sidewalk to get here, nothing nefarious. It's a lot less nervewracking now!)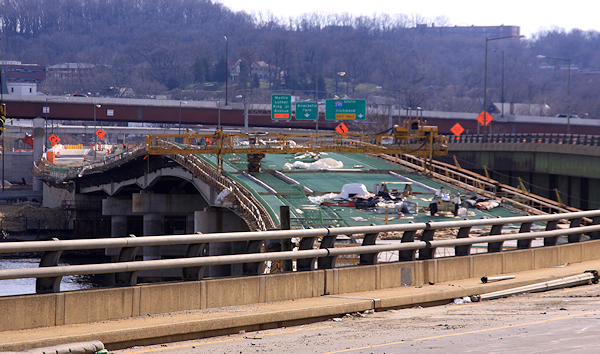 A close-up of the under-construction 11th Street Local bridge. Given the alignment, you can see why the old outbound bridge approaches (where I'm standing to take the photo) need to be demolished in order to allow traffic to flow between 11th Street and the new bridge.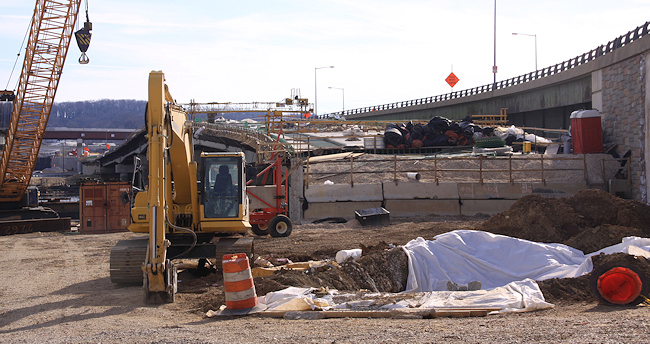 Where the 11th Street Local bridge arrives at ground level, south of O Street.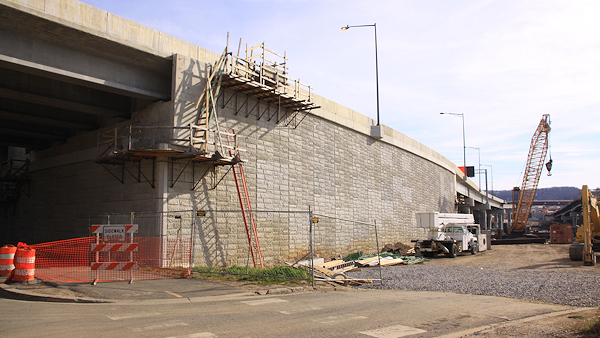 The underside of the newly opened outbound freeway bridge, seen from O Street.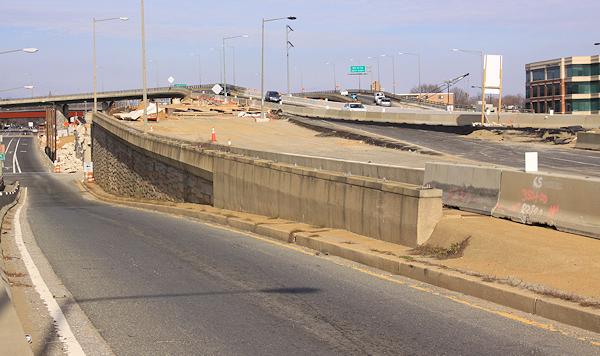 Standing at the top of the ramp from 11th and N, looking back toward the old RFK ramp that's being repurposed into an on-ramp from 11th and M to the new outbound freeway bridge. Much of the rest of what you see here will be demolished to allow the new 11th Street Local bridge to meet up with 11th Street (far left), which will then have two-way traffic.

A kind of trippy paranoma of five or six photos showing the girders for the flyover that will connect the new inbound 11th Street freeway bridge with the Southeast Freeway.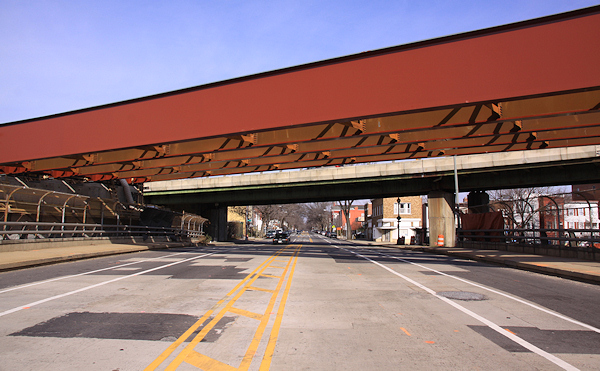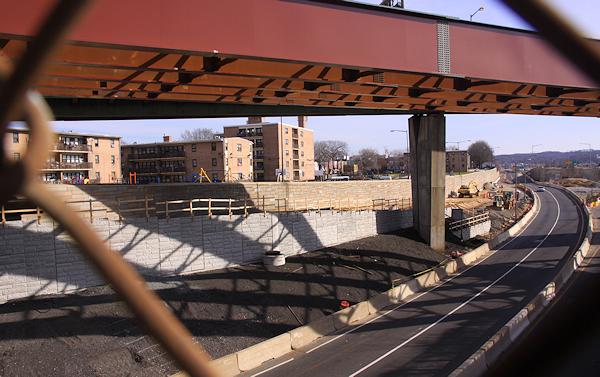 Looking at the new ramp that will bring traffic up from the Pennsylvania Avenue/Barney Circle connector to a new controlled intersection at 11th Street, where drivers can then turn left or right on 11th, or continue straight via a new ramp onto the Southeast Freeway.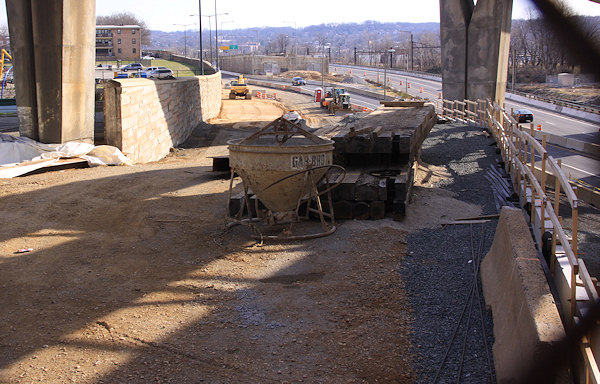 Looking down at the new ramp from where it will be meeting 11th Street.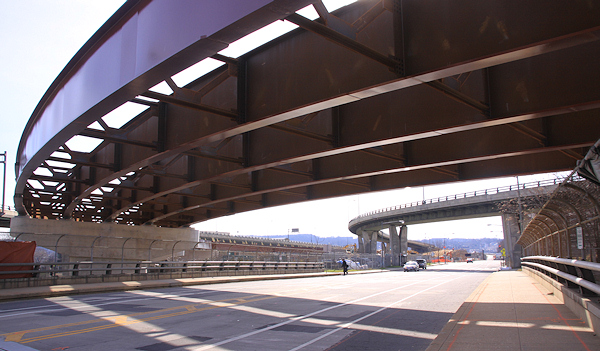 A view southward down 11th Street from beneath the new girders.
Standing on 11th Street looking at the construction on the ramp that will bring traffic onto the outbound Southeast Freeway from the 11th Street Bridges via the new flyover.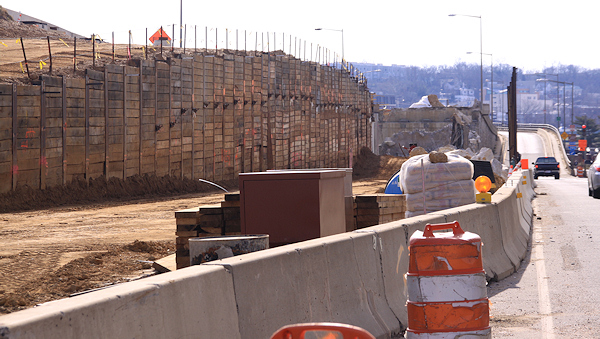 Demolition is far along on the old embankment that used to run along 11th Street south of M. To the far left is where the new on-ramp from M Street to the outbound freeway bridge is under construction. Straight ahead is what's left of the RFK ramp/embankment, then the still-active on-ramp to the old outbound bridge at N Street.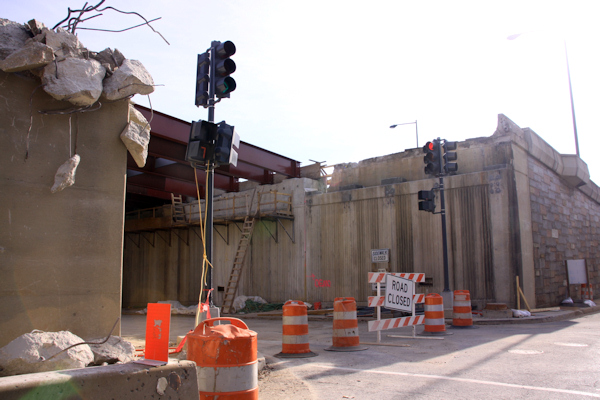 A view of both demolition and new construction at 11th and N.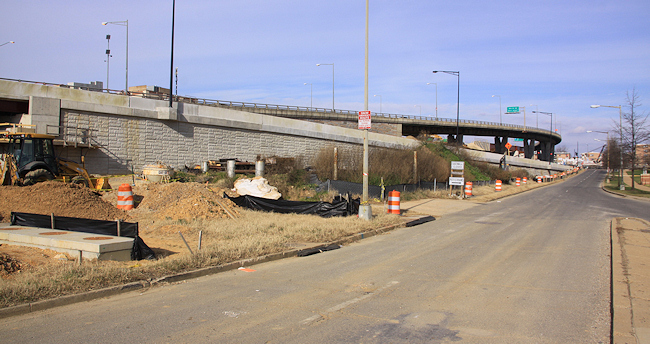 Standing on the decommissioned old inbound exit ramp to M Street at 12th Street, looking at the new exit ramp to the left.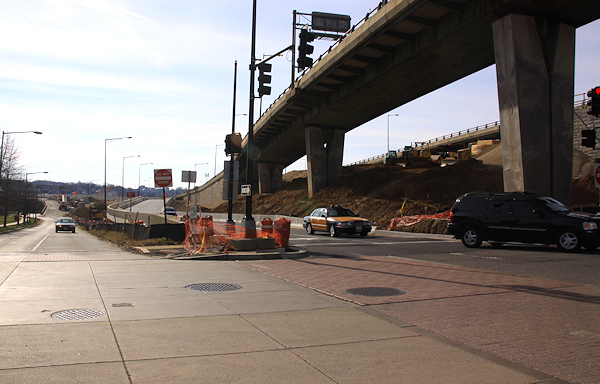 Standing under new girders on M Street between 12th and 11th.