Near Southeast DC: Past News Items
11th Street Bridges
Go to Full Blog Archive
---
Tidbits: Ice Rink Opening Soon, and Other Goings-On
Dec 5, 2013 8:29 PM
While I keep trying to get myself reacquainted with blogging (a process that clearly is not proceeding smoothly), I'm going to cheat and go with some Tidbits lists every so often, so that at least I can feel like I'm getting the spigot working better, even if it's still sputtering. Also, I have to get used to all these events, specials, and activities, which didn't used to be part of the Near Southeast blogging landscape.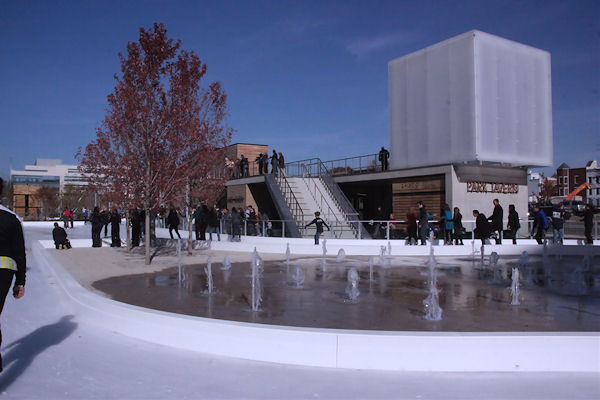 * The BID reports in its latest newsletter that the
Canal Park
ice rink
is scheduled to open on Monday, Dec. 16. And speaking of the park, if you haven't wandered by, you may not know that Christmas trees and wreaths are for sale there this year.
See the market web site for details
.
* On Saturday (Dec. 7), the
11th Street Bridge Park project
is holding two "community design meetings" that will provide an update about the project and break out attendees into smaller groups to work on ideas. A nationwide design competition for the project is expected to be launched early in 2014. The bridge park itself is expected to cost $35 million, which at this point is mostly unfunded. One meeting is at 200 I Street SE from 2 pm to 6 pm (details and RSVP
here
) but there is also
a morning meeting
. (via
DCist
)
*
ArtYards
has the
Chalk a Lot street art event
on Saturday and Sunday (Dec. 7-8) at the NGA parking lot, 1st and M SE. And see also
this Going Out Guide look
at the ArtYards project.
*
Osteria Morini
is now open for lunch, and
here's the menu
. Plus there's
Happy Hour specials now
, too, from 4 to 7 pm Monday through Friday. And Post food critic
Tom Sietsema took a First Bite
there earlier this week.
*
Bluejacket
is going big with
its first New Year's Eve celebration
. For your $160 ticket, you'll get an open bar for all Bluejacket brews, plus a DJ and "passed bites." Then there will be a champagne toast as part of the ceremonial midnight keg drop. (No, seriously.) And Bluejacket/Arsenal is now open for
lunch
, too, and is serving Sunday brunch from 11 to 3, but you probably already know these things.
*
VIDA Fitness
, coming to the
Twelve12 building
at the Yards in 2014, is
now offering membership pre-sales
. Their site says that the Penthouse Pool Club will open on July 1, 2014 and the VIDA Fitness itself on Aug. 25, 2014.
* If you want to look a little farther into the future:
WMATA
has scoped out
the subway alignments it would like to pursue
as part of its 2040 "core configuration" plan. How would you feel about a new Blue and Yellow line under 2nd Street from Union Station, turning west with a station at New Jersey and I before heading to Virginia? (It would also run under M Street NW from Georgetown to New York Avenue.) I can't wait to set out from my retirement home with my brain-embedded camera to take photos of this project.
Checking Out the Changes Along on 11th Street
Oct 24, 2013 3:18 PM
I was otherwise occupied on Sept. 7, the day of the big celebration on the now-completed
11th Street Local Bridge
, but I finally wandered down to that neck of the woods a few days ago with my camera to capture the current state of affairs. And one might say that the landscape at
11th and O
has changed a bit thanks to this project: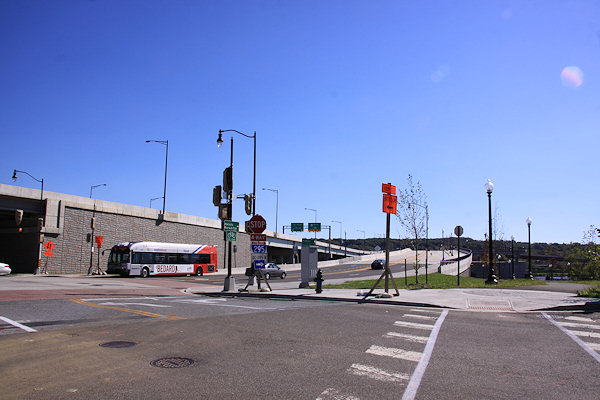 But there's more than just the newly wide open spaces at 11th and O. The girders for the new flyover that will carry traffic from the Southeast Freeway to the outbound I-695 bridge are all now in place; couple that with the demolition earlier this year of the old outbound flyover, and you have a very different vista at
11th and L
than what's been there up to now: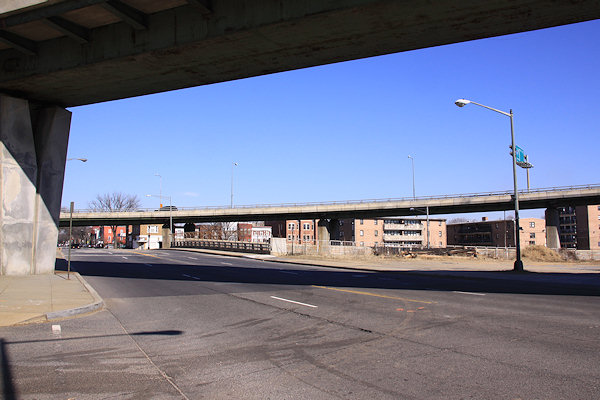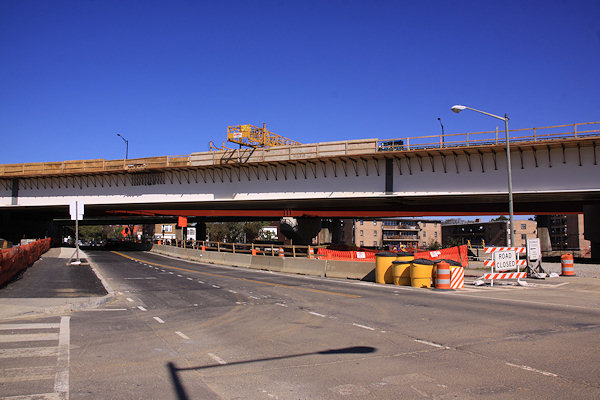 (The low height of the flyovers above 11th does make that little stretch a bit claustrophobic, though, especially on foot.)
You also now have two-way traffic on 11th between O and M, so that vehicles coming across the local bridge from Anacostia can drive straight north on 11th.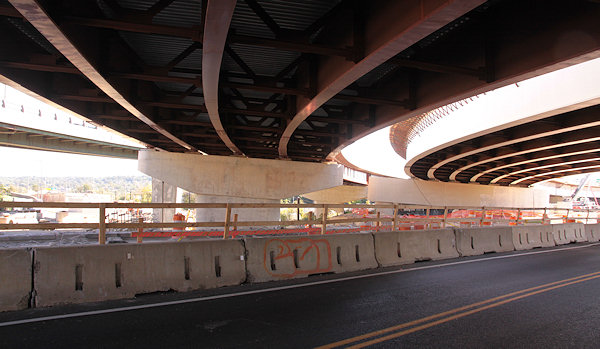 And the dirt-fill-in work for
Southeast Blvd.
has progressed enough that the west side of 11th at the freeway no longer feels like an overpass, just the regular road.
Plus there's also work at 8th Street and Virginia Avenue to create a new on-ramp and also fashion the new exit to Southeast Blvd./11th Street.
If you don't feel like clicking on each of these photos, just head to my
11th Street Bridges
and
Southeast Blvd.
pages to see them alongside a few other new shots. You may also want to dig into my photo archive to check out the before-and-afters at
11th and the freeway
,
11th and L
,
11th and M
,
11th and N
, and
11th and O
. Though the photos don't quite seem to do the changes justice, especially if you're someone who has walked those blocks of 11th many times over the past few years.
Photos: Tearing Down, Filling In, Building Out, Building Up
May 27, 2013 9:54 PM
The showiest demolition in the neighborhood in years is coming to an end, and while I haven't been able to document it in the obsessive-compulsive way I would have liked, I did manage to make it to 11th Street this weekend to see the gator tail-like final remnants of the old flyover to the outbound
11th Street Bridges
before it completely comes down.
At the same time, I was able to check out the progress on the filling-in of the sunken eastern portion of the Southeast Freeway to build
Southeast Blvd
., and dang if they haven't already piled the dirt up so that 11th Street is now level with the "land" just to its west.
Needless to say, I had to create
a photo gallery of the remants and the progress
, where you'll also see that work is speeding along on the new flyover to the outbound I-695 bridge.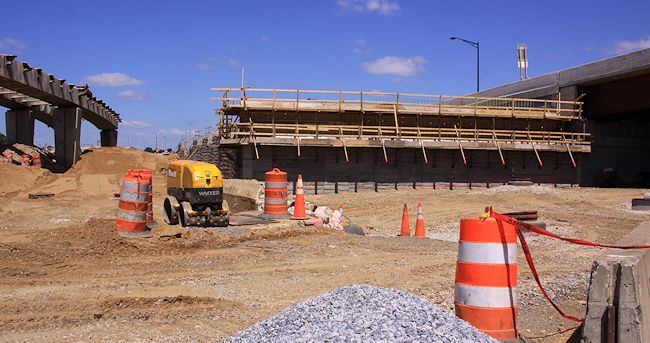 But I wasn't just interested in the tearing down and filling in, so I continued down to O Street, where not only is the 11th Street Local Bridge inching ever closer to getting all of its lanes and pedestrian path opened, but the new asphalt
Anacostia Riverwalk Trail
path to the river has been laid, which also takes you to the spiffy new landing just completed by the riverside. And from that landing you can see the spiffy new overlooks that reach out onto the old bridge piers from the new local bridge. (For the record, I could have easily sidestepped the construction barrels and ventured onto the overlooks, but I am a good little citizen.)