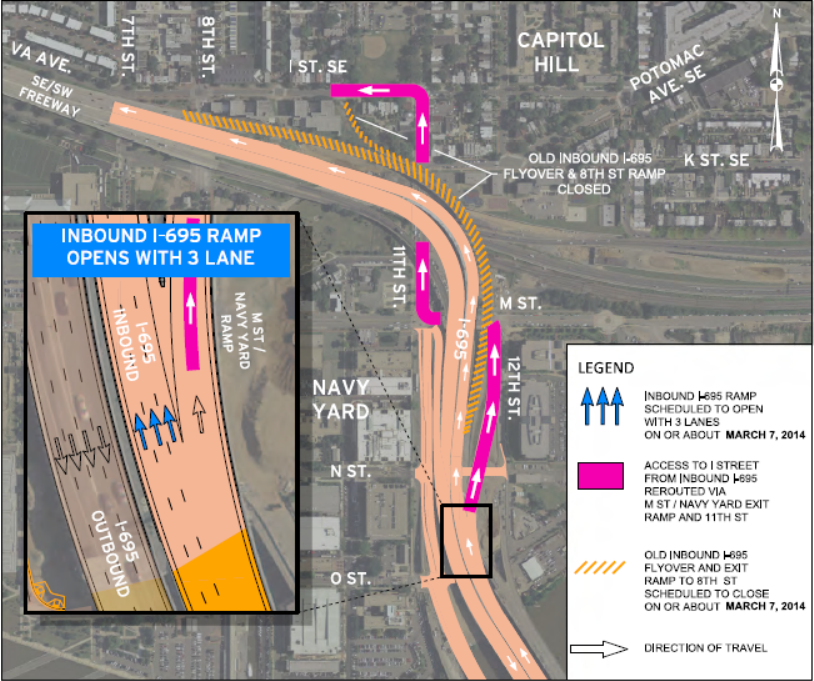 DDOT
has announced
that on (or about) March 7, inbound traffic on I-695 to the Southeast Freeway will shift over to its final alignment, onto the new flyover built as part of the
11th Street Bridges project
.
This shift will also provide a third lane of inbound traffic, and clear the way for demolition of the old, now-somewhat-rickety-feeling, inbound flyover. (Yay!)
In order to complete the final prep for this switchover, the exit ramp from I-695 to M Street will be closed on Thursday, March 6, at 10 pm, until approximately 5 am Friday. If you need to get to M Street from 295, you can get off at the 11th Street local exits and proceed to M that way.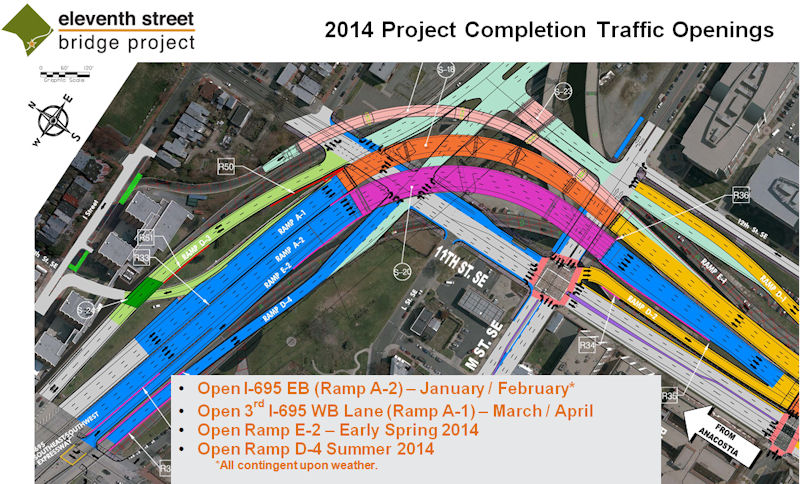 This alignment switch is the second in a
series of traffic changes
related to the 11th Street Bridges project on tap for the early part of 2014. Next in line should be the revamped ramp from 8th Street SE onto the eastbound freeway, sometime this spring, followed in the summer by the new ramp from the eastbound freeway down to 11th Street north of L.
However, as is so often the case, progess comes with a price: "Motorists seeking access to 8th Street SE and the Marine Barracks area from the inbound 11th Street Freeway Bridge (westbound I-695) will be detoured to M Street SE, then to 11th Street SE to I Street SE."
See the map above
for this detour route.
On the graphic released a few weeks ago about the 2014 openings (
above right
), there appears to eventually be a return of access from westbound I-695 to I Street SE, but is not part of the announced schedule. (It also appears to use the closed-for-security-reasons ramp that bisects the Marine Barracks on I Street, and I'm wondering about the machinations to reopen that.) There will eventually be other movements to and from 11th Street as part of the still-under-discussion
Southeast Blvd
.