, I asked, "[W]ill 2011 be the year that the logjam of long-stalled projects finally gets unstuck enough to see the announcement of something new?" The answer has turned out to be a firm Yes, and an even more emphatic YES! if applied solely to the category of Food Offerings. While the neighborhood's office market hasn't quite gotten unstuck yet, the emerging plans for more residential projects seem to indicate that the big money folks have watched existing developments fill up despite what can charitably be called a dearth of amenities, and they also appear to be recognizing that even more people will want to live a mile or less from the US Capitol once there are a few places to eat and do stuff.
Overall, 2011 is probably more notable for the announcements of what would be coming in 2012 than for what projects were completed, but the ones that did cross the finish line this year aren't all small potatoes: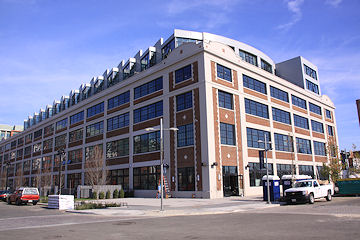 Foundry Lofts
- A project had construction halted in 2009 thanks to the economy completed its resurrection in late 2011 with the first move-ins by residents. The 160-unit apartment building at
The Yards
, adapted from a World War I-era Navy Yard structure, is already 50 percent leased (even with some units still not released), and will also be the location of the Yards's first new restaurants with the opening of Potbelly Sandwich Works and Kubra Thai & Sushi by spring 2012. And
the views
, especially from the penthouses, are pretty spectactular.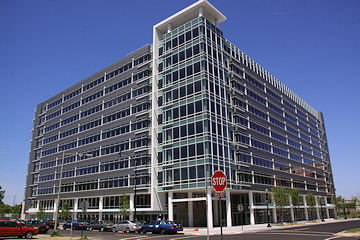 1015 Half Street
- While I mentioned it in last year's SOTH as a 2010 completion, this 440,000-square-foot office building had enough construction going on early in 2011 to sneak it into this list as well. Like the Foundry Lofts, 1015 Half spent some time on the injured reserve after original developer Opus East went bust, but Douglas Wilson Companies got the building finished, and will apparently be selling the building to Prudential Real Estate Investors
in January
. For now though it stands empty, though that apparently has
drawn the interest of the Artomatic folks
.
Yards/Teague Bridge
- On
Nov. 22
representatives from the city, DC Water, Forest City, and other organizations celebrated with a (very rainy) ribbon cutting to open the new 627-foot-long bridge connecting
Yards Park
with
Diamond Teague Park
(and, by extension,
Nationals Park
). Built in the same style as the Yards Park's boardwalk, this bridge adds to footprint of the ever-growing
Anacostia Riverwalk Trail
. (But best to look toward the water and not DC Water's cluttered lots on the shoreline when walking across it.)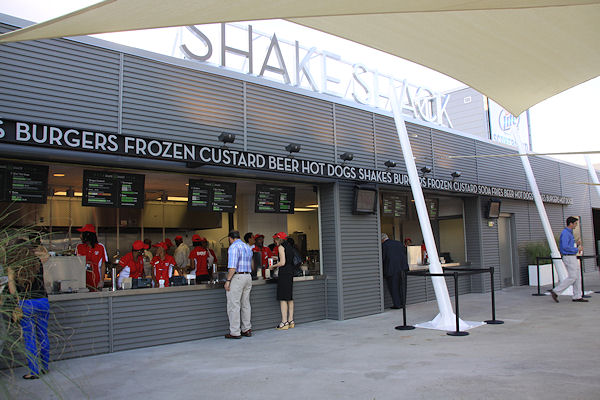 New Nats Park Food
- Would it really be news that a baseball stadium would be opening new vending windows for burgers, fries, tacos, and BBQ? Yes indeedy, if it's going to be
Shake Shack
,
Box Frites
,
El Verano Taqueria
, and
Blue Smoke
, as evidenced by the reaction to the
mid-June arrival
of these offerings at Nats Park from Danny Meyer's Union Square Hospitality Group. Thirty-minute waits at the Shack were not uncommon, but, dang, that's a good burger. (Also, when there aren't many food options outside the park....)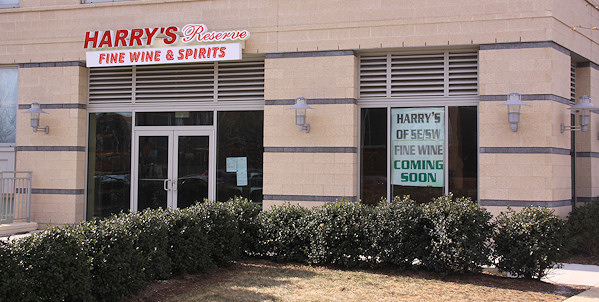 Harry's Reserve
- Not everyone is thrilled when a liquor store opens in a neighborhood, but when Harry's opened in the ground floor of 909 New Jersey on April 30, customers found a shop emphasizing more "high-end" wines and spirits. Harry's has offered tastings, food beyond plain munchies, and even some "front-yard" free barbecues in the summertime.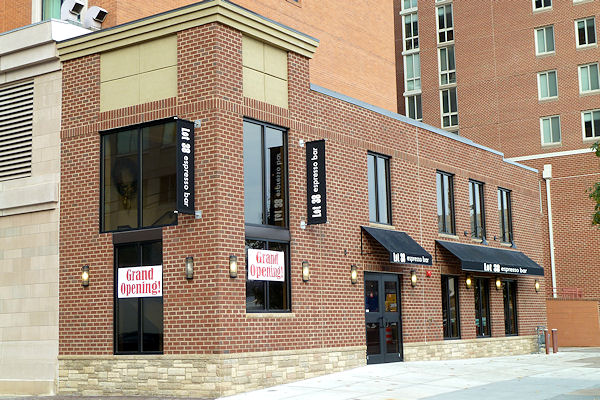 Lot 38 Espresso
- After a long road that saw the decision to change from a liquor store to a coffee shop and the construction of a new building, the
old Star Market/Little Red Building site
became home on Dec. 21
to
Lot 38 Espresso
, giving residents the non-Starbucks coffee option so many have wanted. Its location directly across from
Canal Park
will bring it a wider clientele when the park opens in mid-2012.
(And, while it's outside of my cannot-be-breached coverage boundaries, I should note that construction also got underway this year on Camden's
1345 South Capitol
apartment building, directly across the street from Nationals Park. It should be completed in 2013.)
Could 2012 be the year that Near Southeast gets past its reputation as a neighborhood with a
well-regarded baseball stadium
, a
unique public park
, and little else to draw visitors? There are certainly going to be some big changes, especially in the all-important Dining category....:
Food, Glorious Food! (And Recreation, Too)
The dearth of food offerings in Near Southeast has been a sore point ever since the new wave of residents and office workers began arriving in the mid-2000s. But the floodgates will open in 2012, with at least nine restaurants announced to be opening within the next year.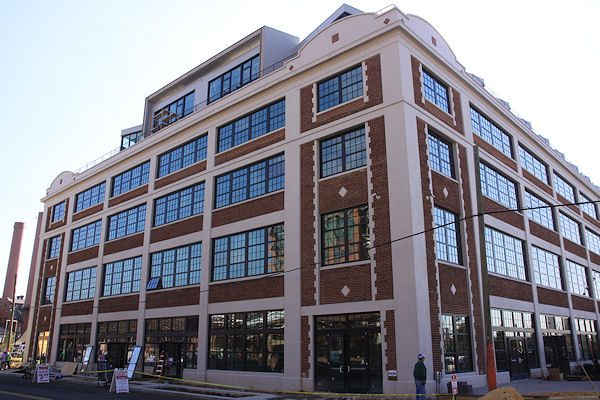 Potbelly and Kubra Thai
- The ground floor of the newly opened
Foundry Lofts
by Forest City Washington at
the Yards
will see the arrival of two restaurants in the first part of 2012, with
Potbelly Sandwich Works
occupying the building's northwest corner, near the US Department of Transportation HQ, and Kubra Thai and Sushi (from the
Teak Wood/Galae Thai and Sushi
folks) on the southwest corner, near the
Yards Park
. A third retail space, on the southeast corner, remains unleased.
Boilermaker Shops
- The showiest of the Yards's adaptive reuse projects at last got underway in 2011, with construction to update the 1919 industrial building preceded by the
splashy
announcements
of six restaurants, starting in fall 2012:
Buzz Bakery
,
Austin Grill Express
,
BRB
,
Huey's 24-7 Diner
, an unnamed craft brewery from the Birch and Barley folks, and sports bar
Willie's Brew and Cue
from Xavier Cervera. Residents, office workers, and Nats fans are already tapping their toes impatiently. (And there's still a few spaces to be leased.)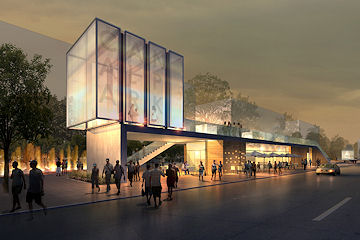 Canal Park
- One of Near Southeast's longest-planned projects finally got underway in early 2011, as the three-block park along 2nd Street between I and M is expected to open in spring 2012. With all manner of "active" and "passive" spaces, including a water fountain that will become an ice rink in winter and the
Park Tavern cafe
in the large boxy pavilion space on the south block, it will be another public-space draw for the neighborhood, alongside its sibling the Yards Park. (And look for lots of events to be held there, with the Capitol Riverfront BID in charge of its "programming.")
Other Anticipated 2012 Completions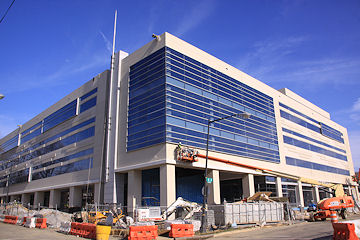 225 Virginia/200 I
- A
"stonebreaking" on Feb. 15
marked the start of the transformation of the old Star/Post Plant into what should be by mid-2012 the new home for three city agencies (Department of Child and Family Services, Office of the Chief Technology Officer, and the Commission on Arts and Humanities). The joint development by the city and StonebridgeCarras has already resulted in replacing the old cold stone monolith with a nicely updated office building--with windows!--that will have its entrance just to the north of
Canal Park
.
Capitol Quarter
- Hard to believe that, seven years after demolitions began and three years after construction started, the mixed-income townhouse development by EYA and DCHA to replace the Capper/Carrollsburg public housing complex is nearing the finish line, with
work now underway on the final blocks
. All told, CQ will include about 120 market-rate and 91 workforce-rate townhomes, 23 Section 8 units, and 88 subsidized rental units--but it has already transformed a downtrodden, crime-ridden area into an entirely new community.
Getting Started in 2012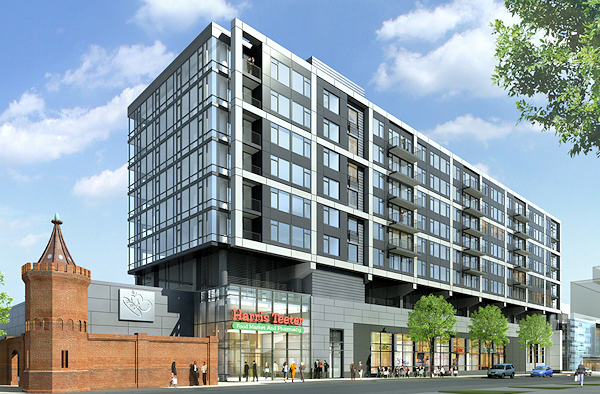 401 M/1212 4th
- This was the year that the "unconfirmed grocery store at 4th and M in the Yards"
officially became a 55,000-square-foot Harris Teeter
, and late in the year
permits came through
to mark the start of work on this project that will also include 220-ish apartments, an
unnamed-but-named fitness center
, and other retail offerings. Completion of what will be Near Southeast's first supermarket is expected in late 2013 or early 2014. (But some residents are still pining for a Whole Foods or Trader Joe's, somewhere....)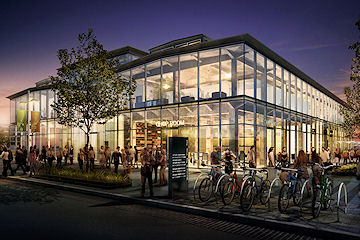 Lumber Shed
- The defrocked old storage shed at the
Yards Park
has been acting as a temporarily pavilion for the past year while Forest City has continued to work on financing and leases in order to get construction started. (The company even
got a zoning change
allowing it to temporarily move its Washington office to the Shed's 2nd floor in order to up the leased square footage.) Right at the end of the year the
Capitol Riverfront BID said
that construction would be beginning in April, but no announcement yet from Forest City as to who the (other) tenants will be.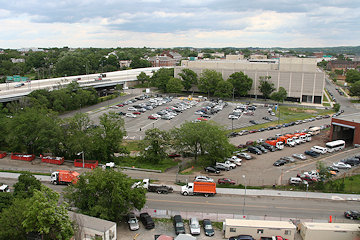 880 New Jersey
- The first new construction multi-family building since 2009 could get underway in the spring, as William C. Smith has announced
plans for 880 New Jersey
, a 430-unit apartment building that would be the first phase of its plans for
Square 737
, bounded by New Jersey, H, 2nd, and the new I Street that will be built. But first, DPW needs to move its New Jersey and K operations in order to allow WCS to purchase the sliver of DPW land that crosses into its site. Can this still get underway on WCS's announced timeline? We shall see....
Other 2012 Goings-On and Possibilities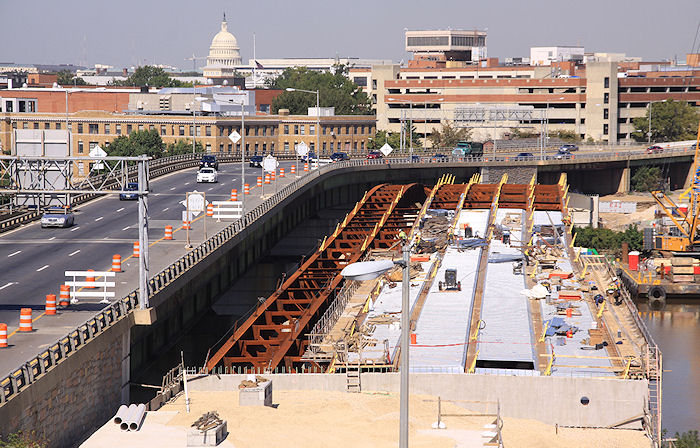 11th Street Bridges
- Construction of replacement spans has been underway without much fanfare since 2009, but late in 2011 the project reached its first major milestone, the
opening of the inbound freeway bridge
. The outbound bridge will follow in early January, and by summer a new "11th Street Local" bridge connecting Anacostia and Near Southeast should open, with wide sidewalks making for a pleasant crossing for pedestrians and cyclists. (Alas, planned streetcar tracks
won't be laid just yet
.) More ramps are to be built as well, with all completed in 2013.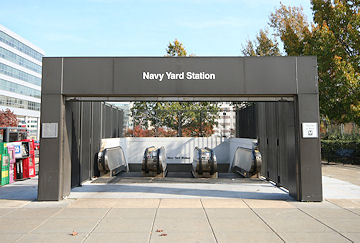 Navy Yard-Ballpark
- With the impending arrival of Metro's Silver Line necessitating a reworking of the subway system's maps, a land rush of sorts erupted as organizations tried to get their names on nearby stations. The Navy Yard station had two suitors, with the Capitol Riverfront BID
wanting its name added
(even if it meant
dropping "Navy Yard"
), and the Nationals pushing to have a

included. In the end, a switch to a simple
"Navy Yard-Ballpark" was approved
in November, and will take effect in June of 2012.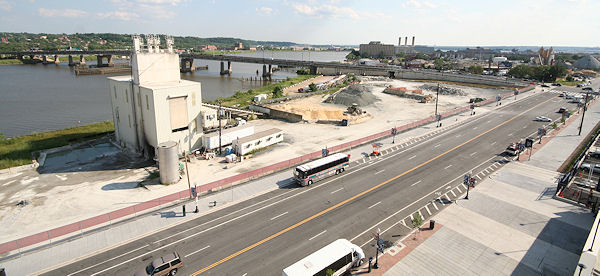 Florida Rock
-- The six-acre site along the Anacostia that's been in development forever
picked up financial backer MRP Realty Partners
in 2011, and made plans to start with a residential building on the site's east end in 2013. (But first,
back to the Zoning Commission
. Again.) In the meantime, the concrete plant itself was demolished in late 2011, taking away what most people considered to be an eyesore when looking toward the river from the stadium.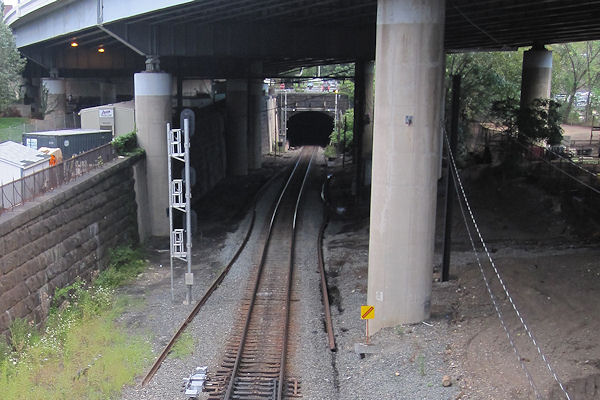 CSX
- In May 2011
CSX announced it would spend $160 million
of its own monies to expand the
Virginia Avenue Tunnel
, a project which infrastructure experts see as very much needed but which is eyed with great consternation by residents along and near where an open trench may run for a number of years. With an environmental review process spearheaded by DDOT and FHWA
now underway
, 2012 will see a lot of wrangling as all sides try to thread the needle on how exactly the potentially disruptive construction project should proceed. Will it happen fast enough to have shovels hit ground in 2012? Time is ticking....
As for other possible starts, hope springs eternal that either
Akridge
or
Monument
will begin construction on their empty Half Street lots, since it's always that one-block stretch north of the ballpark that receives the laser-like focus of media outlets wanting to gauge the health of the neighborhood, no matter what's going on elsewhere. And of course one of the many office buildings on the boards could snag a big enough tenant to start development.
It's become quite a trend for blogs to list their Top 10 Posts of the Year, so I figured I'd hop on the bandwagon (though technically mine is Top 10 Most Visited Posts and Non-Project Pages of 2011). If you look at this, you may not have even needed to plow through all the verbiage on the rest of the page, but I hope you did anyway:
1. Photo Gallery from Nats Park Shake Shack's Media Preview
2. Forest City Announces Harris Teeter, Yards Restaurants
3. First Details on William C. Smith's 880 New Jersey Apartment Building
4. The Do-It-Yourself Ward 6 ANC/SMD Redistricting Map
5. Florida Rock Gets an Equity Partner, Decides to Start with Residential
6. My Father's Memories of Living on Capitol Hill, 1959-1969
8. Historic Landmark Nomination Application Submitted for Market Deli
9. Marion Barry Says Near Southeast Should Move to Ward 8
10. Foundry Lofts Progress Photos, Nov. 1
JDLand got about 557,000 page views in 2011, which is around 25,000 fewer than in both 2009 and 2010. (My highwater mark, of course, was The Year of the Ballpark, 2008, when the site garnered 1.25 million pageviews. Those were the days...)