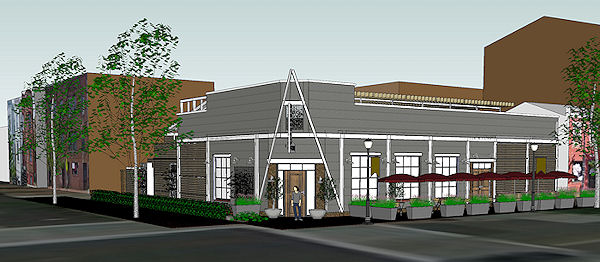 It was
one year ago today
that we heard the first rumblings of plans for a
beer garden
to be built on the northwest corner of 8th and L, SE. It would have 99 indoor seats and space for an additional 200 customers in a "summer garden," and would offer live music.
The project went through
all
manner
of
liquor license
wrangling, followed by a lot of
work
on the
design
in order to
satisfy
the Historic Preservation Review Board (which
it finally did
, in March). At many of these sessions, the owner spoke of wanting to get the project underway as quickly as possible, but since the HPRB approvals in spring, it hasn't seemed like anything has been happening.
However, late last week, when I was playing around with DDOT's new
Public Space Permit locator app
and figuring out how to import its Occupancy Permit data into my own list of
Near Southeast Public Space Permits
, I saw that a construction staging area permit had been issued for 720 L St. SE on Sept. 22. Some digging into the city's building permits application also found building permits applied for on Aug. 18, but still not yet approved.
I contacted the owner, Mark Brody, and he tells me that they indeed are working on permits, but "it's taking longer than expected." (I know, this is a shocker.)
So, no timetable for the project's opening at this point, but it appears it hasn't fallen completely off the map.
(And, speaking of the permits feed on the JDLand home page, I've tinkered with both the public space and building permits so that they're now sorted and grouped by address.)