Near Southeast DC: Past News Items - Nov 21, 2011
Go to Full Blog Archive
---
1 Blog Posts
Tidbits: Some SoCap Bridge $, Half Street 'Thinking', DPW, More
Nov 21, 2011 9:32 AM
I've tried over the past few months to clampdown on runaway Tidbits posts, but these are some pretty small tidbits, so I think I'll let them through: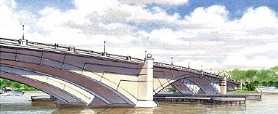 *
Douglass Bridge
: The Feds have
"freed up" $68 million
from previously appropriate funds to allow DC to start buying up right-of-way land for the
new South Capitol Street/Douglass Bridge
.
NBC4 quotes
DDOT chief Terry Bellamy as saying "If I had my way and we had the money, we could possibly see a new bridge in about six to seven years." But, considering they're looking for $800 million for not just
the bridge itself but all the associated improvements
to
South Capitol Street
and its interchanges with I-395 and I-295, getting the rest of the money might be a little trickier.
*
Half Street
:
According to the Post
, Monument Realty and investment partner Victor MacFarlane "are now thinking about when to begin" developing the rest of their
Half Street project
. The southern portion of Monument's side of Half Street (the east side--you know, where the big hole in the ground is) was originally designed with both a hotel and a residential building. And there's still no word from Akridge on a start date for
their side of Half Street
(the Bullpen side).
*
DPW Move
: While the timeline for getting DPW into their new home on Okie St. NE and out of their New Jersey and K site has slipped (shocker!), things are still moving forward, and I'm hearing that they should be moved early in 2012. But this delay is not as yet impacting
William C. Smith's plans
for a
new apartment building
just to the north--various permits have recently been approved, and WCS expects to start some deep infrastructure work, along with some clearing and grading along New Jersey Avenue north of I, sometime in December. (But WCS needs DPW out before too long because a smidge of DPW land crosses what will eventually be the new I Street and onto the WCS property.)
*
Wha?
: Is it just me, or does
this article
seem like it was written in 2009? It's a bit odd to trot out version 83 of the "there's no food in Near Southeast" story when there are leases signed for at least 10 new eateries to open in the next 12 months: Lot 38 Espresso at the old Little Red Building site (Any Minute Now!),
Potbelly and Kruba Thai
in the
Foundry Lofts
by spring, the
Park Tavern
at
Canal Park
by summer, and
six choices
at the
Boilermaker Shops
by the end of 2012. Not to mention probably another couple places in the
Lumber Shed
,
perhaps a big one
at 100 M, and a
Harris Teeter
in 2013. But I still predict that, when the slew of What's Happening Around Nationals Park stories come pouring out in advance of Opening Day 2012, the focus will still be on the lack of movement along Half Street (see Tidbit #1).
*
New Bridge:
Don't forget the
dedication ceremony for the Yards/Teague bridge
on Tuesday at 1:30 pm on the Yards Park side of the bridge. In addition to the mayor and DC Water chief George Hawkins, the organizers are also expecting Eleanor Holmes Norton, Naval District Washington Commandant Rear Admiral Patrick Lorge, USDOT deputy secretary John Porcari--and the Racing Presidents!