Near Southeast DC: Past News Items - November 2011
Go to Full Blog Archive
---
17 Blog Posts
Virginia Avenue Tunnel Project Concept Designs Unveiled
Dec 1, 2011 12:14 AM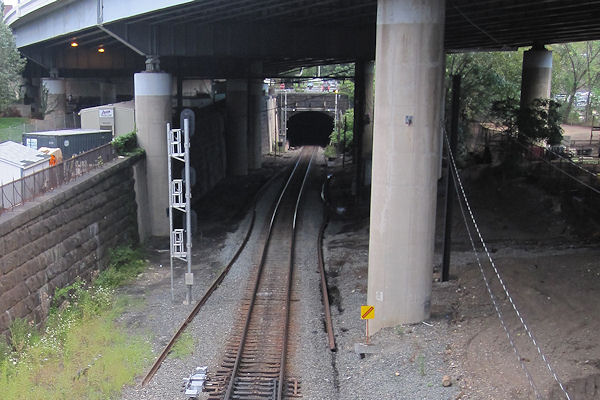 In a conference room at Nationals Park on Wednesday night, a bevy of representatives from CSX, DDOT, and FHWA along with consultants galore showed the public for the first time a series of 12 "project concepts" for how to handle CSX's
desire/need to expand the capacity
of the 3,800-foot-long Virginia Avenue Tunnel that runs from 2nd to 12th Street SE.
The
concepts are now posted on the project web site
, and can be grouped as seven "rebuild" options along with four other "reroute" options that would bring about the abandonment of the tunnel altogether (and, it must be said, are probably a just smidge less likely to be one of the alternatives chosen).
Three of the rebuild options are along the lines of what's been discussed for more than two years now, which would be the running of a temporary track in an open trench while the expansion work is done on the existing tunnel. While having the trench on the south side of the tracks (Concept 2) has been the "default" discussion and has to be assumed to be CSX's preferred choice, Concept 3 shows the possibility of running the trench on the north side of the tunnel, which would be right next to the Southeast Freeway (and which I'm imagining would run into some issues with having to make sure all freeway supports are adequately protected). Concept 4 runs a "serpentine" trench both north and south of the existing tracks.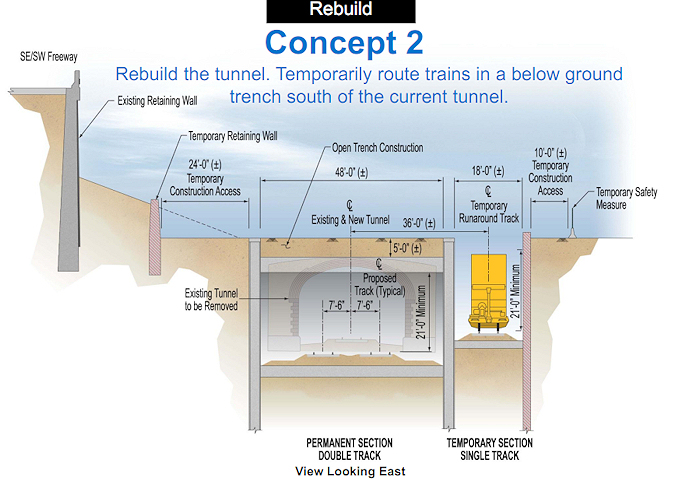 Concept 5 is an intriguing new notion, where a second permanent tunnel would be built parallel and south of the existing one. There's also the idea of just widening the current tunnel either while trains continue to use the tunnel (Concept 6) or with freight traffic temporarily rerouted either to Union Station (Concept 7A) or outside the District entirely (with a route shown that would take trains from Richmond through Ohio and up to Buffalo before turning back to the East Coast).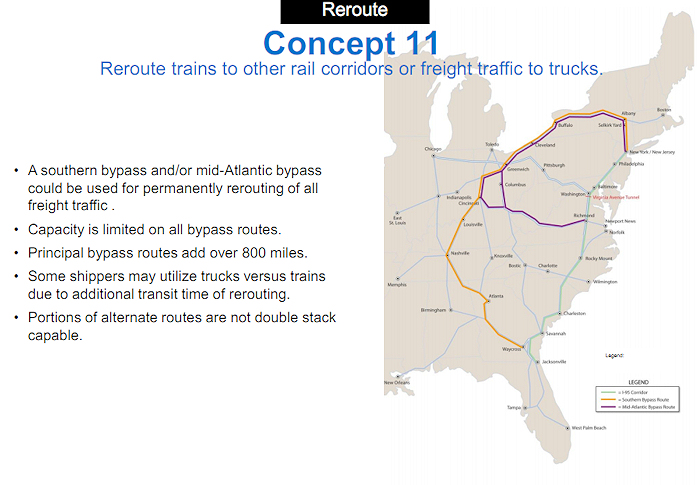 The "reroute" options all propose abandoning the tunnel, either building a nine-mile-long freight tunnel from National Airport to the Deanwood Metro station about 80 feet underground (Concept 8) or building other alignments proposed in recent years by the National Capital Planning Commission (Concepts 9 and 10), or running on CSX's existing tracks out to Ohio and then northward.
But of course, these are
concepts
, and one of the reasons for going through a NEPA process is to study the different ideas to then come up with alternatives, accompanied by scads of data on noise, vibration, pollution, traffic, and timeline impacts. And to determine how much the various alternatives would cost--because it's likely that CSX is not going to be too gung-ho on the options anticipated to run into the billions of dollars.
It's expected that the public meeting where the alternatives will be unveiled will be in February of 2012, at which point so many of the questions that residents have been asking
for
so
long
about how the tunnel construction will affect the day-to-day lives of people who live near and use Virginia Avenue will get some concrete answers.
Faisal Hameed of DDOT, who ran much of the meeting, emphasized a number of times during the Q&A that this is a unique project: a private company is doing work
they are paying for themselves
on a right of way that they own some (but not all) of, but the impacts on vehicle/pedestrian/bicycle transportation are expected to be extensive enough that DDOT requested this environmental assessment before getting to the point of signing off on any permits that CSX will need to do the work. (There is also apparently still some negotiating going on between CSX and DDOT about exactly whose right of way is where, but it was said that no portion of the project will enter private land, though some small incursions will happen on the
Marine bachelor enlisted quarters' site
west of 7th Street.)
The Q&A was a pretty peaceful one as these things go (which makes a cranky blogger so very happy!). Most of the wrangling between audience members and CSX was over the route that hazardous materials take when they are forced to go around the District because of various city laws and federal regulations; the audience members were trying to get CSX to admit that there's an existing route bypassing the city that's shorter than anything shown in the concepts, while CSX wasn't going to get anywhere near telling people where hazardous materials travel.
In response to one audience question (coming as a result of
the new FAQ
posted on the project web site), CSX did say that they are going to "strongly pursue" getting a waiver to stop the currently required blowing of horns anytime a train enters the tunnel, and that they think it should be a "strong possibility" that it can happen, though of course they weren't wanting to commit.
There were also questions that will be better asked when the alternatives are unveiled, about construction staging, safety during construction, noise and vibration impacts, traffic flow, emergency planning, alley access, and what CSX will do to restore or even improve the Virginia Avenue streetscape when construction is finished. (As for any historic preservation impacts, a
Section 106 review
of the project is being done concurrently with this NEPA assessment.)
Comments are being accepted on these 12 concepts for the next 30 days, either by
using the web site
or e-mailing
contact@virginiaavenuetunnel.com
. (About 530 comments were received after the September scoping meeting.) It's hoped the environmental assessment will be completed with a final NEPA decision by the summer of 2012; though, if there is a finding that there will be a "significant environmental impact" from whichever construction alternative is chosen, then a full Environmental Impact Study (EIS) would then have to be done.
ANC Redistricting: Hearing Today, New Map from Tommy Wells
Nov 29, 2011 10:01 AM
Today the council's Subcommittee on Redistricting is
holding a hearing
(
watch live
!) on the proposals for new ANC and single-member district boundaries. Late on Monday night,
proposed maps for all eight wards
were posted, with the Ward 6 maps being exactly the ones that the
Ward 6 Task Force submitted back in September
. However,
a Twitter discussion
with Tommy Wells's chief of staff has indicated that the task force maps are not what Tommy forwarded to the subcommittee, and Charles Allen was nice enough to pass along the ANC 6D portion of Tommy's map, seen below on the left, alongside the task force's recommended map (both can be clicked to enlarge):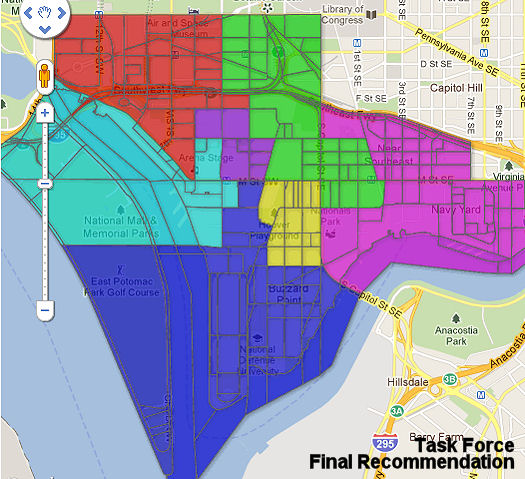 (The colors don't match up, so beware.) The two biggest differences for Near Southeast are that 1) 6D02 stretches all the way down to Nationals Park as part of its cross-South Capitol boundary, and 2) a pretty obvious notch has been drawn that happens to allow current 6D07 commissioner David Garber to remain within the SMD covering the vast majority of Near Southeast. (The populations of the block where Garber lives and the Capitol Hill Tower block are
nearly identical
, so a New Jersey Avenue boundary would have been easy enough to use, except that then Garber would be in an SMD with another sitting commissioner--and also wouldn't get to rule over more than about 15 blocks of Near Southeast.)
Artomatic Looking for 2012 Space, Eyeing 1015 Half, 101 M SE
Nov 27, 2011 5:00 PM
Jonathan O'Connell has a piece in Monday's WaPo Capital Business
about Artomatic's search for a 2012 home
, and how the organization wants to replicate the success of
the 2009 version
at the then-vacant
55 M St., SE
: "This year's search is down to about four buildings, two near Nationals Park:
1015 Half St. SE
, an empty 414,000-square-foot building being purchased by Prudential Real Estate Investors; and the former offices of the National Geospatial Intelligence Agency, at
101 M St. SE
. Artomatic also is considering the People's Building in Northeast, and another location in Crystal City."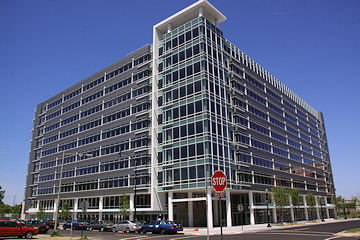 1015 Half Street
(left), on the site of the old Nation nightclub, is currently home to more than 400,000 square feet of Class A office space emptiness right now. The
NGA recently departed
1st and M (right), and while I would love for Artomatic to come to this spot merely for the chance to finally get inside the formerly armed encampment before its inevitable demolition as
The Yards
moves forward, I wonder how excited the organizers would be to have a building with almost no windows, except on the top floor. (I know that 55 M's
large windows and great views
of Nationals Park, Near Southeast, Southwest, and north to the Capitol were a big hit with 2009 Artomatic attendees.)
It was
in December 2008
that word first began to trickle out on the 2009
Artomatic
location, so perhaps the decision one way or the other won't be too long in coming.
Yards/Teague Bridge: Let's Try This Again (Sunny Day Version)
Nov 25, 2011 12:55 PM
There was no way I was going to let those
gray, rainy photos
from Tuesday's
Yards Park
/
Teague Park
connector bridge opening stand. So,
give these a try instead
:
Yards/Teague Connector Bridge Rainy Opening Day Photos
Nov 22, 2011 3:02 PM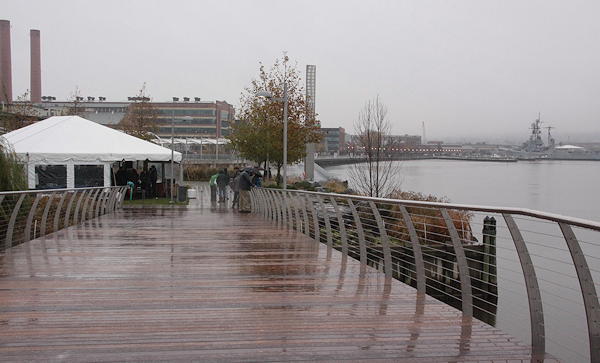 The weather was atrocious, and things got started late (as they so often do when overscheduled politicians are involved), but officials from the city, Forest City Washington, DC Water, and elsewhere gathered at the
Yards Park
today to officially dedicate the 627-foot-long bridge connecting the Yards with
Diamond Teague Park
, which is just across Potomac Avenue from
Nationals Park'
s grand staircase.
I wasn't able to hang around for the actual cutting of the ribbon (check
the Yards' Twitter feed
for a slew of photos of the festivities), but I did
take a gallery of photos
from my first time walking on the bridge, showing the view of the Anacostia riverfront in all of its gray, overcast, rain-spattered splendor. Needless to say, I'll be returning once the sun is out for a replacement set.
This bridge is part of the planned
Anacostia Riverwalk Trail
, which continues to open segment by (not necessarily contiguous) segment.
(One side note: Demolition appears to be underway on the concrete tower at
Florida Rock
, so the new bridge won't seem to be leading directly to that scenic structure for too much longer.)
Tidbits: Some SoCap Bridge $, Half Street 'Thinking', DPW, More
Nov 21, 2011 9:32 AM
I've tried over the past few months to clampdown on runaway Tidbits posts, but these are some pretty small tidbits, so I think I'll let them through: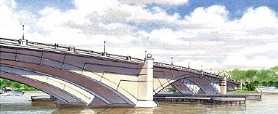 *
Douglass Bridge
: The Feds have
"freed up" $68 million
from previously appropriate funds to allow DC to start buying up right-of-way land for the
new South Capitol Street/Douglass Bridge
.
NBC4 quotes
DDOT chief Terry Bellamy as saying "If I had my way and we had the money, we could possibly see a new bridge in about six to seven years." But, considering they're looking for $800 million for not just
the bridge itself but all the associated improvements
to
South Capitol Street
and its interchanges with I-395 and I-295, getting the rest of the money might be a little trickier.
*
Half Street
:
According to the Post
, Monument Realty and investment partner Victor MacFarlane "are now thinking about when to begin" developing the rest of their
Half Street project
. The southern portion of Monument's side of Half Street (the east side--you know, where the big hole in the ground is) was originally designed with both a hotel and a residential building. And there's still no word from Akridge on a start date for
their side of Half Street
(the Bullpen side).
*
DPW Move
: While the timeline for getting DPW into their new home on Okie St. NE and out of their New Jersey and K site has slipped (shocker!), things are still moving forward, and I'm hearing that they should be moved early in 2012. But this delay is not as yet impacting
William C. Smith's plans
for a
new apartment building
just to the north--various permits have recently been approved, and WCS expects to start some deep infrastructure work, along with some clearing and grading along New Jersey Avenue north of I, sometime in December. (But WCS needs DPW out before too long because a smidge of DPW land crosses what will eventually be the new I Street and onto the WCS property.)
*
Wha?
: Is it just me, or does
this article
seem like it was written in 2009? It's a bit odd to trot out version 83 of the "there's no food in Near Southeast" story when there are leases signed for at least 10 new eateries to open in the next 12 months: Lot 38 Espresso at the old Little Red Building site (Any Minute Now!),
Potbelly and Kruba Thai
in the
Foundry Lofts
by spring, the
Park Tavern
at
Canal Park
by summer, and
six choices
at the
Boilermaker Shops
by the end of 2012. Not to mention probably another couple places in the
Lumber Shed
,
perhaps a big one
at 100 M, and a
Harris Teeter
in 2013. But I still predict that, when the slew of What's Happening Around Nationals Park stories come pouring out in advance of Opening Day 2012, the focus will still be on the lack of movement along Half Street (see Tidbit #1).
*
New Bridge:
Don't forget the
dedication ceremony for the Yards/Teague bridge
on Tuesday at 1:30 pm on the Yards Park side of the bridge. In addition to the mayor and DC Water chief George Hawkins, the organizers are also expecting Eleanor Holmes Norton, Naval District Washington Commandant Rear Admiral Patrick Lorge, USDOT deputy secretary John Porcari--and the Racing Presidents!
Canal Park Signs Lease with Xavier Cervera for Restaurant Space (Updated)
Nov 17, 2011 11:45 AM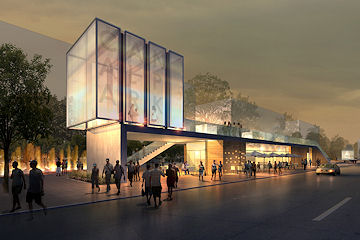 This was rumored
a number of weeks ago
, but today it is official that Capitol Hill restaurateur Xavier Cervera will be opening a restaurant in the pavilion space at
Canal Park
. I hope to have more details later today, so check back for updates, but for now I'll repeat what the last rumors were, that the menu would feature "Neopolitan pizzas and a raw bar." (We'll see if that holds up.)
Cervera also has another Near Southeast eatery in the works, with
Willie's Brew and Que planned
for the
Boilermaker Shops
at
the Yards
. He is also the man behind Lola's, the Chesapeake Room, Senart's, and the under-renovation Hawk 'N' Dove.
(This is a can't-wait-an-instant-to-get-the-news-out post, so like I said, I'll have more later today, including hopefully timelines and whatnot.)
UPDATE:
The restaurant will be named the Park Tavern, and Chris Vanarsdale of the Canal Park Development Association says they are "still working out the details of the menu." Cervera will be designing the 3,500-square-foot LEED gold or platinum space over the next couple of months, and it will open at the same time the park is completed, which is now expected to be June 2012. There will also be outdoor seating.
And, probably less exciting news but news nonetheless is that the CPDA also now has an agreement with
Rink Management Services
to operate the ice skating rink in the park's southernmost block, near M Street. (They operate the Reston Town Center rink along with lots of other seasonal and year-round rinks across the country.) Needless to say, that part of the park probably won't be functioning when the park opens next summer, but look for it in the winter of 2012/2013.
Construction on the park continues, with lots of infrastructure work still being done (though the pavilion where the Park Tavern will be continues to rise up). My
Canal Park page
has more information, renderings, and some not-altogether-outdated photos.
Most Minor of Modifications to Yards' Teeter Building OKed by 6D
Nov 15, 2011 10:23 PM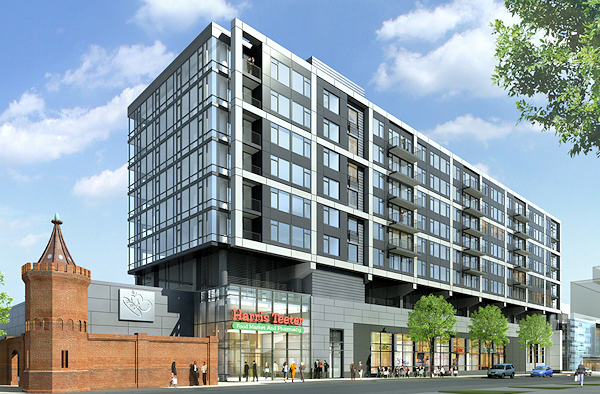 On Monday night, ANC 6D gave its support to a series of minor modifications (very minor--did I mention they were minor?) to the
previously approved design
of the new
residential/retail/grocery development
planned for the southeast corner of 4th and M, SE.
Because the lease with Harris Teeter has been executed since the project's zoning approvals were received, Forest City needs an okay for the company's signage, which you can
see in the updated rendering
. An outdoor seating area on 4th Street has also been added, and the design of the residential building's vestibule on 4th has been altered in order to use "structural glass." There were also slight changes to the roof structure, the sunscreens on the residential windows, the design of the trellises shielding the parking deck, and other items that should probably just be read about in the
Office of Planning report
that supports the proposed changes. (If you want the real nitty gritty of the updated design for this block, you can look through the
full submittal to the Office of Zoning
.)
Alex Nyhan of Forest City told 6D that he expects excavation on the site to start in about a month, with superstructure work beginning in the spring. This would bring the opening date to late 2013 or early 2014. (The entire block, consisting of the 55,000-square-foot Teeter, 218 apartments, and the as-yet-unnamed health club and other retail spaces at the south end of the site, is being built at the same time.)
There weren't many questions from commissioners. David Garber, who said that this was the first project reviewed by his new 11-member Near Southeast Citizen Development Advisory Committee, did question the project's representatives about the plans for bike parking. (Shocker!) Nyhan said there would be racks on 4th Street, and that they would be working with Harris Teeter to allow bikers to bring their bikes into the store and take them down to the parking level via elevator, but that no biking would be allowed into the parking garage. There was also discussion of whether the entrance to the garage could be expanded to allow for bike racks at street level, but Nyhan said there is not enough room in the design to widen the entrance.
The ANC then voted unanimously to support the project. It will be taken up by the Zoning Commission at its Nov. 28 meeting, having been removed from the Monday night agenda so that the ANC could be allowed to weigh in before the ZC voted.
Next CSX/Virginia Avenue Tunnel Meeting Scheduled for Nov. 30
Nov 15, 2011 3:38 PM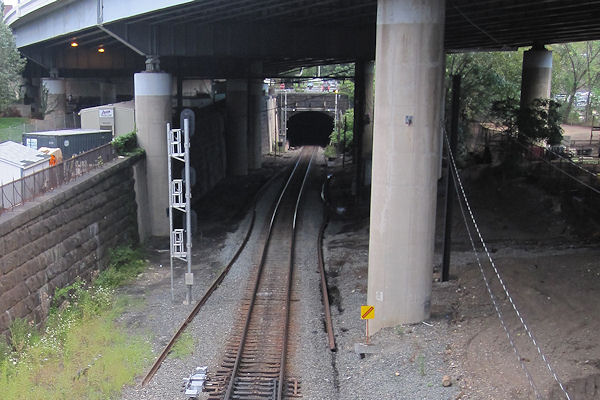 I received no notification of this, just decided to wander by CSX/DDOT's
Virginia Avenue Tunnel web site
and look for updates, and so am just happening to see that there's a
Public Alternative Meeting scheduled for Nov. 30
from 6:30 pm to 8:30 pm at Nationals Park. Their description: "As a follow-up to the public scoping meeting held on
September 14, 2011
, a second public meeting will be held to discuss alternatives for this project. This public meeting will include a formal presentation, question and answer session, and open house displays. The formal presentation will start at 7:00 p.m. Both verbal and written comments will be taken at the meeting."
Given the displeasure voiced by many residents about the lack of information from CSX at the September meeting, it will be interesting to see how girded for battle both sides are at this second session. The
official comments letter from the Capitol Quarter Homeowners Association
, all 23 pages of it, is probably a pretty complete indicator of the issues that residents along Virginia Avenue will be pressing CSX over.
You can also read
my many previous entries
on the subject for more details (not in the mood to write the long re-summary today), and ANC 6B commissioner Norm Metzger is
writing a lot about the subject
as well.
UPDATE:
An
e-mail has now gone out
officially announcing the meeting. It says that free parking will be available in Nats Lot C (at the corner of 1st and N), and that there will be free shuttles from Capper Seniors #1 (900 5th St. SE) and Van Ness Elementary (1150 5th St. SE).
Teeter/Residential Building at the Yards on 6D November Agenda
Nov 10, 2011 5:08 PM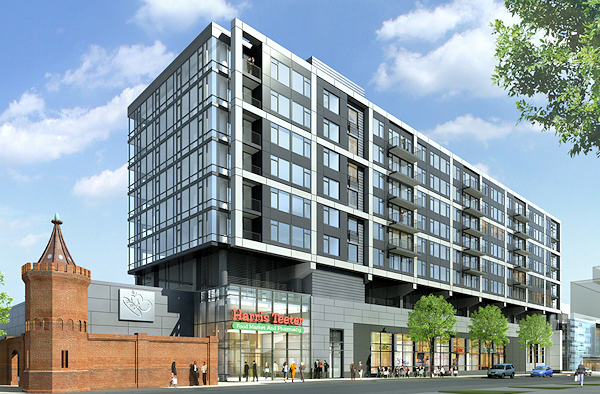 While you're spending your weekend trying not to head toward the
Navy Yard Metro station by mistake
, you can take a moment or two to add Monday's ANC 6D meeting to your calendar. The
agenda
doesn't seem to be getting updated online these days, but an e-mailed version shows that the only Near Southeast item to be discussed will be the
Harris Teeter/residential building
in the
Yards
, on 4th Street south of M. There are few minor modifications to the
design approved by the Zoning Commission nearly a year ago
that need new approvals (including an "upgraded" design for the entrance to the residential building), and so those are what will be presented to the ANC.
There was a bit of a flurry on Thursday morning when a
tweet
from a local business symposium indicated the work would begin on this project "next week." However, I checked with Forest City, and there's still a building permit that hasn't yet been approved, so while they hope to start construction reallyreallyreally soon, "next week" might be a bit optimistic.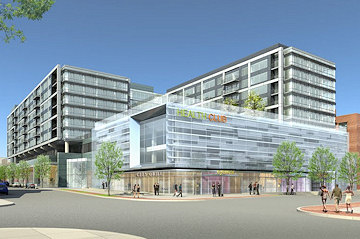 If you're just joining us, this project originally was planned to be an office building on top of the Harris Teeter, but will now instead be two long and narrow apartment buildings with a total of 200ish-units, with their entrance at 1212 4th St. SE. The Teeter will be 55,000 square feet and will have its main entrance near M Street. While the executive architect for the entire project is
Shalom Baranes
, the interior designer for the apartments is
Core Architects
out of Toronto, and you can see
a few renderings
on their site as being for "The Yards" (looks like a lobby or community room space, maybe?) , along with their many other projects.
On the south end of the block, at 4th and Tingey, there will be a four-story building with another 55,000 square feet of retail space, with what's expected to be a spa/fitness center/gym tenant on the top two floors and retail on the bottom two (seen at above left). There will also be a new narrow service road running south from M between this new development and Building 202 for loading zone access. Access to residential parking will be from Tingey, and the grocery and retail parking entrance will be on 4th, next to the residential lobby entrance. The retail spaces are being designed by
Kenneth Park Architects
.
You can check out my
Yards 401 M/Parcel D page
for more information, photos, and renderings. (Plus, in case you're wondering, this building site is just across 4th Street from the
Boilermaker Shops retail space
, about a block to the northeast of the
Foundry Lofts
, and a block from the
Yards Park
.)
The ANC 6D meeting is on Monday Nov. 14 at 7 pm at 1100 4th St., SW (the Safeway building), in the 2nd Floor DCRA meeting room.
Whatever Happened To: The Beer Garden at 8th and L?
Nov 8, 2011 1:29 PM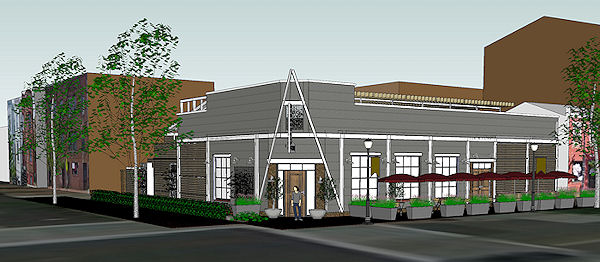 It was
one year ago today
that we heard the first rumblings of plans for a
beer garden
to be built on the northwest corner of 8th and L, SE. It would have 99 indoor seats and space for an additional 200 customers in a "summer garden," and would offer live music.
The project went through
all
manner
of
liquor license
wrangling, followed by a lot of
work
on the
design
in order to
satisfy
the Historic Preservation Review Board (which
it finally did
, in March). At many of these sessions, the owner spoke of wanting to get the project underway as quickly as possible, but since the HPRB approvals in spring, it hasn't seemed like anything has been happening.
However, late last week, when I was playing around with DDOT's new
Public Space Permit locator app
and figuring out how to import its Occupancy Permit data into my own list of
Near Southeast Public Space Permits
, I saw that a construction staging area permit had been issued for 720 L St. SE on Sept. 22. Some digging into the city's building permits application also found building permits applied for on Aug. 18, but still not yet approved.
I contacted the owner, Mark Brody, and he tells me that they indeed are working on permits, but "it's taking longer than expected." (I know, this is a shocker.)
So, no timetable for the project's opening at this point, but it appears it hasn't fallen completely off the map.
For more, you can see my
8th Street Beer Garden project page
, or read the
posts from the approvals process
.
(And, speaking of the permits feed on the JDLand home page, I've tinkered with both the public space and building permits so that they're now sorted and grouped by address.)
New Yards Park/Teague Park Bridge Dedication Scheduled for Nov. 22
Nov 7, 2011 3:27 PM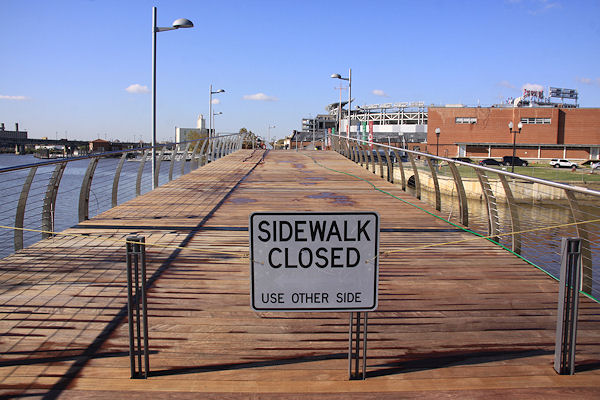 The word is going out that the official dedication of the new pedestrian bridge connecting the
Yards Park
and
Diamond Teague Park
will be held on
Tuesday, Nov. 22, at 1:30 pm
. The mayor is expected to be there, along with George Hawkins of DC Water (since the bridge runs right past the
main pumping station
) and I'm sure a slew of other dignitaries.
This is the bridge that will allow for an easier and more enjoyable stroll between the Yards Park and
Nationals Park
, depositing stadium-goers right across the street from the Grand Staircase/1st Base Gate at 1st Street and Potomac Avenue. And it will also allow water taxi customers disembarking at Teague Piers to get to the Yards Park without having to hike up to Tingey Street and then over a few blocks. (Eventually the Yards Park will have its own marina and water taxi piers, but not for another few years.)
It is part of the
Anacostia Riverwalk Trail
, and eventually will also connect to a larger public plaza adjacent to Teague Park, as part of the easternmost development of the
FloridaRock/RiverFront
project.
Hope they have good weather for the ribbon cutting!
Navy Yard, Waterfront Metro Stations Closed Veterans' Day Weekend
Nov 7, 2011 11:25 AM
If you thought the closure of the Navy Yard Metro station
over Halloween weekend
was a blast, you get to relive it again over the upcoming Veterans' Day long weekend, as once again
WMATA has major Green Line track work planned
.
And, if you're someone who uses the Navy Yard station to get to work, hopefully your employer follows the full federal holiday calendar, because this time the closures begin at
10 pm
Thursday, Nov. 10
, since Friday is the Veterans' Day holiday. Through the system closing on Sunday, Nov. 13, Navy Yard, Waterfront, Anacostia and Congress Heights stations will all be closed. Free shuttle buses will run to the closed stations from L'Enfant Plaza and Southern Avenue, but Metro
advises customers
to "allow 30 minutes of additional travel time."
Bridge Girders To Be Installed Over M; Nighttime Ramp Closures
Nov 6, 2011 10:22 AM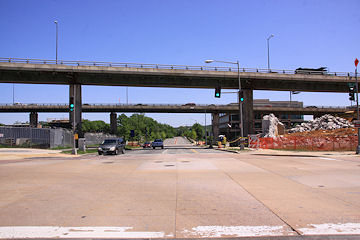 The
11th Street Bridges
folks have
put out the word
that this week they will be installing girders across
M Street SE between 11th and 12th Streets
as part of the new freeway flyover. They'll be doing the work from 9 pm to 5 am Nov. 7 through Nov. 10, and it will require closure of the inbound 11th Street Bridge exit ramp to M Street as well as eastbound M Street between 11th and 12th. (Westbound M will have "limited access.")
This flyover is what will be connecting the new freeway bridge to the westbound Southeast Freeway. You can see recent photos showing the progress of the entire 11th Street Bridges project in this
October 7 photo gallery
. It's expected that the new freeway bridge will open by the end of this year. (Which isn't far off!)
American Heart Association Heart Walk at Nationals Park Saturday
Nov 4, 2011 10:44 AM
If you see scads of people walking around the neighborhood tomorrow (Saturday, Nov. 5), it's the
American Heart Association Heart Walk
. It starts at
Nationals Park
, goes around the concourse, exits out to Potomac Avenue, goes up First to Tingey, then over to the
Yards Park
(and on the boardwalk), then up to M Street, back down Half, and over to South Capitol before heading back into the ballpark for the finish line. (
Here's the map
.) The event starts at 8:30 am, but it doesn't leave the ballpark until 10 am.
Metro Approves Subway Station Renaming to Navy Yard-Ballpark
Nov 3, 2011 1:28 PM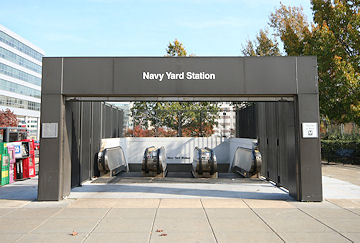 The long road to giving the Navy Yard Metro station a new name seems to have at last come to its resolution, as
WMATA's board voted to approve
"
Navy Yard-Ballpark
."
With the city having a "private commitment" (rumored to be the Nationals) to pay the costs of the change, and with rider surveys
having shown a favorable response
to the new name, the board opted to approve DC's request instead of its staff's recommendation of putting Ballpark in as a secondary name.
This all started more than a year ago, with the Capitol Riverfront BID
initially wanting
some version of "Capitol Riverfront/Ballpark/Navy Yard." Then the Nationals started
pushing for adding the "Curly W"
, for some variant of
Navy Yard/Capitol Riverfront/

. Then WMATA came out with its
new naming guidelines
, including a requirement that names be no more than 19 characters, which prompted the BID to
ask for "Navy Yard" to be dropped altogether
.
ANC 6D then opted to support
Navy Yard-

, or Navy Yard-Ballpark if the Curly W wouldn't be allowed. DDOT then
officially asked that Navy Yard-Ballpark be forwarded
to WMATA for approval. Then we had the
staff recommendation
for a split primary/secondary naming. And then today's action. Wasn't that a cinch?
This change, along with dropping "SEU" from the Waterfront station name and
other changes around the system
, are to take place when Metro's new map debuts in June of 2012.
First Look Inside the Foundry Lofts Building at the Yards
Nov 1, 2011 1:52 PM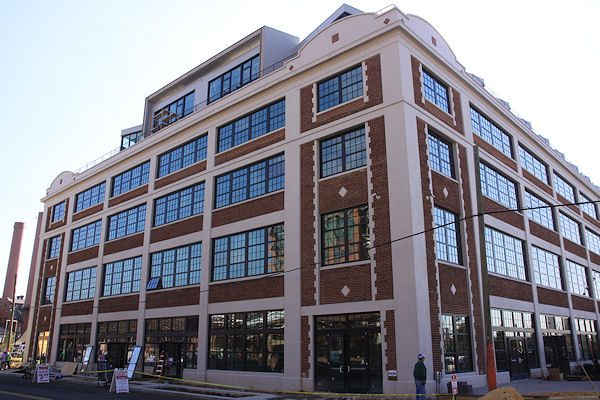 The fine folks at the
Foundry Lofts
leasing office
were kind enough to give me a hard-hat tour of the still-under construction building today, and of course I went with camera in hand. It was hard to pare down my photos to a manageable amount, but I think this
Foundry Lofts Construction Progress Gallery
does a good job of showing the general aura of the building's units and public spaces. (I even got to visit a few of the penthouse units, although there's still much work to be done on them.)
The 170-unit building is now about 43 percent leased, and the first residents are expected to move in at the end of this month. And within the next month or so, Potbelly Sandwich Works and Kruba Thai and Sushi will start work on their ground-floor spaces, with both looking to open during the first quarter of 2012.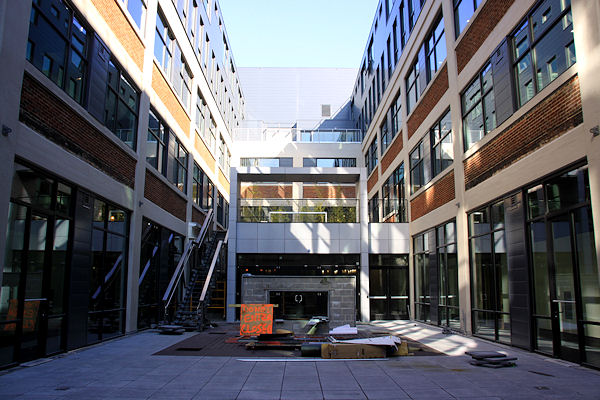 One aspect of the building's design that many people may not be aware of--since it isn't visible from the outside--is the large interior open-air courtyard, which even includes a yoga platform complete with bamboo. (I did confirm, though, that attendance at the daily yoga sessions will not be mandatory for residents.)
And, because I can never resist, I also got a couple photos of the so-close-to-being-finished bridge between the
Yards Park
and
Diamond Teague Park
(which should be opening Any Minute Now), as well as the increasingly naked
Boilermaker Shops
building. Those photos are at the bottom of the
gallery
.
For more about the project, see my
Foundry Lofts project page
, which includes many "before" photos that are worth looking at to be reminded at just what an amazing job has been done in transforming this 1918 building. And for much more detail about floor plans, available units, and other information, visit the
official leasing office web site
. Rents, according to the web site, start at about $2,000 a month for the one-bedroom units, $2.900-ish for two-bedroom units, and $3,200 and up for the two-story penthouses. (The corner ones with the great views run at about $4,500 a month.)