Near Southeast DC: Past News Items - December 2011
Go to Full Blog Archive
---
14 Blog Posts
Happy 20th Birthday, Navy Yard Metro!
Dec 27, 2011 10:59 AM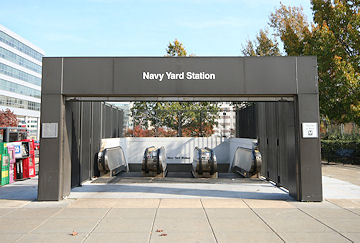 If you're looking for an excuse to have a celebration (and who isn't in the long, seven-day slog between Christmas and New Year's), you can raise a glass on Wednesday to the 20th birthday of the Waterfront, Navy Yard, and Anacostia Metro stations,
which opened on Dec. 28, 1991
.
Not surprisingly, it was the arrival of DC's subway in Anacostia that was the main focus of opening day celebrations: "At long last, after
two decades of planning and delays, site squabbles and legal hurdles
, Metro's Green Line came to Anacostia yesterday and Anacostia rolled out a green carpet of welcome," reported the Washington Post.
But, a few days earlier, the Post published a piece focusing on what changes the new Navy Yard station would bring to its surroundings: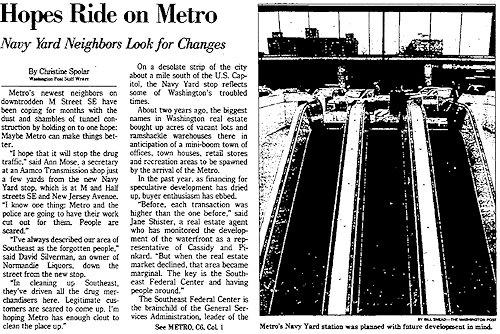 "Metro's newest neighbors on downtrodden M Street SE have been coping for months with the dust and shambles of tunnel construction by holding onto one hope: Maybe Metro can make things better."
"'I hope that it will stop the drug traffic,' said Ann Mose, a secretary at an Aamco Transmission shop just a few yards from the new Navy Yard stop, which is at M and Half streets SE and New Jersey Avenue. 'I know one thing: Metro and the police are going to have their work cut out for them. People are scared.'"
Then, see if this part sounds familiar: "About two years ago, the biggest names in Washington real estate bought up acres of vacant lots and ramshackle warehouses there in anticipation of a mini-boom town of offices, town houses, retail stores and recreation areas to be spawned by the arrival of the Metro. In the past year, as financing for speculative development has dried up, buyer enthusiasm has ebbed."
The article then speaks of the plans to redevelop the
Southeast Federal Center
with 1 million square feet of office space for 23,000 federal workers at agencies like GSA, the Army Corps of Engineers, the Navy, and perhaps FEMA.
"But today, as Metro cars rumble through test runs on the new extension of the Green Line, those dreams seem obscured by drug traffickers who walk undisturbed up and down M Street, in the shadows of boarded-up buildings that neighbors call crack houses, from which Metro workers solicitously warn visitors to stay away. [...]
"Between that and the subway stop is public housing. Trash piles up on the sidewalk. Hypodermic needles are discarded in open lots.
"'You've got to be something of a visionary to see what this is going to be like in five to 10 years,' GSA administrator Dick Austin said. 'There are a lot of those who are skeptics and say it's not going to happen.... Did you ever see the movie 'Field of Dreams?'"
And, in referencing the commercial developers who had bought up much of the land in the neighborhood, the article says: "Their hopes[...]: that the lackluster waterfront from Buzzard Point to the Washington Navy Yard could be turned into the Tysons Corner of the 21st century."
Girders Going in Over 11th Street This Week
Dec 27, 2011 10:09 AM
On Wednesday and Thursday (Dec. 28 and 29),
watch for closures on 11th Street SE
between M and K between 5 am and 4 pm as workers install girders above the street as part of the new flyover connecting the
11th Street Bridges
and the Southeast Freeway (or, as we probably need to start calling all of it,
I-695
).
Here's the details
, including where the detours will run.
If you've been by that stretch of 11th Street lately, you've seen the girders making their big bend westward, stopping just above 11th Street. (
This is the pier
that the girders are now being placed on, as seen
back in October
.) It will certainly change
the vista
on that stretch. I'll get photos after the girders are in place, and when the sun comes out.
In other 11th Street Bridges news, you probably noticed that the new outbound freeway span didn't open this past weekend, as had been hoped.
DDOT tells Dr. Gridlock
it will probably now be "early January." "The earlier opening had been a long shot anyway," DDOT spokesman John Lisle is quoted as saying.
Quick Batch of Lot 38 Espresso Photos
Dec 22, 2011 10:14 AM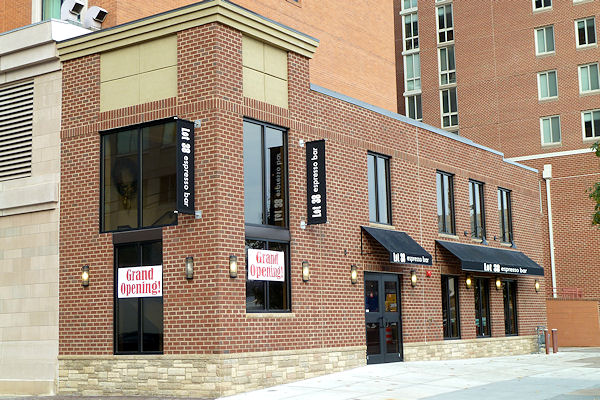 I missed out on Lot 38 Espresso's Grand Opening on Wednesday, because, well, it was raining. (How's that for dedication?) But I wandered down first thing this morning to check out the new digs, and of course snapped a few pictures. (I opted for a hot chocolate, since I am one of those heathens who doesn't drink coffee.)
Here's the photos
, and I included a couple of the progress on the two pavilions at
Canal Park
while I was at it.
I should also mention that they're now on Twitter (
@Lot38Espresso
) and
Facebook
, and I've added them to my
Near SE Businesses
Twitter list.
Their web site
is technically "coming soon," but it does at least list their hours, 6:30 am - 8 pm Monday-Friday, and 7 am - 7 pm Saturday and Sunday.
Bank of America Negotiating for 55 M Retail Space
Dec 20, 2011 12:07 PM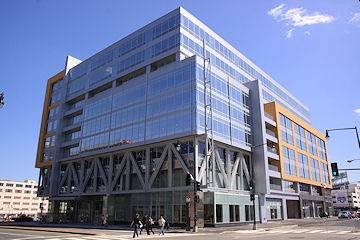 It looks like Monument Realty's office building at
55 M Street
may be close to getting its first retail tenant, as they have confirmed to me that they are in negotiations with Bank of America for a branch office in one of 55 M's ground-floor spaces, on top of the west entrance to the Navy Yard Metro station, just north of
Nationals Park
.
BoA is apparently leaving its swank construction-trailer digs at 4th and M SW this spring, and so is on the hunt for a new close-by home. Some workers at that branch have apparently told patrons that they are definitely moving to 55 M in June, but for now we'll go with Monument's statement that things are still in the negotiating phase.
If it comes to pass, BoA would be the fourth bank to open a branch in the neighborhood. (My own bank not being among them, alas.)
M Street SE/SW Transportation Study Meeting on Jan. 12
Dec 20, 2011 12:01 PM
Just sent out by DDOT:
"The District Department of Transportation (DDOT) will hold the first in a series of public information meetings for the M Street SE/SW Transportation Study from 6:30 to 8 p.m. on Thursday, January 12, 2012 at the Westminster Presbyterian Church, 400 I Street SW.
"The nine-month study, being conducted as part of the larger Anacostia Waterfront Initiative, seeks to identify current and future transportation issues and possible mitigation strategies along the M Street SE/SW Corridor and Southwest/Southeast Waterfront areas from 12th Street SE west to 14th Street SW and from the Southwest/Southeast Freeway south to the Anacostia River/Washington Channel.
"The purpose of the public meeting is to provide an overview of the transportation study, outline the study process/schedule and gather public feedback."
Great Moments in Social Media Boo-Boos
Dec 20, 2011 11:18 AM
There's always a lot of interest in what retail establishments will be coming to the many spaces at
The Yards
, but developer Forest City Washington is usually pretty good at keeping its cards close to its vest on potential tenants until lease agreements are signed.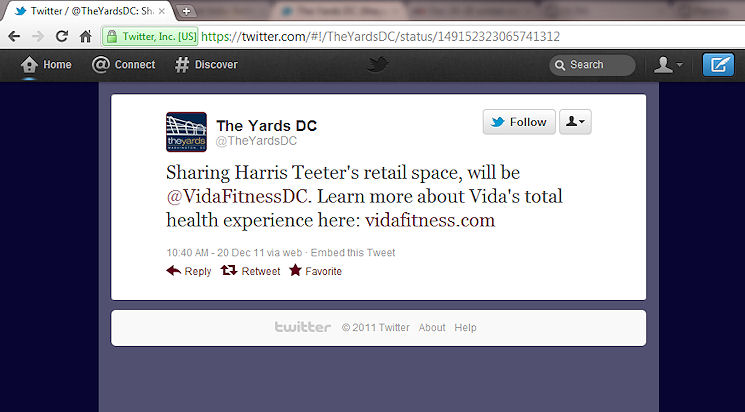 But sometimes the PR arms of companies can't help themselves--especially in the Twitterverse--and
get a little ahead of the game
. At which point (as the Post's Jonathan O'Connell
then commented
) it's pretty hard to put the toothpaste back in the tube.
Lot 38 Espresso Bar Opening Wednesday, Dec. 21
Dec 19, 2011 10:59 PM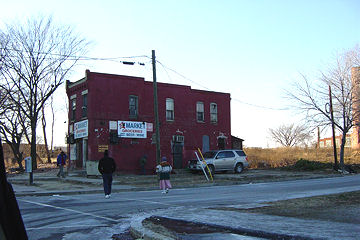 Lot 38 Espresso, the new coffee bar in the old Little Red Building/Star Market location on the
northwest corner of 2nd and L SE
, will at last be opening its doors this week. The owner tells me that the Grand Opening will be on Wednesday, Dec. 21, but that they will also be serving free coffee on Tuesday, Dec. 20, from 11 am to 6 pm.
Leave your impressions in the comments....
New Inbound 11th Street Bridge Opening This Weekend
Dec 15, 2011 2:05 PM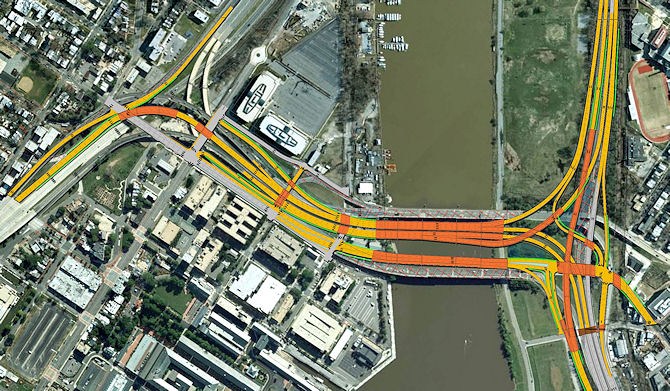 The District Department of Transportation will be hitting a big milestone in the $300 million, four-year project to build three new
11th Street Bridge
spans, as the new inbound "freeway" span will be opening by Monday morning, Dec. 19.
Mayor Gray will be participating in a ribbon cutting ceremony on the new span Friday morning, then there will be a weekend's worth of lane closures on I-295 and associated roads as the switch takes place, but DDOT expects to have traffic running on this new span by Monday's morning rush hour.
The new outbound freeway span is "tentatively" scheduled to open next week (Merry Christmas, commuters!).
There are still numerous flyovers and ramps that will need to be completed in order to add the highly anticipated new movements between the bridges and the Southeast Freeway and I-295, but that work can't be completed until traffic is moved to these two new spans.
The separate "11th Street Local Bridge" that will connect downtown Anacostia with 11th Street by the Navy Yard (and will include pedestrian/bicycling pathways) will open probably next summer. The entire project is expected to be completed by the end of 2013.
For far more information, check my
11th Street Bridges page
and
DDOT's official project page
. You can also see the
photos I took back on Nov. 1
of the progress on all three spans.
And here's the information on this weekend's road closures and detours in advance of the lane switches, which hopefully will also be posted on
DDOT's web site
soon:
• A single lane will be closed on northbound I-295 between Howard Road, SE and 11th Street from 12 am to 10 pm on Saturday, December 17.
• All I-295 northbound lanes between Howard Road, SE and 11th Street, SE will be closed at 10 pm on Saturday, December 17 through 9 am the following morning.
• The ramps from northbound I-295 (Exit 4) and 13th Street, SE to the existing 11th Street inbound bridge (Exit 4) will be closed from 9 am to 5 pm on Sunday, December 18.
• The ramp from the existing 11th Street inbound bridge to the westbound Southeast/Southwest Freeway will be closed at 10 pm on Saturday, December 17 through 5 pm the following day.
• Starting at 9:00 am on Sunday, December 18 one northbound lane on I-295 will be reopened to traffic and starting at 11 am a second northbound lane will also be reopened to traffic.
During the lane and ramp closures, signed detours will be posted.
Detours:
• During the closure of the northbound lanes of I-295, motorists traveling on northbound I-295 will be detoured via the ramp from northbound I-295 (Exit 4) to the existing 11th Street inbound bridge and M Street, SE to access the eastbound Southeast/Southwest Freeway using the 9th Street, SE entrance ramp. From eastbound Southeast/Southwest Freeway, motorists will access northbound DC 295 via eastbound Pennsylvania Avenue, SE.
• During the closure of the ramps from northbound I-295 and 13th Street, SE to the existing 11th Street inbound bridge (Exit 4), motorists will be detoured onto South Capitol Street to access the westbound Southeast/Southwest Freeway, Interstate 395, and destinations located via M Street, SE.
UPDATE, 12/19:
At
11:38 am on Sunday, Dec. 18
, the inbound span opened. Here's coverage from
NBC4
, and
DDOT's own blog
. And in all of this I should have mentioned that this opening included the new ramp down to M Street, bypassing the old 12th Street ramp/approach to M. There's now a new light at M for the two lanes of freeway-exiting traffic to turn left.
Tidbits: Disaster!, Tunnel Comment Period Extended, WP on Yards
Dec 12, 2011 1:31 PM
Tidbitiest of tidbits:
* Don't panic on Wednesday (Dec. 14) if you see what appears to be all heck breaking loose at
Nationals Park
--the DC Fire Department and the US Marine Corps' Chemical Biological Incident Response Force will be holding a "large-scale disaster preparedness exercise . . . simulating the joint response to a major terrorist attack." Alas, though, it won't be zombies, but rather a chemical attack. It will run from 10 am to about 2 pm. (Not open to the public.)
* DDOT and CSX have extended the comment period for the
Virginia Avenue Tunnel concept offerings
by 30 days,
to January 30, 2012
.
* Jonathan O'Connell of the Post
wrote a summary
of the goings-on at
the Yards
, none of which will be news to JDLand readers, but which might still be of interest. (The "office building with retail space" mentioned at the end is apparently the
Lumber Shed
, which probably would be better described as a retail building with some office space, especially since the office tenant will be Forest City themselves.)
Florida Rock Headed Back to Zoning Commission With Changes
Dec 9, 2011 2:29 PM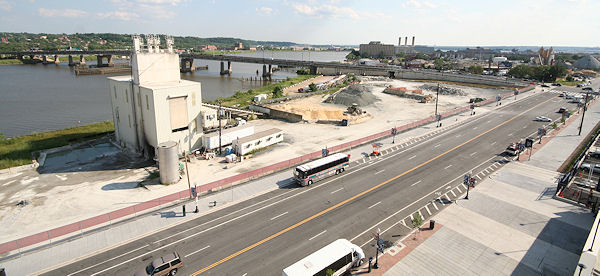 I almost can't bring myself to write the words, but the owners of the
Florida Rock
site just south of Nationals Park have filed with the Zoning Commission for not only the
previously reported plan
to change the planned first phase office building to a residential one, but also to revisit parts of the site plan for the three subsequent phases. (For those of you versed in zoning speak, they are requesting to "revert Phases II, III, and IV to First Stage Approvals with modifications.")
This is going to be a lengthy process, with hearings at the Zoning Commission, reports from the Office of Planning and others, and presentations to the ANC (starting with one this coming Monday night, Dec. 12). So I'm going to avoid getting into the weeds too much too early, and will just give some bullet points of what changes they are looking for. (You're free to read these
57 pages of the filing
for more detail.)
* The
new Phase 1 building
, at the far east end of the site (next to
Diamond Teague Park
) will now be the aforementioned residential building, a nine-story U-shaped design oriented toward the river with 300-350 units and 286 below-grade parking spaces. There will still be 12,500 square feet of retail, though they are asking that 7,000 of it be "flex space" that "may alternatively be dedicated to residential amenity space" until retail gets going. There will be a private courtyard within the "U", but there will also be the open space on the buildings' east side, now dubbed Anacostia Plaza, that will be open enough to maintain open views from First Street and the stadium's Grand Staircase to the river but will also provide "passive recreation space."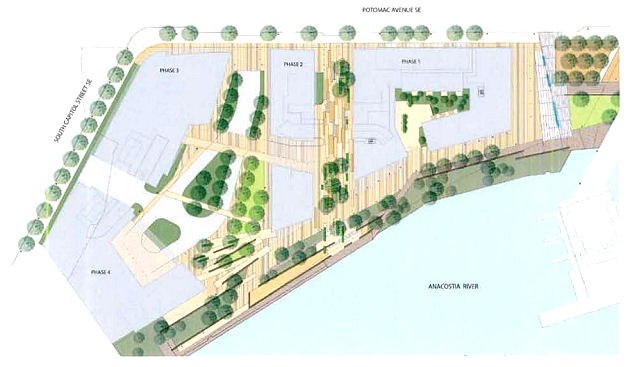 * The
esplanade
that has always been such a big part of the site plan remains, acting as the portion of the Anacostia Riverwalk Trail connecting South Capitol Street to Teague Park, the new pedestrian bridge, and the
Yards Park
. The Esplanade will "relate" to the "design vernacular" of the newly constructed boardwalks, and will also have a lot of stormwater management and bio-filtration offerings.
* On the building's west side will be the "
Mews
," which they call a pedestrian boulevard separating the Phase 1 building from the planned Phase 2 residential building. This path will also provide access to parking and loading for the first two phases, but "a dynamic paving design . . . will help distinguish this area as an urban space that privileges pedestrians over vehicles."
* The filing says they anticipate construction to begin in the second quarter of 2013, with first move-ins in early 2015 and the entire phase completed by summer 2015.
As for
overall changes
, here's what seem to be the most interesting changes from the previously approved design that the developers are looking for:
* The new plan would bring 1,164,640 square feet of gross floor area (4.6 FAR), up from 1,115,400 sq ft/4.4 FAR in the last plan. The other three phases' uses would remain unchanged (residential, office, hotel).
* Building heights of 130 feet for Phase 2-4 are being requested, compared to 130/112/130 last time around.
* Below-grade parking spaces would go from 1,010 to 1,144.
Plus, though It's hard to tell from
one small site plan concept drawing
, a lot of the public space design, especially to the east of the Phase 3 and 4 buildings, looks scaled back from the 2008 design. (
UPDATE
: Here's a graphic put together from another part of the filing that
compares the 2008 site plan with the current one
.)
The filing also says that "the Applicant would like the flexibility to provide interim uses on Phases, II, III, IV so that the site will not simply lay dormant pending construction," and lists a park, a farmers market, or other "simple, temporary retail uses" as examples.
And, just as in the previous plans, development of phases 3 and 4 are completely dependent on the construction of a new
South Capitol Street Bridge
, since the current bridge bisects the property where those buildings are planned.
Again, this is early in this new process, and there will be plenty of filings and presentations to come for all the additional detail you're going to be clamoring for. For now, the takeaway is that FRP/MRP want to get started on a residential building at 1st and Potomac in the spring of 2013, and still want to move forward on the rest of the site with a design similar to what was approved 3 1/2 years ago, but with some modifications.
This project first began its zoning quest in
1998
, and went through a four-year process
ending in 2008
to get its second-stage approvals. I should also note that Davis Buckley Architects, who worked on the project throughout that 10-year ordeal, is no longer part of the design team;
SK&I
is now on board, with
Oculus
as the landscape design firm. The site's owners,
FRP Development/Florida Rock Properties
, announced their partnership with MRP Realty
earlier this year
.
(As for the concrete plant currently on site, I haven't looked lately, but demolition is underway, and the filing says it should be done by the end of the year. Tom Boswell's heart will be broken.)
December ANC 6D Agenda: Florida Rock, CSX, M Street, More
Dec 8, 2011 4:20 PM
The agenda for Monday's ANC 6D December meeting is now available (and
actually posted on their web site
, too!). My hopes for a pre-holiday pass from this have been dashed, though, since there are a number of Near Southeast items on the agenda:
* There is an application pending for landmark designation for the historic 1905
DC Water Main Pumping Station
, to which I'm sure we all say, "What do you mean it isn't already designated?"
* CSX will give an update on the Virginia Avenue Tunnel NEPA process. (Or you can just read
my summary of last week's public scoping meeting
.)
* The new partners in the
RiverFront/Florida Rock project
will be giving a presentation on their new zoning filing, which I'll be writing more on shortly.
* There's also going to be an update(?) on the long-desired Maine Avenue/M Street comprehensive traffic study, which we haven't heard much about
in a while
.
You can
check the agenda
for the other items. (it's a pretty long lineup. Yay. As always, December seems to be the ZOMG WE HAVE TO DO SOMETHING portion of the year, not just for ANCs but throughout the development/bureaucratic sphere.) The meeting is at 7 pm in the DCRA offices on the 2nd floor of 1100 4th St., SW.
Some Very Small Items: Velodrome, Bikeshare, 11th Street Bridges
Dec 7, 2011 11:14 AM
* There was a "Wait, what?" moment on Tuesday when
DCist reported
that a velodrome would be coming in 2012 "in the shadow of Nationals Park in Southeast DC." I did some quick sleuthing, looking at the
organization's web site
and seeing Akridge as a partner, but I just couldn't place the design as being along Half Street. Then, thinking about how people so often can't get Southeast and Southwest straight when it comes to anything near the
ballpark
, I took a look at the
Google Maps view
of Akridge's Buzzard Point land at 1st and V SW, and
Ta-Da! A pretty clear match.
But this morning, Akridge is no longer listed as a partner on the web site, and the site rendering is gone, too. Perhaps this is all just because final leases and paperwork hadn't quite yet been signed. (A not uncommon tale, young upstarts getting all excited about a pending deal and blabbing just a little too much info for the comfort of the big company they're dealing with. Though it doesn't necessarily mean the deal is dead.) Of course, this is all actually outside my territory, so you'll want to go to
SWill
for updates.
UPDATE:
Jonathan O'Connell has
tweeted this out
: "Akridge spokeswoman on velodrome: 'We don't have an agreement.' And: 'I would say that putting Akridge on the site was probably premature'."
* Last Wednesday,
DDOT installed the new Bikeshare station at 3rd & G, SE
, on the north side of the Results parking lot. This is technically outside of Near Southeast, but it's probably now the closest station for Capitol Quarter folks (and me!). It has 19 docks.
* DDOT is
shooting for the weekend of Dec. 16
to open the new inbound/outbound freeway spans of the
11th Street Bridges
, and they
tormented me
with some
helicopter shots of the current progress
. (Though remember that it's just the spans opening--they still have work to do on the ramps and flyovers to add the new movements to and from DC-295.) They also
tweeted
that the 11th Street Local bridge is ahead of schedule and will open spring/summer of next year. My
construction progress photos from Nov. 1
are a smidge out of date by now, but still worth looking at.
*
Foundry Lofts
now has
19 moved-in residents
.
A Slew of Shots Snapped on a Sunny Saturday Sojourn
Dec 4, 2011 5:24 PM
Yes, it's time for another batch of updated construction photos. This is a tough stretch of year to take these--the sun never gets very high in the sky, so anything facing due south is about impossible to get without glare. And, for places like
Canal Park
, it's hard to even get some locations out of the shadows long enough to get a photo that you can decipher. But you can see (below left, and on the project page) a couple of shots of the progress on the park's pavilion where the
Park Tavern restaurant
will be housed, along with plenty of shots vaguely showing the other ongoing ground-level work. Meanwhile, at
Capitol Quarter
(below right), they continue to just zip right along, with framing now well underway on the north side of L and around up 4th, and prep work for foundations continuing in the project's final block, on the south side of L.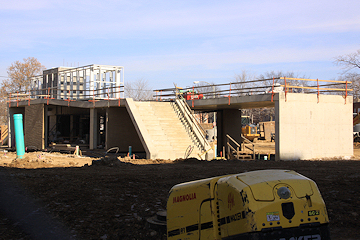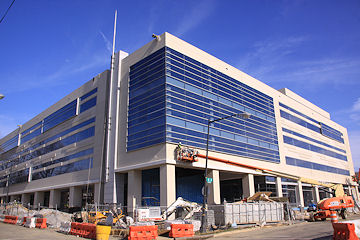 In the Renovation/Rehabilitation portion of the tour, we have a few updated images of the
Boilermaker Shops
(above left), another building that's tough to shoot in winter, even more so when there's not much of it other than steel beams at the moment (though they have recently been painted white). Meanwhile,
225 Virginia/200 I
is coming pretty close to the end of its exterior renovations, though work inside will continue in preparation for the arrival of three DC agencies later this year.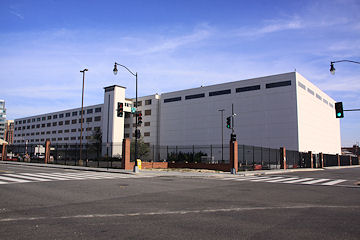 There isn't much new to see of
Lot 38 Espresso
(aka the Little Red Building 2.0, above left), which the grapevine says is now shooting for a mid-December opening. (But, really, at this point, it opens when it opens--the last batch of permits and approvals is always slow going, and I bet the owner wants it open even more than you do.) I also took a bunch of shots of the
former National Geospatial Intelligence Agency building
at 1st and M (above right), not because there's been any changes to it, but because I really enjoyed finally being able to aim a camera at it without having guards reaching for their guns. (Nyaah! Nyaah! Click! Click! Click!)
I came home with 438 new photos (yikes), and you can browse the 180-plus I decided to upload to the
online archive here
. (Yes, it's true, you don't actually get to see every photo I've ever taken. Which is probably for the best.)
Remember to click the
icon to see the entire range of photos for any location, while the project pages linked to above are your best bet if you're looking for paired before-and-afters and/or narrated tours.
And, in case you didn't see
my tweet
or my
late-night update
, the
residential/Teeter project at 4th and M
got all the dotted i's and crossed t's I mentioned in my initial post, and is officially now considered by Forest Ctiy as "commenced." (I just can't call it 1212 4th Street yet. Doesn't really make the location pop as well as "4th and M.")
Teeter/Residential Building Really About to Start Construction
Dec 2, 2011 11:37 AM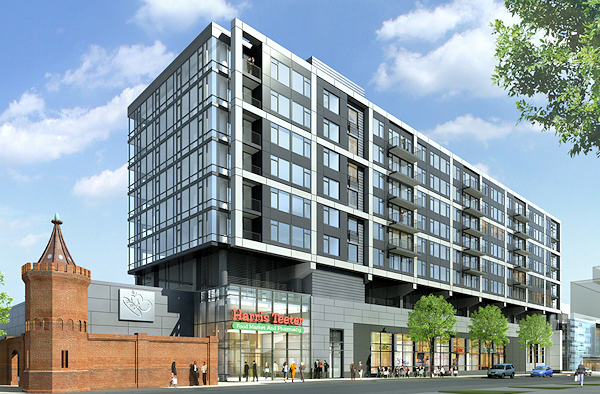 You know how I always like to say that something is expected to happen
Any Minute Now
? In the case of construction getting started on the southeast corner of 4th and M on the
new residential/Teeter/retail building
in
The Yards
, that's now actually a pretty true statement. On Thursday Forest City received the shoring/sheeting permit approval that the project has been waiting for, which will allow the start of digging at the site as soon as some other i's are dotted and t's are crossed.
Also, on Monday night, with almost no discussion, the Zoning Commission approved 5-0 the project's
itsy bitsy teeny weeny design modifications
discussed recently.
Getting construction started Any Minute Now should allow the Harris Teeter to open in late 2013 or early 2014, if all goes according to plan, though hopefully once the shovels hit the ground, we can get a more detailed timeline as to when the entire project will be finished.
LATE UPDATE: And, just like that, i's have been dotted and t's have been crossed, and Forest City tells me that this project is now considered "commenced."