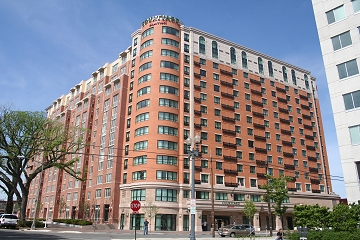 Just crossing the wires
: "
Chesapeake Lodging Trust
announced today that it has entered into a definitive agreement to acquire the 204-room Courtyard Washington Capitol Hill/Navy Yard located in Washington, DC for a purchase price of $68 million, or approximately $333,000 per key." The
hotel
, at New Jersey and L, SE, opened in spring 2006 along with its next door neighbor, the
Capitol Hill Tower
co-op; both were developed by Valhal Corp. (whose principals then formed Ranger Properties in 2007). It will apparently remain a Courtyard; no word of what if any impact this sale would have on Capitol Hill Tower.
* I imagine most interested parties do not need to be reminded that tonight at 6 pm at 900 5th St. SE is the meeting with DCPS to find out what they plan to do with
Van Ness Elementary
. With laser-like precision, they picked a date when I absolutely can't be there, so anyone who wants to pass along the news as it's happening, please do. (I will be keeping an eye on Twitter.)
And, two recently
Tweeted
links that might be of interest:
* The
DC Fiscal Policy Institute takes a look
at the possible
$8 million tax break
to bring Whole Foods to New Jersey Avenue, asking "why it makes sense for the District to continue putting money into an area that has seen tremendous public investments and is already on the cusp of development" and why the project would require a special subsidy to move forward, since they say that "Whole Foods already would qualify for a set of tax incentives on grocery-store development, including a 10-year property tax break on the store itself."