Near Southeast DC: Past News Items - September 2008
Go to Full Blog Archive
---
39 Blog Posts
Go to Page:
1
|
2
Hit-or-Miss Batch of New Photos
Sep 30, 2008 10:18 AM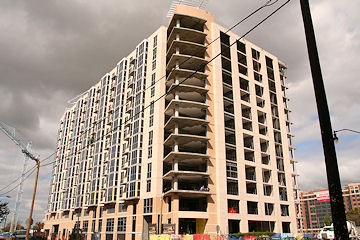 Before the storm clouds arrived yesterday (literally and figuratively), I got out and took an incomplete smattering of pictures along
Second
,
New Jersey
,
First
,
Cushing
, and
Half
. (Use those links to see all the before-and-nows of these latest shots.) These new photos are mainly of
909 New Jersey
,
Velocity
,
55 M
, the empty skyline where
1015 Half
is just about to reach ground level, and the final "after" photos from the demolition of the Merritt Cab building at First and K on
Square 696
. The sun disappeared before I could get over to
Capitol Quarter
, so new photos from there will have to wait a few days, and since the afternoon remained cloudy (and busy), I didn't take an afternoon batch (i.e., no photos looking east).
And, if you haven't wandered through them for a while, the
gallery of my favorite before-and-afters
is a striking walk through the past few years, as the memories of the old Near Southeast start to get just a wee bit hazy.
WBJ Wonders About Construction Financing
Sep 28, 2008 11:40 AM
The cover story of this week's Washington Business Journal (
online for subscribers only
) asks: "With Wall Street imploding, regional banks running for shelter and life insurance companies pulling up the ladders, if 1000 Connecticut couldn't get construction financing before the financial storm took on epic proportions, who can get it now?" It also quotes an expert as saying: "For any speculative project, both inside and outside the city -- even in core locations downtown -- it's basically impossible."
The article mentions two of Near Southeast's spec projects in the pipeline:
* "Others, like the William C. Smith Cos. project near
Nationals Ballpark
at
250 M St. SE
, don't intend to pursue financing or break ground until they have a signed-and-sealed tenant."
* "James 'Jad' Donohoe IV, whose company plans a 200,000-square-foot office building at
1111 New Jersey Ave. SE
, said he has no choice but to broaden his financing net to include nontraditional sources of funding, such as syndication arrangements with multiple banks, sovereign wealth funds and equity from hotels that will be part of the development. " 'We're still in the early stages now, but we've already been searching those things out for this and for other projects we have out there,' he said."
I'd also note that another office spec project in the neighborhood, DRI/Transwestern's
Plaza on K
on the northwest corner of First and K, had previously mentioned a Fall 2008 start date for its first phase, but there have been no recent announcements and no building permits filed.
And, there's also three spec office buildings currently under construction--
55 M
,
100 M
, and
1015 Half
, with only 100 M having so far announced any tenants (Parsons is expected to occupy 30 percent of the building, in early 2009). But, according to WBJ, "industry experts say they are not too worried about the future of the 36 local buildings that are under construction but not under contract to a tenant."
Will the bailout deal change any of this? [insert "We shall see...." comment here.]
Reminder About My DC Government Data Feeds
Sep 27, 2008 4:10 PM
A
nice post by a Computer World blogger
makes mention of
my use of the DC government's RSS feeds
for Near Southeast crime reports, permits, service requests, and other items. If you mostly read the site by RSS, or don't
scroll down
the home page very often, you might be missing these nuggets (and the archives that go back to 2006 or even earlier). Alas, right now both the public space permits and building permits feeds are on hiatus, depriving me of my morning adrenaline rush to see if anything new has come through the pipeline, but I keep being assured they'll be back online soon. In the meantime, don't forget to
check the data out
every so often.
Raze Permit Application Filed for Bus Garage
Sep 26, 2008 6:51 PM
Now winding its way through the DC regulatory process is a raze permit for the former
WMATA Southeastern Bus Garage
, at 17 M Street (directly across from the west entrance of the Navy Yard Metro station and one block north of
Nationals Park
). The garage was purchased last month by Akridge,
which has indicated
that it is planning a 700,000-sq-ft mixed-use project on the site, perhaps getting underway in 2010. The permit request is currently under review by the city's
Historic Preservation Office
; ANC 6D would also have been notified.
Something Happening at 801 Virginia?
Sep 26, 2008 1:30 PM
When last we left the plot of land on the
southeast corner
of Eighth Street and Virginia Avenue, we had learned that the owners (known as "801 Virginia Avenue LLC") had
landed on the city's tax sale list
, a few months after they
put the site up for sale
, with their plans for "The Admiral" condo-building-with-ground-floor-retail appearing to have collapsed. There's no indication in the land records that the lot has sold, and nothing on the
Office of Tax Revenue
web site to indicate what might have happened with the tax sale, but now appearing on the
agenda for the Nov. 25 meeting
of the city's Board of Zoning Adjustment is an application by "801 Virginia Ave LLC by Phillips Ocilla Davis Development LLC" for variances "to allow the construction of a new commercial office building with ground floor retail [...] at premises 801 Virginia Avenue, S.E." Hmmmm.....
New Ballpark Didn't Mean Big Attendance
Sep 25, 2008 1:02 PM

From the Post's Chico Harlan,
on his Nationals Journal blog
: "Today, the Washington Nationals play their final home game of the season; it's fan appreciation night. In conjunction, the franchise will likely clinch an undesired distinction, finishing with the poorest cumulative attendance for any team in the first year of a new ballpark in the post-Camden Yards era. Going into tonight's game, the Nationals have drawn 2,320,400 into
Nationals Park
. Unless at least 34,859 come out to the ballpark tonight -- and entering yesterday, they were averaging 29,077 per game, 20th in baseball -- they will fall shy of the 2003 Cincinnati Reds, who inaugurated their ballpark with 2,355,259. Since 1992, when Oriole Park at Camden Yards opened -- redefining both the design and potential of new ballparks -- 17 teams have started the season in new venues." Obligatory quote from Stan: "I think given where our record is, I've been thrilled with our attendance."
But, will there be a game played tonight? It's looking to be
wet and windy
. This gray sky is giving me nightmarish flashbacks to the damp and cold weather on
Opening Night
, which I'm not sure I've ever warmed up from.
Tiny Items to Mask the Reality That I Have No News
Sep 24, 2008 3:37 PM
* The
Congress for the New Urbanism
has named the 11th Street Bridges (along with the Southeast Freeway) to its
Freeways Without Futures list
, recognizing the top 10 locations in the U.S. "where the opportunity is greatest to stimulate valuable revitalization by replacing aging urban highways with boulevards and other cost-saving urban alternatives." It mentions the opposition of the
Capitol Hill Restoration Society
to the plans to
reconstruct the 11th Street Bridges
, scheduled to start next year.
* A few folks wrote in to mention that there's a new sign up advertising the planned office building at
1111 New Jersey
. Despite some building permits recently in the pipeline, developer Donohoe told me a few weeks ago that no announcement of a groundbreaking is imminent.
* I seem to always manage to be out of town during
WalkingTown DC
, and so missed last weekend's jaunt around the "Capitol Riverfront." Blogger fourthandeye from
The Triangle was there
, however, and gives a nice overview via eyes that don't look at these streets every day.
* The weather forecast does not look good for Thursday night's final home game of the season at
Nationals Park
.
End-of-Season Oktoberfest Party on Thursday
Sep 23, 2008 1:55 PM
From the Nats: "The Washington Nationals will host the Oktoberfest End-of-Season Party Presented by Hard Times Cafe and Budweiser American Ale on Thursday, September 25, prior to the final home game of the 2008 season. The party will take place on the Rooftop Party Deck, located on top of Nationals Park Garage B, from 5:00pm - 7:00pm. Tickets for the game and event may be purchased for $25 at
nationals.com/Oktoberfest
and include a Scoreboard Pavilion seat (Sections 240 - 243, normally $27) and admission to the event. Fans may enjoy complimentary food and drinks provided by Hard Times Cafe and Anheuser-Busch, music and dancing."
Metro Board to Vote on N22 Bus Changes
Sep 22, 2008 1:47 PM
As
I wrote a few days back
, there are apparently plans to add a DC Circulator bus route in spring 2009 that would run between Union Station, the new US Capitol Vistors' Center (if it ever actually opens), and the Navy Yard station entrance at New Jersey and M (two blocks from
Nationals Park
). Since it would run on a similar route to Metro's N22 bus, Metro would then discontinue the N22, a move which requires a public hearing. So, on
the agenda
for this Thursday's WMATA board meeting is an item to both authorize the scheduling of the public meeting and also to amend Metro's FY09 budget to extend through March 2009 the current N22 service, which was expanded to evenings and weekends just before Opening Day as a way to move people to and from the ballpark.
Here is more information
detailing the agenda item.
One thing the board will not be voting on this week is the selection of a developer for the Navy Yard station's chiller plant site on the
southwest corner of Half and L
. Back in July there were discussions by WMATA's Planning, Development and Real Estate Committee in executive session about this selection, but nothing has been announced publicly and no items on the chiller site are on
any of Thursday's agendas
. Waaah.
More on Monument's Lehman Entanglements
Sep 22, 2008 11:02 AM
Today's Post has a piece
that gives more details on how Monument Realty has been tied to Lehman Brothers over the years, and how that might impact Monument's
Half Street project
: "In addition to an equity stake in Monument's Half Street project with San Francisco-based MacFarlane Partners, Lehman holds a $12 million secondary loan and Chicago-based Corus Bank holds the $72 million construction loan on the first phase of that development, a nine-story office building rising above the Navy Yard Metro stop. The rest of the project has not secured outside financing. [...] Monument began searching for another investor to buy out Lehman's positions soon after the credit markets began to tighten. Some bids were presented earlier this year, two sources familiar with the negotiations said, but Lehman rejected them as too low."
Taxation Without Representation Street?
Sep 21, 2008 8:20 PM
(I've been out of town for the past week, so will be trying to catch up over the next few days.) From
Friday's WBJ
(subscribers only): "A bill before the D.C. Council would rename a portion of South Capitol Street SE as 'Taxation Without Representation Street.' [...] It's unclear what portion would be renamed. Our guess: The stretch near
Nationals Park
, ensuring plenty of out-of-towners are introduced to D.C.'s fight for a vote in Congress." The bill,
B17-0909
, was introduced back in July, but is
not yet available
online, so no more details than this (including whether WBJ's guess as to the potential location is accurate) are available for now.
Ballpark Sales Tax Revenue Short of Projections, and No One's Moving to the Neighborhood
Sep 18, 2008 11:22 PM
Two pieces in Friday's Post of interest to Near Southeast fans: "
Nationals Park Revenue Falls Short of the Mark
," detailing how tax revenue for the first year at the
ballpark
is expected to be about $2.6 million short of the $13.5 million originally projected, and a sidebar piece, "
Though Developers Built It, The Tenants Did Not Come
," about the empty buildings in the neighborhood, using Lerner's
20 M Street
as a jumping off point: "In many ways, the Lerner building -- owned by the Bethesda real estate family that also owns the Nationals baseball team -- is symbolic of the emerging district around the ballpark. Sleek new buildings with offices, condos, apartments and retail space have popped up all over. But many remain empty, seeking tenants in a sluggish economy."
The first piece, on the taxes, also talks about the ongoing dispute over whether the stadium was "substanially complete" by Opening Day, and that the Nationals are still withholding their $3.5 million rent payment. On the other hand, the article says that the city has enough money to cover the debt service on the stadium financing because the special ballpark tax on city businesses is bringing in more revenue than expected.
Action Today at 1345 South Capitol Lot
Sep 18, 2008 12:24 PM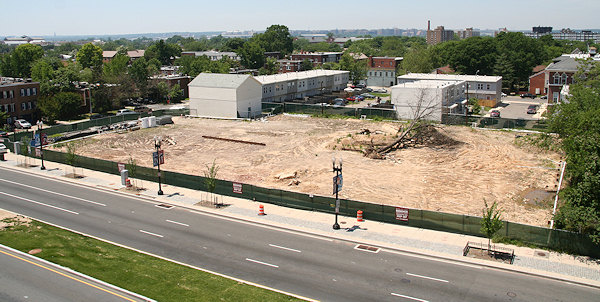 A few readers have written in this morning noting some action on the
1345 South Capitol Street
lot, across from the
ballpark
at South Capitol and O. This is where Camden Development has plans for an apartment building, which originally was supposed to start construction early in 2008 but which has been "on hold." Apparently today's work is some demolition of the few structures still on the site; I checked with Camden earlier this week on the status of the project, and was told that it's still up in the air but that they think they'll start construction before the end of the year. [Insert standard "We shall see...." disclaimer here.] See
my project page
for renderings and additional details (as well as photos of what was on the lot before the first batch of demolition at the beginning of the year). There's also some
additional overhead photos
of the lot as seen from the ballpark, if you feel like having an additional vantage point.
Five Capitol Quarter Units Being Released
Sep 17, 2008 4:59 PM
From EYA: "Capitol Quarter will accept contracts on our next 5 market rate homes on Sunday, September 21, 2008 at 11:00 a.m." (I'm on my cell, so can't link right now. Go to
eya.com
for details.)
UPDATE:
Okay, I'm back. The five homes are being offered in the $630,000 - $645,000 range. Here's
my Capitol Quarter page
, just because I can't ever pass up an opportunity to link to it.
Movement on South End of Monument Half Street? (UPDATED)
Sep 17, 2008 1:36 AM
I think I
Twittered
a few days back about a couple of Monument Realty-requested building permits recently approved by the city for construction of a three-story underground garage in the 1200 block of Half Street. I wasn't sure whether this was just Monument getting its bureaucratic ducks in a row, or if it's an indication of movement on the south end of Monument's Half Street project, where a
hotel and 340 units
of residential are slated to be built just past the getting-close-to-completed
55 M
office building.
Then, a few correspondents wrote in today to mention seeing the delivery of a construction trailer nearby to the site, along with a new "
Bovis Lend Lease
" sign hung on the fence at Half and N. Does this mean construction is about to commence? I've sent a message to Monument, but haven't heard back yet. In the meantime, there's always the
Half Street Cam
to keep an eye on possible action in that big hole in the ground.
A few folks have also written in about
today's WBJ piece
on the impact of Lehman Brothers's demise on various projects in the DC area, which mentions that Lehman holds an interest in Monument's Half Street project. This starts to get way above my pay grade, but there are some "Certificate of Satisfaction" land records from the mid-August where Monument appears to have paid off two "purchase money deed of trusts" held by Lehman totaling a little more than $23 million for lots on the east side of Half Street between M and N. (It then did the same a few weeks later for its property on the northwest corner of Half and N, which
it then sold to Akridge
.) So, perhaps Monument has disentangled itself from Lehman on these properties? (Like I said, this is totally out of my comfort zone, so if anyone wants to explain further or correct me, please
drop me a line
.)
As always, we shall see....
UPDATED, 9/17:
Sometimes, the tea leaves aren't quite saying what they seem to be. Monument tells me that while they are "hoping" to begin the hotel/residential project by the end of the year, the movement seen at Half and N over the past few days is for work related to the office building and other improvements (not defined) on Half Street (perhaps the
public space stuff
I've been writing about).
Nationals Release List of Promotions for Final Homestand of Inaugural Season at Nationals Park
Sep 15, 2008 1:32 PM
Hard to believe that the first season at
Nationals Park
is almost over--
Opening Night
feels like it was about a month ago. And today the Nationals have released the
schedule of promotions
for these last 10 games, where they will hand out more than 130,000 items to celebrate the end of this inaugural season. There's too many giveaways and events for me to try to summarize here (and I'm short on time), so take
a gander at the press release
if you want more details. (
UPDATED
to fix stupidly incorrect link.)
ANC 6D Meeting Tonight; Monument Half Street Withdraws Public Space Approval Request
Sep 15, 2008 11:55 AM
* Tonight is
ANC 6D
's monthly meeting. Alas,
no agenda
has been released yet, so I can't tell you what might be happening. (And I can't go, so I won't be able to tell you what happened.)
* We'll have to wait a little longer to find out what exactly was meant by that "146 fountains" part of the public space improvement application by Monument for 1200 Half Street (aka
55 M
) that I posted
a few weeks back
--they've asked for a postponement and are no longer on the Sept. 25 Public Space Committee agenda. The draft agenda had said: "Application by M.R./BR Residential #1A, LLC for installing various fixtures in public space ( 23-benches, 9 trash containers, 32 lights, 146 fountains, 8 bollards, 18 bike rack all located around Half Street in public space."
La Traviata Draws 15,000 to Nationals Park
Sep 15, 2008 2:33 AM
I'm sorry I had to miss Saturday's
Opera in the Outfield
simulcast of the Washington Opera's premiere of
La Traviata
, which
The Post says
drew 15,000 people to
Nationals Park
. Even Placido Domingo popped across town from the Kennedy Center to check it out: " 'It's phenomenal,' he says backstage before he jumps into a limousine and heads back to the Opera House. 'The sound is phenomenal. You see kids playing in the outfield. That is beautiful. We hope to do more productions like this. But this is special. It's opening night.' "
Upcoming Ballpark Events: Opera, Voter Registration, and a Protest About Exxon
Sep 12, 2008 8:52 PM
A reminder that tomorrow (Saturday) is the "
Opera in the Outfield
" event at
Nationals Park
, a free simulcast on the HD scoreboard of the Washington Opera's performance of
La Traviata.
Gates open at 5:30, performance begins at 7. Here's what the web site says about various rules and restrictions: "Nationals Park Concessions will be open for the simulcast. No alcoholic beverages may be brought into Nationals Park. No bags larger than 16 inches x 16 inches x 8 inches will be allowed into the ballpark. All bags are subject to inspection. Guests are prohibited from bringing hard containers into Nationals Park. Guests who plan to sit in the outfield may bring blankets and/or chairs.
Click here
for a complete list of prohibited items in Nationals Park." (Here's
the Post
and the
WashTimes
on the event.)
And, if you prefer your ballpark events to be socially conscious, Thursday night's game with the Mets is Voter Registration Night, according to
The Post
: "Attendees can register to vote while enjoying pregame and postgame events, including live music and activities. Voter information will be provided by Rock the Vote and the Federal Voting Assistance Program."
Another upcoming ballpark "event", according to
the Wall Street Journal
, is a protest outside the stadium scheduled for Monday by a group called
StrikeOutExxon.org
", which is targeting Exxon's corporate sponsorship of the eco-friendly ballpark. The group, says WSJ, "also wants the Nationals' owners to guarantee the park will never take on that corporate moniker and become 'ExxonMobil Stadium.'
WashTimes Look at Capitol Quarter
Sep 12, 2008 2:51 PM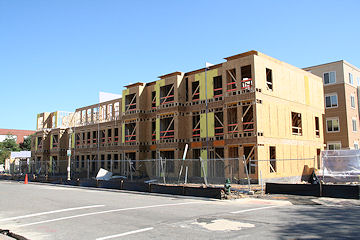 This is one of those real estate-section puff pieces, not a straight news story, but it's a quiet Friday so I'll link to the WashTimes's "
New in DC: Batter, and Buyers, Up
,"which gives an overview of
Capitol Quarter
. If you're looking for a summary of what's there, it runs through all the basics. For photos and lots more information, my
Capitol Quarter page
has plenty to keep you occupied.
39 Posts:
Go to Page:
1
|
2