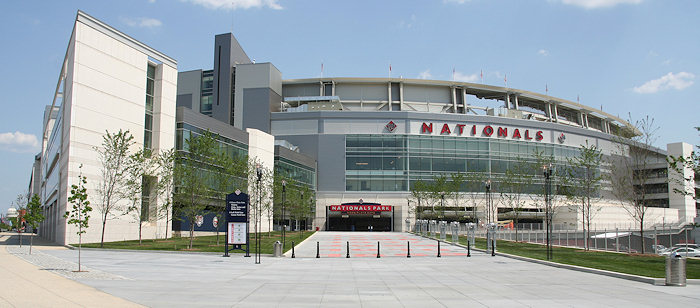 When the headline "
Nats Park: A Mistake?
" pops up in your feed reader, it's easy to guess that the story will be about low attendance or whatever other ills the author defines and therefore what a boondoggle the
stadium
has been. But, instead, you get this, from WTOP's transportation reporter Adam Tuss: "Yet with all the trouble filling seats at novel Nats Park, this much is certain: The stadium is paying dividends to the neighborhood and city where it sits. [...] But the truth of the matter is, Nats Park has energized a section of the District that some would never have imagined driving through previously, let alone walking through. [...] New homes, shops, restaurants and vistas pop up on a daily basis. Old and run-down has been and continues to be replaced by young and vibrant." (One could quibble with the "shops and restaurants" portion of this, at this point, anyway.)
Then there's this section, which takes me back to the eye-rolling weeks of wading through media coverage early this year: "When the ballpark first opened this year, there were plenty of concerns -- many from a transportation perspective. Would Metro be able to handle the crowds that were going to games? Would there be enough parking for fans? Would the neighborhoods around the ballpark become swamped with unwanted visitors from out of the area? There were also concerns about the safety of fans headed to and from games. Would there be enough security, street lighting, and enforcement to keep the area a destination of interest? There is now deafening silence about those questions, as they have all been answered with resounding success."
He closes with: "As far as the team goes, the Nationals will get there at some point (you hope). But the home of the Nats is now helping transform a slice of the city into something truly special -- a second chance for an area that was far too often neglected."