Near Southeast DC: Past News Items - August 2008
Go to Full Blog Archive
---
37 Blog Posts
Go to Page:
1
|
2
Quick Capitol Quarter Photo Update
Aug 31, 2008 11:44 PM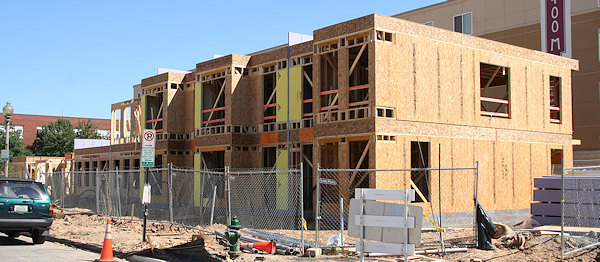 It was too pretty of an afternoon to pass up a new batch of photos at Fourth and L, to document 10 days' worth of framing work on these first
Capitol Quarter townhouses
. (I'm sure the novelty of this construction will wear off soon. Hopefully before my camera gives out.)
City Soliciting Statements of Qualifications for 11th Street Corridor Design-Build Project
Aug 30, 2008 10:23 AM
Not quite a month after sending out a
request for expressions of interest
, DDOT has now released the official
Request for Qualifications
for what is now being referred to as the 11th Street Corridor Design-Build Project, the heart of which is the
reconstruction of the 11th Street Bridges
. According to the
press release
:, DDOT will then create a short list of between two and five submitters, and will release the official Request for Proposals to just those entities. The
procurement schedule
says that the statements of qualifications are due by Sept. 29, with the shortlisters to be notified by October 10, and a final RFP then released by Dec. 1. The entire selection process, up to an including a contract, is targeted for completion by June 1, 2009. DDOT is shooting for completing the entire project by Dec. 31, 2013, with a budget of $260 million. (Mark your calendars--
I have
!) The new
Anacostia Waterfront web site
has more about the 11th Street Bridges project, and the other plans along the river from the Southwest Waterfront up to Kingman Island.
Akridge Closes on Bus Garage; Could Begin in 2010
Aug 29, 2008 9:25 AM
From today's WBJ print edition
(subscribers only): "D.C.-based Akridge closed on Aug. 27 its $46.5 million purchase of the
Metro bus garage site
, which rival D.C.-based Monument Realty had intended to include in its opulent
Half Street
mixed-use development just north of
Nationals Park
." Akridge has hired
HOK
(designers of the ballpark and the
Plaza on K
),
Esocoff & Associates
(
Onyx
) and
StreetSense Inc.
to design what will be a 700,000-sq-ft mixed use development on the west side of Half Street. WBJ says that Akridge is
hoping to break ground in 2010
. (And, one small correction in the piece: the WMATA land that Monument gets the right to buy via the settlement of their lawsuit against Metro is not at the corner of South Capitol and M--which Monument already owns--but the parking lot just to the south, known as Nats lot M.)
Friday 8th Street Closures (Bush at Marine Barracks)
Aug 28, 2008 11:52 AM
From Tommy Wells
: "President Bush will be attending the Twilight Ceremony on Friday (8/29) at the Marine Corps Barracks on 8th St. @ I St. SE. Due to his visit; street closures will affect the normal route of the Nats Express.
Beginning at 5:00PM, the 8th St. exit will be closed from the Southeast/Southwest Freeway. In addition, 8th St. will be closed from E St. to the Freeway Bridge.
[...] Closures will take place until approximately 9:00PM."
St. Matthews/Ruben Companies Deal Called Off
Aug 27, 2008 10:42 PM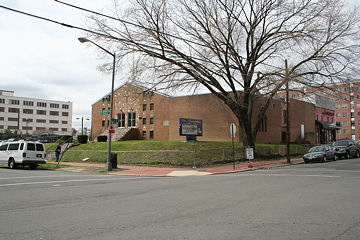 A little over a year after entering into a purchase agreement,
Ruben Companies
and the St. Matthew's Baptist Church at
1105 New Jersey
have terminated their contract, I have confirmed this evening. Can't tell you a single thing beyond that (no "why," or "what now," or anything else). Ruben continues to own properties at
1100 South Capitol
and the former KFC at 1101 South Capitol SW.
Photos from Youth River Sports Day at the Boathouse
Aug 27, 2008 9:15 AM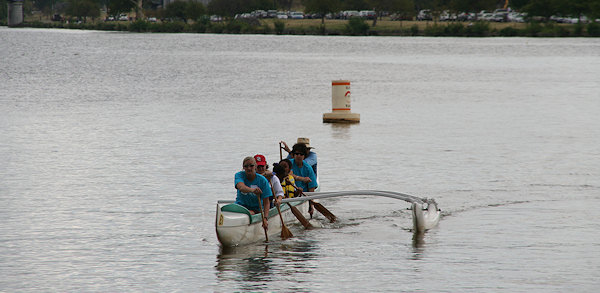 Saturday was the Youth River Sports Day at the
Anacostia Community Boathouse
, and there was a good turnout of parents and kids learning how to row or paddle or just getting acquainted with the Anacostia River. I took
a batch of photos
, all from dry land. (If the captions have any incorrect terminology, let me know.)
The ACBA is going to have to temporarily relocate from this spot during the five-year reconstruction of the 11th Street Bridges. They may be moving a couple hundred feet upriver to a site owned by Washington Gas (as laid out in the
final Environmental Impact Statement
for the project), or they may end up on the eastern side of the river closer to the Sousa Bridge. They are working with DDOT and are hopeful they can get the plans straightened out before too much longer.
Kids Day/Kids Run the Show at Nats Park, Aug. 31
Aug 26, 2008 2:52 PM
From the Nationals:
"The Washington Nationals will host Kids Day at
Nationals Park
on Sunday, August 31 when they face the Atlanta Braves at 1:35pm. The team will offer $1 tickets for children under the age of 12 with the purchase of any adult ticket valued at $33 or more. These tickets are available only at the Nationals Park Box Office and children must be present at the time of the transaction. There is a limit of two $1 tickets per adult ticket purchased.
"The fourth annual "Kids Run the Show" program, in partnership with The Washington Post, will also take place during Sunday's game. The Nationals have selected 22 children, ages 5-12 to "run the show" and work at various positions during that afternoon's game. Applications were posted in The Washington Post Sports, Weekend, Real Estate and KidsPost Sections, Tuesday, August 5 through Monday, August 18. Children were then selected to fill the following positions: grounds crew (1); Nat Pack member (1); in-stadium host (1); PA announcer (1); reporter (1); Starting 9; team photographer (1); line-up card presenter (1); ceremonial first pitch (1); and official "play ball" announcer (1). Two children each were selected as television and radio broadcasters through a Junior Broadcasters competition on Tuesday, August 19 at the ESPN Zone. Each "Kids Run the Show" participant will receive two complimentary tickets to that day's game.
Dunkin Donuts Looking Near Navy Yard?
Aug 26, 2008 7:48 AM
With thanks to neighbor blogger SWill at
Southwest ...The Little Quadrant That Could
, news that
Dunkin Donuts
is looking for space in Near Southeast. Back on August 4 (and I *swore* I had posted this, but apparently I only
Twittered it
), the
WBJ reported
about DD expanding in the DC area, with five new stores in Southeast, but didn't say where any might be. Then, in a
Nightly Business Report story
the next day on entrepreneurs still thriving in tough economic times, there's this: "Iraq veteran Ray Omar is scouting out locations to open a Dunkin' Donuts franchise at the new Navy Yard development in Washington, DC." Of course, "at the new Navy Yard development" doesn't make a lot of sense--The Yards? Somewhere near the Navy Yard (like maybe that 900 M Street building
that's going to be renovated
? Some other space further west on M Street (farther away from the existing Dunkin Donuts at Eighth and Pennsylvania, SE)? We shall see.
More New Photos: Progress at 909 New Jersey, and the Latest Views from the Southeast Freeway
Aug 25, 2008 2:03 PM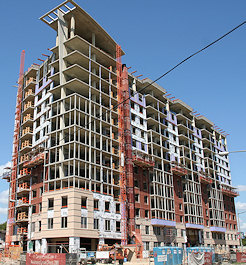 The facings and brick continue to go up at
909 New Jersey
(and there's even a window or two). I took a pretty complete set of the close-up photos, some of which you can see on the
project page
; for more, and to see the building from farther away (to get an idea of how prominent it is these days in the neighborhood's ever-changing skyline), check the
Expanded Project Archive
.
I also got updated shots of the northwestern part of Near Southeast from one of the more popular vantage points,
up on the Southeast Freeway
approaching South Capitol Street. The before-and-afters (especially the grainy one from September 2000) are a good reminder of how much has happened, and how fast. And with
1015 Half'
s crane now front and center, we know that this view will be changing (again!) within a few months. (And this is where I need to remind that I take these freeway photos from a passenger seat at 55 mph, not on foot or behind the wheel. Duh!)
Updated Photos: First Frames at Capitol Quarter, Vertical Construction in the 1015 Half Street Hole
Aug 24, 2008 8:36 PM

I took a lot of photos today, but let's start with the ones showing new construction phases underway. First off, we have the first framing at
Capitol Quarter
(top), where the wood outlines of the first four houses east of the
Fourth and L intersection
are now up. (At least the photos are more exciting than the ones a few weeks ago of the concrete block foundations.)
Then there's
1015 Half Street
, the 410,000-sq-ft office building under construction on the old Nation nightclub site. The crane arrived within the past week or so, and I finally got to a spot where I could see down into the hole to confirm that the first pillars are underway. So, by Thanksgiving, there should be the beginnings of yet another new addition to the skyline.
More photos in the next few days.
An Off-Topic 'Bleg' - Looking for Party Space
Aug 24, 2008 5:11 PM
(Extremely Off-Topic) This is the first time in the nearly six years of this blog that I've done something like this, but desperation is an ugly beast. If anyone can
contact me
with ideas or leads for a rentable space in downtown DC, Northwest, or Bethesda/Chevy Chase for a high-school class reunion for 125-175 people on a Saturday night in early November (that allows for a DJ and food/bar either catered or available on-site), you'll save me from an otherwise certain nervous breakdown, which I think has already started. (And then who will bring you all the latest Near Southeast news, since it'll be impossible for me to type in a strait-jacket?)
We're hoping to not have this cost an absolute fortune (which probably excludes my dream of using one of the conference spaces at the ballpark), but we're also extremely under the gun in terms of a time frame to get it done. All
assistance
appreciated.
New neighborhood photos coming later this evening, to cleanse the palate from this.
Positive Nature Leaves Near Southeast
Aug 22, 2008 4:37 PM
Rumor Patrol: Whole Foods on New Jersey Ave.?
Aug 22, 2008 3:00 PM
Rumors started flying in a few places lately that Whole Foods is coming to New Jersey and K, SE. I usually shy away from writing about rumors, but this one is persistent enough that it probably needs some addressing. It's not listed on their
Stores in Development page
, and no one's leaping to tell me this is or isn't true (which isn't surprising), but it's not completely out of the realm of possibility. There's been references here or there to "two grocery stores" coming to the neighborhood (with space for one set aside at the
The Yards
, coming in 2011 or later), and I've heard nonspecific Whole Foods/Near Southeast rumors a few times over the past year.
But I'm skeptical about it coming to the New Jersey/K intersection. There's only 6,000 square feet of retail in
909 New Jersey
(not enough for a grocery store), and the plan for the trash transfer station has always been for it to be part of the
Capper
Hope VI project, with an apartment building that probably won't start before 2011. That leaves the southwest corner, where the Cohen family owns the small lots along K between New Jersey and First; there's also the Positive Nature lot at 1021 New Jersey and one to its south owned by Potomac Development Corp., who it should be noted picked up 51,000 square feet of transferred development rights earlier this year. (Can someone at CHT look out their window and confirm that the Positive Nature sign is still there?)
So maybe the "
New Jersey
" part is right, but not the "K"? My gaze (and my betting dollars) might head north a block or two, to
800 New Jersey
(also sometimes known as 120 Canal), where for years William C. Smith has envisioned a grocery store as part of its planned 1.1-million-square-foot four-building development on the Square 737 block bounded by Second, H, New Jersey, and the eventually reconstituted I Street. No timeline for the start of this project has been announced, though. (In fact, there's so little information about the project that I haven't even felt compelled to build a project page for it.)
In other words, there aren't really any tea leaves to be read on this one, so if someone wants to spill the beans, I'm
always listening
.
Neighborhood Properties Heading to Tax Auction
Aug 22, 2008 9:19 AM
(Thanks to reader K. for the tip.) With the real estate market and general economy in their current states, it's not surprising that quite a few properties in the city are heading to tax sales, which is what happens when property taxes have gone unpaid. The
2008 DC Real Property Tax Sale
is scheduled to begin on September 17, and there are some notable Near Southeast addresses:
*
801 Virginia Avenue
, where "the Admiral" condo building was planned until the investors put the site up for sale last year. Its tax bill is listed at nearly $78,000.
*
1010 Seventh Street
(the empty lot across from the Marine Barracks), where a small developer had been
planning a 12-unit condo building
and where the tax bill is just over $30,000. (
UPDATED
to correct address, though the three parcels that make up the lot are owned by the 1012 Seventh Street Southeast LLC.)
*
1026 Third Street
, the brown multi-unit building on the corner of Third and L that's been boarded up and for sale
since at least 2003
, though the unpaid tax bill is only $417. (Maybe if we all look under our sofa cushions....)
But, as the notice states: "Purchasers must be aware that additional liabilities, which are not reflected in the total amount" may be due, including liens previously sold to a third party. So don't pull out your checkbook unless you know what you're doing.
Late Night Update on Hood Happenings
Aug 21, 2008 9:12 PM
* As I mentioned below, the garage that housed both the Merritt and Four Star cab companies started getting brought down today. They didn't get it all on Thursday, but I imagine by sundown Friday the rest will be gone. (See
pictures from midmorning
, though it's hard to see much in the way of a difference from First and K, since they took out the back of the building and only a smidgen of the K Street facade.)
* Only a few hours
after I said
that
Capitol Quarter
framing would start "in the next few days," lumber went up on the first house on the south side of L east of Fourth. (No pictures yet--this weekend!)
* Sometime this week the crane was put up at
1015 Half Street
, so we should be seeing vertical construction before too long.
Merritt Cab Being Demolished Today
Aug 21, 2008 10:17 AM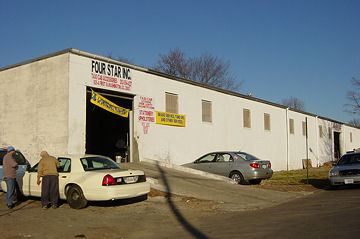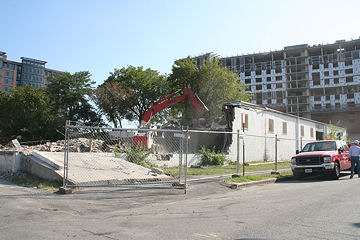 With thanks to reader J. for the tip, I can report that the cab garage on the northwest corner of First and K is getting demolished today. This is where the DRI/Transwestern
Plaza on K
may be getting underway this fall. (I'm posting this from my cell, so links will have to wait 'til later.)
UPDATED
with a link and a tiny before and after photos above. I've also added it as #153 in the
Demolished Buildings gallery
.
Mishmash: Capitol Quarter Framing, River Sports Day, Ballpark Stuff
Aug 21, 2008 8:30 AM
* Watch for the beginnings of framing of the first
Capitol Quarter townhouses
within the next few days.
* Don't forget the
Youth River Sports Day
at the Anacostia Community Boathouse on Saturday, from 10 am to 2 pm.
* Via
the Post
: "The Washington Nationals' ballpark has received the U.S. Green Building Council's National Capital Region's
Project of the Year
award. The award honored the ballpark's commitment to preserving the environment." Here's the
Sports and Entertainment Commission's press release
on the award, which was announced on Aug. 8.
* Speaking of the Sports Commission, the
WashTimes reports
that they've hired their lawyers--from
Seyfarth Shaw's Chicago office
--as they prepare to enter arbitration with the Nationals over whether the ballpark was "substantially complete" at the time it opened on March 30. And: "While the sports commission and the Nationals are expected to enter into arbitration to resolve the issue of substantial completion, the two sides are still negotiating over a number of related issues, including who should pay for certain items such as tarps, wireless networks, and video cameras. The two sides are scheduled to resume talks on August 25."
Yards Park Phase II Zoning Hearing in March; Living Classrooms Plans Main Campus Building
Aug 19, 2008 9:05 AM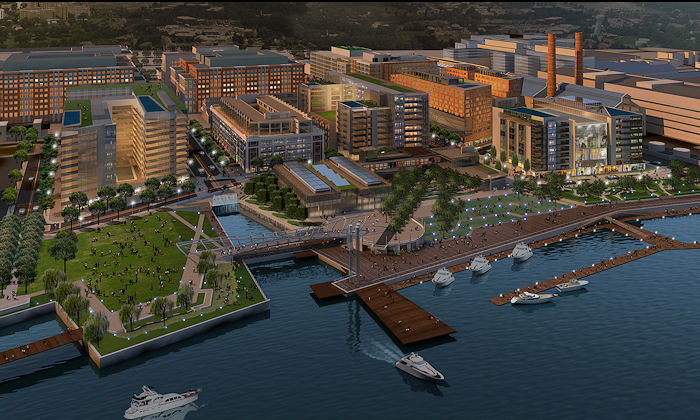 It's more than six months away, but the second phase of the
Waterfront Park at the Yards
is now scheduled for a Zoning Commission
SEFC Overlay District
Review
on March 2, 2009
(after having briefly been scheduled for Nov. 17, 2008). It's in this review that we'll see the plans for the renovation of the Lumber Shed into a glass-walled retail building, plus the designs for two new two-story retail pavilions connected to the shed's east side. There will also be the first look at the proposed "public art tower" that Forest City is wanting to build right on the waterfront at Third Street.
You can see early designs for the three retail buildings (and the position of the art tower, if not the design itself) in the rendering on my
Yards Park
page, right at the center, and of course plenty of photos of what the area currently looks like.
One other project at the Yards park that is just starting to pop up on the radar is a new "main campus building" for
Living Classrooms of the National Capital Region
, to be located on the far eastern edge of the park (just off the right edge of the rendering), along the waterfront just before the park meets the
Navy Yard
. Living Classrooms is a non-profit group that "uses maritime settings, community revitalization projects and other challenging learning environments" to provide hands-on education and job skills training for students (especially at-risk youth). They will be handling the design and management of the
new environmental center
at Kingman Island further up the Anacostia, and currently operate out of Building 74 at the Yards (the little brick building--to be townhouses someday--just west of Hull Street at M,
seen here
). And, according to their web site, Living Classrooms has been "asked to oversee and manage marina and some waterside activities" at the new Yards park.
There is no timeline for when Living Classrooms' new building will get underway. It's currently in the design phase (see
an early rendering here
), and when that's completed, there will be a fundraising drive to finance the project.
Street Maps of Near Southeast, 1903-1921
Aug 16, 2008 9:29 AM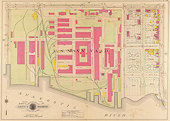 Word went out on the
H-DC mailing list
this week about the Library of Congress posting scans of
a series
of early 20th century real estate atlases, that mapped out in precise detail the streets and buildings of Washington. With thanks for them being in the public domain, I've grabbed the six plates that cover Near Southeast from the four years it was surveyed--1903, 1909, 1915, and 1921--and have posted them on a
new Historic Maps page
. The images are pretty big to allow the text to be read, so you have to bring up one at a time from each year.
They're definitely worth some time to
wander through
. A few items of note:
*
In 1909
, the northern third of the
Canal Park
site between I and K was nothing more than a passage to the rail yards where
70 and 100 I
now stand. You can also see the streetcar line that used to run along K Street east from Second. Then there's the Washington Fertilizer Company that used to sit at New Jersey and K--maybe the defunct trash transfer station isn't so bad in comparison? And the Van Ness school used to be on the west side of Fourth at M, where 300 M and Sizzling Express now are. (The newer school opened in 1956.) And this same 1909 map shows that Exxon has been on the unit block of I Street for a LONG time, with Standard Oil occupying the eastern two-thirds of the block--it would spread to the entire block by
1921
.
* In
1903
, the Navy Yard ran only from Sixth Street to Ninth. (You'll also see that Potomac Avenue used to be named Georgia Avenue.) By
1909
it had expanded west to Fourth Street. In
1921
, with World War I over, its western border had moved to New Jersey Avenue. (Alas, the Navy Yard plate for 1921 isn't posted--no doubt the Homeland Security department of the era asked for it to be removed since it was a potential aid to terrorists.)
* There was a St. Matthew's Chapel on the southeast corner of Half and M (where most everyone now exits the subway to head to
Nationals Park
), which I imagine is the forebear of the St. Matthew's now at New Jersey and L.
* The American Ice Company
used to operate
at a wharf at Second Street and the Anacostia River (which used to just be called the Eastern Branch). This is where the "Great Lawn" of the
Waterfront Park at the Yards
will be. Plus, Florida Rock and the southern half of what's now the WASA site didn't exist in 1903, but
by 1909
the land had started to be reclaimed and you can see the "Sewer Dep't." Plus. the beautiful WASA main pumping station is depicted, having been built in 1905.
* When they call the Maritime Plaza site at 12th and M "the old Washington Gas site," they're not kidding--there it is
in 1903
, marked as the Washington Gaslight Company.
* The park at Ninth and Virginia has been there since at least
1903
, when it used to be the meeting place of Virginia and Georgia avenues (and when there wasn't a big freeway above it). On the same map, you can see the previous life of the Blue Castle at Eighth and M, marked as the Washington & Georgetown R.R. Co. Car House. (It didn't take up the entire block then.)
OPM Releases 225 Virginia RFEI
Aug 15, 2008 5:22 PM
It may have been late late on a Friday afternoon, but the city did what
it said it would
and released a
Request for Expressions of Interest
for
225 Virginia Avenue
, looking for someone who wants to sublease (with an option to buy) the 421,000-square-foot building that was once the Washington Star printing plant, until it folded in the early 1980s. The Post used it as a printing plant until 1999, when it sold the building to the William C. Smith Company, who sublet it to Washington Telecom Associates, who sublet it to the city in 2006. (Got that?)
Quoting from the RFEI: "The District's primary goal, in issuing this RFEI, is to assign its leasehold interest, including the purchase option, in 225 Virginia Avenue, SE. The District's secondary goal is to enable the site to be used and redeveloped at its private sector highest and best use." The city currently leases the building for $6.5 million a year; the option to buy can be exercised for $80 million prior to the third lease year.
Proposals are due by noon on September 26, with October 13 listed as the notification date.
37 Posts:
Go to Page:
1
|
2