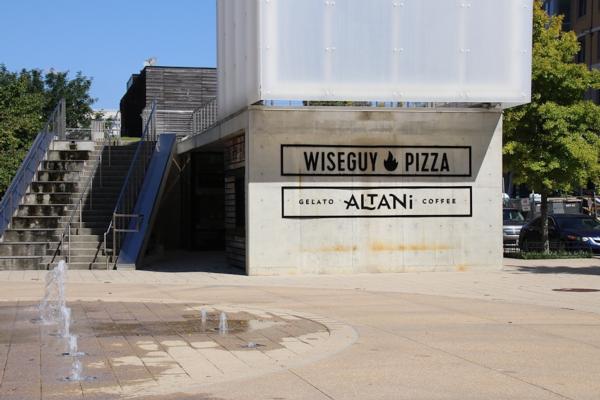 If an
official
Twitter account retweets an unofficial Twitter account, I guess that's confirmation, so it can be reported that
Wiseguy Pizza
is opening at Canal Park (200 M St., SE) today, Oct. 2, at noon.
Eat_DC reports
that coffee and pastries will come soon, while the Gelato portion of the venture will arrive in the spring. I hope they are ready for the lunchtime rush that will greet them today, especially with the weather so beautiful.
(Great. Now I'm hungry.)
A few other items:
*
DOUGLASS BRIDGE
:
WUSA reports on
the first of last week's public meetings about the
new Douglass Bridge
. DDOT's program manager says that they are already about 25 percent done with the project already. "He added in the next six months, locals should expect to see work begin on the construction of two new traffic ovals that will be placed at the base of each side of the new bridge. After that, the formation of the bridge's new arches should begin to form."
*
STEADFAST MOVE
: Local goods offerer
Steadfast Supply
is moving this week from its
Boilermaker Shops
location on Tingey Street to the old EVO Furniture space in the
Foundry Lofts building
on Water Street, across from Ice Cream Jubilee. It is closed for the move and is expected to open in the new space on Oct. 5.
*
CHEESESTEAKS:
Washingtonian reports
that the mystery fast-casual restaurant inside Whole Foods is going to be Philly Wing Fry, from chef Kwame Onwuachi. Cheesesteaks, crispy chicken, waffle fries, and whatnot. "Unlike Kaz Okochi, who'll have a quick-grab sushi counter in the prepared foods section of the new shop, Onwuachi's eatery is more like a full-blown restaurant with its own space and seating. Customers can order the full menu inside the store's SoCap Wine Bar & Pub, which will pour 16 wines by the glass and a dozen draft beers (the shop itself will have seasonal teas and lemonades)."
And yes, I took a boatload of photos this weekend. They are already up on the site if you want to go hunting, but I'll be posting a status survey soon.