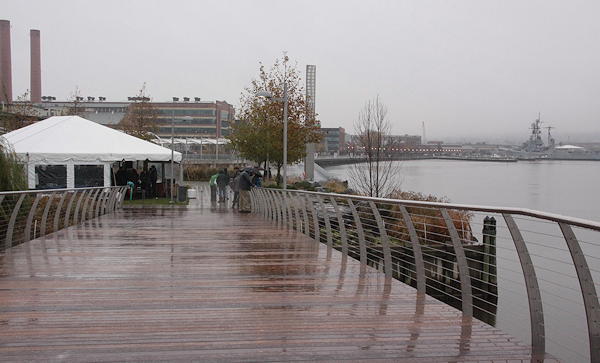 The weather was atrocious, and things got started late (as they so often do when overscheduled politicians are involved), but officials from the city, Forest City Washington, DC Water, and elsewhere gathered at the
Yards Park
today to officially dedicate the 627-foot-long bridge connecting the Yards with
Diamond Teague Park
, which is just across Potomac Avenue from
Nationals Park'
s grand staircase.
I wasn't able to hang around for the actual cutting of the ribbon (check
the Yards' Twitter feed
for a slew of photos of the festivities), but I did
take a gallery of photos
from my first time walking on the bridge, showing the view of the Anacostia riverfront in all of its gray, overcast, rain-spattered splendor. Needless to say, I'll be returning once the sun is out for a replacement set.
This bridge is part of the planned
Anacostia Riverwalk Trail
, which continues to open segment by (not necessarily contiguous) segment.
(One side note: Demolition appears to be underway on the concrete tower at
Florida Rock
, so the new bridge won't seem to be leading directly to that scenic structure for too much longer.)