Tonight ANC 6D had a special "presentation" meeting, to lighten the load of next Monday's business meeting so that everyone could go home before 2 am. On the agenda were three items, all of which are JDLand perennials. I'll post on Tuesday about the
, which didn't really contain much that I haven't previously covered; the third item was the designs for the second phase of the
.
The first phase, which is expected to begin construction in the next three months and be completed by mid-2010, is the basic layout of the park and the boardwalks. The second phase comprises 55,000 square feet of retail in the to-be-rehabbed Lumber Storage Shed and two new buildings, as well as a 60-foot-tall "visual marker" (seen at left) just to the southwest of the shed. (The third phase will be the piers and marina.) I was dreading coming home to describe these latest plans with no renderings to accompany my ramblings, but then I found the National Capital Planning Commission
has done all my work for me
, thanks to these phase 2 designs being in front of the commission at their
meeting this Thursday
(and for which the NCPC staff has recommended approval). You can see all of the drawings presented to the ANC
in this NCPC document
, along with a lot of description of the designs, but I'll hit some highlights.
The "light tower," designed by
James Carpenter Design Associates
, is made up of stainless steel prisms that reflect light during the day and will be subtly illuminated at night. The top is actually 70 feet from the top of the water, but 10 feet of that is the boardwalk; the structure itself is only 60 feet high.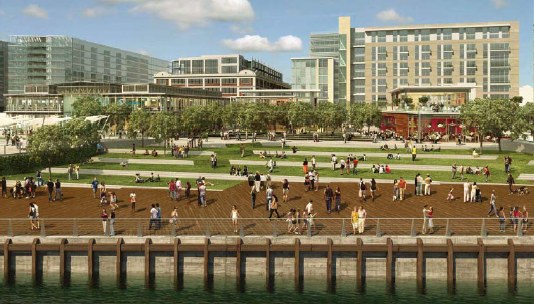 The storage shed, as I've mentioned in the past, will lose its faaaahbulous salmon-colored corregated skin and will be enclosed with non-reflective glass. The other two buildings (currently given the wonderfully descriptive monikers of P2A and P2B) will also be mainly glass structures. There will be a restaurant court in front of the center building, overlooking the area of the park that steps down toward the waterfront. (A drawing of the three buildings' southern facades
is here
; a larger version of the rendering at right showing how the buildings are not at all dominant when viewed from the waterfront
is here
. See the
NCPC document
for additional views.)
The questions from the ANC commissioners included whether this public park
financed by public dollars
and owned by the city would be open to the public, whether there would be preferences for ANC 6D-based businesses for the retail spaces and the six kiosks planned near the light tower, and if there would be any city-controlled vending spaces in the park.
The designs will be presented to the Zoning Commission
on March 2
(there are also some exceptions and/or variances being requested). The ANC will presumably be voting on whether or not to support the project at its Feb. 9 meeting.