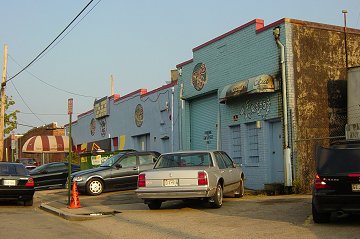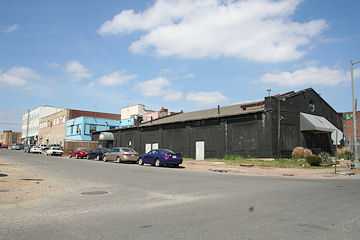 The
Sunday Washington Post magazine has a long story
about the drag queens who for years called the clubs of Near Southeast home. It talks about how things used to be at the clubs, and the difficulties the clubs (and the queens) have had finding a new home since the wave of ballpark development closed places like Club 55 (above left, on what's now the north side of the
Velocity block
) and Ziegfield's (above right, now home to
shallow right field
).
Here's some quotes from a conversation with Carl Rizzi, who long performed at Club 55 as "Mame Dennis": "He is still holding out hope that the Dicksons can find a place to reopen Club 55, so that they will again have a permanent home. He faults the gay community for being caught so flat-footed; they took for granted that they'd always have Southeast, he says. 'I guess we never in our wildest imagination thought anyone would tear that down because it was such an undesirable area.' The city benefits from having a ballpark, says Rizzi, 'and that's all well and good. But [a long-standing gay community] was all torn down and torn apart and scattered, and we had no place to go and no help.' " The online version of the story has
an accompanying video
about Rizzi and the clubs.